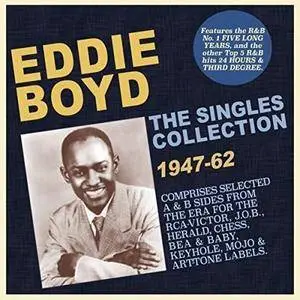 Eddie Boyd - The Singles Collection 1947-62 (2018)
Blues, Rhythm and Blues, Oldies | MP3 CBR 320 kbps | 02:21:12 | 336 MB
Label: ACROBAT
Eddie Boyd was a blues pianist, singer and songwriter who made his primary impact on the Chicago scene during the 1940s and 50s, before becoming a popular figure in the American Folk Blues tours of Europe during the 60s and beyond. Born on the same Mississippi plantation as Muddy Waters, and a half-brother of Memphis Slim, he moved to Memphis in the late 30s and in 1941 headed for Chicago, working in steel mills to finance his music activities. He played on many musicians sessions, and from 1947 recorded under his own name, initially for RCA, but subsequently for Regal, J.O.B., Herald and most notably Chess, before working with several other labels at the start of the 60s. His combination of boogie and jazz-tinged styles brought him an R&B No. 1 in 1952 with Five Long Years and subsequent Top 3 R&B hits with 24 Hours and Third Degree. This great-value 50-track set comprises selected A and B sides from the 66 tracks he released on singles across this era for the RCA-Victor, J.O.B., Herald, Chess, Bea & Baby, Keyhole, Mojo & Art-Tone labels, and so represents a solid cross-section of his work. Its a entertaining showcase for his ability to work across the blues spectrum, from moody slow blues to fine rocking blues alongside some of Chicagos best musicians, and its an enlightening introduction to an underrated bluesman who merits a great deal more attention than he has received over the years.
TRACKLIST
01. Little Eddie Boyd With J.T. Brown's Boogie Band - I Had To Let Her Go
02. Little Eddie Boyd With J.T. Brown's Boogie Band - Kilroy Won't Be Back
03. Little Eddie Boyd And His Boogie Band - Unfair Lovers
04. Little Eddie Boyd And His Boogie Band - Rosa Lee Swing
05. Little Eddie Boyd And His Boogie Band - Playmate Shuffle
06. Little Eddie Boyd And His Boogie Band - Getting My Divorce
07. Little Eddie Boyd And His Boogie Band - Why Did She Leave Me
08. Little Eddie Boyd And His Boogie Band - Mr Highway Man
09. Little Eddie Boyd And His Trio - Baby What's Wrong With You
10. Little Eddie Boyd And His Trio - Eddie's Blues
11. Little Eddie Boyd and His Trio - What Makes These Things Happen To Me
12. Little Eddie Boyd And His Trio - Chicago Is Just That Way
13. Eddie Boyd - Why Don't You Be Wise Baby
14. Eddie Boyd - I Gotta Find My Baby
15. Eddie Boyd Trio - I'm Pleading
16. Eddie Boyd Sings And Plays - Five Long Years
17. Eddie Boyd Sings And Plays - Blue Coat Man
18. Eddie Boyd - Cool Kind Treatment
19. Eddie Boyd And His Orchestra - I'm Goin' Downtown
20. Eddie Boyd - 24 Hours
21. Eddie Boyd - The Tickler
22. Eddie Boyd And His Chess Men - Third Degree
23. Eddie Boyd And His Chess Men - Back Beat
24. Eddie Boyd And The Chess Men - Nothing But Trouble
25. Eddie Boyd And His Chess Men - Picture In The Frame
26. Eddie Boyd And His Chess Men - Hush Baby Don't You Cry
27. Eddie Boyd And His Chess Men - Drifting
28. Eddie Boyd And His Chess Men - Rattin' And Running Around
29. Eddie Boyd And His Chess Men - The Story Of Bill
30. Eddie Boyd And His Chessmen - Real Good Feeling
31. Eddie Boy And His Chess Men - I'm A Prisoner
32. Eddie Boyd And His Chess Men - Life Gets To Be A Burden
33. Eddie Boyd And His Chess Men - Four Leaf Clover
34. Eddie Boyd And His Chess Men - Just A Fool
35. Eddie Boyd - I Got A Woman
36. Eddie Boyd - Hotel Blues
37. Eddie Boyd - I Got The Blues
38. Eddie Boyd - She's The One
39. Eddie Boyd - Save Her Doctor
40. Eddie Boyd - I'm Comin' Home
41. Eddie Boyd - Thank You Baby
42. Eddie Boyd - Blue Monday Blues
43. Eddie Boyd - The Blues Is Here To Stay
44. Eddie Boyd & The Daylighters - Come On Home
45. Eddie Boyd & The Daylighters - Reap What You Sow
46. Eddie Boyd - All The Way
47. Eddie Boyd - Where You Belong
48. Eddie Boyd - Vacation From The Blues
49. Eddie Boyd - It's Too Bad
50. Eddie Boyd - Operator