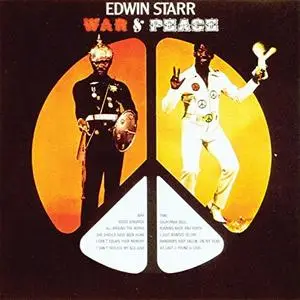 Edwin Starr - War And Peace (1970/2019)
WEB FLAC (Tracks) - 269 MB | Cover | MP3 CBR 320 kbps - 93 MB | 00:38:27
Funk, Soul, RnB | Label: Uni/Motown
Edwin Starr went from run-of-the-mill second-level act to hitmaker with this 1970 album, without question his finest. Norman Whitfield gave Starr the chance to cut a song that had been intended for The Temptations. They later did a version of "War," but Starr completely vaporized their rendition to the extent that most people today think he wrote it. Starr was now a celebrity and briefly in Motown's top echelon. The fact that everything else on the album is only fair to average didn't even matter in the scope of things.
TRACKLIST
01. War
02. Running Back And Forth
03. Adios Senorita
04. All Around The World
05. I Can't Escape Your Memory
06. At Last (I Found A Love)
07. I Just Wanted To Cry
08. Raindrops Keep Fallin' On My Head
09. Time
10. California Soul
11. I Can't Replace My Old Love
12. She Should Have Been Home
–––––––––––-
DON'T MODIFY THIS FILE
–––––––––––-
PERFORMER: auCDtect Task Manager, ver. 1.6.0 RC1 build 1.6.0.1
Copyright © 2008-2010 y-soft. All rights reserved
http://y-soft.org
ANALYZER: auCDtect: CD records authenticity detector, version 0.8.2
Copyright © 2004 Oleg Berngardt. All rights reserved.
Copyright © 2004 Alexander Djourik. All rights reserved.
FILE: 12. Edwin Starr - She Should Have Been Home.flac
Size: 22140767 Hash: B4B8C057153C8D7C7D529FBF0D57A270 Accuracy: -m0
Conclusion: CDDA 100%
Signature: 20F0DF401B8D81A94334C43791268D6E2A22F58E
FILE: 11. Edwin Starr - I Can't Replace My Old Love.flac
Size: 31710381 Hash: E03EE253F6E58EE725DC03130677AE0D Accuracy: -m0
Conclusion: CDDA 100%
Signature: 599206426F7BC9D04DF684024E6A6531E9458D4F
FILE: 10. Edwin Starr - California Soul.flac
Size: 30873644 Hash: C0BC9A6D7F521AD79DA6E52718EDA074 Accuracy: -m0
Conclusion: CDDA 100%
Signature: E49DC7107466F7461CFA370B0093181FA32F7917
FILE: 09. Edwin Starr - Time.flac
Size: 21619411 Hash: 772525793EFC68F11DACA845F8F865C7 Accuracy: -m0
Conclusion: CDDA 100%
Signature: 7D361813F89CE6AFEEDA0FA2CDAE770E5E2339D3
FILE: 08. Edwin Starr - Raindrops Keep Fallin' On My Head.flac
Size: 26762142 Hash: 67A9DCD61404D3FE667FD0307837B2EA Accuracy: -m0
Conclusion: CDDA 100%
Signature: 4711D25C2A10472414D0E856F37FB1B518886AE9
FILE: 07. Edwin Starr - I Just Wanted To Cry.flac
Size: 23004446 Hash: DF739D5FE12CB583477AD97540C448C5 Accuracy: -m0
Conclusion: CDDA 99%
Signature: 46E4B7DA24592AC2CDBD1B7C6BDE3F953412ECB0
FILE: 06. Edwin Starr - At Last (I Found A Love).flac
Size: 21684256 Hash: 408F1E46A2CD56AB56B320A010F1AB95 Accuracy: -m0
Conclusion: CDDA 100%
Signature: 7D2E518881F0B194E55D99F012F4BF8020782BD1
FILE: 05. Edwin Starr - I Can't Escape Your Memory.flac
Size: 19351528 Hash: E7A3AD360CCC9593C3DE7BE291060503 Accuracy: -m0
Conclusion: CDDA 100%
Signature: 1E195F75171D40D35C94590885F2CA6D6340014D
FILE: 04. Edwin Starr - All Around The World.flac
Size: 22492878 Hash: 0DE66E2EB9C685138E4F0BB69B38EC20 Accuracy: -m0
Conclusion: CDDA 100%
Signature: 3A852983FDDA3C2F49961ABF358AC6C92DD8304C
FILE: 03. Edwin Starr - Adios Senorita.flac
Size: 18958188 Hash: 911A068C41D1C8E0035919FD6E53D853 Accuracy: -m0
Conclusion: CDDA 100%
Signature: CAD7DE5AAB49BEFC13C8B51E49FF56BEC3A96E57
FILE: 02. Edwin Starr - Running Back And Forth.flac
Size: 18814610 Hash: E83DD94A94225CD20205BF39C8CAC653 Accuracy: -m0
Conclusion: CDDA 100%
Signature: 7EC80755734143D4E5C62DBB93A2D854EDA18A29
FILE: 01. Edwin Starr - War.flac
Size: 24577072 Hash: B629AEC4EF377760EBF5C5C0BA78E7C1 Accuracy: -m0
Conclusion: CDDA 100%
Signature: DFAFF411DB28FF135BE0A5763D0FE62F53E25FF0
All thanks go to the original releaser