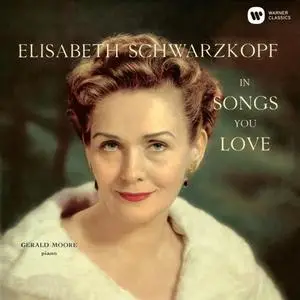 Elisabeth Schwarzkopf & Gerald Moore - Songs You Love (Remastered) (2019)
FLAC tracks | 40:08 | 164 Mb
Genre: Classical / Label: Warner
In 1947 a brilliant generation of Austro-German singers represented the Vienna State Opera for a short season at Covent Garden. Among those known to London audiences from before the war were Maria Cebotari and Hans Hotter; new were Anton Dermota, Erich Kunz and an array of sopranos headed by Hilde Gueden, Sena Jurinac, Emmy Loose, Elisabeth Schwarzkopf, Irmgard Seefried and Ljuba Welitsch. For one famous evening Richard Tauber joined the cast of Don Giovanni before entering the hospital in which he died four months later. It was a season which, more than any other event at the time, reassured opera-goers that traditions survived and that singing of real distinction, even greatness, might yet be heard in the postwar world.
Track List:
[03:07] 01. Elisabeth Schwarzkopf & Gerald Moore - Quilter: Old English Popular Songs: No. 2, Drink to Me Only with Thine Eyes
[04:23] 02. Elisabeth Schwarzkopf & Gerald Moore - Martini: Plaisir d'amour
[03:00] 03. Elisabeth Schwarzkopf & Gerald Moore - Mendelssohn: 6 Gesänge, Op. 34: No. 2, Auf Flügeln des Gesanges, MWV K86
[02:26] 04. Elisabeth Schwarzkopf & Gerald Moore - Dvořák: 7 Gipsy Melodies, Op. 55, B. 104: No. 4, Songs My Mother Taught Me
[02:16] 05. Elisabeth Schwarzkopf & Gerald Moore - Hahn: 20 Mélodies, Premier recueil: No. 1, Si mes vers avaient des ailes
[03:49] 06. Elisabeth Schwarzkopf & Gerald Moore - Tchaikovsky: 6 Romances, Op. 6: No. 6, Nur wer die Sehnsucht kennt
[03:37] 07. Elisabeth Schwarzkopf & Gerald Moore - Jensen: 7 Gesänge aus dem spanischen Liederbuche, Op. 21: No. 4, Murmelndes Lüftchen
[02:43] 08. Elisabeth Schwarzkopf & Gerald Moore - Grieg: Melodies of the Heart, Op. 5: No. 3, Ich liebe dich
[00:49] 09. Elisabeth Schwarzkopf & Gerald Moore - Grieg: 7 Childrens Songs, Op. 61: No. 3, Farmyard Song
[01:54] 10. Elisabeth Schwarzkopf & Gerald Moore - Sibelius: 6 Lieder, Op. 36: No. 1, Schwarze Rosen
[04:23] 11. Elisabeth Schwarzkopf & Gerald Moore - Strauss: 5 Lieder, Op. 41: No. 1, Wiegenlied
[02:25] 12. Elisabeth Schwarzkopf & Gerald Moore - Wolf: Spanisches Liederbuch: No. 2, In dem Schatten meiner Locken
[01:57] 13. Elisabeth Schwarzkopf & Gerald Moore - Wolf: Mörike-Lieder: No. 16, Elfenlied
[01:25] 14. Elisabeth Schwarzkopf & Gerald Moore - Traditional: O du liebs Ängeli
[01:47] 15. Elisabeth Schwarzkopf & Gerald Moore - Traditional: Gsätzli
ANALYZER: auCDtect: CD records authenticity detector, version 0.8.2
Copyright © 2004 Oleg Berngardt. All rights reserved.
Copyright © 2004 Alexander Djourik. All rights reserved.


FILE: 01. Quilter- Old English Popular Songs- No. 2, Drink to Me Only with Thine Eyes.flac
Size: 13351124 Hash: 245CE335E77937F2820AB0BB3758BE02 Accuracy: -m40
Conclusion: CDDA 100%
Signature: C13DDFA0A285DE089EBF7F75DD2470A66B9D2FDB
FILE: 02. Martini- Plaisir d'amour.flac
Size: 18420310 Hash: 081D7F6B3C20F0EED9AA39AD8317F012 Accuracy: -m40
Conclusion: CDDA 100%
Signature: 6D30B46BBD8AC9447D2457475718B4BE915F33D3
FILE: 03. Mendelssohn- 6 Gesänge, Op. 34- No. 2, Auf Flügeln des Gesanges, MWV K86.flac
Size: 13711245 Hash: FB7A9CD6942D2C6BBD2A279D16DE8B1B Accuracy: -m40
Conclusion: CDDA 100%
Signature: C898E8BC84D39A79249D25B61B7769CDBBF00514
FILE: 04. Dvořák- 7 Gipsy Melodies, Op. 55, B. 104- No. 4, Songs My Mother Taught Me.flac
Size: 10425439 Hash: A286CE559F7190C87F6AF7D3D881C754 Accuracy: -m40
Conclusion: CDDA 100%
Signature: 8D76F2538351507C0CBDD99C3262059AE7FE2BAF
FILE: 05. Hahn- 20 Mélodies, Premier recueil- No. 1, Si mes vers avaient des ailes.flac
Size: 9571432 Hash: 648AFBDD2F6329AC6E954202C1ECF5AF Accuracy: -m40
Conclusion: CDDA 100%
Signature: 64213545B67343B484A5AEC604846B6BC18E4D70
FILE: 06. Tchaikovsky- 6 Romances, Op. 6- No. 6, Nur wer die Sehnsucht kennt.flac
Size: 16828250 Hash: 70702BBEE8B3FA086CEC91A7A834C821 Accuracy: -m40
Conclusion: CDDA 100%
Signature: FBB1E978F272CB3E034B22656954A691E90B0840
FILE: 07. Jensen- 7 Gesänge aus dem spanischen Liederbuche, Op. 21- No. 4, Murmelndes Lüftchen.flac
Size: 16361796 Hash: EFF04D97291E0B4CF2214CE302FE86E7 Accuracy: -m40
Conclusion: CDDA 100%
Signature: AE4A915CEE7B2C20EF0589D5E943FD6D65ECE4F7
FILE: 08. Grieg- Melodies of the Heart, Op. 5- No. 3, Ich liebe dich.flac
Size: 11191744 Hash: 816BB0AA0C3099EBFF39D4BD1D5383CA Accuracy: -m40
Conclusion: CDDA 100%
Signature: 55450959EDE0AC8C86D27FF6AAA8DD0B0FD7AABB
FILE: 09. Grieg- 7 Childrens Songs, Op. 61- No. 3, Farmyard Song.flac
Size: 3358973 Hash: 991FCEB68CB231D6FDB5B44AE6A3931B Accuracy: -m40
Conclusion: CDDA 100%
Signature: F99AF1DF5DB3D47891B0A393B5626091A239190F
FILE: 10. Sibelius- 6 Lieder, Op. 36- No. 1, Schwarze Rosen.flac
Size: 8640903 Hash: 238D2A236874D083BD1ED05B341BA97D Accuracy: -m40
Conclusion: CDDA 99%
Signature: 1C13333433348D8B7CF920D297E5F6A6BE6BAE3D
FILE: 11. Strauss- 5 Lieder, Op. 41- No. 1, Wiegenlied.flac
Size: 18790917 Hash: 28C316F7E1D0465ED2C7CD8BFEA1A5DE Accuracy: -m40
Conclusion: CDDA 100%
Signature: 9CBC576E1B4A165E5C85242C94CF1A94144E3555
FILE: 12. Wolf- Spanisches Liederbuch- No. 2, In dem Schatten meiner Locken.flac
Size: 10057454 Hash: 63E32AD69C34FA450361B48AC3EA1444 Accuracy: -m40
Conclusion: CDDA 100%
Signature: 76ED9AA58AC624A8E1FEBED496A50B0BC15C2570
FILE: 13. Wolf- Mörike-Lieder- No. 16, Elfenlied.flac
Size: 8225434 Hash: 13DB42A15CF0FDA60B5AEFBBFB324482 Accuracy: -m40
Conclusion: CDDA 100%
Signature: 9C81A38DE6DB14EA2F02EA2B01F95B4A095E2CFF
FILE: 14. Traditional- O du liebs Ängeli.flac
Size: 6058503 Hash: 2844A3C6EDEB5D5348E5ACBD0D711070 Accuracy: -m40
Conclusion: CDDA 99%
Signature: AD01B6C1D51C08815B45F76A11A5069198A41842
FILE: 15. Traditional- Gsätzli.flac
Size: 7412470 Hash: EDB8E10904FE6886E203386D3531A988 Accuracy: -m40
Conclusion: CDDA 100%
Signature: D75FDB3E14C320C5278081B2E3847D067B18241B