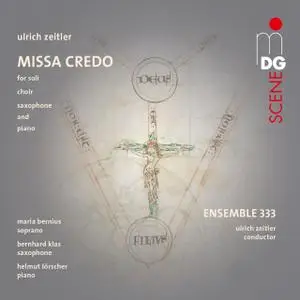 Ensemble 333 - Ulrich Zeitler: Missa Credo (2015)
WEB | FLAC (tracks) - 205 MB | 47:52
Genre: Classical | Label: MDG Scene
In this new recording, Missa Credo for soprano, saxophone and piano is conducted by the composer, Ulrich Zeitler. The work combines Gregorian melodies from the medieval church with contemporary jazz to make a fascinating fusion of styles on this hybrid SACD.

For Ulrich Zeitler the Credo is a program: this deeply felt, very personal profession of faith forms the foundation in this composition. Very much in the tradition of the earliest church music, Zeitler avails himself of the "perfect division": each metrical unit can be divided into three subunits, as a symbol of the perfection of God, of unity in three persons. The ever-present pedal point d underscores this unity,and, whether intentionally or not, the whole Credo attains a length of 333 measures!

The result is a fascinating piece of music, modern and yet very traditional at times, beautifully performed and is a meticulously mixed SACD recording in 2+2+2 multichannel sound means that the impressive experience of the premiere can also be relived at home.
Track List:
1. Kyrie 6:58
2. Gloria 5:23
3. Credo 17:36
4. Sanctus 8:39
5. Agnus Dei 9:16
Performers:
Maria Bernius (soprano)
Bernhard Klas (saxophone)
Helmut Lörscher (piano)
Ensemble 333
Ulrich Zeitler
–––––––––––-
DON'T MODIFY THIS FILE
–––––––––––-
PERFORMER: auCDtect Task Manager, ver. 1.6.0 RC1 build 1.6.0.1
Copyright © 2008-2010 y-soft. All rights reserved
http://y-soft.org
ANALYZER: auCDtect: CD records authenticity detector, version 0.8.2
Copyright © 2004 Oleg Berngardt. All rights reserved.
Copyright © 2004 Alexander Djourik. All rights reserved.
FILE: 01 - Maria Bernius - Missa Credo for Soprano, Choir, Saxophone and Pian.flac
Size: 26287286 Hash: 4841EE8E71EC742F65FAF07F552FF10F Accuracy: -m0
Conclusion: CDDA 100%
Signature: 1A2BC8919B067FDF8B522FE540A88BF0C2CEEDCD
FILE: 02 - Maria Bernius - Missa Credo for Soprano, Choir, Saxophone and Pian.flac
Size: 27507092 Hash: 6531EEEF5C1A7F16AA17D55BF21F5A69 Accuracy: -m0
Conclusion: CDDA 100%
Signature: E1CC0EC0151958CDB490937AB4375BBC860076CB
FILE: 03 - Maria Bernius - Missa Credo for Soprano, Choir, Saxophone and Pian.flac
Size: 74991373 Hash: 1F29FDE0F13AE4C1292FAAF2C3D838AF Accuracy: -m0
Conclusion: CDDA 100%
Signature: B47ADFCD58CD417E521002805E0D88A5BCAC7F0D
FILE: 04 - Maria Bernius - Missa Credo for Soprano, Choir, Saxophone and Pian.flac
Size: 33440339 Hash: 8AAC447CC42546BFDA38AF55331951BA Accuracy: -m0
Conclusion: CDDA 100%
Signature: 5B5B53CD2D6D1F57471F0920E9ED2E0370179870
FILE: 05 - Maria Bernius - Missa Credo for Soprano, Choir, Saxophone and Pian.flac
Size: 33236708 Hash: 4B93D072063304E17330BFD619A0B712 Accuracy: -m0
Conclusion: CDDA 100%
Signature: A32224010D059AEB60889F176AD94AFA522F32E2