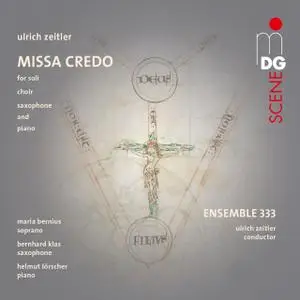 Ensemble 333 - Ulrich Zeitler: Missa Credo (2015)
WEB | FLAC (tracks) - 205 MB | 47:52
Genre: Classical | Label: MDG Scene
In this new recording, Missa Credo for soprano, saxophone and piano is conducted by the composer, Ulrich Zeitler. The work combines Gregorian melodies from the medieval church with contemporary jazz to make a fascinating fusion of styles on this hybrid SACD. For Ulrich Zeitler the Credo is a program: this deeply felt, very personal profession of faith forms the foundation in this composition. Very much in the tradition of the earliest church music, Zeitler avails himself of the "perfect division": each metrical unit can be divided into three subunits, as a symbol of the perfection of God, of unity in three persons. The ever-present pedal point d underscores this unity,and, whether intentionally or not, the whole Credo attains a length of 333 measures!