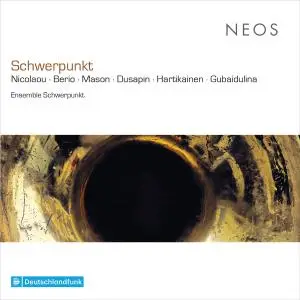 Ensemble Schwerpunkt - Schwerpunkt (2019)
WEB FLAC (tracks) - 165 MB | Tracks: 7 | 52:25 min
Style: Classical | Label: NEOS Music
A brass quintet walks into a bar… sounds like the opening to a musician's joke. And indeed, there's a Keystone Cops element to the perception of a brass quintet, admits Ensemble Schwerpunkt trumpeter Matthew Sadler: "It's a jokey kind of thing… not quite serious but associated with wearing white trainers or having to have choreograph performances to make it work. That's all fine, but it's not what we're in it for." The Ensemble Schwerpunkt, formed in Hannover before transferring to Mike Svoboda's influential Master's Degree course for New Music at the Musik Akademie Basel, has different ambitions: One of the reasons for existing as a quintet is that audiences – and composers – will take the brass quintet seriously as a genre. To be for brass quintet what the Arditti Quartet was (and still very much is) for the string quartet: A standard-setting, high-octane ensemble for contemporary music.
Spielwechsler. Versteckt (Game-Changer. Hidden) was commissioned in 2016 by the South West German Broadcast Corporation from Vassos Nicolaou (*1971) for the "ars nova" concert series – and for the Ensemble Schwerpunkt to play. It was written and premiered in Ravensburg in the same year. Nicolaou summarizes his work thus:
"The title is made of the phrase "game changer" (Spielwechsler) and hidden (Versteckt). I wanted to compose a brass quintet that would sound different to a typical piece for this ensemble by using mutes virtually throughout the entire piece. The mutes filter the original instrumental sound and create sounds of metallic quality. Some of the compositional techniques I use include heterophony, hocket, polyphony and granular synthesis. The tuba in the first section is the real Spielwechsler and it is Versteckt since it is not initially perceived to be as important as the other instruments but in fact turns out to be central to the work."
Tracklist:
01. Spielerwechsler. Versteckt
02. Call (St. Louis Fanfare)
03. Brass Quintet
04. Stanze: I. —
05. Stanze: II. —
06. Radix
07. Quattro

FILE: 01. Spielerwechsler. Versteckt.flac
Size: 33605503 Hash: 2CA56BAE459C87E37780FEA90DC1D7F2 Accuracy: -m0
Conclusion: CDDA 94%
Signature: B371F25DDD8AE479C4FA3FFAC68F2FE27E9FD16D
FILE: 02. Call (St. Louis Fanfare).flac
Size: 11860587 Hash: 0958949A1FEE46B9226609264F766B22 Accuracy: -m0
Conclusion: CDDA 42%
Signature: 2D54F788B4DE6B3D0ABC493E4771216055A482B3
FILE: 03. Brass Quintet.flac
Size: 38546022 Hash: 4D9C8A9BDA78BA7767BBFEC70428B303 Accuracy: -m0
Conclusion: CDDA 62%
Signature: 27C45A72E7225DF26D631BF4BF16B2B943719C36
FILE: 04. Stanze_ I. —.flac
Size: 14617840 Hash: 4B5EB0D14A2EC4D39A7D12A6A7F135F6 Accuracy: -m0
Conclusion: CDDA 43%
Signature: 1177E1B6588A0A593ADFC321C62A29ED87543C12
FILE: 05. Stanze_ II. —.flac
Size: 12906144 Hash: 105C294868306F2ACDF5CBDC6E2419BC Accuracy: -m0
Conclusion: CDDA 100%
Signature: A74302E5F29AD1C921121C5F94C6CF833A929E4D
FILE: 06. Radix.flac
Size: 37712591 Hash: A9C38C03C73A7185D7B229AFF936ACCB Accuracy: -m0
Conclusion: CDDA 100%
Signature: 3A22999AED8C7F02412318919A9FCB5F89F295CC
FILE: 07. Quattro.flac
Size: 24493731 Hash: 336BFD4C159B8338A537D8D236B03E15 Accuracy: -m0
Conclusion: CDDA 100%
Signature: 24789BAF15079257C14677FD2E910EE57EDADAE2