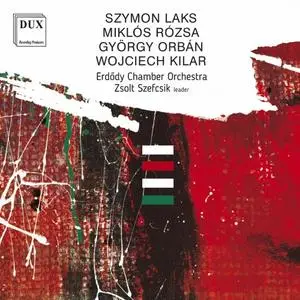 Erdődy Chamber Orchestra & Zsolt Szefcsik - Laks, Rózsa, Orbán & Kilar: Orchestral Works (2020)
FLAC tracks +booklet | 64:06 | 307 Mb
Genre: Classical / Label: DUX
The Erdody Chamber Orchestra's third album includes works by both Polish and Hungarian composers active in the 20th century including Laks, Rozsa, Orban and Kilar.In 1994, Zsolt Szefcsik founded the Erdody Chamber Orchestra in Budapest to promote the Hungarian musical heritage and present achievements of contemporary composers. Over 25 years, the ensemble, using Hungarian manuscript collections, has presented over one hundred forgotten pieces. Thanks to this fact, it has become an orchestra with currently the most extensive repertoire of Hungarian music. A large group of works by composers operating in the 18th and 19th centuries has become available only thanks to the concerts of the Erdody Chamber Orchestra.
Track List:
01. Sinfonietta: I. Ouverture. Allegro non troppo ma con brio (4:09)
02. Sinfonietta: II. Sérénade. Un poco adagio (5:10)
03. Sinfonietta: III. Rondino. Allegro giusto (2:02)
04. Sinfonietta: IV. Finale. Allegro vivace (5:02)
05. Concerto for String Orchestra, Op. 17: I. Moderato, ma risoluto ed energico (7:49)
06. Concerto for String Orchestra, Op. 17: II. Lento con gran espressione (7:15)
07. Concerto for String Orchestra, Op. 17: III. Allegro giusto (8:05)
08. Sopra canti diversi: I. Colindă (5:33)
09. Sopra canti diversi: II. Schneefall in Kronstadt (5:22)
10. Sopra canti diversi: III. Repülj madár, repülj (5:20)
11. Orawa (8:26)
ANALYZER: auCDtect: CD records authenticity detector, version 0.8.2
Copyright © 2004 Oleg Berngardt. All rights reserved.
Copyright © 2004 Alexander Djourik. All rights reserved.


FILE: 01. Sinfonietta I. Ouverture. Allegro non troppo ma con brio.flac
Size: 21951084 Hash: B2F3A8C80EE66E767A57CA94E5E76D0D Accuracy: -m40
Conclusion: CDDA 100%
Signature: 9934F1425308CB75B15368E0977B5462F76A8175
FILE: 02. Sinfonietta II. Sérénade. Un poco adagio.flac
Size: 23167325 Hash: 5148E26E7F8AABD51BB67CC0C16EE5C3 Accuracy: -m40
Conclusion: CDDA 100%
Signature: D4AC59A8E55650ACDA0170F364223B03C1A301FE
FILE: 03. Sinfonietta III. Rondino. Allegro giusto.flac
Size: 10573089 Hash: 31F11B16F508F0B63A148E2D514D0615 Accuracy: -m40
Conclusion: CDDA 100%
Signature: 749143CB54BAE825BD06AD7DE9410260CE376425
FILE: 04. Sinfonietta IV. Finale. Allegro vivace.flac
Size: 25904805 Hash: C9E138479C2567978B5E207EE3C463B0 Accuracy: -m40
Conclusion: CDDA 100%
Signature: DE0FEED1C2D921E239B599C94B6F0169B301CC06
FILE: 05. Concerto for String Orchestra, Op. 17 I. Moderato, ma risoluto ed energico.flac
Size: 42290137 Hash: C8941942AFFA066906C30610438BB368 Accuracy: -m40
Conclusion: CDDA 100%
Signature: 5C1FB11D1FB8CCBD7E37B61255C47A9B96348AE3
FILE: 06. Concerto for String Orchestra, Op. 17 II. Lento con gran espressione.flac
Size: 35402623 Hash: 64158CA01E7BB52080731FAF954525B3 Accuracy: -m40
Conclusion: CDDA 100%
Signature: 6D9E7697225E02784950D180C32E7EF3BEB5AA99
FILE: 07. Concerto for String Orchestra, Op. 17 III. Allegro giusto.flac
Size: 41645020 Hash: 2B7F1D170999DD671AF8BDABEE5D08A7 Accuracy: -m40
Conclusion: CDDA 100%
Signature: D1FE05BC0DE303B2E6F847A76EBCBDA9BE04A6BF
FILE: 08. Sopra canti diversi I. Colindă.flac
Size: 26778646 Hash: 169685502268BF7E70A399CE6B4966D3 Accuracy: -m40
Conclusion: CDDA 100%
Signature: 08C60503A5EA842D51FDCFC814EE5C35246A5F28
FILE: 09. Sopra canti diversi II. Schneefall in Kronstadt.flac
Size: 24177702 Hash: 4501A1A0F22F220D996F13843B9A190C Accuracy: -m40
Conclusion: CDDA 100%
Signature: FE971E58A41E9809EA3F5E66AF90E645590CB58D
FILE: 10. Sopra canti diversi III. Repülj madár, repülj.flac
Size: 23941770 Hash: 406621136E845F400944E1452B05E258 Accuracy: -m40
Conclusion: CDDA 100%
Signature: 3102DFBA7226FED50680182D5D24A6C641EE5744
FILE: 11. Orawa.flac
Size: 43164790 Hash: 8007B6DC06E2F67D420AB973E5174930 Accuracy: -m40
Conclusion: CDDA 100%
Signature: C10544E1BBDE1126E1E7A65F39A06C2568DDD7AE