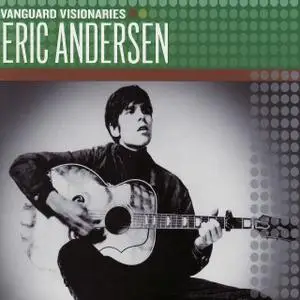 Eric Andersen - Vanguard Visionaries (2007)
WEB | FLAC (tracks) - 253 MB | MP3 (CBR 320 kbps) - 101 MB | 39:03
Genre: Folk Rock | Label: Vanguard
Founded in 1950 by brothers Seymour Solomon and Maynard Solomon just as the LP format was taking hold (it had been introduced to the market two years previously), Vanguard Records took full advantage of the longer playing time afforded and began life as a classical label, moving easily into jazz, then gospel, bluegrass, blues, and folk (as Joan Baez's label, they had a high profile during the 1960s folk revival), eventually experimenting with rock groups like the Frost, although folk and classical remained the label's forte. Vanguard was sold to the Welk Group in 1985. The new owners set about revitalizing the imprint's back catalog, and also began adding contemporary recordings of country and pop artists as the 21st century began. To celebrate the imprint's rapidly approaching 60th anniversary, Vanguard has released a series of brief artist samplers (Vanguard Visionaries) from the label's peak 1960s and early-'70s era, including this one from Eric Andersen. Always a bit of an odd man out during the folk revival, Andersen recorded five albums for Vanguard between 1965 and 1969, all full of a kind of romantic and bohemian view of love's arrivals and departures, making him a precursor to the singer/songwriter explosion that emerged in the 1970s. These ten tracks, including the overwrought but still engaging "Violets of Dawn" and the lovely "Close the Door Lightly When You Go," are representative of Andersen's work with the label.
Track List:
01. Violets Of Dawn 3:50
02. Thirsty Boots 5:54
03. Close The Door Lightly When You Go 3:30
04. Come To My Bedside 3:54
05. Rambler's Lament 5:33
06. Boots Of Blue 2:33
07. Dusty Box Car Wall 2:29
08. Song To J.C. B. 5:00
09. Hey Babe, Have You Been Cheatin' 3:35
10. Broken Hearted Mama 3:01
–––––––––––-
DON'T MODIFY THIS FILE
–––––––––––-
PERFORMER: auCDtect Task Manager, ver. 1.6.0 RC1 build 1.6.0.1
Copyright © 2008-2010 y-soft. All rights reserved
http://y-soft.org
ANALYZER: auCDtect: CD records authenticity detector, version 0.8.2
Copyright © 2004 Oleg Berngardt. All rights reserved.
Copyright © 2004 Alexander Djourik. All rights reserved.
FILE: 1 Violets Of Dawn.flac
Size: 23006072 Hash: 3B793A0B4ED0EB2356717CB3A75B3425 Accuracy: -m0
Conclusion: CDDA 99%
Signature: E0B535BDF25814E47DC73CE208D3EDC35C075699
FILE: 10 Broken Hearted Mama.flac
Size: 17289112 Hash: 11E31411DA377BC5638B5CF82FEC243B Accuracy: -m0
Conclusion: CDDA 100%
Signature: 13CA05AA8DA340C0D04DF42F36E37C9CC276143E
FILE: 2 Thirsty Boots.flac
Size: 34561491 Hash: A064DC42265BE3F9A7700346F41BEF96 Accuracy: -m0
Conclusion: CDDA 100%
Signature: 1EC4733C9A6BBB1322D5B2DB6987DE404188F5C4
FILE: 3 Close The Door Lightly When You Go.flac
Size: 20289710 Hash: 234C277AECE354CE59026769B74459D0 Accuracy: -m0
Conclusion: CDDA 100%
Signature: F3F1697D7E7277DAE26CC23A5A7E209C93D74683
FILE: 4 Come To My Bedside.flac
Size: 23874352 Hash: CF408F8B38B81D72B3EB479286C35708 Accuracy: -m0
Conclusion: CDDA 100%
Signature: 441653B30F43572E5E1BE9D9A98298776CD09058
FILE: 5 Rambler's Lament.flac
Size: 37197157 Hash: BC98CF2F02257AED6CB87BD49B00A056 Accuracy: -m0
Conclusion: CDDA 100%
Signature: A16496AE1CF49E6F6FCD6CA3370BD320B0A36A1F
FILE: 6 Boots Of Blue.flac
Size: 14320001 Hash: 23A50DDE024FB467E2A4961C3BBBF0AD Accuracy: -m0
Conclusion: CDDA 100%
Signature: A7C980E54C25DECF8AC31208EC74A5168220D545
FILE: 7 Dusty Box Car Wall.flac
Size: 15905658 Hash: 73E13F680183981F51BA61D735E7A577 Accuracy: -m0
Conclusion: CDDA 100%
Signature: 9BECD935298E42C96232D78C1DCBE84B379AB42D
FILE: 8 Song To J.C.B-.flac
Size: 28916401 Hash: D4F671D5EAC798FA1107FB462AC00644 Accuracy: -m0
Conclusion: CDDA 100%
Signature: 393CEC79983ADD2E4DFB676C29216B3504374746
FILE: 9 Hey Babe, Have You Been Cheatin'.flac
Size: 25793548 Hash: 273105F4CCFC69D20093B4F3F0B1D699 Accuracy: -m0
Conclusion: CDDA 99%
Signature: D9EEBD8DCEF466B305221F4FB024FF8920DB27AB
Download: