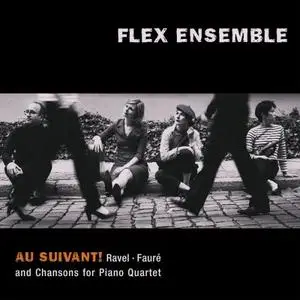 Flex Ensemble - Au Suivant! Ravel, Fauré Chansons for Piano Quartet (2019)
FLAC (tracks +booklet) | 01:02:43 | 273 Mb
Genre: Classical / Label: CAvi-music
Flex Ensemble second album (Au suivant / Next!) highlights three different genres of French music: A youthful work by Fauré, written in the late romantic piano quartet tradition, character pieces by Ravel in a new arrangement for piano quartet and an eclectic mix of contemporary interpretations of French Chansons from Claude Le Jeune up to Georges Brassens. It all began with Fauré… his C minor Piano Quartet is one of the earliest works that we learned as an ensemble. We immediately formed a personal connection to the quartet, perhaps one of Fauré's most popular chamber music works. With its emotional core, instrumental colour, flowing but clear form, and the fascinating story behind its creation, we embraced the challenge of exploring our sound and furthering our comprehension of French musical literature. Some years later we received an unexpected gift: The first movement of Ravel's Ma Mère l´Oye arranged for piano quartet by our friend Shintaro Sakabe. "Try it," he said, "I think it might work". The success of this first movement quickly led to him arranging the rest of the suite. Each handwritten movement came in one by one, unexpected presents we gleefully opened at the start of rehearsals. Before long, we were including his arrangement in our concert programs. The magic of this version lies, we think, in the fact that Shintaro based it on the four-hand piano version instead of the orchestral version. It is very intimate, personal and objective, but we sometimes get a wave of the orchestral sound. It is perhaps the very essence of the French chamber music tradition.
Track List:
01. Ma mère l'Oye, M. 60: I. Pavane de la belle au bois dormant (Arr. for Piano Quartet)
02. Ma mère l'Oye, M. 60: II. Petit Poucet (Arr. for Piano Quartet)
03. Ma mère l'Oye, M. 60: III. Laideronette, impèratrice des pagodes (Arr. for Piano Quartet)
04. Ma mère l'Oye, M. 60: IV. Les entretiens des la belle et de la bête (Arr. for Piano Quartet)
05. Ma mère l'Oye, M. 60: V. Le jardin féerique (Arr. for Piano Quartet)
06. Plus blanche, Song after Claude le Jeune
07. Au Suivant
08. Chanson Ruée
09. Rentrez soupirs after Marc-Antoine Charpentier
10. Flambée Montalbanaise
11. Piano Quartet in C Minor, Op. 15: I. Allegro molto moderato
12. Piano Quartet in C Minor, Op. 15: II. Sacherzo. Allehro vivo-Trio
13. Piano Quartet in C Minor, Op. 15: III. Adagio
14. Piano Quartet in C Minor, Op. 15: IV. Allegro molto
ANALYZER: auCDtect: CD records authenticity detector, version 0.8.2
Copyright © 2004 Oleg Berngardt. All rights reserved.
Copyright © 2004 Alexander Djourik. All rights reserved.


FILE: 01. Ma mère l'Oye, M. 60- I. Pavane de la belle au bois dormant (Arr. for Piano Quartet).flac
Size: 5593363 Hash: 971D624974F8394B28B3E05F55C4E05C Accuracy: -m40
Conclusion: CDDA 100%
Signature: 5AD2E116097043E7D9EAE46ECB49D295A80B6FEF
FILE: 02. Ma mère l'Oye, M. 60- II. Petit Poucet (Arr. for Piano Quartet).flac
Size: 11052340 Hash: B8F22CCE2F3ACC884C9AAEC906F66BA0 Accuracy: -m40
Conclusion: CDDA 100%
Signature: 083FED101D167770F44E554BA6B5C33CC761717A
FILE: 03. Ma mère l'Oye, M. 60- III. Laideronette, impèratrice des pagodes (Arr. for Piano Quartet).flac
Size: 14675949 Hash: 32548AC919DAB09086B5771F18EA5DB1 Accuracy: -m40
Conclusion: CDDA 100%
Signature: 576414FD60A031B1B3AF7061CEE3B862544947F1
FILE: 04. Ma mère l'Oye, M. 60- IV. Les entretiens des la belle et de la bête (Arr. for Piano Quartet).flac
Size: 15974272 Hash: EFEFD7C384E02BCB3FA5D7ABA64D46EA Accuracy: -m40
Conclusion: CDDA 100%
Signature: 2C103FF2F74CD1C42451598F215F7D82C8CDFC09
FILE: 05. Ma mère l'Oye, M. 60- V. Le jardin féerique (Arr. for Piano Quartet).flac
Size: 15462449 Hash: C069BDB472612FB4CD3ED231BCA9664D Accuracy: -m40
Conclusion: CDDA 100%
Signature: 0667E1BDADA10BC58E5E61479EA3F549EFC8EBF0
FILE: 06. Plus blanche, Song after Claude le Jeune.flac
Size: 20211543 Hash: 8792CAAFFA3412AA6415132CA01FADD4 Accuracy: -m40
Conclusion: CDDA 100%
Signature: 5A38586B6E1DF821B126EF3895C5E4118A26479C
FILE: 07. Au Suivant.flac
Size: 19995349 Hash: 76A835683B35A87D322FF284D06192C8 Accuracy: -m40
Conclusion: CDDA 100%
Signature: 7AEC3485CAE8D9642C37BD4FCCD8FA8BC8C6D658
FILE: 08. Chanson Ruée.flac
Size: 5009685 Hash: 5839952469ED429983F31E70E93E0DB8 Accuracy: -m40
Conclusion: CDDA 99%
Signature: 2502D9FE38CF47F98A329ED774123E44D16C3B6A
FILE: 09. Rentrez soupirs after Marc-Antoine Charpentier.flac
Size: 16901244 Hash: F57A4EFCF89E39A3491A52A499B88631 Accuracy: -m40
Conclusion: CDDA 100%
Signature: 328452E78FA5441F0A0DE3DE56E1D8D772AA8ACB
FILE: 10. Flambée Montalbanaise.flac
Size: 19006874 Hash: A26A8B77E232054112097A71A8940E3D Accuracy: -m40
Conclusion: CDDA 100%
Signature: 0CA2274B82CD1F109422728B883F2EC526090F46
FILE: 11. Piano Quartet in C Minor, Op. 15- I. Allegro molto moderato.flac
Size: 45231321 Hash: FADF01D4CECD942DFA94286C02E29FAF Accuracy: -m40
Conclusion: CDDA 100%
Signature: B1E7A15EA9A906E610407B015A3851FEDA35141D
FILE: 12. Piano Quartet in C Minor, Op. 15- II. Sacherzo. Allehro vivo-Trio.flac
Size: 26525149 Hash: 95B941E22FEE301D13AEE1970EC0795D Accuracy: -m40
Conclusion: CDDA 100%
Signature: 2900B0506FE18637503B702B0AE064E7E1217519
FILE: 13. Piano Quartet in C Minor, Op. 15- III. Adagio.flac
Size: 27673977 Hash: 808DF17EE5E6F91AD60D0FE5F60F10D3 Accuracy: -m40
Conclusion: CDDA 100%
Signature: C398DE2C49CB61E90EB727A765FBD2B8A4C3FF8B
FILE: 14. Piano Quartet in C Minor, Op. 15- IV. Allegro molto.flac
Size: 42235155 Hash: 4D190DE60A5713B3A2089B39D063FF4A Accuracy: -m40
Conclusion: CDDA 100%
Signature: 3DA230C4BDC539BCC8FCA2F491196ACCBEB9976E