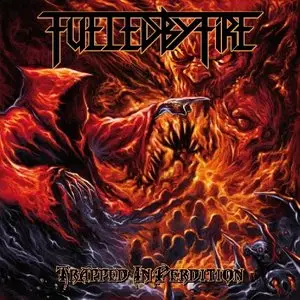 Fueled By Fire - Trapped In Perdition (2013)
U.S.A. | MP3 CBR 320 Kbps | 101 MB
Thrash Metal
After nearly a dozen personnel rotations, thrash metal outfit "Fueled By Fire" have fine-tuned their sound into an explosive act in the vein of '80s speed demons Slayer, Overkill , Testament and more .Trapped in Perdition album for sale by Fueled By Fire is scheduled to be released Aug 06, 2013 on the Napalm label. Trapped in Perdition CD music contains 11 songs. The album was recorded at Mana Recording Studios in Florida by the death metal legend Erik Rutan of Hate Eternal. The cover art was done by the artist Axel Hermann (MORGOTH, Asphyx, ICED EARTH).
Tracklist :
1. Catastrophe
2. Suffering Entities
3. Forsaken Deity
4. Profane Path
5. Deface Mortality
6. Rotten Creation
7. Pharmaceutical Extermination
8. Symbolic Slaying
9. Obliteration
10. Abeyant Future (Outro)
11. Depiction of Demise (Bonus)
Total playing time 44:31