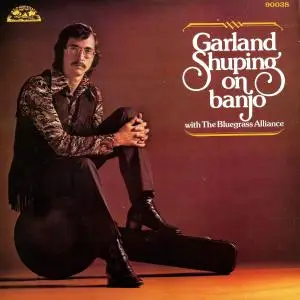 Garland Shuping - Garland Shuping on Banjo (2019)
FLAC tracks | 37:39 | 225 Mb
Genre: Country, Bluegrass / Label: Old Homestead Records
Through his involvement with the latter band, he acquired a reputation as something of a progressive player, true indeed but not limited to his picking from only that period. His work on the Jim and Jesse recordings, reissued by Pinecastle as The Old Dominion Masters box set, shows that forward-thinking melodic phrasing was already something Shuping was quite adept at well long before anyone dreamt up the term "newgrass."Shuping died in his late forties following a fight with pneumonia and upper lung infection. He died on the table while waiting for tests, apparently of a heart attack.
Track List:
01. Reuben Had a Train
02. Eternal Love
03. Gypsies, Tramps and Thieves
04. Foxfire
05. Foggy Mountain Breakdown
06. Dueling Banjos Ripoff
07. Scarborough Fair
08. Pea Soup Reel
09. Heartbreak Mountain
10. Sound of Silence
ANALYZER: auCDtect: CD records authenticity detector, version 0.8.2
Copyright © 2004 Oleg Berngardt. All rights reserved.
Copyright © 2004 Alexander Djourik. All rights reserved.


FILE: 01. Reuben Had a Train.flac
Size: 37034698 Hash: 77F5583D74FE1EE4DAFFE874E270D53F Accuracy: -m40
Conclusion: CDDA 100%
Signature: CEA33836F0CD407939DB948D30C8D6ED3A92CFE2
FILE: 02. Eternal Love.flac
Size: 29130747 Hash: A87C0511C87CDC0DB285F2FDD183EADC Accuracy: -m40
Conclusion: CDDA 100%
Signature: 0D7FA573558BB8C13829735120D33441BD5AAD23
FILE: 03. Gypsies, Tramps and Thieves.flac
Size: 26903759 Hash: 2FD8963BE214D50180FB9D349669922A Accuracy: -m40
Conclusion: CDDA 100%
Signature: 610560CE9F9F92A4B0DB87D3AB27ED3D4C78E668
FILE: 04. Foxfire.flac
Size: 17474245 Hash: 3D7FF28E52E9FEA6436E8570AC8F0DA2 Accuracy: -m40
Conclusion: CDDA 100%
Signature: 713AE1381325411F0DF7B8057DC395C8ED4125E5
FILE: 05. Foggy Mountain Breakdown.flac
Size: 20975230 Hash: A10371D253E7000F8604E69CB5EC3086 Accuracy: -m40
Conclusion: CDDA 100%
Signature: 646F8935AD6B4F080A2C41E1D77128D02D8C94D0
FILE: 06. Dueling Banjos Ripoff.flac
Size: 18359470 Hash: 3394B3158E6BA658A5BF70702EF9C2D3 Accuracy: -m40
Conclusion: CDDA 99%
Signature: 636FBE80CCD299BE0C59AF17662AE9EBF11D2B18
FILE: 07. Scarborough Fair.flac
Size: 21094546 Hash: 0CE98775B13AC897DADD5CACBC64E9FB Accuracy: -m40
Conclusion: CDDA 100%
Signature: 8AF71DB37FC543385B77B344B120F4CB0BC22A58
FILE: 08. Pea Soup Reel.flac
Size: 21689571 Hash: BE4B908677CE6FFAC6C542BF67E68841 Accuracy: -m40
Conclusion: CDDA 100%
Signature: 6EF57572B546FC95A2C98F1B5B962286966EEA99
FILE: 09. Heartbreak Mountain.flac
Size: 19162156 Hash: 8642EC9714D83311C1D509CE4BCE61B7 Accuracy: -m40
Conclusion: CDDA 100%
Signature: A92107D22A067B3BE0245EF84748B895127F45A0
FILE: 10. Sound of Silence.flac
Size: 24837444 Hash: 08131C1FCE40F3B4450AFBD09B2CEB96 Accuracy: -m40
Conclusion: CDDA 100%
Signature: A61E5D8F6CF4C7F6FBF1528DF242C78805BEB14F