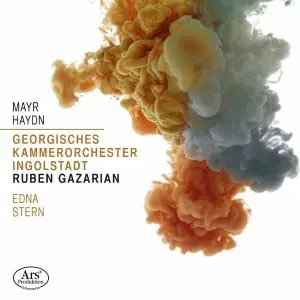 Georgisches Kammerorchester Ingolstadt - Haydn: Symphony No. 25 in C Major, Hob.I:25 - Mayr: Piano Concertos Nos. 1 & 2 (Live) (2020)
WEB FLAC (tracks) - 217 MB | Tracks: 9 | 52:37 min
Style: Classical | Label: ARS Produktion
Containing two World Premiere Recordings, this new recording on SACD celebrates Johann Simon Mayr (1763-1845). Revered and valued by Rossini and Verdi, for a long time he was known only as Donizetti's teacher. Happily, his oeuvre have undergone a welcome renaissance in recent years and these world premiere recordings are no exception. The Belgian-Israeli pianist Edna Stern and the Georgisches Kammerorchester (Chamber Orchestra) Ingolstadt under Ruben Gazarian present piano concertos nos.1&2.
Tracklist:
01. Symphony No. 25 in C Major, Hob.I:25: I. Adagio - Allegro (Live)
02. Symphony No. 25 in C Major, Hob.I:25: II. Menuet (Live)
03. Symphony No. 25 in C Major, Hob.I:25: III. Presto (Live)
04. Piano Concerto No. 1 in C Major: I. Allegro (Live)
05. Piano Concerto No. 1 in C Major: II. Andante grazioso (Live)
06. Piano Concerto No. 1 in C Major: III. Rondo Allegro (Live)
07. Piano Concerto No. 2 in C Major: I. Allegro (Live)
08. Piano Concerto No. 2 in C Major: II. Andantino con variazioni (Live)
09. Piano Concerto No. 2 in C Major: III. Rondo Allegro (Live)


FILE: 01. Symphony No. 25 in C Major, Hob.I_25_ I. Adagio - Allegro (Live).flac
Size: 32601622 Hash: 4C563A1D25CB6A16A8BFC49347A9F629 Accuracy: -m0
Conclusion: CDDA 99%
Signature: A2CF46C82902BC933CBC8C94269EAA8A92A2615E
FILE: 02. Symphony No. 25 in C Major, Hob.I_25_ II. Menuet (Live).flac
Size: 15685883 Hash: B086B2E97BB398540DBCF7057BC3D29B Accuracy: -m0
Conclusion: CDDA 100%
Signature: 5C177D32A22AA36EE1D788AFB42504B49BCB4ADA
FILE: 03. Symphony No. 25 in C Major, Hob.I_25_ III. Presto (Live).flac
Size: 15103844 Hash: F3CD019A2DEA3B3E9BDD375A0B678EDA Accuracy: -m0
Conclusion: CDDA 100%
Signature: 1F5420AC59892C10D2023F89FF4EF02EEE75B84F
FILE: 04. Piano Concerto No. 1 in C Major_ I. Allegro (Live).flac
Size: 37837686 Hash: EC07006D6122E700A848BF441F6D1B9D Accuracy: -m0
Conclusion: CDDA 99%
Signature: A92BA9E529FDBF44F873A4B2E169F2DD87F3F9F4
FILE: 05. Piano Concerto No. 1 in C Major_ II. Andante grazioso (Live).flac
Size: 12066180 Hash: 852D4173F0B1472AF7FC6C83A7AB3017 Accuracy: -m0
Conclusion: CDDA 100%
Signature: 48DAFE18C7FDECC17B8B1A8F66540ED8025C0AD8
FILE: 06. Piano Concerto No. 1 in C Major_ III. Rondo Allegro (Live).flac
Size: 15428140 Hash: BFF14974D3AB012F4C2A0588BD471E30 Accuracy: -m0
Conclusion: CDDA 99%
Signature: 091DE9394D733010C23F563BABE783915A4481E3
FILE: 07. Piano Concerto No. 2 in C Major_ I. Allegro (Live).flac
Size: 43050764 Hash: 05DAE482D2A54FCEE9F0B29EEC22343E Accuracy: -m0
Conclusion: CDDA 100%
Signature: AA45616862AC29AA8E4B99AC713C5626476179EE
FILE: 08. Piano Concerto No. 2 in C Major_ II. Andantino con variazioni (Live).flac
Size: 32377966 Hash: EDCF65D6A579A8AF0351E495A9AD1CD1 Accuracy: -m0
Conclusion: CDDA 100%
Signature: 495C62E8EA67BDFA0758BF1F5483A7D78021183C
FILE: 09. Piano Concerto No. 2 in C Major_ III. Rondo Allegro (Live).flac
Size: 23489247 Hash: 4EEB2BDC978087CB8CF43330960E2BFA Accuracy: -m0
Conclusion: CDDA 100%
Signature: B8E2D3CE065E8D1917B675C2B77FFE189BB0561D