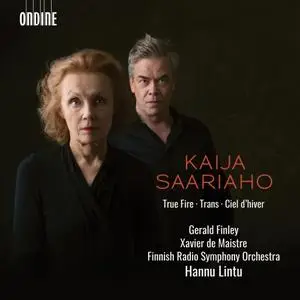 Gerald Finley, Xavier de Maistre, Finnish Radio Symphony & Hannu Lintu - Kaija Saariaho: True Fire, Trans & Ciel d'hiver (2019)
FLAC (tracks) | 60:11 | 271 Mb
Genre: Classical / Label: Ondine
Kaija Saariaho (b. 1952) is among the most prominent names in contemporary music scene today. This new album by the Finnish Radio Symphony Orchestra conducted by Hannu Lintu includes world première recordings of three works by Saariaho featuring bass-baritone Gerald Finley and harpist Xavier de Maistre as soloists. True Fire is a six-movement song cycle that was written to a commission from the Los Angeles Philharmonic, the NDR Symphony Orchestra, the BBC Symphony Orchestra and the Orchestre National de France, for baritone Gerald Finley with an original idea to explore the scope of the baritone voice.
Track List:
1 True Fire: I. Proposition I (Live) 03:12
2 True Fire: II. River (Live) 05:14
3 True Fire: III. Proposition II (Live) 02:51
4 True Fire: IV. Lullaby (Live) 05:06
5 True Fire: V. Farewell (Live) 08:39
6 True Fire: VI. Proposition III (Live) 02:13
7 Ciel d'hiver (After "Orion" Movement II) 09:43
8 Trans: I. Fugitif 06:43
9 Trans: II. Vanité 07:32
10 Trans: III. Messager 08:58
ANALYZER: auCDtect: CD records authenticity detector, version 0.8.2
Copyright © 2004 Oleg Berngardt. All rights reserved.
Copyright © 2004 Alexander Djourik. All rights reserved.


FILE: 01. True Fire_ I. Proposition I (Live).flac
Size: 14842794 Hash: 90AD2152C44C895B37F5796C75FB1982 Accuracy: -m40
Conclusion: CDDA 43%
Signature: 746AB99544A1976F3DBB91D053DA517B37FFCA33
FILE: 02. True Fire_ II. River (Live).flac
Size: 26902866 Hash: 4F4184881196F3D314F5C73AC84FB488 Accuracy: -m40
Conclusion: CDDA 100%
Signature: 7CCB00DFFCB191DEAB347C3607D478FD05181813
FILE: 03. True Fire_ III. Proposition II (Live).flac
Size: 10999240 Hash: 99178DE2EBF3F38CBE7925888C012406 Accuracy: -m40
Conclusion: CDDA 99%
Signature: 8813CAD39DC6CD6A477A982918D8E42088551593
FILE: 04. True Fire_ IV. Lullaby (Live).flac
Size: 25492177 Hash: 249D9B739A075B0DAC536A366FBB8C6E Accuracy: -m40
Conclusion: CDDA 85%
Signature: 96082EEA9AE869E394F1804F3650BA6BA36094CB
FILE: 05. True Fire_ V. Farewell (Live).flac
Size: 39052107 Hash: 7F0C7686C43871DF0D125552C69BF6B5 Accuracy: -m40
Conclusion: CDDA 62%
Signature: 781ABE5AB5062CB115740AAD4D45EF34D1F42B87
FILE: 06. True Fire_ VI. Proposition III (Live).flac
Size: 11884576 Hash: CF386F4E0D082DDB47B235CDCEC0A7AC Accuracy: -m40
Conclusion: CDDA 100%
Signature: 25D1AFF05321D7903EE443B8996621C1AFF5080C
FILE: 07. Ciel d'hiver (After _Orion_ Movement II).flac
Size: 49907177 Hash: 85CEA68E48D8470EE1B00D5FD081D8FB Accuracy: -m40
Conclusion: CDDA 100%
Signature: FE1892D9A7F7917415B12ADDA144CF07AA39F40C
FILE: 08. Trans_ I. Fugitif.flac
Size: 31665388 Hash: F4BB36AD3DBC9B0B3E1D56123702062F Accuracy: -m40
Conclusion: CDDA 100%
Signature: B043EA555D8786665285E349E10BB54F6D1412DE
FILE: 09. Trans_ II. Vanité.flac
Size: 32618292 Hash: 4E23BD7E8E2464EDB8D3CA1B5627E0FF Accuracy: -m40
Conclusion: CDDA 100%
Signature: E8F4890625A117B121C033B0CA9EF813E31390D7
FILE: 10. Trans_ III. Messager.flac
Size: 40997978 Hash: 6FA5659F8DFE40023FDB665C1F4815A1 Accuracy: -m40
Conclusion: CDDA 99%
Signature: 65C75CF088185DC865D95F24B0E77CE3EB9E6EFF