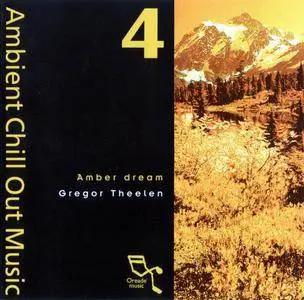 Gregor Theelen - Amber Dream (Ambient Chill Out Music 4) (1995)
XLD Rip | FLAC (image+.cue+log) - 370 MB | MP3 CBR 320 kbps (LAME 3.93) - 158 MB | Covers - 45 MB
Genre: New Age | RAR 3% Rec. | Label: Oreade Music (AMB 5251-2)
Gregor Theelen was born in a family of musicians. He studied at the Music College ofHilversum, Holland; he worked with several well-known artists, he composed, arranged, wrote musicals as well as pieces for string quartets and film music. He is a recording engineer, he teaches and writes for piano. He makes movies and produces for theatre. And, by the way, he plays the piano, the accordion and the guitar.
Tracklist:
01. Amber Dream
02. Tv Quiz
03. African Dream
04. Taxi
05. City
06. Entering The Concrete Whale
07. The Whale In Action
08. Dance To The Sun
09. The V.v.G. Mem. Church
10. Sleeping Child
11. Amber…Amber…Amber
Total time:
01:07:03
X Lossless Decoder version 20170729 (150.3)

XLD extraction logfile from 2017-12-15 02:31:39 +0300

Gregor Theelen / Amber Dream (Ambient Chill Out Music 4)

Used drive : HL-DT-ST DVDRAM GP60NB60 (revision PA01)
Media type : Pressed CD

Ripper mode : CDParanoia III 10.2
Disable audio cache : OK for the drive with a cache less than 2750KiB
Make use of C2 pointers : YES
Read offset correction : 6
Max retry count : 20
Gap status : Analyzed, Appended

TOC of the extracted CD
Track | Start | Length | Start sector | End sector
––––––––––––––––––––––––––––-
1 | 00:00:00 | 06:43:62 | 0 | 30286
2 | 06:43:62 | 01:51:13 | 30287 | 38624
3 | 08:35:00 | 11:02:30 | 38625 | 88304
4 | 19:37:30 | 09:11:24 | 88305 | 129653
5 | 28:48:54 | 00:58:23 | 129654 | 134026
6 | 29:47:02 | 10:40:58 | 134027 | 182084
7 | 40:27:60 | 01:09:45 | 182085 | 187304
8 | 41:37:30 | 09:58:70 | 187305 | 232224
9 | 51:36:25 | 00:43:02 | 232225 | 235451
10 | 52:19:27 | 11:17:60 | 235452 | 286286
11 | 63:37:12 | 03:26:13 | 286287 | 301749

AccurateRip Summary (DiscID: 434f4421-45505954-6d746820)
Track 01 : NG (total 617 submissions)
Track 02 : NG (total 621 submissions)
Track 03 : NG (total 616 submissions)
Track 04 : NG (total 439 submissions)
Track 05 : NG (total 574 submissions)
Track 06 : NG (total 642 submissions)
Track 07 : NG (total 549 submissions)
Track 08 : NG (total 582 submissions)
Track 09 : NG (total 708 submissions)
Track 10 : NG (total 574 submissions)
Track 11 : NG (total 677 submissions)
->0 track accurately ripped, 11 tracks not

All Tracks
Filename : /Users/crosfield/Desktop/Gregor Theelen - Amber Dream (Ambient Chill Out Music 4) [FLAC]/Gregor Theelen - Amber Dream (Ambient Chill Out Music 4).flac
CRC32 hash : D48E2E05
CRC32 hash (skip zero) : C4B2A8F3
Statistics
Read error : 0
Skipped (treated as error) : 0
Edge jitter error (maybe fixed) : 0
Atom jitter error (maybe fixed) : 0
Drift error (maybe fixed) : 0
Dropped bytes error (maybe fixed) : 0
Duplicated bytes error (maybe fixed) : 0
Inconsistency in error sectors : 0

Track 01
Pre-gap length : 00:02:00

CRC32 hash : B19F1F9D
CRC32 hash (skip zero) : CA7B3885
AccurateRip v1 signature : 6AFC0A42
AccurateRip v2 signature : DC243634
->Rip may not be accurate (total 617 submissions).
Statistics
Read error : 0
Skipped (treated as error) : 0
Edge jitter error (maybe fixed) : 0
Atom jitter error (maybe fixed) : 0
Drift error (maybe fixed) : 0
Dropped bytes error (maybe fixed) : 0
Duplicated bytes error (maybe fixed) : 0
Inconsistency in error sectors : 0

Track 02

CRC32 hash : FA5B73B8
CRC32 hash (skip zero) : AC5BBB73
AccurateRip v1 signature : A9164C2A
AccurateRip v2 signature : 2CA6FFE3
->Rip may not be accurate (total 621 submissions).
Statistics
Read error : 0
Skipped (treated as error) : 0
Edge jitter error (maybe fixed) : 0
Atom jitter error (maybe fixed) : 0
Drift error (maybe fixed) : 0
Dropped bytes error (maybe fixed) : 0
Duplicated bytes error (maybe fixed) : 0
Inconsistency in error sectors : 0

Track 03

CRC32 hash : 3F7690B6
CRC32 hash (skip zero) : 024BB814
AccurateRip v1 signature : E5FDFBAE
AccurateRip v2 signature : 27D8DA22
->Rip may not be accurate (total 616 submissions).
Statistics
Read error : 0
Skipped (treated as error) : 0
Edge jitter error (maybe fixed) : 0
Atom jitter error (maybe fixed) : 0
Drift error (maybe fixed) : 0
Dropped bytes error (maybe fixed) : 0
Duplicated bytes error (maybe fixed) : 0
Inconsistency in error sectors : 0

Track 04

CRC32 hash : 7247066E
CRC32 hash (skip zero) : D9F5C863
AccurateRip v1 signature : DBE37011
AccurateRip v2 signature : 94BE646C
->Rip may not be accurate (total 439 submissions).
Statistics
Read error : 0
Skipped (treated as error) : 0
Edge jitter error (maybe fixed) : 0
Atom jitter error (maybe fixed) : 0
Drift error (maybe fixed) : 0
Dropped bytes error (maybe fixed) : 0
Duplicated bytes error (maybe fixed) : 0
Inconsistency in error sectors : 0

Track 05

CRC32 hash : 43E84F34
CRC32 hash (skip zero) : FBFA2C2D
AccurateRip v1 signature : CD904292
AccurateRip v2 signature : EF0AD237
->Rip may not be accurate (total 574 submissions).
Statistics
Read error : 0
Skipped (treated as error) : 0
Edge jitter error (maybe fixed) : 0
Atom jitter error (maybe fixed) : 0
Drift error (maybe fixed) : 0
Dropped bytes error (maybe fixed) : 0
Duplicated bytes error (maybe fixed) : 0
Inconsistency in error sectors : 0

Track 06

CRC32 hash : 617D12DC
CRC32 hash (skip zero) : 421664E0
AccurateRip v1 signature : 83A7ED54
AccurateRip v2 signature : C5093AC7
->Rip may not be accurate (total 642 submissions).
Statistics
Read error : 0
Skipped (treated as error) : 0
Edge jitter error (maybe fixed) : 0
Atom jitter error (maybe fixed) : 0
Drift error (maybe fixed) : 0
Dropped bytes error (maybe fixed) : 0
Duplicated bytes error (maybe fixed) : 0
Inconsistency in error sectors : 0

Track 07

CRC32 hash : D5CF21E3
CRC32 hash (skip zero) : 1481A9A6
AccurateRip v1 signature : D5EDBF68
AccurateRip v2 signature : 80C178CB
->Rip may not be accurate (total 549 submissions).
Statistics
Read error : 0
Skipped (treated as error) : 0
Edge jitter error (maybe fixed) : 0
Atom jitter error (maybe fixed) : 0
Drift error (maybe fixed) : 0
Dropped bytes error (maybe fixed) : 0
Duplicated bytes error (maybe fixed) : 0
Inconsistency in error sectors : 0

Track 08

CRC32 hash : B685B4F3
CRC32 hash (skip zero) : BB21DA32
AccurateRip v1 signature : 3F4C868C
AccurateRip v2 signature : F6C983A6
->Rip may not be accurate (total 582 submissions).
Statistics
Read error : 0
Skipped (treated as error) : 0
Edge jitter error (maybe fixed) : 0
Atom jitter error (maybe fixed) : 0
Drift error (maybe fixed) : 0
Dropped bytes error (maybe fixed) : 0
Duplicated bytes error (maybe fixed) : 0
Inconsistency in error sectors : 0

Track 09

CRC32 hash : 1B98AC44
CRC32 hash (skip zero) : 93FC35FC
AccurateRip v1 signature : C950BFE6
AccurateRip v2 signature : F44C5C68
->Rip may not be accurate (total 708 submissions).
Statistics
Read error : 0
Skipped (treated as error) : 0
Edge jitter error (maybe fixed) : 0
Atom jitter error (maybe fixed) : 0
Drift error (maybe fixed) : 0
Dropped bytes error (maybe fixed) : 0
Duplicated bytes error (maybe fixed) : 0
Inconsistency in error sectors : 0

Track 10

CRC32 hash : C9791905
CRC32 hash (skip zero) : 6B1FCD5A
AccurateRip v1 signature : FB5265D3
AccurateRip v2 signature : 71C6785D
->Rip may not be accurate (total 574 submissions).
Statistics
Read error : 0
Skipped (treated as error) : 0
Edge jitter error (maybe fixed) : 0
Atom jitter error (maybe fixed) : 0
Drift error (maybe fixed) : 0
Dropped bytes error (maybe fixed) : 0
Duplicated bytes error (maybe fixed) : 0
Inconsistency in error sectors : 0

Track 11

CRC32 hash : 755DC1AE
CRC32 hash (skip zero) : 3F1C1330
AccurateRip v1 signature : CAB0E034
AccurateRip v2 signature : 8ADA4ABE
->Rip may not be accurate (total 677 submissions).
Statistics
Read error : 0
Skipped (treated as error) : 0
Edge jitter error (maybe fixed) : 0
Atom jitter error (maybe fixed) : 0
Drift error (maybe fixed) : 0
Dropped bytes error (maybe fixed) : 0
Duplicated bytes error (maybe fixed) : 0
Inconsistency in error sectors : 0

No errors occurred

End of status report
[CUETools log; Date: 16.01.2018 23:28:58; Version: 2.1.4]
[CTDB TOCID: d3V4b101RaWIY8___9feBGUZw0U-] found.
Track | CTDB Status
1 | (1/1) Accurately ripped
2 | (1/1) Accurately ripped
3 | (1/1) Accurately ripped
4 | (1/1) Accurately ripped
5 | (1/1) Accurately ripped
6 | (1/1) Accurately ripped
7 | (1/1) Accurately ripped
8 | (1/1) Accurately ripped
9 | (1/1) Accurately ripped
10 | (1/1) Accurately ripped
11 | (1/1) Accurately ripped
[AccurateRip ID: 001c2af2-00f3ae2f-a90fb70b] found.
Track [ CRC | V2 ] Status
01 [6afc0a42|dc243634] (1+0/1) Accurately ripped
02 [a9164c2a|2ca6ffe3] (1+0/1) Accurately ripped
03 [e5fdfbae|27d8da22] (1+0/1) Accurately ripped
04 [dbe37011|94be646c] (1+0/1) Accurately ripped
05 [cd904292|ef0ad237] (1+0/1) Accurately ripped
06 [83a7ed54|c5093ac7] (1+0/1) Accurately ripped
07 [d5edbf68|80c178cb] (1+0/1) Accurately ripped
08 [3f4c868c|f6c983a6] (1+0/1) Accurately ripped
09 [c950bfe6|f44c5c68] (1+0/1) Accurately ripped
10 [fb5265d3|71c6785d] (1+0/1) Accurately ripped
11 [cab0e034|8ada4abe] (1+0/1) Accurately ripped

Track Peak [ CRC32 ] [W/O NULL]
– 100,0 [D48E2E05] [C4B2A8F3]
01 100,0 [B19F1F9D] [CA7B3885]
02 100,0 [FA5B73B8] [AC5BBB73]
03 100,0 [3F7690B6] [024BB814]
04 100,0 [7247066E] [D9F5C863]
05 48,6 [43E84F34] [FBFA2C2D]
06 100,0 [617D12DC] [421664E0]
07 38,3 [D5CF21E3] [1481A9A6]
08 100,0 [B685B4F3] [BB21DA32]
09 38,8 [1B98AC44] [93FC35FC]
10 100,0 [C9791905] [6B1FCD5A]
11 24,6 [755DC1AE] [3F1C1330]
Thanks to
CrosfieldSee also:
Gregor Theelen - Blue Dream (Ambient Chill Out Music 3) (1995)
Mister Ed - Ultra-Beige Dream (Ambient Chill Out Music 5) (1995)
Mister Ed - Orange Dream (1995) (Ambient Chill Out Music 6) (1995)