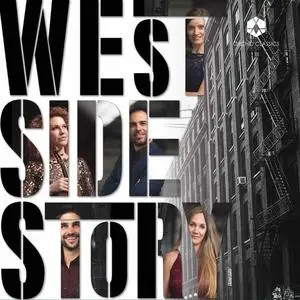 Gwendolyn Masin, Melisma Saxophone Quartet - Bernstein: West Side Story (Arr. H. Huizinga for Violin & Saxophone Quartet) (2020
FLAC tracks | 42:02 | 176 Mb
Genre: Classical / Label: Orchid Classics
The GAIA Music Festival takes place annually in Oberhofen in Switzerland. The brainchild of violinist Gwendolyn Masin, the Festival is named after the Greek goddess of the Earth, and in just a few years has grown into a thriving and captivating series. Concerts from the Festival have been recorded in collaboration with Orchid Classics, capturing the energy and spontaneity of these special live performances. This recording is of Leonard Bernstein's seminal musical, West Side Story, in a unique arrangement for violin and saxophone quartet made by composer-conductor Henk Huizinga, performed by Gwendolyn Masin and the Melisma Saxophone Quartet. The unusual combination of instruments works superbly: the violin line soars, often taking the main vocal melody, while the winds show their versatility with sonorities ranging from earthy to delicate. The movement order reflects the story arc of West Side Story while creating contrast between lighter and darker numbers, including 'Somewhere', 'Tonight', 'Gee, Officer Krupke' and 'America'.
Track List:
01. Prologue (From West Side Story) [Arr. H. Huizinga for Violin & Saxophone Quartet] [Live]
02. Jet Song (From West Side Story) [Arr. H. Huizinga for Violin & Saxophone Quartet] [Live]
03. Blues (From West Side Story) [Arr. H. Huizinga for Violin & Saxophone Quartet] [Live]
04. Somewhere (From West Side Story) [Arr. H. Huizinga for Violin & Saxophone Quartet] [Live]
05. Procession & Nightmare (From West Side Story) [Arr. H. Huizinga for Violin & Saxophone Quartet] [Live]
06. Scherzo (From West Side Story) [Arr. H. Huizinga for Violin & Saxophone Quartet] [Live]
07. Mambo (From West Side Story) [Arr. H. Huizinga for Violin & Saxophone Quartet] [Live]
08. Cha-Cha (From West Side Story) [Arr. H. Huizinga for Violin & Saxophone Quartet] [Live]
09. I Feel Pretty (From West Side Story) [Arr. H. Huizinga for Violin & Saxophone Quartet] [Live]
10. Maria (From West Side Story) [Arr. H. Huizinga for Violin & Saxophone Quartet] [Live]
11. Cool (From West Side Story) [Arr. H. Huizinga for Violin & Saxophone Quartet] [Live]
12. America (From West Side Story) [Arr. H. Huizinga for Violin & Saxophone Quartet] [Live]
13. One Hand, One Heart (From West Side Story) [Arr. H. Huizinga for Violin & Saxophone Quartet] [Live]
14. Gee, Officer Krupke (From West Side Story) [Arr. H. Huizinga for Violin & Saxophone Quartet] [Live]
15. Tonight (From West Side Story) [Arr. H. Huizinga for Violin & Saxophone Quartet] [Live]
16. A Boy Like That (From West Side Story) [Arr. H. Huizinga for Violin & Saxophone Quartet] [Live]
17. I Have a Love (From West Side Story) [Arr. H. Huizinga for Violin & Saxophone Quartet] [Live]
18. The Rumble (From West Side Story) [Arr. H. Huizinga for Violin & Saxophone Quartet] [Live]
19. Finale (From West Side Story) [Arr. H. Huizinga for Violin & Saxophone Quartet] [Live]
ANALYZER: auCDtect: CD records authenticity detector, version 0.8.2
Copyright © 2004 Oleg Berngardt. All rights reserved.
Copyright © 2004 Alexander Djourik. All rights reserved.


FILE: 01 - Prologue (From _West Side Story_) [Arr. H. Huizinga for Violin & Saxophone Quartet] [Live].flac
Size: 22589976 Hash: B816FBC418FED353F0220C9632D1B1B5 Accuracy: -m40
Conclusion: CDDA 100%
Signature: EF54935C3F4D21C77D4AADCB89AA909B92FDF0E4
FILE: 02 - Jet Song (From _West Side Story_) [Arr. H. Huizinga for Violin & Saxophone Quartet] [Live].flac
Size: 4707214 Hash: 0CD14AB42444155E90F74B05E104DB61 Accuracy: -m40
Conclusion: CDDA 100%
Signature: AD6370B0533CE78D1610664F3E907DA15C417152
FILE: 03 - Blues (From _West Side Story_) [Arr. H. Huizinga for Violin & Saxophone Quartet] [Live].flac
Size: 9210299 Hash: 37B8807E5D6CEEB6FED37988C80D3CE1 Accuracy: -m40
Conclusion: CDDA 100%
Signature: E8F59CBC026F73ADFC38EC6FFF67BE2C1812A5A6
FILE: 04 - Somewhere (From _West Side Story_) [Arr. H. Huizinga for Violin & Saxophone Quartet] [Live].flac
Size: 9799839 Hash: 3C49E0F5BDCF15B0243CD28D20064FCD Accuracy: -m40
Conclusion: CDDA 100%
Signature: 274B22D4360D6DD318BFE3275E83B1B2159A9054
FILE: 05 - Procession & Nightmare (From _West Side Story_) [Arr. H. Huizinga for Violin & Saxophone Quartet] [Live].flac
Size: 5674843 Hash: 4146F439CE4F8E0E1BC0490C42FF6892 Accuracy: -m40
Conclusion: CDDA 100%
Signature: E80E35E04F4A221515881B67D5C99A5DBBC7D827
FILE: 06 - Scherzo (From _West Side Story_) [Arr. H. Huizinga for Violin & Saxophone Quartet] [Live].flac
Size: 5495255 Hash: 29FD5ABA60E647DB9B29CC5A8812FCA6 Accuracy: -m40
Conclusion: CDDA 100%
Signature: 01571490B72D5CC3AA9DF19D13209A55E255925B
FILE: 07 - Mambo (From _West Side Story_) [Arr. H. Huizinga for Violin & Saxophone Quartet] [Live].flac
Size: 11352918 Hash: A0D5DCD75106457D6925EE1A4DAF448A Accuracy: -m40
Conclusion: CDDA 100%
Signature: 3C3B2A0AF851584CC09287C11AF49F054633FBB5
FILE: 08 - Cha-Cha (From _West Side Story_) [Arr. H. Huizinga for Violin & Saxophone Quartet] [Live].flac
Size: 5318831 Hash: F4C6A3E5DFA9F889F39066985F87A8DD Accuracy: -m40
Conclusion: CDDA 100%
Signature: 0F46A66072A60683A61AC3FB0785CFE5DB871766
FILE: 09 - I Feel Pretty (From _West Side Story_) [Arr. H. Huizinga for Violin & Saxophone Quartet] [Live].flac
Size: 9660502 Hash: 66B294BEB000EA71B66AC3B3A0D3E4F4 Accuracy: -m40
Conclusion: CDDA 99%
Signature: 69300CFF8225CB5C40C44116635BC7BF53D5A81B
FILE: 10 - Maria (From _West Side Story_) [Arr. H. Huizinga for Violin & Saxophone Quartet] [Live].flac
Size: 10784188 Hash: 21D93F5E4D4A292AE1A28E57A816B578 Accuracy: -m40
Conclusion: CDDA 100%
Signature: F26594E9E43EC4BB03A2C313AB20C7CCC030930D
FILE: 11 - Cool (From _West Side Story_) [Arr. H. Huizinga for Violin & Saxophone Quartet] [Live].flac
Size: 5375518 Hash: A07A8E629FEE874FAE59DD0EF9A91C92 Accuracy: -m40
Conclusion: CDDA 100%
Signature: E9FA003822160E8ABCC2DC7C0E8F47F00007BA74
FILE: 12 - America (From _West Side Story_) [Arr. H. Huizinga for Violin & Saxophone Quartet] [Live].flac
Size: 11993247 Hash: 49F7FC3B169E3CB8A3E781EEBEF0541D Accuracy: -m40
Conclusion: CDDA 100%
Signature: 03D1B7CA844CD220086C59AA8F424F50995C2AAA
FILE: 13 - One Hand, One Heart (From _West Side Story_) [Arr. H. Huizinga for Violin & Saxophone Quartet] [Live].flac
Size: 11240062 Hash: 5A5B86E240BFCF602C4DDF69776F70BC Accuracy: -m40
Conclusion: CDDA 100%
Signature: D1068456801444D2471249CD5505910FB05DBC2B
FILE: 14 - Gee, Officer Krupke (From _West Side Story_) [Arr. H. Huizinga for Violin & Saxophone Quartet] [Live].flac
Size: 10055989 Hash: 789EA42A1F8CD6414FF636776D80379E Accuracy: -m40
Conclusion: CDDA 100%
Signature: 4F6E6765D0C4D70897F2B821DBA80150E54D3CB6
FILE: 15 - Tonight (From _West Side Story_) [Arr. H. Huizinga for Violin & Saxophone Quartet] [Live].flac
Size: 16469003 Hash: 307B80D46F0075597ED281660017EB9B Accuracy: -m40
Conclusion: CDDA 100%
Signature: 7418B7A0269C769EA9D58FFEAFCFE076974D8572
FILE: 16 - A Boy Like That (From _West Side Story_) [Arr. H. Huizinga for Violin & Saxophone Quartet] [Live].flac
Size: 6834288 Hash: 34A4ECF439E4E151565BA064080D82C6 Accuracy: -m40
Conclusion: CDDA 100%
Signature: 7C2544DFF0D9679DDB1604DEA05BE548906E936E
FILE: 17 - I Have a Love (From _West Side Story_) [Arr. H. Huizinga for Violin & Saxophone Quartet] [Live].flac
Size: 9867512 Hash: 693705A39E32E7295D50752F2F7B7AD4 Accuracy: -m40
Conclusion: CDDA 100%
Signature: 55883E0F281DE78C4B5CA1463DCEC1C6B3973EAA
FILE: 18 - The Rumble (From _West Side Story_) [Arr. H. Huizinga for Violin & Saxophone Quartet] [Live].flac
Size: 9904107 Hash: 1B468974A0292DEFD8150329501CC629 Accuracy: -m40
Conclusion: CDDA 100%
Signature: 4EACBA8EFE8914C6C75EF2E3BE622873DB567D85
FILE: 19 - Finale (From _West Side Story_) [Arr. H. Huizinga for Violin & Saxophone Quartet] [Live].flac
Size: 8628212 Hash: A6518B0D19D82A5F40CBDE73B6ACC8F3 Accuracy: -m40
Conclusion: CDDA 100%
Signature: 2018BDD7A925E21B101E8366720F6A92D79B79BA