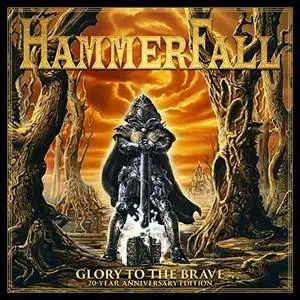 Hammerfall - Glory to the Brave 20 Year Anniversary Edition (1997/2017)
WEB FLAC (Tracks) - 705 MB | Cover | MP3 CBR 320 kbps - 216 MB | 01:34:29
Hard Rock, Heavy Metal, Power Metal | Label: Nuclear Blast
When Hammerfall released its debut album, "Glory To The Brave", twenty years ago, the five Swedes launched a true heavy metal revival overnight. While the mainstream still concentrated on grunge and the metal scene was dominated by especially black and gothic acts, this traditional metal record was like a godsend and heralded a new era. "For us, the immense success was a real shock in the beginning," singer Joacim Cans remembers, because suddenly, Hammerfall were considered to be the saviors of true metal. They received countless rave reviews from magazines, Wacken Open Air booked the band at prime time on the main stage, Kai Hansen invited the band personally to join as support on the GAMMA RAY tour and the CD entered the German album chart at the amazing position of No. 38 - an unbelievable achievement during this time.
"I'm still very proud of this album; it has turned our lives upside down," the vocalist sums up, and is equally proud of the extensive re-release of the cult album, which will be madea available on December 1. The re-release includes the completely remastered version of "Glory To The Brave", a radio edit of the legendary title track as well as the great cover version of the STORMWITCH classic "Ravenlord". The bonus CD will include six live versions of "The Metal Age", "Steel Meets Steel", "Stone Cold", "Glory To The Brave", "Hammerfall" and "The Dragon Lies Bleeding", as well as a medley from numerous tracks off of their first-class debut album, which was recorded live this year at a show in Berlin.
TRACKLIST
01. The Dragon Lies Bleeding (Remastered)
02. The Metal Age (Remastered)
03. Hammerfall (Remastered)
04. I Believe (Remastered)
05. Child of the Damned (Remastered)
06. Steel Meets Steel (Remastered)
07. Stone Cold (Remastered)
08. Unchained (Remastered)
09. Glory to the Brave (Remastered)
10. Ravenlord
11. Glory to the Brave (Radio Edit)
12. The Metal Age (Live)
13. Steel Meets Steel (Live)
14. Stone Cold (Live)
15. Glory to the Brave (Live)
16. Hammerfall (Live)
17. The Dragon Lies Bleeding (Live)
18. Glory to the Brave - Medley (Live)
–––––––––––-

DON'T MODIFY THIS FILE

–––––––––––-

PERFORMER: auCDtect Task Manager, ver. 1.6.0 RC1 build 1.6.0.1
Copyright © 2008-2010 y-soft. All rights reserved

ANALYZER: auCDtect: CD records authenticity detector, version 0.8.2
Copyright © 2004 Oleg Berngardt. All rights reserved.
Copyright © 2004 Alexander Djourik. All rights reserved.


FILE: 9. Glory to the Brave (Remastered).flac
Size: 57385475 Hash: DB1BC727A4A2A95561763C954F5CD013 Accuracy: -m0
Conclusion: CDDA 100%
Signature: F8C123463131C8894EAA8435C125BB4B02CEDDBD
FILE: 8. Unchained (Remastered).flac
Size: 46478557 Hash: 98F420580333A688C5301686692703F8 Accuracy: -m0
Conclusion: CDDA 100%
Signature: BE0932901CE50D7665B203214E3CC4007A0C5462
FILE: 7. Stone Cold (Remastered).flac
Size: 49894120 Hash: F31BA17DB6F200E4799EB74A92826BA0 Accuracy: -m0
Conclusion: CDDA 100%
Signature: 01F8DF1FAEFA549B876F738872182ED78A0DB3F3
FILE: 6. Steel Meets Steel (Remastered).flac
Size: 34116492 Hash: 1A0DEF2C6FD10B04E8185F4EF3122FF8 Accuracy: -m0
Conclusion: CDDA 100%
Signature: CD81CA7169D6C31EE06C02953B20D9A30C0BE30C
FILE: 5. Child of the Damned (Remastered).flac
Size: 29251622 Hash: 46EA7556C10B02BB5735C35BFB853C61 Accuracy: -m0
Conclusion: CDDA 100%
Signature: D9E1FBCEF20EF34C8C184161A2CD364D63108AC5
FILE: 4. I Believe (Remastered).flac
Size: 37100483 Hash: F308AFE36AEFB7FBFA336DABA97C0C9D Accuracy: -m0
Conclusion: CDDA 100%
Signature: 0DF6C4C6B24D1BE45AA232CF796E033A5555C1DC
FILE: 3. Hammerfall (Remastered).flac
Size: 40204746 Hash: EA8401D02F5C9E6A1631CE18469FDD9B Accuracy: -m0
Conclusion: CDDA 100%
Signature: 34B48177138E0C4AA18FB639F1A1939D7874D24E
FILE: 2. The Metal Age (Remastered).flac
Size: 36763038 Hash: A545B519DC97B1167A5BA1FB45B08E18 Accuracy: -m0
Conclusion: CDDA 100%
Signature: 95917060F8BDFC82A5BB42F3E1A6E369B73438EC
FILE: 18. Glory to the Brave - Medley (Live).flac
Size: 59156621 Hash: FDDB39DA5E2F684CE0ED5A5373639697 Accuracy: -m0
Conclusion: CDDA 100%
Signature: F6703DD2DB739ACE520092AE09630A37A8C08990
FILE: 17. The Dragon Lies Bleeding (Live).flac
Size: 33034073 Hash: EB9A871C32547BFCC98AF012633715FC Accuracy: -m0
Conclusion: CDDA 100%
Signature: E2969AAAEF7D1A5725187E2D9A6EA6EA6D2CD06F
FILE: 16. Hammerfall (Live).flac
Size: 42308217 Hash: 0F1F2C01B3201DF54CF3F46439D4F3F9 Accuracy: -m0
Conclusion: CDDA 100%
Signature: 425CF609670DEDEB6726F242F4831B1CA5AF0744
FILE: 15. Glory to the Brave (Live).flac
Size: 44246943 Hash: 07560C17CC01AFCCAEE52C0896A9C9F9 Accuracy: -m0
Conclusion: CDDA 100%
Signature: 91B483577E1F590CFCE2498AB173A60AA51CF1B4
FILE: 14. Stone Cold (Live).flac
Size: 56787576 Hash: 734BE5B553E7B948E31054906E9249A7 Accuracy: -m0
Conclusion: CDDA 99%
Signature: 1353238C4980272C87B97433B94693706BE685B5
FILE: 13. Steel Meets Steel (Live).flac
Size: 37555984 Hash: F3FE2AB755090B1DB979157FDBAB412A Accuracy: -m0
Conclusion: CDDA 99%
Signature: D3B59B32580453BE539437549410FE06DC224050
FILE: 12. The Metal Age (Live).flac
Size: 36354307 Hash: 1BE8C68A9F001837501AB4AA4135973B Accuracy: -m0
Conclusion: CDDA 100%
Signature: 57118AF01551A85EDABE3CDA1D4CDAE53631AB13
FILE: 11. Glory to the Brave (Radio Edit).flac
Size: 35444319 Hash: 36FB37434DA93B5A5BA77BA317F00FC0 Accuracy: -m0
Conclusion: CDDA 100%
Signature: 0E8B64EE93BC32D8C5D811F21DDB5D2B69A933CD
FILE: 10. Ravenlord.flac
Size: 26776920 Hash: 023E27C512DB09DF26EE004F7550B409 Accuracy: -m0
Conclusion: CDDA 99%
Signature: 96C386EE85BE064B5D5C2A80DD64CE9492102AA1
FILE: 1. The Dragon Lies Bleeding (Remastered).flac
Size: 36937847 Hash: 012507DBA36DF676A50BFBC1063C6E91 Accuracy: -m0
Conclusion: CDDA 100%
Signature: 3D9ED685FF3B65D0D69686B3DC4671AEE14F4638
All thanks go to the original releaser