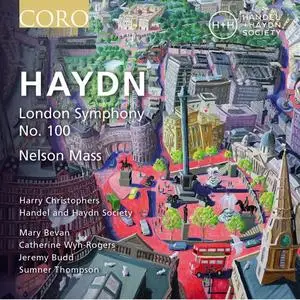 Handel and Haydn Society, Harry Christophers - Haydn: Symphony No. 100 & Nelson Mass (Live) (2020)
FLAC tracks | 01:04:44 | 289 Mb
Genre: Classical / Label: Coro
Experience two grand classics, alive with all the excitement and verve of their very first performances. Thrill to one of Haydn's masterful 'London' symphonies that wowed England's capital – the smash hit 'Military', so-called for intense depictions of the clash of arms and ferocious roar of war. In the epic Lord Nelson Mass Handel and Haydn Society's magnificent chorus and soloists join the orchestra in this homage to the heroic admiral who helped vanquish Napoleon.
Track List:
01. Symphony No. 100 in G Major, Hob. I100 Military I. Adagio – Allegro
02. Symphony No. 100 in G Major, Hob. I100 Military II. Allegretto
03. Symphony No. 100 in G Major, Hob. I100 Military III. Menuet & Trio - Moderato
04. Symphony No. 100 in G Major, Hob. I100 Military IV. Finale - Presto
05. Missa in angustiis, Hob. XXII11 Nelson Mass Kyrie
06. Missa in angustiis, Hob. XXII11 Nelson Mass Gloria in excelsis deo
07. Missa in angustiis, Hob. XXII11 Nelson Mass Qui tollis
08. Missa in angustiis, Hob. XXII11 Nelson Mass Quoniam tu solus sanctus
09. Missa in angustiis, Hob. XXII11 Nelson Mass Credo in unum Deum
10. Missa in angustiis, Hob. XXII11 Nelson Mass Et incarnatus est
11. Missa in angustiis, Hob. XXII11 Nelson Mass Et resurrexit
12. Missa in angustiis, Hob. XXII11 Nelson Mass Sanctus
13. Missa in angustiis, Hob. XXII11 Nelson Mass Benedictus
14. Missa in angustiis, Hob. XXII11 Nelson Mass Agnus Dei qui tollis
15. Missa in angustiis, Hob. XXII11 Nelson Mass Dona nobis pacem
ANALYZER: auCDtect: CD records authenticity detector, version 0.8.2
Copyright © 2004 Oleg Berngardt. All rights reserved.
Copyright © 2004 Alexander Djourik. All rights reserved.


FILE: 01 - Symphony No. 100 in G Major, Hob. I_100 _Military__ I. Adagio – Allegro.flac
Size: 37393355 Hash: CD9AB4E434ACB823AC2A6BA13F1A1564 Accuracy: -m40
Conclusion: CDDA 100%
Signature: 33EFF7F7E2CDBF3A2AE57F6DCFB5C8D4916B775D
FILE: 02 - Symphony No. 100 in G Major, Hob. I_100 _Military__ II. Allegretto.flac
Size: 25758552 Hash: AF3964CE06C8AC3BEF6AB90798B159C5 Accuracy: -m40
Conclusion: CDDA 100%
Signature: 54ACA6903F88D5E90FB3BE83E98AA6E0B5B8AA7B
FILE: 03 - Symphony No. 100 in G Major, Hob. I_100 _Military__ III. Menuet & Trio - Moderato.flac
Size: 26379507 Hash: 3325237DEC5B2FC692DD939F3C399799 Accuracy: -m40
Conclusion: CDDA 100%
Signature: 93D24A02DF229E449809B6D55B6EA693FC5A87E7
FILE: 04 - Symphony No. 100 in G Major, Hob. I_100 _Military__ IV. Finale - Presto.flac
Size: 26829908 Hash: E8E560D5DB39561D0E7C78E99B707C56 Accuracy: -m40
Conclusion: CDDA 100%
Signature: 9694BB7FBB83359828476CB7F9936C1F11B1FB13
FILE: 05 - Missa in angustiis, Hob. XXII_11 _Nelson Mass__ Kyrie.flac
Size: 25104553 Hash: 9D8F337DA20C70DBAD6314B634946F53 Accuracy: -m40
Conclusion: CDDA 100%
Signature: E3A33CC1AA2EA1863B4DDE788A018CBD311F483A
FILE: 06 - Missa in angustiis, Hob. XXII_11 _Nelson Mass__ Gloria in excelsis deo.flac
Size: 18473793 Hash: 047BC486CB8CC209673B109C1C7D2C3A Accuracy: -m40
Conclusion: CDDA 100%
Signature: EE09BB77002C9CAA770EB32BB5C5F5E7D0C31D5F
FILE: 07 - Missa in angustiis, Hob. XXII_11 _Nelson Mass__ Qui tollis.flac
Size: 17809226 Hash: 406500D8CE8FCA606FD2BD0EAFFE1A90 Accuracy: -m40
Conclusion: CDDA 100%
Signature: FE1F26E68AD40F5AF4CD9D76A46825F221AC573A
FILE: 08 - Missa in angustiis, Hob. XXII_11 _Nelson Mass__ Quoniam tu solus sanctus.flac
Size: 15225763 Hash: AEB5526533A4B5FA716A36BC0544684C Accuracy: -m40
Conclusion: CDDA 100%
Signature: 60E2D0767831A1DF9BC926C55B805B058A75DC3D
FILE: 09 - Missa in angustiis, Hob. XXII_11 _Nelson Mass__ Credo in unum Deum.flac
Size: 8622006 Hash: 76F1D31E843BADEF06123CF8E23A91A1 Accuracy: -m40
Conclusion: CDDA 100%
Signature: 86836063A087BED508ECE2264F745AD0A8190251
FILE: 10 - Missa in angustiis, Hob. XXII_11 _Nelson Mass__ Et incarnatus est.flac
Size: 17028889 Hash: FEC312F6904C58AF05A5B1D3CD3433C6 Accuracy: -m40
Conclusion: CDDA 100%
Signature: A69CC7ACA6BD647FA0008DAFF88675DAEB5615B2
FILE: 11 - Missa in angustiis, Hob. XXII_11 _Nelson Mass__ Et resurrexit.flac
Size: 19993774 Hash: 2A8125BB3ED11EEE54EA704FAD22707F Accuracy: -m40
Conclusion: CDDA 100%
Signature: BDEB2A8E3444093196ED6FB042D48731F95E99C6
FILE: 12 - Missa in angustiis, Hob. XXII_11 _Nelson Mass__ Sanctus.flac
Size: 10345617 Hash: 6B5FC8FFE61A4860DD9029D09E27616F Accuracy: -m40
Conclusion: CDDA 100%
Signature: 50BAE9875CD313614B10417DC8FE193F58A36877
FILE: 13 - Missa in angustiis, Hob. XXII_11 _Nelson Mass__ Benedictus.flac
Size: 28757000 Hash: AC2B8F378EAD1A833DFD9004FFA47A2B Accuracy: -m40
Conclusion: CDDA 100%
Signature: BECB1A1ABAE4FFB794AA9428EB14FA7B691E139C
FILE: 14 - Missa in angustiis, Hob. XXII_11 _Nelson Mass__ Agnus Dei qui tollis.flac
Size: 11178007 Hash: 21EC2C10B23172AE8E2F12AABBE75E8A Accuracy: -m40
Conclusion: CDDA 100%
Signature: 57F34B20CEC3AA1565B828E304499E0830A359EB
FILE: 15 - Missa in angustiis, Hob. XXII_11 _Nelson Mass__ Dona nobis pacem.flac
Size: 14071406 Hash: 7882ED5ABABB0759186876FDD42AF91E Accuracy: -m40
Conclusion: CDDA 100%
Signature: EA23E869A321631BEBB301FE2E93902EB2DF07CB