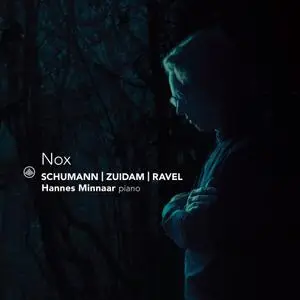 Hannes Minnaar - Nox (2020)
FLAC tracks | 01:12:51 | 188 Mb
Genre: Classical / Label: Challenge Classics
"Nox", the Latin word for "night". In the world of art, the night of Schumann's Nachtstücke, Robert Zuidam's Nox and Ravel's Gaspard de la Nuit creaks open its doors like a haunted castle for romantic poets and composers. Night-time visions became the foundations of a pre-Freudian subconscious in the late 18th and early 19th centuries. Some of the great writers discovered their dreams and anxieties, seeing themselves and the magic of imagination in the mirror of fantasy.
Track List:
01. Nachtstücke, Op. 23: I. Mehr langsam, oft zurückhaltend
02. Nachtstücke, Op. 23: II. Markiert und lebhaft
03. Nachtstücke, Op. 23: III. Mit grosser Lebhaftigkeit-Noch lebhafter
04. Nachtstücke, Op. 23: IV. Ad libitum-Einfach
05. Nox: I. Nightfall
06. Nox: II. Insomnia
07. Nox: III. L'Heure bleue
08. Nox: IV. Afscheid van Reinbert op Zorgvlied (Farewell to Reinbert at Zorgvlied)
09. Nox: V. Perseids passing
10. Gaspard de la Nuit-Trois poèmes pour piano d'après Aloysius Bertrand: I. Ondine
11. Gaspard de la Nuit-Trois poèmes pour piano d'après Aloysius Bertrand: II. Le Gibet
12. Gaspard de la Nuit-Trois poèmes pour piano d'après Aloysius Bertrand: III. Scarbo
13. from On an overgrown path:: 7. Dobrou noc! (Good night!)
ANALYZER: auCDtect: CD records authenticity detector, version 0.8.2
Copyright © 2004 Oleg Berngardt. All rights reserved.
Copyright © 2004 Alexander Djourik. All rights reserved.


FILE: 01 - Nachtstücke, Op. 23_ I. Mehr langsam, oft zurückhaltend.flac
Size: 15109877 Hash: C18C74EAD4ACF9014ACC7B44496C68F5 Accuracy: -m40
Conclusion: CDDA 100%
Signature: 08255F707483218D47A4A3E95AC1E961C43648D3
FILE: 02 - Nachtstücke, Op. 23_ II. Markiert und lebhaft.flac
Size: 15025790 Hash: 2EC2B35AADA0FD6EF5B9B5B4FE5869C3 Accuracy: -m40
Conclusion: CDDA 100%
Signature: E0A7D772D5F1367986821B80C76451B6FB7C0103
FILE: 03 - Nachtstücke, Op. 23_ III. Mit grosser Lebhaftigkeit - Noch lebhafter.flac
Size: 12406045 Hash: 28CA24F06000D5ECCC8F5C5A95194A89 Accuracy: -m40
Conclusion: CDDA 100%
Signature: 57094DA8C133CE6B08A9AD048BE80B14FB5F6A85
FILE: 04 - Nachtstücke, Op. 23_ IV. Ad libitum - Einfach.flac
Size: 9384138 Hash: 5B72972DB195B0A0BA21E0A8583C99BB Accuracy: -m40
Conclusion: CDDA 100%
Signature: 26E29448B50412C0748E12B0258A1A5FD1F6C77B
FILE: 05 - Nox_ I. Nightfall.flac
Size: 16107040 Hash: 183E8448F00CB2F8CD1F109C1AB9DB12 Accuracy: -m40
Conclusion: CDDA 76%
Signature: 234B2219D2427731396F1A314CBD8102B136FB42
FILE: 06 - Nox_ II. Insomnia.flac
Size: 9490601 Hash: A1750C7EC357F19DA69556474305A7A3 Accuracy: -m40
Conclusion: CDDA 76%
Signature: 08B444495BDDFFFED2FBA63091C3DDA1FC95F3A7
FILE: 07 - Nox_ III. L'Heure bleue.flac
Size: 12409094 Hash: C8B50B6EE963774722F8064DE91B7A6C Accuracy: -m40
Conclusion: CDDA 76%
Signature: 9CECCF92CB34C56F74B8899CDED8B16610DACA90
FILE: 08 - Nox_ IV. Afscheid van Reinbert op Zorgvlied (Farewell to Reinbert at Zorgvlied).flac
Size: 18281806 Hash: 95B70FEB183C9FB85992A9F5C7479FCF Accuracy: -m40
Conclusion: CDDA 100%
Signature: BA4AC99527A1E253928E4A0F68639307C8F99C97
FILE: 09 - Nox_ V. Perseids passing.flac
Size: 20438783 Hash: A7677E66DF8DD813E4C21B46803D1D5A Accuracy: -m40
Conclusion: CDDA 100%
Signature: C88AB379C850C4DE85CFBE8F11039C80BE39D62E
FILE: 10 - Gaspard de la Nuit - Trois poèmes pour piano d'après Aloysius Bertrand_ I. Ondine.flac
Size: 18730664 Hash: 7F03F2A7E10CB93B47D481D41FF9024B Accuracy: -m40
Conclusion: CDDA 100%
Signature: 4465AFBA4FBCB92D1E575570B2E48209C7FA3212
FILE: 11 - Gaspard de la Nuit - Trois poèmes pour piano d'après Aloysius Bertrand_ II. Le Gibet.flac
Size: 14304243 Hash: CB32593C2C99705F6786EAEFC2BCECD7 Accuracy: -m40
Conclusion: CDDA 100%
Signature: 693EF7BF76881B2C4BF423E33F1CF2B539A17959
FILE: 12 - Gaspard de la Nuit - Trois poèmes pour piano d'après Aloysius Bertrand_ III. Scarbo.flac
Size: 30043314 Hash: AAC0014013D51524DB1CFFBCDB86CE44 Accuracy: -m40
Conclusion: CDDA 100%
Signature: 76C48D513F9E5BBBF29D992CE1D630CF3C4175E2
FILE: 13 - from On an overgrown path__ 7. Dobrou noc! (Good night!).flac
Size: 7505290 Hash: BD236E64351DC70BC72401749CFEFDDD Accuracy: -m40
Conclusion: CDDA 99%
Signature: 3B6E67E9E6C24F332D59256F6900883FF15FDA18