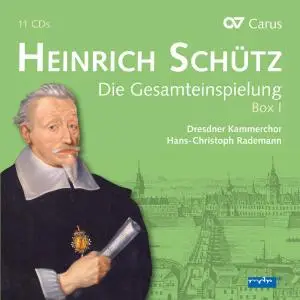 Hans-Christoph Rademann, Dresdner Kammerchor - Heinrich Schütz: Die Gesamteinspielung / Complete Recording, Box I [11CDs] (2016)
EAC | FLAC | Image (Cue & Log) ~ 2,82 Gb | Total time: 11:21:47 | Scans included
Classical | Label: Carus | # 83.041 | Recorded: 2007-2012
The first complete recording of works by Heinrich Schütz with the Dresdner Kammerchor under Hans-Christoph Rademann has set artistic and editorial benchmarks. The first eight instalments of the complete recording, containing among others the Geistliche Chor-Music 1648, the Italian Madrigals and the Psalms of David, are now being released in an 11 CD boxed set. The recordings have been supplemented with an Arthaus film entitled Heinrich Schütz. Der Vater der deutschen Musik which is a documentary by Jörg Kobel, with the assistance of Hans-Christoph Rademann, about the life and work of Heinrich Schütz.
Performer:
Dresdner Kammerchor
Dresdner Barockorchester
Hans-Christoph Rademann, conductor
Contents:
Vol. 1: Geistliche Chor-Music 1648 (CD 1–2)
Vol. 2: Italienische Madrigale (CD 3)
Vol. 3: Musikalische Exequien (CD 4)
Vol. 4: Zwölf geistliche Gesänge (CD 5)
Vol. 5: Cantiones Sacrae (CD 6–7)
Vol. 6: Lukaspassion & Die Sieben Worte (CD 8)
Vol. 7: Kleine geistliche Konzerte I (CD 9)
Vol. 8: Psalmen Davids (CD 10–11)

CD 01: Geistliche Chor-Music 1648 (I)
01. Es wird das Zepter von Juda SWV 369
02. Er wird sein Kleid in Wein waschen SWV 370
03. Es ist erschienen die heilsame Gnade Gottes SWV 371
04. Verleih uns Frieden gnädiglich SWV 372
05. Gib unsern Fürsten SWV 373
06. Unser keiner lebet ihm selber SWV 374
07. Viel werden kommen von morgen SWV 375
08. Sammlet zuvor das Unkraut SWV 376
09. Herr, auf dich traue ich SWV 377
10. Die mit Tränen säen SWV 378
11. So fahr ich hin zu Jesu Christ SWV 379
12. Also hat Gott die Welt geliebt SWV 380
13. O lieber Herre Gott, wecke und auf SWV 381
14. Trösts, trösts mein Volk SWV 382
15. Ich bin eine rufende Stimme SWV 383
16. Ein Kind ist uns geboren SWV 384
17. Das Wort ward Fleisch SWV 385
18. Die Himmel erzählen die Ehre Gottes SWV 386

CD 02: Geistliche Chor-Music 1648 (II)
01. Herzlich lieb hab ich dich, o Herr SWV 387
02. Das ist je gewisslich wahr SWV 388
03. Ich bin ein rechter Weinstock SWV 389
04. Unser Wandel ist im Himmel SWV 390
05. Selig sind die Toten SWV 391
06. Was mein Gott will, das g'scheh allzeit SWV 392
07. Ich weiß, dass mein Erlöser lebt SWV 393
08. Sehet an den Feigenbaum SWV 394
09. Der Engel sprach zu den Hirten SWV 395
010. Auf dem Gebirge hat man ein Geschrei gehöret SWV 396
011. Du Schalksknecht SWV 397

CD 03: Italienische Madrigale
01. O primavera SWV 1
02. O dolcezze amarissime d'amore SWV 2
03. Selve beate SWV 3
04. Alma afflitta, che fai SWV 4
05. Così morir debb'io SWV 5
06. D'orrida selce alpina SWV 6
07. Ride le primavera SWV 7
08. Fuggi, fuggi, o mio core SWV 8
09. Feritevi, ferite, viperette mordaci SWV 9
10. Fiamma ch'allaccia SWV 10
11. Quella damma son io SWV 11
12. Mi saluta costei SWV 12
13. Io moro, ecco ch'io moro SWV 13
14. Sospir, che del bel petto SWV 14
15. Dunque addio, care selve SWV 15
16. Tornate, o cari baci SWV 16
17. Di marmo siete voi SWV 17
18. Giunto è pur, Lidia, il mio SWV 18
19. Vasto Mar SWV 19

CD 04: Musikalische Exequien
01. Nacket bin ich von Mutterleibe kommen SWV 279
02. Herr, wenn ich nur dich habe SWV 280
03. Herr, nun lässest du deinen Diener SWV 281
04. Ich bin die Auferstehung und das Leben SWV 464
05. Grimmige Gruft (Klägelicher Abschied von der Churfürstlichen Grufft zu Freybergk) SWV 52
06. Gutes und Barmherzigkeit SWV 95
07. Ich hab mein Sach Gott heimgestellt SWV 94
08. Das ist je gewißlich wahr SWV 277
09. O meine Seel, warum bist du betrübet (Ein Trauer-Lied von dem Wittwer selbst auffgesetzet) SWV 419

CD 05: Zwolf geistliche Gesange
01. Kyrie, Gott Vater in Ewigkeit SWV 420
02. All Ehr und Lob soll Gottes sein SWV 421
03. Ich glaube an einen einigen Gott SWV 422
04. Unser Herr Jesus Christus SWV 423
05. Ich danke dem Herrn von ganzem Herzen SWV 424
06. Danksagen wir alle Gott, unserm Herren Christo SWV 425
07. Meine Seele erhebt den Herrn SWV 426
08. O süßer Jesu Christ, wer an dich recht gedenket SWV 427
09. Die deutsche Litanei SWV 428
10. Aller Augen warten auf dich, Herre SWV 429
11. Danket dem Herren SWV 430
12. Christe dac ut sapiam SWV 431

CD 06: Cantiones Sacrae (I)
01. O bone, o dulcis, o benigne Jesu SWV 53
02. Et ne despicias humuliter te petenten SWV 54
03. Deus misereatur nostri SWV 55
04. Quid commisisti, o dulcissime puer SWV 56
05. Ego sum tio plaga doloris SWV 57
06. Ego enim inique egi SWV 58
07. Quo, nate Dei, quo tua descendit humilitas SWV 59
08. Celicem salutaris accipiam SWV 60
09. Verba mea auribus percipe, Domine SWV 61
10. Quoniam ad te clamabo, Domine SWV 62
11. Ego dormio, et cor meum vigilat SWV 63
12. Vulnerasti cor meum, filia carissima SWV 64
13. Heu mihi, Domine SWV 65
14. In te, Domine, speravi SWV 66
15. Dulsiccime et benignissime Christe 67
16. Sicut Moses serpentem in deserto exaltavit SWV 68
17. Spes mea, Christe, Deus SWV 69
18. Turbabor, sed non perturbabor SWV 70
19. Ad Dominum cum tribularer clamavi SWV 71
20. Quid deut tibi aut quid apponatur tibi SWV 72

CD 07: Cantiones Sacrae (II)
01. Aspice, Pater, piissimum Filium SWV 73
02. Nonne hic est, mi Domine SWV 74
03. Reduc, Domine Deus meus SWV 75
04. Supereminet omnem scientiam SWV 76
05. Pro hoc magno mysterio pietatis SWV 77
06. Domine, non est exaltatum cor meum SWV 78
07. Si non humiliter sentiebam SWV 79
08. Speret Israel in Domino SWV 80
09. Cantate Domino canticum novum SWV 81
10. Inter brachia Salvatoris mei SWV 82
11. Veni, rogo, in cor meum SWV 83
12. Ecce advocatus meus apud te, Deum Patrem SWV 84
13. Domine, ne in furore tuo arguas me SWV 85
14. Quoniam non est in morte SWV 86
15. Discedite a me, omnes SWV 87
16. Oculi omnium in te sperant, Domine SWV 88
17. Pater noster, qui es in coelis SWV 89
18. Domine Deus, Pater soelestis SWV 90
19. Cinfitemini Domino, quoniam ipse bonus SWV 91
20. Pater noster: Repetatur ut sopra SWV 92 (SWV 89)
21. Gratias agimus tibi, Domine Deus Pater SWV 93

CD 08: Lukaspassion & Die Sieben Worte
01. Introitus
02. Sinfonia
03. Die sieben Worte Jesu
04. Sinfonia
05. Conclusio
06. Erbarm dich mein, o Herre Gott (Geistliches Konzert für 1 Singstimme, vier Obligat-Instrumente und B. c.) SWV 447
07. Introitus
08. Verrat des Judas
09. Das heilige Abendmahl
10. Gespräche mit den Jüngern
11. Jesus in Gethsemane
12. Jesu Gefangennahme
13. Verleugnung des Petrus
14. Jesus vor dem Hohen Rat
15. Jesus vor Pilatus
16. Jesus und Herodes
17. Jesu Verurteilung
18. Auf dem Weg nach Golgatha
19. Kreuzigung und Tod
20. Jesu Grablegung
21. Conclusio

CD 09: Kleine geistliche Konzerte I
01. Eile, mich, Gott, zu erretten SWV 282
02. Erhöre mich, wenn ich rufe SWV 289
03. O Herr hilf, o Herr, lass wohl gelingen SWV 297
04. Nun komm, der Heiden Heiland SWV 301
05. O lieber Herre Gott SWV 287
06. Ein Kind ist uns geboren SWV 302
07. Der Herr schauet vom Himmel SWV 292
08. Das Blut Jesu Christi SWV 298
09. O hilf, Christe, Gottes Sohn SWV 295
10. Siehe, mein Fürsprecher ist im Himmel SWV 304
11. Ich danke dem Herrn von ganzem Herzen SWV 284
12. Schaffe in mir, Gott ein reines Herz SWV 291
13. Wohl dem, der nicht wandelt im Rat der Gottlosen SWV 290
14. Fürchte dich nicht, ich bin mit dir SWV 296
15. Der Herr ist groß SWV 286
16. Bringt her dem Herren SWV 283
17. Lobet den Herren, der zu Zion wohnet SWV 293
18. Ihr Heiligen, lobsinget dem Herren SWV 288
19. Wir gläuben all an einen Gott SWV 303
20. Eins bitte ich vom Herren SWV 294
21. Die Gottseligkeit ist zu allen Dingen nütz SWV 299
22. O süßer, o freundlicher, o gütiger Herr Jesu Christe SWV 285
23. Himmel und Erden vergehen SWV 300
24. Ich hab mein Sach Gott heimgestellt SWV 305

CD 10: Psalmen Davids (I)
01. Der Herr sprach zu meinem Herren SWV 22
02. Warum toben die Heiden SWV 23
03. Ach Herr, Straf mich nicht in deinem Zorn SWV 24
04. Aus der Tiefe ruf ich, Herr, zu dir SWV 25
05. Ich freu mich der, das mir geredt ist SWV 26
06. Herr, unser Herrscher SWV 27
07. Wohl dem, der nicht wandelt im Rat der Gottlosen SWV 28
08. Wie lieblich sind deine Wohnung SWV 29
09. Wohl dem, der den Herren fürchtet SWV 30
10. Ich hebe meine Augen auf zu den Bergen SWV 31
11. Danket dem Herren, denn er ist freundlich SWV 32
12. Der Herr ist mein Hirt SWV 33
13. Ich danke dem Herrn von ganzem Herzen SWV 34

CD 11: Psalmen Davids (II)
01. Singet dem Herrn ein neues Lied SWV 35
02. Jauchzet dem Herren, alle Welt SWV 36
03. An den Wassern zu Babel SWV 37
04. Alleluja! Lobet den Herren in seinem Heiligtum SWV 38
05. Lobe den Herren, meine Seele SWV 39
06. Ist nicht Ephraim mein teurer Sohn SWV 40
07. Nun lob, mein Seel, den Herren SWV 41
08. Die mit Tränen säen SWV 42
09. Nicht uns, Herr, sondern deinen Namen SWV 43
10. Wohl dem, der den Herren fürchtet SWV 44
11. Danket dem Herren, denn er ist freundlich SWV 45
12. Zion spricht: Der Herr hat mich verlassen SWV 46
13. Jauchzet dem Herren, alle Welt SWV 47


Exact Audio Copy V1.3 from 2. September 2016

EAC extraction logfile from 4. March 2020, 19:19

Anja Zügner, Alexander Schneider, Stephan Gähler, Tobias Mäthger, Friedemann Klos, Matthias Lutze / Heinrich Schutz - Complete Recordings Vol.1 (Box I - CD1) Geistliche Chor-Musik 1648 (I)

Used drive : ATAPI iHAS124 F Adapter: 1 ID: 0

Read mode : Secure
Utilize accurate stream : Yes
Defeat audio cache : Yes
Make use of C2 pointers : No

Read offset correction : 6
Overread into Lead-In and Lead-Out : No
Fill up missing offset samples with silence : Yes
Delete leading and trailing silent blocks : No
Null samples used in CRC calculations : Yes
Used interface : Native Win32 interface for Win NT & 2000

Used output format : User Defined Encoder
Selected bitrate : 1024 kBit/s
Quality : High
Add ID3 tag : No
Command line compressor : C:\Program Files (x86)\Exact Audio Copy\FLAC\FLAC.EXE
Additional command line options : -6 -V -T "ARTIST=%artist%" -T "TITLE=%title%" -T "ALBUM=%albumtitle%" -T "DATE=%year%" -T "TRACKNUMBER=%tracknr%" -T "GENRE=%genre%" -T "COMMENT=%comment%" -T "BAND=%albuminterpret%" -T "ALBUMARTIST=%albuminterpret%" -T "COMPOSER=%composer%" %haslyrics%–tag-from-file=LYRICS="%lyricsfile%"%haslyrics% -T "DISCNUMBER=%cdnumber%" -T "TOTALDISCS=%totalcds%" -T "TOTALTRACKS=%numtracks%" %hascover%–picture="%coverfile%"%hascover% %source% -o %dest%


TOC of the extracted CD

Track | Start | Length | Start sector | End sector
––––––––––––––––––––––––––––-
1 | 0:00.00 | 2:50.03 | 0 | 12752
2 | 2:50.03 | 2:17.70 | 12753 | 23097
3 | 5:07.73 | 3:43.36 | 23098 | 39858
4 | 8:51.34 | 2:13.21 | 39859 | 49854
5 | 11:04.55 | 1:54.34 | 49855 | 58438
6 | 12:59.14 | 2:56.59 | 58439 | 71697
7 | 15:55.73 | 2:35.70 | 71698 | 83392
8 | 18:31.68 | 1:39.58 | 83393 | 90875
9 | 20:11.51 | 2:54.10 | 90876 | 103935
10 | 23:05.61 | 3:32.44 | 103936 | 119879
11 | 26:38.30 | 2:53.29 | 119880 | 132883
12 | 29:31.59 | 2:31.62 | 132884 | 144270
13 | 32:03.46 | 3:05.01 | 144271 | 158146
14 | 35:08.47 | 3:23.62 | 158147 | 173433
15 | 38:32.34 | 3:55.03 | 173434 | 191061
16 | 42:27.37 | 3:15.72 | 191062 | 205758
17 | 45:43.34 | 3:43.33 | 205759 | 222516
18 | 49:26.67 | 4:21.51 | 222517 | 242142


Range status and errors

Selected range

Filename C:\EACRip\HEINRICH SCHUTZ - COMPLETE RECORDINGS {Carus, Boxes I-III]\BOX I\CD 01 - Geistliche Chor-Musik 1648 (I)\Schutz - Complete Recordings Vol. 1 (Box I - CD1) Geistliche Chor-Musik 1648 (I).wav

Peak level 97.9 %
Extraction speed 8.4 X
Range quality 100.0 %
Test CRC 53C91B1E
Copy CRC 53C91B1E
Copy OK

No errors occurred


AccurateRip summary

Track 1 accurately ripped (confidence 12) [0A092CD9] (AR v2)
Track 2 accurately ripped (confidence 12) [817ED4D8] (AR v2)
Track 3 accurately ripped (confidence 12) [5048A157] (AR v2)
Track 4 accurately ripped (confidence 12) [0AD03D8E] (AR v2)
Track 5 accurately ripped (confidence 12) [05FD216E] (AR v2)
Track 6 accurately ripped (confidence 12) [FA83E29C] (AR v2)
Track 7 accurately ripped (confidence 12) [72D23F28] (AR v2)
Track 8 accurately ripped (confidence 12) [F0B32116] (AR v2)
Track 9 accurately ripped (confidence 12) [9E66EFD2] (AR v2)
Track 10 accurately ripped (confidence 12) [5087AF3B] (AR v2)
Track 11 accurately ripped (confidence 11) [2F695007] (AR v2)
Track 12 accurately ripped (confidence 12) [14F67422] (AR v2)
Track 13 accurately ripped (confidence 12) [54C9F04B] (AR v2)
Track 14 accurately ripped (confidence 12) [C59FFEF8] (AR v2)
Track 15 accurately ripped (confidence 12) [58D0CBCB] (AR v2)
Track 16 accurately ripped (confidence 12) [082A1CEE] (AR v2)
Track 17 accurately ripped (confidence 12) [F32F3603] (AR v2)
Track 18 accurately ripped (confidence 12) [36C57099] (AR v2)

All tracks accurately ripped

End of status report

–– CUETools DB Plugin V2.1.6

[CTDB TOCID: 321HxeqfzjNFUwEQVeWSWc9jjXA-] found
Submit result: 321HxeqfzjNFUwEQVeWSWc9jjXA- has been confirmed
Track | CTDB Status
1 | (45/45) Accurately ripped
2 | (45/45) Accurately ripped
3 | (45/45) Accurately ripped
4 | (45/45) Accurately ripped
5 | (45/45) Accurately ripped
6 | (45/45) Accurately ripped
7 | (45/45) Accurately ripped
8 | (45/45) Accurately ripped
9 | (45/45) Accurately ripped
10 | (45/45) Accurately ripped
11 | (44/45) Accurately ripped
12 | (45/45) Accurately ripped
13 | (45/45) Accurately ripped
14 | (45/45) Accurately ripped
15 | (45/45) Accurately ripped
16 | (45/45) Accurately ripped
17 | (44/45) Accurately ripped
18 | (42/45) Accurately ripped


==== Log checksum B9DA3A74F013E0F9317B7172711D56C253417792633BDFB4EB15261F09D7F4E3 ====


Exact Audio Copy V1.4 from 3. February 2020

EAC extraction logfile from 4. March 2020, 23:33

Hans-Christoph Rademann / Schutz - Complete Recordings Vol. 1 (Box I - CD2) Geistliche Chor-Musik 1648 (II)

Used drive : HL-DT-STBD-RE BH10LS30 Adapter: 1 ID: 0

Read mode : Secure
Utilize accurate stream : Yes
Defeat audio cache : Yes
Make use of C2 pointers : No

Read offset correction : 667
Overread into Lead-In and Lead-Out : No
Fill up missing offset samples with silence : Yes
Delete leading and trailing silent blocks : No
Null samples used in CRC calculations : Yes
Used interface : Native Win32 interface for Win NT & 2000

Used output format : User Defined Encoder
Selected bitrate : 896 kBit/s
Quality : High
Add ID3 tag : No
Command line compressor : C:\Program Files (x86)\Exact Audio Copy\FLAC\FLAC.EXE
Additional command line options : -6 -V -T "ARTIST=%artist%" -T "TITLE=%title%" -T "ALBUM=%albumtitle%" -T "DATE=%year%" -T "TRACKNUMBER=%tracknr%" -T "GENRE=%genre%" -T "COMMENT=%comment%" -T "BAND=%albuminterpret%" -T "ALBUMARTIST=%albuminterpret%" -T "COMPOSER=%composer%" %haslyrics%–tag-from-file=LYRICS="%lyricsfile%"%haslyrics% -T "DISCNUMBER=%cdnumber%" -T "TOTALDISCS=%totalcds%" -T "TOTALTRACKS=%numtracks%" %hascover%–picture="%coverfile%"%hascover% %source% -o %dest%


TOC of the extracted CD

Track | Start | Length | Start sector | End sector
––––––––––––––––––––––––––––-
1 | 0:00.00 | 9:03.46 | 0 | 40770
2 | 9:03.46 | 4:13.11 | 40771 | 59756
3 | 13:16.57 | 3:44.11 | 59757 | 76567
4 | 17:00.68 | 4:01.46 | 76568 | 94688
5 | 21:02.39 | 4:14.00 | 94689 | 113738
6 | 25:16.39 | 4:51.57 | 113739 | 135620
7 | 30:08.21 | 2:35.09 | 135621 | 147254
8 | 32:43.30 | 4:30.52 | 147255 | 167556
9 | 37:14.07 | 2:46.29 | 167557 | 180035
10 | 40:00.36 | 5:02.25 | 180036 | 202710
11 | 45:02.61 | 3:34.43 | 202711 | 218803


Range status and errors

Selected range

Filename C:\EACRip\CD2\Schutz - Complete Recordings Vol. 1 (Box I - CD2) Geistliche Chor-Musik 1648 (II).wav

Peak level 97.9 %
Extraction speed 1.8 X
Range quality 100.0 %
Test CRC 37C83F03
Copy CRC 37C83F03
Copy OK

No errors occurred


AccurateRip summary

Track 1 accurately ripped (confidence 12) [34BE1BED] (AR v2)
Track 2 accurately ripped (confidence 11) [D1B09F33] (AR v2)
Track 3 accurately ripped (confidence 11) [DC512566] (AR v2)
Track 4 accurately ripped (confidence 11) [3F4B396E] (AR v2)
Track 5 accurately ripped (confidence 11) [704C3AAC] (AR v2)
Track 6 accurately ripped (confidence 11) [A79D88B3] (AR v2)
Track 7 accurately ripped (confidence 11) [874214CD] (AR v2)
Track 8 accurately ripped (confidence 12) [7E005B14] (AR v2)
Track 9 accurately ripped (confidence 12) [EA42F117] (AR v2)
Track 10 accurately ripped (confidence 12) [C1A09C8F] (AR v2)
Track 11 accurately ripped (confidence 12) [C776F6FC] (AR v2)

All tracks accurately ripped

End of status report

–– CUETools DB Plugin V2.1.6

[CTDB TOCID: vfgVCokdLMsYjQGV5X.7bjgM64I-] found
Submit result: vfgVCokdLMsYjQGV5X.7bjgM64I- has been confirmed
Track | CTDB Status
1 | (40/43) Accurately ripped
2 | (39/43) Accurately ripped
3 | (38/43) Accurately ripped
4 | (36/43) Accurately ripped
5 | (38/43) Accurately ripped
6 | (37/43) Accurately ripped
7 | (37/43) Accurately ripped
8 | (40/43) Accurately ripped
9 | (43/43) Accurately ripped
10 | (43/43) Accurately ripped
11 | (43/43) Accurately ripped


==== Log checksum FBEFA6EE7225A046AC96602E9CEDAA65D5CDBB5586FDA5F2358389AA1A2FF432 ====


Exact Audio Copy V1.3 from 2. September 2016

EAC extraction logfile from 4. March 2020, 21:51

Hans-Christoph Rademann / Schutz - Complete Recordings Vol. 2 (Box I - CD3) Italienische Madrigale

Used drive : ATAPI iHAS124 F Adapter: 1 ID: 0

Read mode : Secure
Utilize accurate stream : Yes
Defeat audio cache : Yes
Make use of C2 pointers : No

Read offset correction : 6
Overread into Lead-In and Lead-Out : No
Fill up missing offset samples with silence : Yes
Delete leading and trailing silent blocks : No
Null samples used in CRC calculations : Yes
Used interface : Native Win32 interface for Win NT & 2000

Used output format : User Defined Encoder
Selected bitrate : 1024 kBit/s
Quality : High
Add ID3 tag : No
Command line compressor : C:\Program Files (x86)\Exact Audio Copy\FLAC\FLAC.EXE
Additional command line options : -6 -V -T "ARTIST=%artist%" -T "TITLE=%title%" -T "ALBUM=%albumtitle%" -T "DATE=%year%" -T "TRACKNUMBER=%tracknr%" -T "GENRE=%genre%" -T "COMMENT=%comment%" -T "BAND=%albuminterpret%" -T "ALBUMARTIST=%albuminterpret%" -T "COMPOSER=%composer%" %haslyrics%–tag-from-file=LYRICS="%lyricsfile%"%haslyrics% -T "DISCNUMBER=%cdnumber%" -T "TOTALDISCS=%totalcds%" -T "TOTALTRACKS=%numtracks%" %hascover%–picture="%coverfile%"%hascover% %source% -o %dest%


TOC of the extracted CD

Track | Start | Length | Start sector | End sector
––––––––––––––––––––––––––––-
1 | 0:00.00 | 3:30.50 | 0 | 15799
2 | 3:30.50 | 2:38.52 | 15800 | 27701
3 | 6:09.27 | 2:45.55 | 27702 | 40131
4 | 8:55.07 | 2:46.22 | 40132 | 52603
5 | 11:41.29 | 3:08.16 | 52604 | 66719
6 | 14:49.45 | 3:01.60 | 66720 | 80354
7 | 17:51.30 | 3:28.35 | 80355 | 95989
8 | 21:19.65 | 2:25.47 | 95990 | 106911
9 | 23:45.37 | 3:11.50 | 106912 | 121286
10 | 26:57.12 | 2:34.65 | 121287 | 132901
11 | 29:32.02 | 2:38.22 | 132902 | 144773
12 | 32:10.24 | 3:03.16 | 144774 | 158514
13 | 35:13.40 | 3:14.07 | 158515 | 173071
14 | 38:27.47 | 3:15.71 | 173072 | 187767
15 | 41:43.43 | 4:06.34 | 187768 | 206251
16 | 45:50.02 | 2:28.52 | 206252 | 217403
17 | 48:18.54 | 2:31.18 | 217404 | 228746
18 | 50:49.72 | 2:50.73 | 228747 | 241569
19 | 53:40.70 | 3:38.27 | 241570 | 257946


Range status and errors

Selected range

Filename C:\EACRip\HEINRICH SCHUTZ - COMPLETE RECORDINGS [Carus, Boxes I-III]\BOX I\CD 03 - Italienische Madrigale\Schutz - Complete Recordings Vol. 2 (Box I - CD3) Italienische Madrigale - Hans-Christoph Rademann.wav

Peak level 95.0 %
Extraction speed 8.7 X
Range quality 100.0 %
Test CRC FB227CEB
Copy CRC FB227CEB
Copy OK

No errors occurred


AccurateRip summary

Track 1 accurately ripped (confidence 6) [8A422F9C] (AR v2)
Track 2 accurately ripped (confidence 6) [A9FF5FBB] (AR v2)
Track 3 accurately ripped (confidence 6) [1D92C62F] (AR v2)
Track 4 accurately ripped (confidence 6) [3078E479] (AR v2)
Track 5 accurately ripped (confidence 6) [1B86CBDB] (AR v2)
Track 6 accurately ripped (confidence 6) [3485D374] (AR v2)
Track 7 accurately ripped (confidence 6) [58E812C2] (AR v2)
Track 8 accurately ripped (confidence 6) [1ECADD26] (AR v2)
Track 9 accurately ripped (confidence 6) [96EB0F02] (AR v2)
Track 10 accurately ripped (confidence 6) [77207966] (AR v2)
Track 11 accurately ripped (confidence 6) [05044BE6] (AR v2)
Track 12 accurately ripped (confidence 6) [1AAF38A6] (AR v2)
Track 13 accurately ripped (confidence 6) [397ECB5F] (AR v2)
Track 14 accurately ripped (confidence 6) [FD632928] (AR v2)
Track 15 accurately ripped (confidence 6) [DD9F8A98] (AR v2)
Track 16 accurately ripped (confidence 6) [9665200C] (AR v2)
Track 17 accurately ripped (confidence 6) [B5EA239D] (AR v2)
Track 18 accurately ripped (confidence 6) [79F771A9] (AR v2)
Track 19 accurately ripped (confidence 6) [B92CD4FF] (AR v2)

All tracks accurately ripped

End of status report

–– CUETools DB Plugin V2.1.6

[CTDB TOCID: wTYNKoCc1RmLYIGwQc0ae5A11F0-] found
Submit result: wTYNKoCc1RmLYIGwQc0ae5A11F0- has been confirmed
Track | CTDB Status
1 | (35/35) Accurately ripped
2 | (35/35) Accurately ripped
3 | (34/35) Accurately ripped
4 | (35/35) Accurately ripped
5 | (35/35) Accurately ripped
6 | (35/35) Accurately ripped
7 | (35/35) Accurately ripped
8 | (35/35) Accurately ripped
9 | (34/35) Accurately ripped
10 | (34/35) Accurately ripped
11 | (33/35) Accurately ripped
12 | (34/35) Accurately ripped
13 | (34/35) Accurately ripped
14 | (34/35) Accurately ripped
15 | (34/35) Accurately ripped
16 | (33/35) Accurately ripped
17 | (34/35) Accurately ripped
18 | (34/35) Accurately ripped
19 | (35/35) Accurately ripped


==== Log checksum 5B14C1637B4BFD1DB5987162C222201DC35CED7DBC34C4042A22CD3A486AD57A ====


Exact Audio Copy V1.3 from 2. September 2016

EAC extraction logfile from 4. March 2020, 22:51

Dorothee Mields, Anja Zügner, Alexander Schneider, Jan Kobow, Tobias Mäthger, Harry van der Kamp, Matthias Lutze / Schutz - Complete Recordings Vol. 3 (Box I - CD4) Musikalische Exequien und andere Trauergesänge

Used drive : ATAPI iHAS124 F Adapter: 1 ID: 0

Read mode : Secure
Utilize accurate stream : Yes
Defeat audio cache : Yes
Make use of C2 pointers : No

Read offset correction : 6
Overread into Lead-In and Lead-Out : No
Fill up missing offset samples with silence : Yes
Delete leading and trailing silent blocks : No
Null samples used in CRC calculations : Yes
Used interface : Native Win32 interface for Win NT & 2000

Used output format : User Defined Encoder
Selected bitrate : 1024 kBit/s
Quality : High
Add ID3 tag : No
Command line compressor : C:\Program Files (x86)\Exact Audio Copy\FLAC\FLAC.EXE
Additional command line options : -6 -V -T "ARTIST=%artist%" -T "TITLE=%title%" -T "ALBUM=%albumtitle%" -T "DATE=%year%" -T "TRACKNUMBER=%tracknr%" -T "GENRE=%genre%" -T "COMMENT=%comment%" -T "BAND=%albuminterpret%" -T "ALBUMARTIST=%albuminterpret%" -T "COMPOSER=%composer%" %haslyrics%–tag-from-file=LYRICS="%lyricsfile%"%haslyrics% -T "DISCNUMBER=%cdnumber%" -T "TOTALDISCS=%totalcds%" -T "TOTALTRACKS=%numtracks%" %hascover%–picture="%coverfile%"%hascover% %source% -o %dest%


TOC of the extracted CD

Track | Start | Length | Start sector | End sector
––––––––––––––––––––––––––––-
1 | 0:00.00 | 22:40.18 | 0 | 102017
2 | 22:40.18 | 2:46.31 | 102018 | 114498
3 | 25:26.49 | 4:39.29 | 114499 | 135452
4 | 30:06.03 | 3:10.71 | 135453 | 149773
5 | 33:16.74 | 7:00.03 | 149774 | 181276
6 | 40:17.02 | 3:35.02 | 181277 | 197403
7 | 43:52.04 | 12:04.64 | 197404 | 251767
8 | 55:56.68 | 4:35.64 | 251768 | 272456
9 | 60:32.57 | 7:49.04 | 272457 | 307635


Range status and errors

Selected range

Filename C:\EACRip\HEINRICH SCHUTZ - COMPLETE RECORDINGS [Carus, Boxes I-III]\BOX I\CD 04 - Musikalische Exequien\Schutz - Complete Recordings Vol. 3 (Box I - CD4) Musikalische Exequien - Hans-Christoph Rademann.wav

Peak level 96.9 %
Extraction speed 9.5 X
Range quality 100.0 %
Test CRC 4076F71F
Copy CRC 4076F71F
Copy OK

No errors occurred


AccurateRip summary

Track 1 accurately ripped (confidence 5) [9D3BFE1E] (AR v2)
Track 2 accurately ripped (confidence 6) [7F84DD0F] (AR v2)
Track 3 accurately ripped (confidence 6) [CFB423F1] (AR v2)
Track 4 accurately ripped (confidence 6) [D2EB1733] (AR v2)
Track 5 accurately ripped (confidence 6) [383121EF] (AR v2)
Track 6 accurately ripped (confidence 6) [CE329136] (AR v2)
Track 7 accurately ripped (confidence 6) [7A8BF2CD] (AR v2)
Track 8 accurately ripped (confidence 6) [DE8DC9C5] (AR v2)
Track 9 accurately ripped (confidence 6) [D62F589D] (AR v2)

All tracks accurately ripped

End of status report

–– CUETools DB Plugin V2.1.6

[CTDB TOCID: SHuRLQw5xSqUqdStWlg0OMKwLaQ-] found
Submit result: SHuRLQw5xSqUqdStWlg0OMKwLaQ- has been confirmed
Track | CTDB Status
1 | (40/40) Accurately ripped
2 | (40/40) Accurately ripped
3 | (37/40) Accurately ripped, or (3/40) differs in 57 samples @02:51:51-02:51:52
4 | (40/40) Accurately ripped
5 | (40/40) Accurately ripped
6 | (40/40) Accurately ripped
7 | (40/40) Accurately ripped
8 | (40/40) Accurately ripped
9 | (40/40) Accurately ripped


==== Log checksum 8894DFE32F6524435A533EEBB07E822A63733E42382AF38A51410E6E15397227 ====


Exact Audio Copy V1.3 from 2. September 2016

EAC extraction logfile from 5. March 2020, 0:05

Hans-Christoph Rademann / Schutz - Complete Recordings Vol. 4 (Box I - CD5) Zwölf geistliche Gesänge

Used drive : ATAPI iHAS124 F Adapter: 1 ID: 0

Read mode : Secure
Utilize accurate stream : Yes
Defeat audio cache : Yes
Make use of C2 pointers : No

Read offset correction : 6
Overread into Lead-In and Lead-Out : No
Fill up missing offset samples with silence : Yes
Delete leading and trailing silent blocks : No
Null samples used in CRC calculations : Yes
Used interface : Native Win32 interface for Win NT & 2000

Used output format : User Defined Encoder
Selected bitrate : 1024 kBit/s
Quality : High
Add ID3 tag : No
Command line compressor : C:\Program Files (x86)\Exact Audio Copy\FLAC\FLAC.EXE
Additional command line options : -6 -V -T "ARTIST=%artist%" -T "TITLE=%title%" -T "ALBUM=%albumtitle%" -T "DATE=%year%" -T "TRACKNUMBER=%tracknr%" -T "GENRE=%genre%" -T "COMMENT=%comment%" -T "BAND=%albuminterpret%" -T "ALBUMARTIST=%albuminterpret%" -T "COMPOSER=%composer%" %haslyrics%–tag-from-file=LYRICS="%lyricsfile%"%haslyrics% -T "DISCNUMBER=%cdnumber%" -T "TOTALDISCS=%totalcds%" -T "TOTALTRACKS=%numtracks%" %hascover%–picture="%coverfile%"%hascover% %source% -o %dest%


TOC of the extracted CD

Track | Start | Length | Start sector | End sector
––––––––––––––––––––––––––––-
1 | 0:00.00 | 4:55.60 | 0 | 22184
2 | 4:55.60 | 5:38.28 | 22185 | 47562
3 | 10:34.13 | 5:25.36 | 47563 | 71973
4 | 15:59.49 | 4:56.52 | 71974 | 94225
5 | 20:56.26 | 4:17.45 | 94226 | 113545
6 | 25:13.71 | 1:26.37 | 113546 | 120032
7 | 26:40.33 | 6:44.46 | 120033 | 150378
8 | 33:25.04 | 3:52.20 | 150379 | 167798
9 | 37:17.24 | 10:19.00 | 167799 | 214223
10 | 47:36.24 | 3:47.23 | 214224 | 231271
11 | 51:23.47 | 4:32.73 | 231272 | 251744
12 | 55:56.45 | 4:04.45 | 251745 | 270089


Range status and errors

Selected range

Filename C:\EACRip\HEINRICH SCHUTZ - COMPLETE RECORDINGS [Carus, Boxes I-III]\BOX I\CD 05\Schutz - Complete Recordings Vol. 4 (Box I - CD5) Zwolf geistliche Gesange - Hans-Christoph Rademann.wav

Peak level 97.0 %
Extraction speed 8.6 X
Range quality 99.9 %
Test CRC 642DFB95
Copy CRC 642DFB95
Copy OK

No errors occurred


AccurateRip summary

Track 1 accurately ripped (confidence 6) [05B0F7FC] (AR v2)
Track 2 accurately ripped (confidence 6) [D2AB3C6F] (AR v2)
Track 3 accurately ripped (confidence 6) [E9D98150] (AR v2)
Track 4 accurately ripped (confidence 6) [712CC24A] (AR v2)
Track 5 accurately ripped (confidence 6) [3A230821] (AR v2)
Track 6 accurately ripped (confidence 6) [A13E657E] (AR v2)
Track 7 accurately ripped (confidence 6) [BD4D1D3C] (AR v2)
Track 8 accurately ripped (confidence 6) [F19FF486] (AR v2)
Track 9 accurately ripped (confidence 6) [A6F4BAC6] (AR v2)
Track 10 accurately ripped (confidence 6) [85DAC1FD] (AR v2)
Track 11 accurately ripped (confidence 6) [0B63CCD7] (AR v2)
Track 12 accurately ripped (confidence 6) [9536F19C] (AR v2)

All tracks accurately ripped

End of status report

–– CUETools DB Plugin V2.1.6

[CTDB TOCID: mxqaer_6wVRElib9Fx1kfJrKKRc-] found
Submit result: mxqaer_6wVRElib9Fx1kfJrKKRc- has been confirmed
Track | CTDB Status
1 | (37/37) Accurately ripped
2 | (37/37) Accurately ripped
3 | (37/37) Accurately ripped
4 | (37/37) Accurately ripped
5 | (37/37) Accurately ripped
6 | (37/37) Accurately ripped
7 | (37/37) Accurately ripped
8 | (37/37) Accurately ripped
9 | (37/37) Accurately ripped
10 | (37/37) Accurately ripped
11 | (37/37) Accurately ripped
12 | (37/37) Accurately ripped


==== Log checksum 0088FACC6ABCF79105193D9C4205F46FE884C9EFA3685CD30FD975323A903F8B ====


Exact Audio Copy V1.3 from 2. September 2016

EAC extraction logfile from 5. March 2020, 1:29

Hans-Christoph Rademann / Schutz - Complete Recordings Vol. 5 (Box I - CD6) Cantiones Sacrae (I)

Used drive : ATAPI iHAS124 F Adapter: 1 ID: 0

Read mode : Secure
Utilize accurate stream : Yes
Defeat audio cache : Yes
Make use of C2 pointers : No

Read offset correction : 6
Overread into Lead-In and Lead-Out : No
Fill up missing offset samples with silence : Yes
Delete leading and trailing silent blocks : No
Null samples used in CRC calculations : Yes
Used interface : Native Win32 interface for Win NT & 2000

Used output format : User Defined Encoder
Selected bitrate : 1024 kBit/s
Quality : High
Add ID3 tag : No
Command line compressor : C:\Program Files (x86)\Exact Audio Copy\FLAC\FLAC.EXE
Additional command line options : -6 -V -T "ARTIST=%artist%" -T "TITLE=%title%" -T "ALBUM=%albumtitle%" -T "DATE=%year%" -T "TRACKNUMBER=%tracknr%" -T "GENRE=%genre%" -T "COMMENT=%comment%" -T "BAND=%albuminterpret%" -T "ALBUMARTIST=%albuminterpret%" -T "COMPOSER=%composer%" %haslyrics%–tag-from-file=LYRICS="%lyricsfile%"%haslyrics% -T "DISCNUMBER=%cdnumber%" -T "TOTALDISCS=%totalcds%" -T "TOTALTRACKS=%numtracks%" %hascover%–picture="%coverfile%"%hascover% %source% -o %dest%


TOC of the extracted CD

Track | Start | Length | Start sector | End sector
––––––––––––––––––––––––––––-
1 | 0:00.00 | 3:02.38 | 0 | 13687
2 | 3:02.38 | 2:11.18 | 13688 | 23530
3 | 5:13.56 | 2:33.27 | 23531 | 35032
4 | 7:47.08 | 3:27.26 | 35033 | 50583
5 | 11:14.34 | 1:58.17 | 50584 | 59450
6 | 13:12.51 | 4:08.15 | 59451 | 78065
7 | 17:20.66 | 2:34.20 | 78066 | 89635
8 | 19:55.11 | 2:02.14 | 89636 | 98799
9 | 21:57.25 | 2:28.21 | 98800 | 109920
10 | 24:25.46 | 2:26.06 | 109921 | 120876
11 | 26:51.52 | 3:43.12 | 120877 | 137613
12 | 30:34.64 | 3:05.51 | 137614 | 151539
13 | 33:40.40 | 3:47.02 | 151540 | 168566
14 | 37:27.42 | 2:30.55 | 168567 | 179871
15 | 39:58.22 | 2:56.44 | 179872 | 193115
16 | 42:54.66 | 2:36.36 | 193116 | 204851
17 | 45:31.27 | 2:51.32 | 204852 | 217708
18 | 48:22.59 | 1:34.43 | 217709 | 224801
19 | 49:57.27 | 2:56.40 | 224802 | 238041
20 | 52:53.67 | 2:09.69 | 238042 | 247785


Range status and errors

Selected range

Filename C:\EACRip\HEINRICH SCHUTZ - COMPLETE RECORDINGS [Carus, Boxes I-III]\BOX I\CD 06\Schutz - Complete Recordings Vol. 5 (Box I - CD6) Cantiones Sacrae (I) - Hans-Christoph Rademann.wav

Peak level 93.6 %
Extraction speed 8.6 X
Range quality 100.0 %
Test CRC F842D02B
Copy CRC F842D02B
Copy OK

No errors occurred


AccurateRip summary

Track 1 accurately ripped (confidence 6) [CBD36E3C] (AR v2)
Track 2 accurately ripped (confidence 6) [8296164E] (AR v2)
Track 3 accurately ripped (confidence 6) [A6F4C05A] (AR v2)
Track 4 accurately ripped (confidence 6) [80ECF217] (AR v2)
Track 5 accurately ripped (confidence 6) [47530813] (AR v2)
Track 6 accurately ripped (confidence 6) [308C7ED2] (AR v2)
Track 7 accurately ripped (confidence 6) [EB8A681F] (AR v2)
Track 8 accurately ripped (confidence 6) [00517661] (AR v2)
Track 9 accurately ripped (confidence 6) [8A127DF8] (AR v2)
Track 10 accurately ripped (confidence 6) [4F1F70D5] (AR v2)
Track 11 accurately ripped (confidence 6) [E210F0E8] (AR v2)
Track 12 accurately ripped (confidence 6) [29ACE4CF] (AR v2)
Track 13 accurately ripped (confidence 6) [A8E9B578] (AR v2)
Track 14 accurately ripped (confidence 6) [863F813D] (AR v2)
Track 15 accurately ripped (confidence 6) [452F88F4] (AR v2)
Track 16 accurately ripped (confidence 6) [0D0ED955] (AR v2)
Track 17 accurately ripped (confidence 6) [93B374E5] (AR v2)
Track 18 accurately ripped (confidence 6) [DB0CB2CB] (AR v2)
Track 19 accurately ripped (confidence 6) [C9A93E7C] (AR v2)
Track 20 accurately ripped (confidence 6) [014A71EB] (AR v2)

All tracks accurately ripped

End of status report

–– CUETools DB Plugin V2.1.6

[CTDB TOCID: EtjiHvdht5_WXJLw0cgKv_VWYuk-] found
Submit result: EtjiHvdht5_WXJLw0cgKv_VWYuk- has been confirmed
Track | CTDB Status
1 | (26/26) Accurately ripped
2 | (26/26) Accurately ripped
3 | (26/26) Accurately ripped
4 | (26/26) Accurately ripped
5 | (26/26) Accurately ripped
6 | (26/26) Accurately ripped
7 | (26/26) Accurately ripped
8 | (26/26) Accurately ripped
9 | (26/26) Accurately ripped
10 | (26/26) Accurately ripped
11 | (26/26) Accurately ripped
12 | (26/26) Accurately ripped
13 | (26/26) Accurately ripped
14 | (26/26) Accurately ripped
15 | (26/26) Accurately ripped
16 | (26/26) Accurately ripped
17 | (26/26) Accurately ripped
18 | (26/26) Accurately ripped
19 | (26/26) Accurately ripped
20 | (25/26) Accurately ripped


==== Log checksum 48B908A8613AF24FCDED330623B9F91F3261C7AE6B1D5EC66C18035CAA9339BB ====


Exact Audio Copy V1.3 from 2. September 2016

EAC extraction logfile from 5. March 2020, 2:22

Marie Luise Werneburg, Stefan Kunath, Oliver Kaden, Felix Schwandtke / Schutz - Complete Recordings Vol. 5 (Box I - CD7) Cantiones Sacrae (II)

Used drive : ATAPI iHAS124 F Adapter: 1 ID: 0

Read mode : Secure
Utilize accurate stream : Yes
Defeat audio cache : Yes
Make use of C2 pointers : No

Read offset correction : 6
Overread into Lead-In and Lead-Out : No
Fill up missing offset samples with silence : Yes
Delete leading and trailing silent blocks : No
Null samples used in CRC calculations : Yes
Used interface : Native Win32 interface for Win NT & 2000

Used output format : User Defined Encoder
Selected bitrate : 1024 kBit/s
Quality : High
Add ID3 tag : No
Command line compressor : C:\Program Files (x86)\Exact Audio Copy\FLAC\FLAC.EXE
Additional command line options : -6 -V -T "ARTIST=%artist%" -T "TITLE=%title%" -T "ALBUM=%albumtitle%" -T "DATE=%year%" -T "TRACKNUMBER=%tracknr%" -T "GENRE=%genre%" -T "COMMENT=%comment%" -T "BAND=%albuminterpret%" -T "ALBUMARTIST=%albuminterpret%" -T "COMPOSER=%composer%" %haslyrics%–tag-from-file=LYRICS="%lyricsfile%"%haslyrics% -T "DISCNUMBER=%cdnumber%" -T "TOTALDISCS=%totalcds%" -T "TOTALTRACKS=%numtracks%" %hascover%–picture="%coverfile%"%hascover% %source% -o %dest%


TOC of the extracted CD

Track | Start | Length | Start sector | End sector
––––––––––––––––––––––––––––-
1 | 0:00.00 | 3:19.34 | 0 | 14958
2 | 3:19.34 | 1:33.14 | 14959 | 21947
3 | 4:52.48 | 3:04.57 | 21948 | 35804
4 | 7:57.30 | 3:50.03 | 35805 | 53057
5 | 11:47.33 | 2:04.41 | 53058 | 62398
6 | 13:51.74 | 3:05.00 | 62399 | 76273
7 | 16:56.74 | 2:59.13 | 76274 | 89711
8 | 19:56.12 | 1:33.57 | 89712 | 96743
9 | 21:29.69 | 2:59.45 | 96744 | 110213
10 | 24:29.39 | 3:32.67 | 110214 | 126180
11 | 28:02.31 | 3:07.12 | 126181 | 140217
12 | 31:09.43 | 3:25.53 | 140218 | 155645
13 | 34:35.21 | 2:44.11 | 155646 | 167956
14 | 37:19.32 | 2:52.29 | 167957 | 180885
15 | 40:11.61 | 3:03.51 | 180886 | 194661
16 | 43:15.37 | 0:50.01 | 194662 | 198412
17 | 44:05.38 | 2:22.38 | 198413 | 209100
18 | 46:28.01 | 1:18.11 | 209101 | 214961
19 | 47:46.12 | 1:40.37 | 214962 | 222498
20 | 49:26.49 | 2:32.09 | 222499 | 233907
21 | 51:58.58 | 1:24.13 | 233908 | 240220


Range status and errors

Selected range

Filename C:\EACRip\HEINRICH SCHUTZ - COMPLETE RECORDINGS [Carus, Boxes I-III]\BOX I\CD 07\Schutz - Complete Recordings Vol. 5 (Box I - CD7) Cantiones Sacrae (II) - Hans-Christoph Rademann.wav

Peak level 82.0 %
Extraction speed 8.5 X
Range quality 100.0 %
Test CRC 794A6E27
Copy CRC 794A6E27
Copy OK

No errors occurred


AccurateRip summary

Track 1 accurately ripped (confidence 6) [EEAB1578] (AR v2)
Track 2 accurately ripped (confidence 6) [BB578FB8] (AR v2)
Track 3 accurately ripped (confidence 6) [4C128EC2] (AR v2)
Track 4 accurately ripped (confidence 6) [D0885AAA] (AR v2)
Track 5 accurately ripped (confidence 6) [47E0DC73] (AR v2)
Track 6 accurately ripped (confidence 6) [27FBDEE9] (AR v2)
Track 7 accurately ripped (confidence 6) [28039A77] (AR v2)
Track 8 accurately ripped (confidence 6) [545C6484] (AR v2)
Track 9 accurately ripped (confidence 6) [66246B2B] (AR v2)
Track 10 accurately ripped (confidence 6) [50A19EA4] (AR v2)
Track 11 accurately ripped (confidence 6) [6D6B10E4] (AR v2)
Track 12 accurately ripped (confidence 6) [D4BA35A2] (AR v2)
Track 13 accurately ripped (confidence 6) [2EED39FF] (AR v2)
Track 14 accurately ripped (confidence 6) [8F3EFAF8] (AR v2)
Track 15 accurately ripped (confidence 6) [618C0D15] (AR v2)
Track 16 accurately ripped (confidence 6) [71191901] (AR v2)
Track 17 accurately ripped (confidence 6) [979DE01A] (AR v2)
Track 18 accurately ripped (confidence 6) [DDAE6FD0] (AR v2)
Track 19 accurately ripped (confidence 6) [EC455A9C] (AR v2)
Track 20 accurately ripped (confidence 6) [AFB34C08] (AR v2)
Track 21 accurately ripped (confidence 6) [B221C019] (AR v2)

All tracks accurately ripped

End of status report

–– CUETools DB Plugin V2.1.6

[CTDB TOCID: Lb2lCFfJsADl9itj1yBzVEC5QjM-] found
Submit result: Lb2lCFfJsADl9itj1yBzVEC5QjM- has been confirmed
Track | CTDB Status
1 | (27/27) Accurately ripped
2 | (27/27) Accurately ripped
3 | (27/27) Accurately ripped
4 | (27/27) Accurately ripped
5 | (27/27) Accurately ripped
6 | (27/27) Accurately ripped
7 | (27/27) Accurately ripped
8 | (27/27) Accurately ripped
9 | (27/27) Accurately ripped
10 | (27/27) Accurately ripped
11 | (27/27) Accurately ripped
12 | (27/27) Accurately ripped
13 | (27/27) Accurately ripped
14 | (27/27) Accurately ripped
15 | (27/27) Accurately ripped
16 | (27/27) Accurately ripped
17 | (27/27) Accurately ripped
18 | (27/27) Accurately ripped
19 | (27/27) Accurately ripped
20 | (27/27) Accurately ripped
21 | (27/27) Accurately ripped


==== Log checksum 7D539A6D2E1944E12D701FE7818CE9ABAE28285F436BA96B2468EC824A996196 ====


Exact Audio Copy V1.3 from 2. September 2016

EAC extraction logfile from 5. March 2020, 3:08

Ulrike Hofbauer, Marie Luise Werneburg, Stefan Kunath, Jan Kobow, Tobias Mäthger, Jörg Genslein, Claudius Pobbig, Felix Rumpf, / Schutz - Complete Recordings Vol. 6 (Box I - CD8) Lukaspassion & Die Sieben Worte

Used drive : ATAPI iHAS124 F Adapter: 1 ID: 0

Read mode : Secure
Utilize accurate stream : Yes
Defeat audio cache : Yes
Make use of C2 pointers : No

Read offset correction : 6
Overread into Lead-In and Lead-Out : No
Fill up missing offset samples with silence : Yes
Delete leading and trailing silent blocks : No
Null samples used in CRC calculations : Yes
Used interface : Native Win32 interface for Win NT & 2000

Used output format : User Defined Encoder
Selected bitrate : 1024 kBit/s
Quality : High
Add ID3 tag : No
Command line compressor : C:\Program Files (x86)\Exact Audio Copy\FLAC\FLAC.EXE
Additional command line options : -6 -V -T "ARTIST=%artist%" -T "TITLE=%title%" -T "ALBUM=%albumtitle%" -T "DATE=%year%" -T "TRACKNUMBER=%tracknr%" -T "GENRE=%genre%" -T "COMMENT=%comment%" -T "BAND=%albuminterpret%" -T "ALBUMARTIST=%albuminterpret%" -T "COMPOSER=%composer%" %haslyrics%–tag-from-file=LYRICS="%lyricsfile%"%haslyrics% -T "DISCNUMBER=%cdnumber%" -T "TOTALDISCS=%totalcds%" -T "TOTALTRACKS=%numtracks%" %hascover%–picture="%coverfile%"%hascover% %source% -o %dest%


TOC of the extracted CD

Track | Start | Length | Start sector | End sector
––––––––––––––––––––––––––––-
1 | 0:00.00 | 1:55.15 | 0 | 8639
2 | 1:55.15 | 1:11.09 | 8640 | 13973
3 | 3:06.24 | 9:38.36 | 13974 | 57359
4 | 12:44.60 | 1:17.60 | 57360 | 63194
5 | 14:02.45 | 1:46.18 | 63195 | 71162
6 | 15:48.63 | 4:16.00 | 71163 | 90362
7 | 20:04.63 | 1:13.04 | 90363 | 95841
8 | 21:17.67 | 1:25.47 | 95842 | 102263
9 | 22:43.39 | 5:56.48 | 102264 | 129011
10 | 28:40.12 | 6:09.25 | 129012 | 156711
11 | 34:49.37 | 2:30.08 | 156712 | 167969
12 | 37:19.45 | 2:52.50 | 167970 | 180919
13 | 40:12.20 | 3:09.41 | 180920 | 195135
14 | 43:21.61 | 3:46.67 | 195136 | 212152
15 | 47:08.53 | 2:50.32 | 212153 | 224934
16 | 49:59.10 | 2:11.69 | 224935 | 234828
17 | 52:11.04 | 4:35.34 | 234829 | 255487
18 | 56:46.38 | 2:18.65 | 255488 | 265902
19 | 59:05.28 | 8:09.46 | 265903 | 302623
20 | 67:14.74 | 2:10.21 | 302624 | 312394
21 | 69:25.20 | 1:39.54 | 312395 | 319873


Range status and errors

Selected range

Filename C:\EACRip\HEINRICH SCHUTZ - COMPLETE RECORDINGS [Carus, Boxes I-III]\BOX I\CD 08\Schutz - Complete Recordings Vol. 6 (Box I - CD8) Lukaspassion & Die Sieben Worte - Hans-Christoph Rademann.wav

Peak level 97.9 %
Extraction speed 9.7 X
Range quality 100.0 %
Test CRC 0F27EA78
Copy CRC 0F27EA78
Copy OK

No errors occurred


AccurateRip summary

Track 1 accurately ripped (confidence 6) [42058126] (AR v2)
Track 2 accurately ripped (confidence 6) [57D5BE86] (AR v2)
Track 3 accurately ripped (confidence 6) [A98BC8F9] (AR v2)
Track 4 accurately ripped (confidence 6) [918CD23A] (AR v2)
Track 5 accurately ripped (confidence 6) [56E8BD18] (AR v2)
Track 6 accurately ripped (confidence 6) [DD779562] (AR v2)
Track 7 accurately ripped (confidence 6) [6E6ECDC7] (AR v2)
Track 8 accurately ripped (confidence 6) [00875C53] (AR v2)
Track 9 accurately ripped (confidence 6) [28502E04] (AR v2)
Track 10 accurately ripped (confidence 6) [E1177301] (AR v2)
Track 11 accurately ripped (confidence 6) [CAB30F0B] (AR v2)
Track 12 accurately ripped (confidence 6) [1F2B4CC2] (AR v2)
Track 13 accurately ripped (confidence 6) [B1DC4747] (AR v2)
Track 14 accurately ripped (confidence 6) [66D29092] (AR v2)
Track 15 accurately ripped (confidence 6) [D7B5E205] (AR v2)
Track 16 accurately ripped (confidence 6) [85E59D2B] (AR v2)
Track 17 accurately ripped (confidence 6) [6BFE2150] (AR v2)
Track 18 accurately ripped (confidence 6) [1BE637C8] (AR v2)
Track 19 accurately ripped (confidence 6) [5AAFCBA7] (AR v2)
Track 20 accurately ripped (confidence 6) [D1A34927] (AR v2)
Track 21 accurately ripped (confidence 6) [1A9CD6D7] (AR v2)

All tracks accurately ripped

End of status report

–– CUETools DB Plugin V2.1.6

[CTDB TOCID: eXQUBhZaPbrYgHtioUiZyfSsVJc-] found
Submit result: eXQUBhZaPbrYgHtioUiZyfSsVJc- has been confirmed
Track | CTDB Status
1 | (27/27) Accurately ripped
2 | (27/27) Accurately ripped
3 | (27/27) Accurately ripped
4 | (27/27) Accurately ripped
5 | (27/27) Accurately ripped
6 | (27/27) Accurately ripped
7 | (27/27) Accurately ripped
8 | (27/27) Accurately ripped
9 | (27/27) Accurately ripped
10 | (27/27) Accurately ripped
11 | (27/27) Accurately ripped
12 | (27/27) Accurately ripped
13 | (27/27) Accurately ripped
14 | (27/27) Accurately ripped
15 | (27/27) Accurately ripped
16 | (27/27) Accurately ripped
17 | (27/27) Accurately ripped
18 | (27/27) Accurately ripped
19 | (27/27) Accurately ripped
20 | (26/27) Accurately ripped
21 | (27/27) Accurately ripped


==== Log checksum 48C9663324602BE430652F12ED4A3680A34E9A16D2CF0B86FF98253F72819170 ====


Exact Audio Copy V1.3 from 2. September 2016

EAC extraction logfile from 5. March 2020, 12:07

Dorothee Mields, Ulrike Hofbauer, David Erler, Alexander Schneider, Georg Poplutz, Tobias Mäthger, Andreas Wolf, Cornelius Uhle / Schutz - Complete Recordings Vol. 7 (Box I - CD9) Kleine geistliche Konzerte 1

Used drive : ATAPI iHAS124 F Adapter: 1 ID: 0

Read mode : Secure
Utilize accurate stream : Yes
Defeat audio cache : Yes
Make use of C2 pointers : No

Read offset correction : 6
Overread into Lead-In and Lead-Out : No
Fill up missing offset samples with silence : Yes
Delete leading and trailing silent blocks : No
Null samples used in CRC calculations : Yes
Used interface : Native Win32 interface for Win NT & 2000

Used output format : User Defined Encoder
Selected bitrate : 1024 kBit/s
Quality : High
Add ID3 tag : No
Command line compressor : C:\Program Files (x86)\Exact Audio Copy\FLAC\FLAC.EXE
Additional command line options : -6 -V -T "ARTIST=%artist%" -T "TITLE=%title%" -T "ALBUM=%albumtitle%" -T "DATE=%year%" -T "TRACKNUMBER=%tracknr%" -T "GENRE=%genre%" -T "COMMENT=%comment%" -T "BAND=%albuminterpret%" -T "ALBUMARTIST=%albuminterpret%" -T "COMPOSER=%composer%" %haslyrics%–tag-from-file=LYRICS="%lyricsfile%"%haslyrics% -T "DISCNUMBER=%cdnumber%" -T "TOTALDISCS=%totalcds%" -T "TOTALTRACKS=%numtracks%" %hascover%–picture="%coverfile%"%hascover% %source% -o %dest%


TOC of the extracted CD

Track | Start | Length | Start sector | End sector
––––––––––––––––––––––––––––-
1 | 0:00.00 | 3:10.70 | 0 | 14319
2 | 3:10.70 | 2:18.73 | 14320 | 24742
3 | 5:29.68 | 1:52.62 | 24743 | 33204
4 | 7:22.55 | 2:17.61 | 33205 | 43540
5 | 9:40.41 | 2:49.05 | 43541 | 56220
6 | 12:29.46 | 3:13.33 | 56221 | 70728
7 | 15:43.04 | 2:12.39 | 70729 | 80667
8 | 17:55.43 | 2:10.16 | 80668 | 90433
9 | 20:05.59 | 1:57.48 | 90434 | 99256
10 | 22:03.32 | 3:37.70 | 99257 | 115601
11 | 25:41.27 | 4:32.30 | 115602 | 136031
12 | 30:13.57 | 2:03.01 | 136032 | 145257
13 | 32:16.58 | 3:19.40 | 145258 | 160222
14 | 35:36.23 | 2:15.37 | 160223 | 170384
15 | 37:51.60 | 2:14.51 | 170385 | 180485
16 | 40:06.36 | 3:02.58 | 180486 | 194193
17 | 43:09.19 | 1:57.12 | 194194 | 202980
18 | 45:06.31 | 2:13.47 | 202981 | 213002
19 | 47:20.03 | 3:42.68 | 213003 | 229720
20 | 51:02.71 | 2:21.00 | 229721 | 240295
21 | 53:23.71 | 1:21.44 | 240296 | 246414
22 | 54:45.40 | 4:03.70 | 246415 | 264709
23 | 58:49.35 | 1:33.06 | 264710 | 271690
24 | 60:22.41 | 11:07.38 | 271691 | 321753


Range status and errors

Selected range

Filename C:\EACRip\HEINRICH SCHUTZ - COMPLETE RECORDINGS [Carus, Boxes I-III]\BOX I\CD 09\Schutz - Complete Recordings Vol. 7 (Box I - CD 9) Kleine geistliche Konzerte 1 - Ludger Remy.wav

Peak level 98.0 %
Extraction speed 9.8 X
Range quality 100.0 %
Test CRC 752F8E3E
Copy CRC 752F8E3E
Copy OK

No errors occurred


AccurateRip summary

Track 1 accurately ripped (confidence 6) [563545AC] (AR v2)
Track 2 accurately ripped (confidence 6) [ADAEF5AB] (AR v2)
Track 3 accurately ripped (confidence 6) [2EB75A8D] (AR v2)
Track 4 accurately ripped (confidence 6) [23CBAFC7] (AR v2)
Track 5 accurately ripped (confidence 6) [F55768B8] (AR v2)
Track 6 accurately ripped (confidence 6) [E4391EB3] (AR v2)
Track 7 accurately ripped (confidence 6) [830B0BAE] (AR v2)
Track 8 accurately ripped (confidence 6) [ED82979C] (AR v2)
Track 9 accurately ripped (confidence 6) [8B8C0C1E] (AR v2)
Track 10 accurately ripped (confidence 6) [D4205D23] (AR v2)
Track 11 accurately ripped (confidence 6) [FA529C85] (AR v2)
Track 12 accurately ripped (confidence 6) [B410E31E] (AR v2)
Track 13 accurately ripped (confidence 6) [40BF6DA8] (AR v2)
Track 14 accurately ripped (confidence 6) [877C502E] (AR v2)
Track 15 accurately ripped (confidence 6) [AAC34913] (AR v2)
Track 16 accurately ripped (confidence 6) [705F9D54] (AR v2)
Track 17 accurately ripped (confidence 6) [AB17C6C3] (AR v2)
Track 18 accurately ripped (confidence 6) [DE641C07] (AR v2)
Track 19 accurately ripped (confidence 6) [B45F884E] (AR v2)
Track 20 accurately ripped (confidence 6) [10547C82] (AR v2)
Track 21 accurately ripped (confidence 6) [4600B3E9] (AR v2)
Track 22 accurately ripped (confidence 6) [1CF3DEBF] (AR v2)
Track 23 accurately ripped (confidence 6) [84AD4199] (AR v2)
Track 24 accurately ripped (confidence 6) [9F13AD45] (AR v2)

All tracks accurately ripped

End of status report

–– CUETools DB Plugin V2.1.6

[CTDB TOCID: Cd6LqL1GwRBm01rrgMe4Vf12r4E-] found
Submit result: Cd6LqL1GwRBm01rrgMe4Vf12r4E- has been confirmed
Track | CTDB Status
1 | (24/24) Accurately ripped
2 | (24/24) Accurately ripped
3 | (24/24) Accurately ripped
4 | (24/24) Accurately ripped
5 | (24/24) Accurately ripped
6 | (24/24) Accurately ripped
7 | (24/24) Accurately ripped
8 | (24/24) Accurately ripped
9 | (24/24) Accurately ripped
10 | (24/24) Accurately ripped
11 | (24/24) Accurately ripped
12 | (24/24) Accurately ripped
13 | (24/24) Accurately ripped
14 | (24/24) Accurately ripped
15 | (24/24) Accurately ripped
16 | (24/24) Accurately ripped
17 | (24/24) Accurately ripped
18 | (24/24) Accurately ripped
19 | (24/24) Accurately ripped
20 | (24/24) Accurately ripped
21 | (24/24) Accurately ripped
22 | (24/24) Accurately ripped
23 | (24/24) Accurately ripped
24 | (24/24) Accurately ripped


==== Log checksum E872091F41E951E2DEC9A19B536F891ADAFDE4F1F79C6BAED89A7C82AEC0C6F4 ====


Exact Audio Copy V1.3 from 2. September 2016

EAC extraction logfile from 5. March 2020, 13:16

Dorothee Mields, Marie Luise Werneburg, David Erler, Stefan Kunath, Georg Poplutz, Tobias Mäthger, Stephan MacLeod, Felix Schwa / Schutz - Complete Recordings Vol. 8 (Box I - CD 10) Psalmen Davids (I)

Used drive : ATAPI iHAS124 F Adapter: 1 ID: 0

Read mode : Secure
Utilize accurate stream : Yes
Defeat audio cache : Yes
Make use of C2 pointers : No

Read offset correction : 6
Overread into Lead-In and Lead-Out : No
Fill up missing offset samples with silence : Yes
Delete leading and trailing silent blocks : No
Null samples used in CRC calculations : Yes
Used interface : Native Win32 interface for Win NT & 2000

Used output format : User Defined Encoder
Selected bitrate : 1024 kBit/s
Quality : High
Add ID3 tag : No
Command line compressor : C:\Program Files (x86)\Exact Audio Copy\FLAC\FLAC.EXE
Additional command line options : -6 -V -T "ARTIST=%artist%" -T "TITLE=%title%" -T "ALBUM=%albumtitle%" -T "DATE=%year%" -T "TRACKNUMBER=%tracknr%" -T "GENRE=%genre%" -T "COMMENT=%comment%" -T "BAND=%albuminterpret%" -T "ALBUMARTIST=%albuminterpret%" -T "COMPOSER=%composer%" %haslyrics%–tag-from-file=LYRICS="%lyricsfile%"%haslyrics% -T "DISCNUMBER=%cdnumber%" -T "TOTALDISCS=%totalcds%" -T "TOTALTRACKS=%numtracks%" %hascover%–picture="%coverfile%"%hascover% %source% -o %dest%


TOC of the extracted CD

Track | Start | Length | Start sector | End sector
––––––––––––––––––––––––––––-
1 | 0:00.00 | 3:16.32 | 0 | 14731
2 | 3:16.32 | 4:20.59 | 14732 | 34290
3 | 7:37.16 | 4:42.36 | 34291 | 55476
4 | 12:19.52 | 4:03.41 | 55477 | 73742
5 | 16:23.18 | 3:41.22 | 73743 | 90339
6 | 20:04.40 | 4:25.60 | 90340 | 110274
7 | 24:30.25 | 5:11.68 | 110275 | 133667
8 | 29:42.18 | 6:47.67 | 133668 | 164259
9 | 36:30.10 | 5:04.60 | 164260 | 187119
10 | 41:34.70 | 8:14.56 | 187120 | 224225
11 | 49:49.51 | 5:56.44 | 224226 | 250969
12 | 55:46.20 | 4:16.00 | 250970 | 270169
13 | 60:02.20 | 5:44.25 | 270170 | 295994


Range status and errors

Selected range

Filename C:\EACRip\HEINRICH SCHUTZ - COMPLETE RECORDINGS [Carus, Boxes I-III]\BOX I\CD 10 - Psalmen Davids (I)\Schutz - Complete Recordings Vol. 8 (Box I - CD 10) Psalmen Davids (I) - Hans-Christoph Rademann.wav

Peak level 96.3 %
Extraction speed 8.9 X
Range quality 100.0 %
Test CRC A1C06D6C
Copy CRC A1C06D6C
Copy OK

No errors occurred


AccurateRip summary

Track 1 accurately ripped (confidence 6) [6B9D8024] (AR v2)
Track 2 accurately ripped (confidence 6) [9B0AB336] (AR v2)
Track 3 accurately ripped (confidence 6) [3FBED10D] (AR v2)
Track 4 accurately ripped (confidence 6) [8BD47F7B] (AR v2)
Track 5 accurately ripped (confidence 6) [8B27D356] (AR v2)
Track 6 accurately ripped (confidence 6) [AFB9D527] (AR v2)
Track 7 accurately ripped (confidence 6) [53527990] (AR v2)
Track 8 accurately ripped (confidence 6) [98100EAE] (AR v2)
Track 9 accurately ripped (confidence 6) [FD7502D5] (AR v2)
Track 10 accurately ripped (confidence 6) [FEF6667D] (AR v2)
Track 11 accurately ripped (confidence 6) [039C50B4] (AR v2)
Track 12 accurately ripped (confidence 6) [A766A649] (AR v2)
Track 13 accurately ripped (confidence 5) [170B3032] (AR v2)

All tracks accurately ripped

End of status report

–– CUETools DB Plugin V2.1.6

[CTDB TOCID: TyQ4HB_B98mjU6xDSu_3aG71Hf8-] found
Submit result: TyQ4HB_B98mjU6xDSu_3aG71Hf8- has been confirmed
Track | CTDB Status
1 | (37/37) Accurately ripped
2 | (37/37) Accurately ripped
3 | (37/37) Accurately ripped
4 | (37/37) Accurately ripped
5 | (37/37) Accurately ripped
6 | (37/37) Accurately ripped
7 | (37/37) Accurately ripped
8 | (37/37) Accurately ripped
9 | (37/37) Accurately ripped
10 | (37/37) Accurately ripped
11 | (37/37) Accurately ripped
12 | (37/37) Accurately ripped
13 | (37/37) Accurately ripped


==== Log checksum B8D2480F861DCD9A4EF73E7A79756E419DFB4419612DDD2334FF7823802F81B1 ====


Exact Audio Copy V1.3 from 2. September 2016

EAC extraction logfile from 5. March 2020, 14:52

Dorothee Mields, Marie Luise Werneburg, David Erler, Stefan Kunath, Georg Poplutz, Tobias Mäthger, Stephan MacLeod, Felix Schwa / Schutz - Complete Recordings Vol. 8 (Box I - CD 11) Psalmen Davids (II)

Used drive : ATAPI iHAS124 F Adapter: 1 ID: 0

Read mode : Secure
Utilize accurate stream : Yes
Defeat audio cache : Yes
Make use of C2 pointers : No

Read offset correction : 6
Overread into Lead-In and Lead-Out : No
Fill up missing offset samples with silence : Yes
Delete leading and trailing silent blocks : No
Null samples used in CRC calculations : Yes
Used interface : Native Win32 interface for Win NT & 2000

Used output format : User Defined Encoder
Selected bitrate : 1024 kBit/s
Quality : High
Add ID3 tag : No
Command line compressor : C:\Program Files (x86)\Exact Audio Copy\FLAC\FLAC.EXE
Additional command line options : -6 -V -T "ARTIST=%artist%" -T "TITLE=%title%" -T "ALBUM=%albumtitle%" -T "DATE=%year%" -T "TRACKNUMBER=%tracknr%" -T "GENRE=%genre%" -T "COMMENT=%comment%" -T "BAND=%albuminterpret%" -T "ALBUMARTIST=%albuminterpret%" -T "COMPOSER=%composer%" %haslyrics%–tag-from-file=LYRICS="%lyricsfile%"%haslyrics% -T "DISCNUMBER=%cdnumber%" -T "TOTALDISCS=%totalcds%" -T "TOTALTRACKS=%numtracks%" %hascover%–picture="%coverfile%"%hascover% %source% -o %dest%


TOC of the extracted CD

Track | Start | Length | Start sector | End sector
––––––––––––––––––––––––––––-
1 | 0:00.00 | 5:24.65 | 0 | 24364
2 | 5:24.65 | 4:20.63 | 24365 | 43927
3 | 9:45.53 | 5:08.44 | 43928 | 67071
4 | 14:54.22 | 8:39.23 | 67072 | 106019
5 | 23:33.45 | 5:18.22 | 106020 | 129891
6 | 28:51.67 | 5:00.53 | 129892 | 152444
7 | 33:52.45 | 7:11.57 | 152445 | 184826
8 | 41:04.27 | 4:29.52 | 184827 | 205053
9 | 45:34.04 | 5:20.33 | 205054 | 229086
10 | 50:54.37 | 3:38.57 | 229087 | 245493
11 | 54:33.19 | 7:16.65 | 245494 | 278258
12 | 61:50.09 | 5:40.58 | 278259 | 303816
13 | 67:30.67 | 8:02.17 | 303817 | 339983


Range status and errors

Selected range

Filename C:\EACRip\HEINRICH SCHUTZ - COMPLETE RECORDINGS [Carus, Boxes I-III]\BOX I\CD 11 - Psalmen Davids (II)\Schutz - Complete Recordings Vol. 8 (Box I - CD 11) Psalmen Davids (II).wav

Peak level 97.7 %
Extraction speed 9.8 X
Range quality 99.9 %
Test CRC 2B28308A
Copy CRC 2B28308A
Copy OK

No errors occurred


AccurateRip summary

Track 1 accurately ripped (confidence 6) [8D55DD58] (AR v2)
Track 2 accurately ripped (confidence 6) [1C74F0F3] (AR v2)
Track 3 accurately ripped (confidence 6) [3CC1373A] (AR v2)
Track 4 accurately ripped (confidence 6) [E9ABDE2B] (AR v2)
Track 5 accurately ripped (confidence 6) [841BA822] (AR v2)
Track 6 accurately ripped (confidence 6) [55804BAB] (AR v2)
Track 7 accurately ripped (confidence 6) [F4DAD7FE] (AR v2)
Track 8 accurately ripped (confidence 6) [C03DA927] (AR v2)
Track 9 accurately ripped (confidence 6) [598CE8C5] (AR v2)
Track 10 accurately ripped (confidence 6) [B2EAAA40] (AR v2)
Track 11 accurately ripped (confidence 6) [877A723E] (AR v2)
Track 12 accurately ripped (confidence 6) [0921E3CF] (AR v2)
Track 13 accurately ripped (confidence 6) [809291FB] (AR v2)

All tracks accurately ripped

End of status report

–– CUETools DB Plugin V2.1.6

[CTDB TOCID: wmqaeDiCfQF0R_9tBcFqb32TUnM-] found
Submit result: wmqaeDiCfQF0R_9tBcFqb32TUnM- has been confirmed
Track | CTDB Status
1 | (35/35) Accurately ripped
2 | (35/35) Accurately ripped
3 | (35/35) Accurately ripped
4 | (35/35) Accurately ripped
5 | (35/35) Accurately ripped
6 | (35/35) Accurately ripped
7 | (35/35) Accurately ripped
8 | (35/35) Accurately ripped
9 | (35/35) Accurately ripped
10 | (35/35) Accurately ripped
11 | (35/35) Accurately ripped
12 | (35/35) Accurately ripped
13 | (35/35) Accurately ripped


==== Log checksum 8406C0E1D64C0CB80BE0C236E5B63A714F3C0E914BAD8279BD4E498A0A89561E ====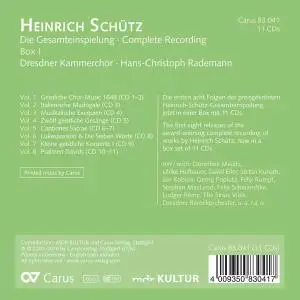 Thanks to the original releaser