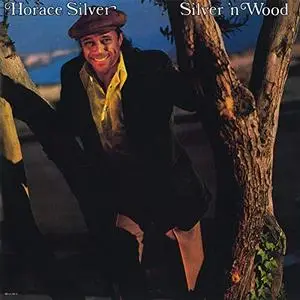 Horace Silver - Silver 'N Wood (1976/2019)
WEB FLAC (Tracks) - 301 MB | Cover | MP3 CBR 320 kbps - 112 MB | 00:47:56
Jazz | Label: Blue Note Records
The second of five LPs that find Horace Silver's Quintet (which by 1976 featured trumpeter Tom Harrell and tenor-saxophonist Bob Berg) augmented by a group of other players, this set has six reeds and two trombones, giving Silver more tone colors to work with than usual. The two sidelong works ("The Tranquilizer Suite" and "The Process of Creation Suite") are not all that memorable but the music overall (helped out by strong solos) is typical Silver hard bop.
TRACKLIST
01. Keep On Gettin' Up
02. Slow Down
03. Time And Effort
04. Perseverance And Endurance
05. Motivation
06. Activation
07. Assimilation
08. Creation
–––––––––––-
DON'T MODIFY THIS FILE
–––––––––––-
PERFORMER: auCDtect Task Manager, ver. 1.6.0 RC1 build 1.6.0.1
Copyright © 2008-2010 y-soft. All rights reserved
http://y-soft.org
ANALYZER: auCDtect: CD records authenticity detector, version 0.8.2
Copyright © 2004 Oleg Berngardt. All rights reserved.
Copyright © 2004 Alexander Djourik. All rights reserved.
FILE: 08. Horace Silver - Creation.flac
Size: 52202227 Hash: 317ECF6041B523F663EA97AD631C64E0 Accuracy: -m0
Conclusion: CDDA 100%
Signature: B61B854B446B10A0A211A69AC225590ABA73500A
FILE: 07. Horace Silver - Assimilation.flac
Size: 36357662 Hash: 19E0CCAB4D3F9D959D4B5F7F9AD4C9B8 Accuracy: -m0
Conclusion: CDDA 99%
Signature: D9C591D054476713C30B9AEBAC7D17F6D3CA5BDC
FILE: 06. Horace Silver - Activation.flac
Size: 37985928 Hash: 455900CC652026067B68ECF2C855971E Accuracy: -m0
Conclusion: CDDA 100%
Signature: C07F9C4510C38544B245FA611A37BBF51814B810
FILE: 05. Horace Silver - Motivation.flac
Size: 32385924 Hash: B38A9F9CA024958F27B5F4D138CF96F2 Accuracy: -m0
Conclusion: CDDA 100%
Signature: B644178A6CA709A0C15453FCB53628F1191827C8
FILE: 04. Horace Silver - Perseverance And Endurance.flac
Size: 40761825 Hash: C2E4BB2037AC27BF8AEEE01E4AF0EA73 Accuracy: -m0
Conclusion: CDDA 100%
Signature: 4F3D43361243EB6FD4247F489A1B553652AA2435
FILE: 03. Horace Silver - Time And Effort.flac
Size: 38461756 Hash: 534693906C4B1ED2FB046FC6C013EE9B Accuracy: -m0
Conclusion: CDDA 100%
Signature: 41817CDE7A71F6F27FCC8EC1B612A40B92082763
FILE: 02. Horace Silver - Slow Down.flac
Size: 39941297 Hash: 89F900169CFAFBA3D0AB8FC27A6D70DB Accuracy: -m0
Conclusion: CDDA 100%
Signature: 8168278F96D73226D63609ADEFDF106BAAA8360B
FILE: 01. Horace Silver - Keep On Gettin' Up.flac
Size: 37151427 Hash: 917910B13368002326530322D388E608 Accuracy: -m0
Conclusion: CDDA 99%
Signature: B19007390694F6F360D82D01861E16D51EE91896
All thanks go to the original releaser