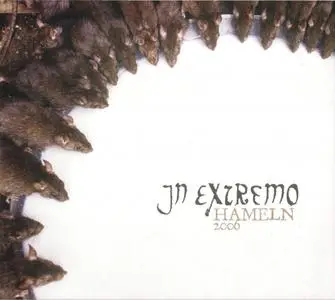 In Extremo - Hameln (1998) [2006 Remastered]
Germany | MP3 CBR 320 Kbps | 128 MB
Medieval Folk Rock | Label : In Extremo Records
Hameln is the second acoustic album of the German folk-metal band In Extremo, consisting entirely of medieval folk motives.The name of the album, refers to the German city of Hameln, as well as the famous legend of the Pied Piper of Hameln, who saved the city from hordes of rats, however, not having received the promised payment from the avaricious burgomaster, took all the children out of the city under cover of night. after which no one has ever seen them. Characteristically, the orginal cover is adorned with a photograph of a dead rat found in the basement of a Berlin house. Like Die Goldene, Hameln was re-recorded in 2006 and released in a new format, with improved sound, different cover art and two bonus tracks.
Tracklist:
1 Retb
2 Quint Je Soi Mis Ou Retour
3 Stelle Splendens
4 Vor Vollen Schüsseln
5 Traubentritt
6 Two Søstra / Harpa
7 Retb 2
8 Estampie
9 Dödet
10 "französisch"
11 Retb 3
12 Wie Kann Ich Das Herz Meiner Liebsten Gewinnen
13 Hameln
14 Merseburger Zaubersprüche
15 Lyte
16 Bonus Für Insider
17 Sine Ein Gulden Hahn (Bonus Track)
18 Ei Ri Sasun (Bonus Track)
Total playing time 47:35