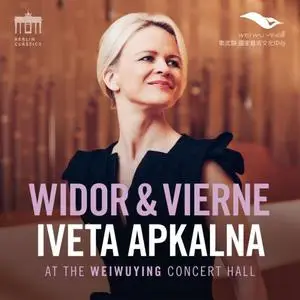 Iveta Apkalna - Widor & Vierne (Iveta Apkalna at the Weiwuying Concert Hall) (2020)
FLAC tracks | 01:13:43 | 241 Mb
Genre: Classical / Label: Berlin Classics
After Iveta Apkalna released her album 'Light and Dark' - the world premiere recording of the organ of the Hamburg Elbphilharmonie - at Berlin Classics in autumn 2018, her paths led her to the other side of the world for her new album 'Widor & Vierne'. The first single 'Sheep May Safely Graze' offers a glimpse of this exciting journey.Kaohsiung in southern Taiwan is not only Asia's largest cultural centre, but also the largest concert organ in Asia. In the concert hall of the 'National Kaohsiung Center of the Arts (Weiwuying)' she expands the organ of the Bonn-based organ builder Klais and directly plays a repertoire that is close to her heart: Charles-Marie Widor's 5th Organ Symphony and the 3rd Organ Symphony by Louis Vierne. As a foretaste of these two classics of symphonic organ music, she publishes the forefather of organ music, Johann Sebastian Bach, and an arrangement of the famous aria 'Sheep May Safely Graze' from the Jagdkantate, BWV 208.The first single 'Sheep May Safely Graze' by Iveta Apkalna is now available as download or at the streaming service of your choice!
Track List:
01. Organ Symphony No.5, Op. 42 No. 1: I. Allegro vivace (11:16)
02. Organ Symphony No.5, Op. 42 No. 1: II. Allegro cantabile (7:52)
03. Organ Symphony No.5, Op. 42 No. 1: III. Andantino quasi allegretto (7:02)
04. Organ Symphony No.5, Op. 42 No. 1: IV. Adagio (5:42)
05. Organ Symphony No.5, Op. 42 No. 1: V. Toccata (5:39)
06. Organ Symphonie No.3, Op. 28: I. Allegro maestoso (7:11)
07. Organ Symphonie No.3, Op. 28: II. Cantilène (5:57)
08. Organ Symphonie No.3, Op. 28: III. Intermezzo (4:17)
09. Organ Symphonie No.3, Op. 28: IV. Adagio (7:45)
10. Organ Symphonie No.3, Op. 28: V. Final (6:03)
11. Schafe können sicher weiden (Arr. for Organ) (5:05)
ANALYZER: auCDtect: CD records authenticity detector, version 0.8.2
Copyright © 2004 Oleg Berngardt. All rights reserved.
Copyright © 2004 Alexander Djourik. All rights reserved.


FILE: 01. Organ Symphony No.5, Op. 42 No. 1 I. Allegro vivace.flac
Size: 43569573 Hash: 61EF2F3D180DD37A73881A9596C5929E Accuracy: -m40
Conclusion: CDDA 100%
Signature: 8B0B51802BCBA492D00E02A9C81669E02E5FC770
FILE: 02. Organ Symphony No.5, Op. 42 No. 1 II. Allegro cantabile.flac
Size: 22239389 Hash: 00619EC809CB20B6DD64E0FC7D65D164 Accuracy: -m40
Conclusion: CDDA 100%
Signature: 60B5BC44F69F748DD624D9523E4BC2BE86A19C76
FILE: 03. Organ Symphony No.5, Op. 42 No. 1 III. Andantino quasi allegretto.flac
Size: 24430933 Hash: 714055CD442EB84B0F8CDD8E35137AF0 Accuracy: -m40
Conclusion: CDDA 100%
Signature: B9AB91EABF15A65C7AC1D94C2588E6E9A2C5DB4B
FILE: 04. Organ Symphony No.5, Op. 42 No. 1 IV. Adagio.flac
Size: 15489044 Hash: BAEAD6A65EE68BA458A49227505F2733 Accuracy: -m40
Conclusion: CDDA 100%
Signature: 204E222678280F2AC90B5ABDC0326B4786F158C3
FILE: 05. Organ Symphony No.5, Op. 42 No. 1 V. Toccata.flac
Size: 27665105 Hash: 2CCCBA840497B697696BA1462F54D93D Accuracy: -m40
Conclusion: CDDA 100%
Signature: 77FBB85CF0287AD06F99AB5041B0FF3CECABBE6B
FILE: 06. Organ Symphonie No.3, Op. 28 I. Allegro maestoso.flac
Size: 29834141 Hash: EC44E63848FC77683FC78C94717612FD Accuracy: -m40
Conclusion: CDDA 58%
Signature: 858D94A6B5EB062D45750F5963B2E5DC6A198139
FILE: 07. Organ Symphonie No.3, Op. 28 II. Cantilène.flac
Size: 16866721 Hash: 42843A36B461CAE0DAAFC267ED560393 Accuracy: -m40
Conclusion: CDDA 100%
Signature: 29F633E76A85E4E53D62080E92668512F3C055B9
FILE: 08. Organ Symphonie No.3, Op. 28 III. Intermezzo.flac
Size: 11792240 Hash: 3B37ED9C2ED1ADAB7E1F1A8530B94589 Accuracy: -m40
Conclusion: CDDA 100%
Signature: AF194A630A8B2EE3EE613BFC9A5B3305D776B134
FILE: 09. Organ Symphonie No.3, Op. 28 IV. Adagio.flac
Size: 22498247 Hash: 8B26A74CCEB73D1802FB74DA905449ED Accuracy: -m40
Conclusion: CDDA 99%
Signature: 40171D56D7B3703D0B6F5CCB5180A890C58993E9
FILE: 10. Organ Symphonie No.3, Op. 28 V. Final.flac
Size: 26170042 Hash: 7DFE474780E6C5DB6697C3D7AC3A727D Accuracy: -m40
Conclusion: CDDA 92%
Signature: 779B926105A08DF016E19DDA1244AF42BDD5D2C8
FILE: 11. Schafe können sicher weiden (Arr. for Organ).flac
Size: 13445857 Hash: 8EB8E55CFB8AB0C3422E9673C6C3BBE7 Accuracy: -m40
Conclusion: CDDA 100%
Signature: 01671FEF35CF194257D0F37F7664B14E4599CAD6