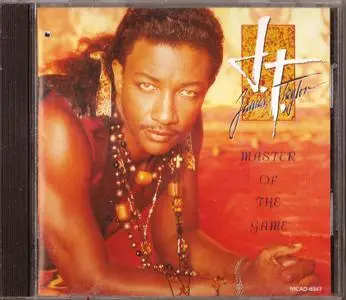 James "J.T." Taylor - Master Of The Game (1989)
R&B, Soul/Funk, Hip Hop | EAC Rip | FLAC, Tracks+CUE+LOG+Scans (JPEG) | 49:50 | 365,81 Mb
Label: MCA Records (USA) | Cat.# MCAD-6347 | Released: 1989-10-31

"Master of the Game" is the solo debut of James "J.T." Taylor, previously known as a member of Kool & the Gang. The album failed to reach mainstream popularity, peaking at #77 on the Billboard R&B Chart. The album was released by MCA Records in 1989.
~Wikipedia
Former Kool & the Gang frontman James "J.T." Taylor's solo debut is a slick, tight set crammed with snappy up-tempo R&B grooves. Even out of a funk context, his voice is unmistakable, blending just as well across this new sound as it ever did across the massive grooves of old. Although none of the songs were able to shake their way into the charts, there are still some neat nuggets to be found, most notably on the smooth "Sister Rosa" and the fat-bassed, brass-punched funk of "Kiss My Face." Both the slightly Latin-inflected "Lay Awake at Night" and the closing "The Promised Land" weigh in with equal aplomb. Where Taylor fumbles is on the ballads "Master of the Game" and "Romancia." Both showcase the singer's outstanding voice but are short on overall substance and ultimately fall flatter than they should. An album of absolute technical finesse, Master of the Game suffers mostly because it came too late in the day to make any impact at all. The songs are enjoyable, but don't have any of the real fire listeners expect of a vocalist of Taylor's caliber. Perhaps if he'd struck his path earlier in the decade this debut would have been startling rather than standard.
~Review by Amy Hanson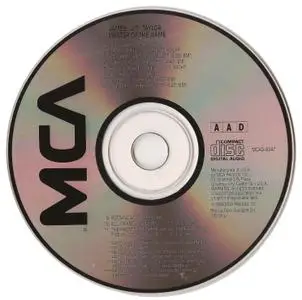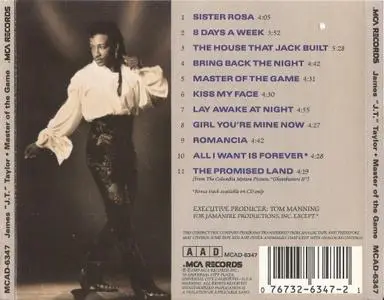 Release of this album:
1989, October, 31 [LP MCA Records, Cat.# MCA-6347, USA]
Release of this CD:
1989 [CD MCA Records (USA), Cat.# MCAD-6347, UPC: 076732634721]
℗&© 1989 MCA Records, Inc.
Manufactured in U.S.A. for MCA Records, Inc.
Credits:
Arranged By [Additional], Keyboards, Programmed By, Recorded By – Jeff Lorber (tracks: 1, 3, 6, 7)
Arranged By, Written-By – James "J.T." Taylor (tracks: 1 to 4, 6, 7, 9)
Backing Vocals – James "J.T." Taylor (tracks: 1 to 9, 11), Starleana Young (tracks: 4, 8, 9, 11)
Engineer [Assistant] – Bill Malina (tracks: 2, 6, 7, 11)
Engineer [Mix] – Patrick MacDougall (tracks: 1 to 3, 6, 7), Toby Wright (tracks: 4, 5, 8, 9)
Executive-Producer – Tom Manning
Guitar [Gibson Electric Nylon String] – Paul Pesco (tracks: 4, 8, 11)
Guitar [Yamaha Rhythm] – David Williams (tracks: 1, 2, 4 to 8)
Keyboards – Claude Gaudette (tracks: 4, 6, 7, 9)
Mixed By – Brian "Baby" Malouf (tracks: 1 to 9)
Percussion – Paulinho Da Costa (tracks: 5, 6, 9)
Producer – Eumir Deodato (tracks: 4, 8, 9, 11), James "J.T." Taylor (tracks: 1 to 9, 11)
Producer [Vocals] – Dennis Matkosky (tracks: 1, 3, 6, 7)
Programmed By – Kevin Jasper (tracks: 4, 8, 11)
Recorded By – Angel Ugarte (tracks: 8, 9, 11), Dennis Matkosky (tracks: 1 to 3, 6, 7, 11), Ian Eales (tracks: 1, 3, 5 to 7, 11)
Vocals – James "J.T." Taylor
Tracklist:
01. Sister Rosa (04:02)
02. 8 Days A Week (03:53)
03. The House That Jack Built (05:29)
04. Bring Back The Night (04:44)
05. Master Of The Game (04:33)
06. Kiss My Face (04:31)
07. Lay Awake At Night (04:56)
08. Girl You're Mine Now (04:28)
09. Romancia (04:42)
10. All I Want Is Forever (duet with
Regina Belle
) (Bonus Track for CD) (04:27)
11. The Promised Land (04:04)
Exact Audio Copy V1.0 beta 2 from 29. April 2011

Отчёт EAC об извлечении, выполненном 11. июня 2018, 16:48

James "J.T." Taylor / Master Of The Game

Дисковод: ASUS DRW-24D5MT Adapter: 0 ID: 1

Режим чтения : Достоверность
Использование точного потока : Да
Отключение кэша аудио : Да
Использование указателей C2 : Нет

Коррекция смещения при чтении : 6
Способность читать области Lead-in и Lead-out : Нет
Заполнение пропущенных сэмплов тишиной : Да
Удаление блоков с тишиной в начале и конце : Нет
При вычислениях CRC использовались нулевые сэмплы : Да
Интерфейс : Встроенный Win32-интерфейс для Win NT/2000
Обработка зазоров : Добавлено к предыдущему треку

Выходной формат : Пользовательский кодировщик
Выбранный битрейт : 128 kBit/s
Качество : Высокий
Добавление ID3-тега : Нет
Утилита сжатия : C:\Program Files\Exact Audio Copy\FLAC\FLAC.EXE
Дополнительные параметры : -8 -V -T "ARTIST=%artist%" -T "TITLE=%title%" -T "ALBUM=%albumtitle%" -T "DATE=%year%" -T "TRACKNUMBER=%tracknr%" -T "GENRE=%genre%" -T "COMMENT=%comment%" -T "BAND=%albuminterpret%" -T "COMPOSER=%composer%" %haslyrics%–tag-from-


TOC извлечённого CD

Трек | Старт | Длительность | Начальный сектор | Конечный сектор
––––––––––––––––––––––––––––––––––-
1 | 0:00.00 | 4:02.20 | 0 | 18169
2 | 4:02.20 | 3:52.42 | 18170 | 35611
3 | 7:54.62 | 5:29.13 | 35612 | 60299
4 | 13:24.00 | 4:44.10 | 60300 | 81609
5 | 18:08.10 | 4:33.07 | 81610 | 102091
6 | 22:41.17 | 4:30.63 | 102092 | 122404
7 | 27:12.05 | 4:56.12 | 122405 | 144616
8 | 32:08.17 | 4:28.05 | 144617 | 164721
9 | 36:36.22 | 4:42.15 | 164722 | 185886
10 | 41:18.37 | 4:27.08 | 185887 | 205919
11 | 45:45.45 | 4:04.12 | 205920 | 224231


Трек 1

Имя файла D:\FLAC\01 Sister Rosa.wav

Длина предзазора 0:00:02.00

Пиковый уровень 100.0 %
Скорость извлечения 4.7 X
Качество трека 100.0 %
CRC теста 5EE6CDB8
CRC копии 5EE6CDB8
Точное извлечение (достоверность 5) [79F34DEC] (AR v2)
Копирование… OK

Трек 2

Имя файла D:\FLAC\02 8 Days A Week.wav

Длина предзазора 0:00:00.50

Пиковый уровень 94.2 %
Скорость извлечения 5.3 X
Качество трека 100.0 %
CRC теста E9947148
CRC копии E9947148
Точное извлечение (достоверность 5) [21626C6A] (AR v2)
Копирование… OK

Трек 3

Имя файла D:\FLAC\03 The House That Jack Built.wav

Длина предзазора 0:00:00.30

Пиковый уровень 93.9 %
Скорость извлечения 5.9 X
Качество трека 100.0 %
CRC теста A6E05C7C
CRC копии A6E05C7C
Точное извлечение (достоверность 5) [50BBF833] (AR v2)
Копирование… OK

Трек 4

Имя файла D:\FLAC\04 Bring Back The Night.wav

Длина предзазора 0:00:00.30

Пиковый уровень 99.1 %
Скорость извлечения 6.3 X
Качество трека 100.0 %
CRC теста 5EBF7785
CRC копии 5EBF7785
Точное извлечение (достоверность 5) [91399EF2] (AR v2)
Копирование… OK

Трек 5

Имя файла D:\FLAC\05 Master Of The Game.wav

Длина предзазора 0:00:00.68

Пиковый уровень 100.0 %
Скорость извлечения 6.6 X
Качество трека 100.0 %
CRC теста 27CE49D5
CRC копии 27CE49D5
Точное извлечение (достоверность 5) [ED571A2C] (AR v2)
Копирование… OK

Трек 6

Имя файла D:\FLAC\06 Kiss My Face.wav

Длина предзазора 0:00:01.67

Пиковый уровень 96.1 %
Скорость извлечения 7.0 X
Качество трека 100.0 %
CRC теста 81897E8B
CRC копии 81897E8B
Точное извлечение (достоверность 5) [3B8DFA48] (AR v2)
Копирование… OK

Трек 7

Имя файла D:\FLAC\07 Lay Awake At Night.wav

Пиковый уровень 98.3 %
Скорость извлечения 6.7 X
Качество трека 99.9 %
CRC теста 2BECCA81
CRC копии 2BECCA81
Точное извлечение (достоверность 5) [57F31412] (AR v2)
Копирование… OK

Трек 8

Имя файла D:\FLAC\08 Girl You're Mine Now.wav

Длина предзазора 0:00:00.65

Пиковый уровень 90.6 %
Скорость извлечения 7.6 X
Качество трека 100.0 %
CRC теста 01F3B151
CRC копии 01F3B151
Точное извлечение (достоверность 5) [3994E54A] (AR v2)
Копирование… OK

Трек 9

Имя файла D:\FLAC\09 Romancia.wav

Длина предзазора 0:00:00.50

Пиковый уровень 100.0 %
Скорость извлечения 7.2 X
Качество трека 99.9 %
CRC теста EFBC2502
CRC копии EFBC2502
Точное извлечение (достоверность 5) [6541C23C] (AR v2)
Копирование… OK

Трек 10

Имя файла D:\FLAC\10 All I Want Is Forever.wav

Длина предзазора 0:00:01.17

Пиковый уровень 100.0 %
Скорость извлечения 8.2 X
Качество трека 100.0 %
CRC теста 4C2CB690
CRC копии 4C2CB690
Точное извлечение (достоверность 5) [4EC5CC45] (AR v2)
Копирование… OK

Трек 11

Имя файла D:\FLAC\11 The Promised Land.wav

Пиковый уровень 100.0 %
Скорость извлечения 8.3 X
Качество трека 100.0 %
CRC теста 35EDB79E
CRC копии 35EDB79E
Точное извлечение (достоверность 5) [F64FF779] (AR v2)
Копирование… OK


Все треки извлечены точно

Ошибок не произошло

Конец отчёта

–– CUETools DB Plugin V2.1.4

[CTDB TOCID: WU7jmfWjeyxRwCf_a5jIWJcq.NI-] found
Submit result: already submitted
Track | CTDB Status
1 | (13/13) Accurately ripped
2 | (13/13) Accurately ripped
3 | (13/13) Accurately ripped
4 | (13/13) Accurately ripped
5 | (13/13) Accurately ripped
6 | (13/13) Accurately ripped
7 | (13/13) Accurately ripped
8 | (13/13) Accurately ripped
9 | (13/13) Accurately ripped
10 | (13/13) Accurately ripped
11 | (13/13) Accurately ripped


==== Контрольная сумма отчёта FE632741F8CC9461E91456B0EB7CFA8C7D36C86B1F77A92AF38675AAA972DA72 ====
––––––––––––––––––––––––––––––––––––––––
Analyzed: James 'J.T.' Taylor / Master Of The Game
––––––––––––––––––––––––––––––––––––––––

DR Peak RMS Duration Track
––––––––––––––––––––––––––––––––––––––––
DR12 0.00 dB -14.34 dB 4:02 01-Sister Rosa
DR12 -0.51 dB -14.40 dB 3:53 02-8 Days A Week
DR13 -0.55 dB -14.95 dB 5:29 03-The House That Jack Built
DR12 -0.08 dB -14.39 dB 4:44 04-Bring Back The Night
DR14 0.00 dB -15.35 dB 4:33 05-Master Of The Game
DR11 -0.34 dB -13.45 dB 4:31 06-Kiss My Face
DR12 -0.14 dB -14.29 dB 4:56 07-Lay Awake At Night
DR12 -0.86 dB -14.13 dB 4:28 08-Girl You're Mine Now
DR13 0.00 dB -15.39 dB 4:42 09-Romancia
DR12 0.00 dB -15.69 dB 4:27 10-All I Want Is Forever
DR13 0.00 dB -15.30 dB 4:04 11-The Promised Land
––––––––––––––––––––––––––––––––––––––––

Number of tracks: 11
Official DR value: DR12

Samplerate: 44100 Hz
Channels: 2
Bits per sample: 16
Bitrate: 901 kbps
Codec: FLAC
================================================================================
Thanks to index123458