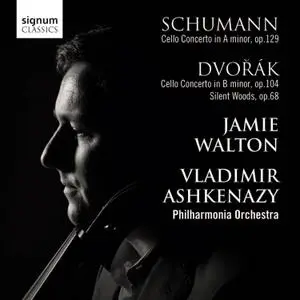 Jamie Walton, Vladimir Ashkenazy - Dvorák & Schumann: Cello Concertos (2013)
WEB | FLAC (tracks) - 303 MB | 01:08:38
Genre: Classical | Label: Signum Records
Jamie Walton is joined by the Philharmonia Orchestra under the baton of their conductor laureate Vladimir Ashkenazy for this new concerto recording of concertos and orchestral works by Dvorák and Schumann.
Jamie Walton has proved himself as a leading light in UK's musical life; as a performer in his widely praised concerto and sonata recordings, and as a festival director in his work as founder of the North York Moors Festival, which was shortlisted for an RPS Award in 2011.
Track List:
Schumann: Cello Concerto in A minor, Op. 129
1. I. Nicht zu schnell 11:24
2. II. Langsam 04:28
3. III. Sehr lebhaft 07:40
4. Dvořák: Waldesruhe (Silent woods) for cello and orchestra, Op. 68 No. 5 05:53
Dvořák: Cello Concerto in B minor, Op. 104
5. I. Allegro 14:27
6. II. Adagio ma non troppo 11:53
7. III. Finale - Allegro moderato 12:53
Performers:
Jamie Walton (cello)
Philharmonia Orchestra
Vladimir Ashkenazy, conductor
–––––––––––-
DON'T MODIFY THIS FILE
–––––––––––-
PERFORMER: auCDtect Task Manager, ver. 1.6.0 RC1 build 1.6.0.1
Copyright © 2008-2010 y-soft. All rights reserved
http://y-soft.org
ANALYZER: auCDtect: CD records authenticity detector, version 0.8.2
Copyright © 2004 Oleg Berngardt. All rights reserved.
Copyright © 2004 Alexander Djourik. All rights reserved.
FILE: 01 - Cello Concerto in A Minor, Op..flac
Size: 48332004 Hash: BD1805FAF6F8791F1B7F61B85E7EC010 Accuracy: -m0
Conclusion: CDDA 100%
Signature: 54F463E3EC6E956AC93F18B9EA616EFB9B1EFB1A
FILE: 02 - Cello Concerto in A Minor, Op..flac
Size: 16081282 Hash: 3D6C29BB91D21A7EAC4DADB19394531E Accuracy: -m0
Conclusion: CDDA 100%
Signature: DA299315727CC8218E7141EEFE8FF6F7043DA459
FILE: 03 - Cello Concerto in A Minor, Op..flac
Size: 33657103 Hash: 581781502D330D65A19F365FDF7807ED Accuracy: -m0
Conclusion: CDDA 100%
Signature: B03C1FBB0E61E79B7017D63EECD22AA4B3B03343
FILE: 04 - Silent Woods, Op. 68 No. 5.flac
Size: 21633111 Hash: A80FA35FB28E2B2605C69B467F117EA6 Accuracy: -m0
Conclusion: CDDA 100%
Signature: 09E4B08455E3494E8179ED8851D5FF114E62B204
FILE: 05 - Cello Concerto in B Minor, Op..flac
Size: 65462261 Hash: 7D90CF41BEA28BA00C898B0E66AC03D1 Accuracy: -m0
Conclusion: CDDA 100%
Signature: C654CE5038F20ECAB3D4A78920317EE2E484119B
FILE: 06 - Cello Concerto in B Minor, Op..flac
Size: 45381970 Hash: 0B5EBF7670F4DDDA69DFB7A7EC7FBDFE Accuracy: -m0
Conclusion: CDDA 100%
Signature: 3C101231AC029A38106A5895F7CD29C31DABBB83
FILE: 07 - Cello Concerto in B Minor, Op..flac
Size: 56460324 Hash: 0485F3A2778D81D06A171CE42291BC29 Accuracy: -m0
Conclusion: CDDA 99%
Signature: 6D1A3B75AEFFAC2A18A6B1E624150632000ACB8B