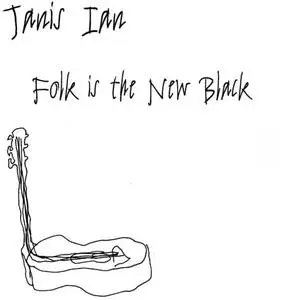 Janis Ian - Folk Is The New Black (2021)
FLAC tracks | 57:54 | 292 Mb
Genre: Folk Rock / Label: Rude Girl Records
First album since Restless Eyes with no co-writes, Folk Is The New Black is a return to Janis' folk roots. However, this is not a lighthearted nostalgia trip, but instead a true folk album: sparse but tasteful instrumentation underneath powerful lyrics of social and political social commentary, with enough variety to keep the listener beguiled. A must have.
Track List:
1. Danger Danger (2:49)
2. The Great Divide (5:10)
3. Life Is Never Wrong (4:15)
4. Jackie Skates (3:02)
5. All Those Promises (3:44)
6. Standing In The Shadows Of Love (3:28)
7. The Drowning Man (5:01)
8. Crocodile Song (3:11)
9. The Last Train (3:13)
10. My Autobiography (2:48)
11. Home Is The Heart (3:57)
12. Shadows On The Wind (4:51)
13. Haven't I Got Eyes (3:35)
14. Joy (2:39)
15. Folk Is The New Black (3:02)
16. In My Wilderness (3:01)
ANALYZER: auCDtect: CD records authenticity detector, version 0.8.2
Copyright © 2004 Oleg Berngardt. All rights reserved.
Copyright © 2004 Alexander Djourik. All rights reserved.


FILE: 01 - Danger Danger.flac
Size: 16056168 Hash: 52B69C46A3C024CEFD2FD3B7C3ABFF7B Accuracy: -m40
Conclusion: CDDA 100%
Signature: F915C66D0132CEBA7A88F423F40C543EE207364F
FILE: 02 - The Great Divide.flac
Size: 30988877 Hash: 6AC5FC626EEEF8FBF96DAFE90CC4EFF6 Accuracy: -m40
Conclusion: CDDA 100%
Signature: 4B8E29C66AC75BAB86D01E54C54FA65217DD8B4D
FILE: 03 - Life is Never Wrong.flac
Size: 24957658 Hash: 093722E13B882C7FE68B3B9F2591F78B Accuracy: -m40
Conclusion: CDDA 100%
Signature: 96902279EE0681B8AF79226AA93F7C45D6A3D5D9
FILE: 04 - Jackie Skates.flac
Size: 16783062 Hash: 8954DFA3FC9CAFD47FE65B48FB45047B Accuracy: -m40
Conclusion: CDDA 100%
Signature: 453919DEE8250AAAADD5CC3F9133BDB295EB9F63
FILE: 05 - All Those Promises.flac
Size: 20262833 Hash: F155FC5EF26EFE26915165739F9B0439 Accuracy: -m40
Conclusion: CDDA 100%
Signature: CF5FE0AA3B4201AC1AED4026A028721E065ED356
FILE: 06 - Standing in the Shadows of Love.flac
Size: 20304764 Hash: 6A5148AE96F32264DCAC6416CD06345D Accuracy: -m40
Conclusion: CDDA 100%
Signature: A8D2123B3DDF2D3C6E816D9B301BF9E63F9381AD
FILE: 07 - The Drowning Man.flac
Size: 26504720 Hash: EBF960C7EEA4BBB2C19BF9BE935FB08A Accuracy: -m40
Conclusion: CDDA 100%
Signature: 6C8F46AC5D0265A988A5F2F006C5E803683E9241
FILE: 08 - Crocodile Song.flac
Size: 18184143 Hash: 5D4035FDC103E46E5FE2D5383CEB8A0C Accuracy: -m40
Conclusion: CDDA 99%
Signature: C03CA8FE9FE4434DCB62C503691F1F8895F1705E
FILE: 09 - The Last Train.flac
Size: 16052283 Hash: 6B90013BC58B5C983F8C3F9EB6B24AF4 Accuracy: -m40
Conclusion: CDDA 100%
Signature: A0A74A79101D0D6331080BE48F8D2695D24C1F2A
FILE: 10 - My Autobiography.flac
Size: 15194014 Hash: 1141FB5673D89C26465600C510124CEE Accuracy: -m40
Conclusion: CDDA 99%
Signature: 7B3F661D080AE1B9B57FA1126930DFD2480BF5B4
FILE: 11 - Home is the Heart.flac
Size: 19798238 Hash: 9FD93438F7D3F14A18F6F662359FDD37 Accuracy: -m40
Conclusion: CDDA 100%
Signature: 9AEF0966FE186A20CFCB6768813322AE7E85A48A
FILE: 12 - Shadows on the Wind.flac
Size: 23035122 Hash: 54332853F1C53B318FA1E572D5AA1E6E Accuracy: -m40
Conclusion: CDDA 100%
Signature: 0E60F4FC7879D66DCAAD4276322BB17DC4C7F7A1
FILE: 13 - Haven't I Got Eyes.flac
Size: 15737389 Hash: 8F6ED1615B1CCA7550D7543B7DE578B5 Accuracy: -m40
Conclusion: CDDA 100%
Signature: DAAB58669EB6FC7813D70CF6E46E89BF2D48F7D9
FILE: 14 - Joy.flac
Size: 12259323 Hash: 8B1B0EAD27834FC94109FAAA286F469C Accuracy: -m40
Conclusion: CDDA 100%
Signature: E961F99FC507465DFFCD83E31093265981448F46
FILE: 15 - Folk is the New Black.flac
Size: 14865109 Hash: FC2C0AF0CFD415FC4FCC348E349E91E4 Accuracy: -m40
Conclusion: CDDA 99%
Signature: EAD0B0CDCA0208DB559124DC886E37D7F049E546
FILE: 16 - In My Wilderness.flac
Size: 14941165 Hash: 555D0765751B7FD1C1369D9FF4ED3896 Accuracy: -m40
Conclusion: CDDA 100%
Signature: B9247BC2F7487BD188E3545E0ACF745C0977CBC0