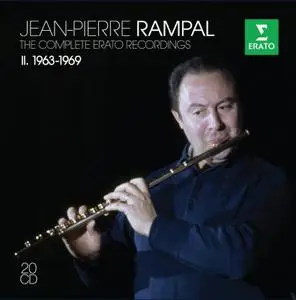 Jean-Pierre Rampal - The Complete Erato Recordings Vol. 2 (1963-1969) (20CD Box Set, 2015)
EAC Rip | FLAC (*image+.cue+.log,scans) | Run Time: 23:08:15 | 7,21 Gb | Scans - 127 Mb
Genre: Classical | Label: Erato
Jean-Pierre Rampal is often considered the greatest flutist of the modern era. In addition to his exceptional talent, he raised the flute to unprecedented solo status, popularizing the flute literature, the flute recital and flute recordings. The rediscovery of the Baroque, Classical and Romantic repertoire for the flute is one of his outstanding achievements, as well as his numerous collaborations with composers; over 100 works have been written for and premiered by him. He recorded for Erato from the mid-1950s, with many discs receiving awards internationally. This is the second of four boxed sets comprising the complete Erato recordings (1954 to 1982) and the complete HMV recordings (1952-1976), gathered together for the first time. The set ranges from the masterpieces of Mozart, Handel and Bach to modern repertoire by Damase and Arma.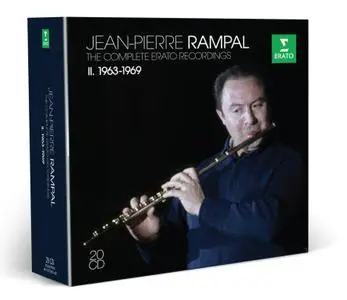 Contents:
CD1 MOZART CONCERTO for flute & harp - Anon., KRUMPHOLZ, ROSSINI, FAURÉ, IBERT, DAMASE Recital for flute & harp
CD2 IBERT, JOLIVET, RIVIER CONCERTOS - CHAYNES ILLUSTRATIONS POUR "LA FLÛTE DE JADE"
CD3 HÄNDEL SONATAS (I), CONCERTOS
CD4 HÄNDEL SONATAS (II) - VIVALDI CONCERTOS DA CAMERA
CD5 J.S. BACH, TELEMANN CONCERTOS - J.S. BACH ARIAS from MAGNIFICAT
CD6 J.C. BACH QUINTETS for flute, oboe and strings - HOLZBAUER CONCERTO
CD7 HOFFMEISTER, VIVALDI CONCERTOS - TELEMANN SONATAS, TRIO SONATA
CD8 VIVALDI CONCERTOS (I)
CD9 VIVALDI CONCERTOS (II)
CD10 MOZART CONCERTOS, ANDANTE, RONDO - STAMITZ CONCERTO
CD11 JOLIVET SUITE EN CONCERT for flute & percussion, INCANTATIONS for solo flute - TISNÉ CONCERTO
CD12 J.S. BACH SUITE PURCELL, SAMMARTINI SONATAS COUPERIN CONCERT ROYAL - LECLAIR, GALUPPI CONCERTOS
CD13 C.P.E. BACH CONCERTO - VIVALDI, QUANTZ, J.C. BACH, CORRETTE Chamber works
CD14 SCHUBERT INTRODUCTION AND VARIATIONS ON TROCKNE BLUMEN - SCHUMANN 3 ROMANCES REINECKE SONATA, CONCERTO
CD15 POULENC, PROKOFIEV SONATAS - BARTÓK-ARMA SUITE PAYSANNE HONGROISE - DEBUSSY SYRINX for solo flute - BARRAUD CONCERTO
CD16 KUHLAU, BOISMORTIER, REICHA Music for 3, 4 & 5 flutes - J.S. BACH TRIPLE CONCERTO
CD17 J.S. BACH BRANDENBURG CONCERTO N° 5 - TELEMANN, HÄNDEL, C.P.E. & J.S. BACH TRIO SONATAS for 2 flutes and continuo
CD18 VIVALDI SONATAS, CONCERTOS for flute, oboe and bassoon
CD19 PLATTI, TARTINI CONCERTOS - DEVIENNE 3 CONCERTOS
CD20 DAMASE TRIO for flute, oboe and piano, SÉRÉNADE - ARMA DIVERTIMENTO DE CONCERT
Disc: 1
1. Concerto for Flute and Harp in C Major, K. 299: I. Allegro
2. Concerto for Flute and Harp in C Major, K. 299: II. Andantino
3. Concerto for Flute and Harp in C Major, K. 299: III. Rondo Allegro
4. Anonymus: Greensleeves - Theme and variations for Flute and Harp
5. Sonata for Flute and Harp in F Major, Op. 8 No. 5: I. Allegro
6. Sonata for Flute and Harp in F Major, Op. 8 No. 5: II. Romance
7. Sonata for Flute and Harp in F Major, Op. 8 No. 5: III. Tempo di Minuetto
8. Rossini: Introduction and variations for Flute and Harp
9. Berceuse, Op. 16 for Flute and Harp
10. Entr'acte for Flute and Harp
11. Sonata for Flute and Harp: I. Allegro moderato
12. Sonata for Flute and Harp: II. Andante
13. Sonata for Flute and Harp: III. Scherzo
14. Sonata for Flute and Harp: IV. Adagio - Presto

Disc: 2
1. Flute Concerto: I. Allegro
2. Flute Concerto: II. Andante
3. Flute Concerto: III. Allegro scherzando
4. Jolivet: Flute Concerto: I. Andante cantabile
5. Flute Concerto: II. Allegro scherzando
6. Flute Concerto: III. Largo
7. Flute Concerto: III. Allegro risoluto
8. Flute Concerto: I. Allegro moderato
9. Flute Concerto: II. Lento, sensible
10. Flute Concerto: III. Molto vivace
11. Illustrations pour la flûte de Jade, for Flute (incl. piccolo): I. Prélude for solo flute
12. Illustrations pour la flûte de Jade, for Flute (incl. piccolo): II. Les deux flûtes
13. Illustrations pour la flûte de Jade, for Flute (incl. piccolo): III. Pavillon de la tristesse
14. Illustrations pour la flûte de Jade, for Flute (incl. piccolo): IV. Je me promenais
15. Illustrations pour la flûte de Jade, for Flute (incl. piccolo): V. Devant les ruines d'un palais

Disc: 3
1. Flute Sonata in B Minor, Op. 1 No. 9, HWV 367b: I. Largo
2. Flute Sonata in B Minor, Op. 1 No. 9, HWV 367b: II. Vivace
3. Flute Sonata in B Minor, Op. 1 No. 9, HWV 367b: III. Presto
4. Flute Sonata in B Minor, Op. 1 No. 9, HWV 367b: IV. Adagio
5. Flute Sonata in B Minor, Op. 1 No. 9, HWV 367b: V. Alla breve
6. Flute Sonata in B Minor, Op. 1 No. 9, HWV 367b: VI. Andante
7. Flute Sonata in B Minor, Op. 1 No. 9, HWV 367b: VII. A tempo di Minuet
8. Flute Sonata in A Minor, Op. 1 No. 4, HWV 362: I. Larghetto
9. Flute Sonata in A Minor, Op. 1 No. 4, HWV 362: II. Allegro
10. Flute Sonata in A Minor, Op. 1 No. 4, HWV 362: III. Adagio
11. Flute Sonata in A Minor, Op. 1 No. 4, HWV 362: IV. Allegro
12. Flute Sonata in G Major, Op. 1 No. 5, HWV 363b: I. Adagio
13. Flute Sonata in G Major, Op. 1 No. 5, HWV 363b: II. Allegro
14. Flute Sonata in G Major, Op. 1 No. 5, HWV 363b: III. Adagio
15. Flute Sonata in G Major, Op. 1 No. 5, HWV 363b: IV. Bourrée
16. Flute Sonata in G Major, Op. 1 No. 5, HWV 363b: V. Menuetto
17. Flute Sonata No. 2 in E Minor, 'Hallenser', HWV 375: I. Adagio
18. Flute Sonata No. 2 in E Minor, 'Hallenser', HWV 375: II. Allegro
19. Handel: Flute Sonata No. 2 in E Minor, 'Hallenser', HWV 375: III. Grave
20. Flute Sonata No. 2 in E Minor, 'Hallenser', HWV 375: IV. Minuet
21. Flute Sonata No. 3 in B Minor, 'Hallenser', HWV 376: I. Adagio
22. Flute Sonata No. 3 in B Minor, 'Hallenser', HWV 376: II. Allegro
23. Flute Sonata No. 3 in B Minor, 'Hallenser', HWV 376: III. Largo
24. Flute Sonata No. 3 in B Minor, 'Hallenser', HWV 376: IV. Allegro
25. Flute Concerto in F Major, Op. 4 No. 5, HWV 293: I. Larghetto
26. Flute Concerto in F Major, Op. 4 No. 5, HWV 293: II. Allegro
27. Flute Concerto in F Major, Op. 4 No. 5, HWV 293: III. Alla Siciliana
28. Flute Concerto in F Major, Op. 4 No. 5, HWV 293: IV. Presto
29. Concerto grosso in G Major, Op. 3 No. 3, HWV 314: I. Largo e staccata
30. Concerto grosso in G Major, Op. 3 No. 3, HWV 314: II. Allegro
31. Concerto grosso in G Major, Op. 3 No. 3, HWV 314: III. Adagio
32. Concerto grosso in G Major, Op. 3 No. 3, HWV 314: IV. Allegro

Disc: 4
1. Flute Sonata No. 1 in A Minor, 'Hallenser', HWV 374: I. Adagio
2. Flute Sonata No. 1 in A Minor, 'Hallenser', HWV 374: II. Allegro
3. Flute Sonata No. 1 in A Minor, 'Hallenser', HWV 374: III. Adagio
4. Flute Sonata No. 1 in A Minor, 'Hallenser', HWV 374: IV. Allegro
5. Flute Sonata in C Major, Op. 1 No. 7, HWV 365: I. Larghetto
6. Flute Sonata in C Major, Op. 1 No. 7, HWV 365: II. Allegro
7. Flute Sonata in C Major, Op. 1 No. 7, HWV 365: III. Larghetto
8. Flute Sonata in C Major, Op. 1 No. 7, HWV 365: IV. A tempo di Gavotti
9. Flute Sonata in C Major, Op. 1 No. 7, HWV 365: V. Allegro
10. Flute Sonata in E Minor, Op. 1 No. 1b, HWV 359b: I. Grave
11. Flute Sonata in E Minor, Op. 1 No. 1b, HWV 359b: II. Allegro
12. Flute Sonata in E Minor, Op. 1 No. 1b, HWV 359b: III. Adagio
13. Flute Sonata in E Minor, Op. 1 No. 1b, HWV 359b: IV. Allegro
14. Handel: Flute Sonata in F Major, Op. 1 No. 11, HWV 369: I. Larghetto
15. Flute Sonata in F Major, Op. 1 No. 11, HWV 369: II. Allegro
16. Flute Sonata in F Major, Op. 1 No. 11, HWV 369: III. Siciliana
17. Flute Sonata in F Major, Op. 1 No. 11, HWV 369: IV. Allegro
18. Flute Sonata in G Minor, Op. 1 No. 2, HWV 360: I. Larghetto
19. Flute Sonata in G Minor, Op. 1 No. 2, HWV 360: II. Andante
20. Flute Sonata in G Minor, Op. 1 No. 2, HWV 360: III. Adagio
21. Flute Sonata in G Minor, Op. 1 No. 2, HWV 360: IV. Presto
22. Flute Concerto in C Major, RV 88: I. Allegro
23. Flute Concerto in C Major, RV 88: II. Largo cantabile
24. Flute Concerto in C Major, RV 88: III. Allegro molto
25. Flute Concerto in D Major, RV 84: I. Allegro
26. Flute Concerto in D Major, RV 84: II. Andante
27. Flute Concerto in D Major, RV 84: III. Allegro
28. Flute Concerto in D Minor, RV 96: I. Allegro
29. Flute Concerto in D Minor, RV 96: II. Largo
30. Flute Concerto in D Minor, RV 96: III. Allegro
31. Flute Concerto in G Minor, RV 105: I. Allegro
32. Flute Concerto in G Minor, RV 105: II. Largo
33. Flute Concerto in G Minor, RV 105: III. Allegro

Disc: 5
1. Flute Concerto in G Minor, BWV 1056: I. Moderato
2. Flute Concerto in G Minor, BWV 1056: II. Largo
3. Flute Concerto in G Minor, BWV 1056: III. Presto
4. Flute Concerto in A Minor, BWV 1041: I. Allegro
5. Flute Concerto in A Minor, BWV 1041: II. Andante
6. Flute Concerto in A Minor, BWV 1041: III. Allegro assai
7. Telemann: Flute Concerto in C Major, TWV 51: C1: I. Allegretto
8. Flute Concerto in C Major, TWV 51: C1: II. Allegro
9. Flute Concerto in C Major, TWV 51: C1: III. Andante
10. Flute Concerto in C Major, TWV 51: C1: IV. Tempo di Minuet
11. Flute Concerto in D Major, TWV 51: D1: I. Andante
12. Flute Concerto in D Major, TWV 51: D1: II. Allegro
13. Flute Concerto in D Major, TWV 51: D1: III. Largo
14. Flute Concerto in D Major, TWV 51: D1: IV. Allegro assai
15. Magnificat in D Major, BWV 243: VI. Et misericordia (Alto, tenor, 2 flutes)
16. Magnificat in D Major, BWV 243: IX. Esurientes implevit bonis (Alto, 2 flutes)

Disc: 6
1. Bach, JC: Quintet in G Major, Op. 11 No. 2: I. Allegro
2. Quintet in G Major, Op. 11 No. 2: II. Allegro assai
3. Bach, JC: Quintet in A Major, Op. 11 No. 5: I. Allegretto
4. Quintet in A Major, Op. 11 No. 5: II. Tempo di Menuetto
5. Quintet in C Major, Op. 11 No. 1: I. Allegretto
6. Quintet in C Major, Op. 11 No. 1: II. Andantino
7. Quintet in C Major, Op. 11 No. 1: III. Menuetto con variatione
8. Quintet in D Major, Op. 11 No. 6: I. Allegro
9. Quintet in D Major, Op. 11 No. 6: II. Andantino
10. Quintet in D Major, Op. 11 No. 6: III. Allegro assai
11. Quintet in F Major, Op. 11 No. 3: I. Andante
12. Quintet in F Major, Op. 11 No. 3: II. Rondo (Allegretto)
13. Quintet in E-Flat Major, Op. 11 No. 4: I. Andante
14. Quintet in E-Flat Major, Op. 11 No. 4: II. Menuetto
15. Quintet in E-Flat Major, Op. 11 No. 4: III. Allegro
16. Flute Concerto in D Major: I. Vivace
17. Flute Concerto in D Major: II. Andantino e grazioso assai
18. Flute Concerto in D Major: III. Allegro con molto spirito

Disc: 7
1. Flute Concerto No. 19 in G Major: I. Allegro
2. Flute Concerto No. 19 in G Major: II. Adagio
3. Flute Concerto No. 19 in G Major: III. Rondo (Allegretto)
4. Flute Concerto in D Minor, RV 566: I. Allegro
5. Flute Concerto in D Minor, RV 566: II. Largo
6. Flute Concerto in D Minor, RV 566: III. Allegro
7. Flute Sonata in G Major, TWV 41: G9: I. Cantabile
8. Flute Sonata in G Major, TWV 41: G9: II. Allegro
9. Flute Sonata in G Major, TWV 41: G9: III. Affettuoso
10. Flute Sonata in G Major, TWV 41: G9: IV. Allegro
11. Flute Sonata in C Major, TWV 41: C2: I. Cantabile
12. Flute Sonata in C Major, TWV 41: C2: II. Allegro
13. Flute Sonata in C Major, TWV 41: C2: III. Grave
14. Flute Sonata in C Major, TWV 41: C2: IV. Vivace
15. Trio Sonata in A Minor, TWV 42: a4: I. Largo
16. Trio Sonata in A Minor, TWV 42: a4: II. Vivace
17. Trio Sonata in A Minor, TWV 42: a4: III. Affettuoso
18. Trio Sonata in A Minor, TWV 42: a4: IV. Allegro

Disc: 8
1. Flute Concerto in F Major, Op. 10 No. 1, RV 433, 'La tempest di mare': I. Allegro
2. Flute Concerto in F Major, Op. 10 No. 1, RV 433, 'La tempest di mare': II. Largo
3. Flute Concerto in F Major, Op. 10 No. 1, RV 433, 'La tempest di mare': III. Presto
4. Flute Concerto in G Minor, Op. 10 No. 2, RV 439, 'La notte': I. Largo
5. Flute Concerto in G Minor, Op. 10 No. 2, RV 439, 'La notte': II. Presto (Fantasmi)
6. Flute Concerto in G Minor, Op. 10 No. 2, RV 439, 'La notte': III. Largo
7. Flute Concerto in G Minor, Op. 10 No. 2, RV 439, 'La notte': IV. Presto
8. Flute Concerto in G Minor, Op. 10 No. 2, RV 439, 'La notte': V. Largo (Il sonno)
9. Flute Concerto in G Minor, Op. 10 No. 2, RV 439, 'La notte': VI. Allegro
10. Flute Concerto in D Major, Op. 10 No. 3, RV 428, 'Il gardellino': I. Allegro
11. Flute Concerto in D Major, Op. 10 No. 3, RV 428, 'Il gardellino': II. Cantabile
12. Flute Concerto in D Major, Op. 10 No. 3, RV 428, 'Il gardellino': III. Allegro
13. Flute Concerto in G Major, Op. 10 No. 4, RV 435: I. Allegro
14. Flute Concerto in G Major, Op. 10 No. 4, RV 435: II. Largo
15. Flute Concerto in G Major, Op. 10 No. 4, RV 435: III. Allegro
16. Flute Concerto in F Major, Op. 10 No. 5, RV 434: I. Allegro ma non tanto
17. Flute Concerto in F Major, Op. 10 No. 5, RV 434: II. Largo e cantabile
18. Flute Concerto in F Major, Op. 10 No. 5, RV 434: III. Allegro
19. Flute Concerto in D Major, Op. 10 No. 6, RV 437: I. Allegro
20. Flute Concerto in D Major, Op. 10 No. 6, RV 437: II. Largo
21. Flute Concerto in D Major, Op. 10 No. 6, RV 437: III. Allegro
22. Flute Concerto in D Major, RV 429: I. Allegro
23. Flute Concerto in D Major, RV 429: II. Andante
24. Flute Concerto in D Major, RV 429: III. Allegro
25. Flute Concerto in A Major, RV 440: I. Allegro non troppo
26. Flute Concerto in A Major, RV 440: II. Larghetto
27. Flute Concerto in A Major, RV 440: III. Allegro
28. Flute Concerto in G Major, RV 438: I. Allegro molto
29. Flute Concerto in G Major, RV 438: II. Andante
30. Flute Concerto in G Major, RV 438: III. Allegro

Disc: 9
1. Flute Concerto in G Major, RV 436: I. Allegro
2. Flute Concerto in G Major, RV 436: II. Largo
3. Flute Concerto in G Major, RV 436: III. Allegro
4. Flute Concerto in C Minor, RV 441: I. Allegro non molto
5. Flute Concerto in C Minor, RV 441: II. Largo
6. Flute Concerto in C Minor, RV 441: III. Allegro
7. Flute Concerto in D Major, RV 427: I. Allegro
8. Flute Concerto in D Major, RV 427: II. Largo
9. Flute Concerto in D Major, RV 427: III. Allegro
10. Concerto in C Major, RV 533 for 2 Flutes: I. Allegro molto
11. Concerto in C Major, RV 533 for 2 Flutes: II. Largo
12. Concerto in C Major, RV 533 for 2 Flutes: III. Allegro
13. Flute Concerto in A Minor, RV 108: I. Allegro
14. Flute Concerto in A Minor, RV 108: II. Largo
15. Flute Concerto in A Minor, RV 108: III. Allegro
16. Flute Concerto in G Major, RV 438: I. Allegro
17. Flute Concerto in E Minor, RV 431: I. Allegro
18. Flute Concerto in E Minor, RV 431: II. Allegro
19. Flute Concerto in E Major, RV 432: I. Allegro
20. Piccolo Concerto in C Major, RV 443: I. Allegro
21. Piccolo Concerto in C Major, RV 443: II. Largo
22. Piccolo Concerto in C Major, RV 443: III. Allegro molto
23. Piccolo Concerto in C Major, RV 444: I. Allegro non molto
24. Piccolo Concerto in C Major, RV 444: II. Largo
25. Piccolo Concerto in C Major, RV 444: III. Allegro molto

Disc: 10
1. Flute Concerto No. 1 in G Major, K. 313: I. Allegro maestoso (Cadenzas: Jean-Pierre Rampal)
2. Flute Concerto No. 1 in G Major, K. 313: II. Adagio ma non troppo (Cadenzas: Jean-Pierre Rampal)
3. Flute Concerto No. 1 in G Major, K. 313: III. Rondo (Tempo di Menuetto) - (Cadenzas: Jean-Pierre Ram
4. Flute Concerto No. 2 in D Major, K. 314: I. Allegro aperto (Cadenzas: Jean-Pierre Rampal)
5. Flute Concerto No. 2 in D Major, K. 314: II. Andante ma non troppo (Cadenzas: Jean-Pierre Rampal)
6. Flute Concerto No. 2 in D Major, K. 314: III. Allegro (Cadenzas: Jean-Pierre Rampal)
7. Andante in C Major, K. 315
8. Rondo in D Major, K. 184
9. Flute Concerto in G Major, Op. 29: I. Allegro (Cadenzas: Jean-Pierre Rampal)
10. Flute Concerto in G Major, Op. 29: II. Andante non troppo moderato (Cadenzas: Jean-Pierre Rampal)
11. Flute Concerto in G Major, Op. 29: III. Rondo Allegro (Cadenzas: Jean-Pierre Rampal)

Disc: 11
1. Suite en concert (Concerto No. 2) for Flute and Percussion: I. Modéré - Frémissant
2. Suite en concert (Concerto No. 2) for Flute and Percussion: II. Stabile
3. Suite en concert (Concerto No. 2) for Flute and Percussion: III. Hardiment
4. Suite en concert (Concerto No. 2) for Flute and Percussion: IV. Calme - Véloce - Apaisé
5. Incantations: A. Pour accueillir les négociateurs - et que l'entrevue soit pacifique
6. 5 Incantations: B. Pour que l'enfant qui va naître soit un fils
7. 5 Incantations: C. Pour que la moisson soit riche qui naîtra des sillons que le laboureur trace
8. 5 Incantations: D. Pour une communion sereine de l'être avec le monde
9. 5 Incantations: E. Aux funérailles du chef pour obtenir la protection de son âme
10. Incantation for alto flute, 'Pour que l'image devienne symbole'
11. Flute Concerto: I. Prologue
12. Flute Concerto: II. Dialogues
13. Flute Concerto: III. Epilogues

Disc: 12
1. Suite in C Minor, BWV 997: I. Prélude
2. Suite in C Minor, BWV 997: II. Fugue
3. Suite in C Minor, BWV 997: III. Sarabande
4. Suite in C Minor, BWV 997: IV. Gigue et double
5. Flute Sonata in D Minor: I. Adagio
6. Flute Sonata in D Minor: II. Vivace
7. Flute Sonata in D Minor: III. Largo
8. Flute Sonata in D Minor: IV. Allegro
9. Flute Sonata in D Major: I. Allegro
10. Flute Sonata in D Major: II. Andante
11. Flute Sonata in D Major: III. Allegro
12. Concert Royal No. 4 in E Minor for Flute and Continuo: I. Prélude
13. Concert Royal No. 4 in E Minor for Flute and Continuo: II. Allemande
14. Concert Royal No. 4 in E Minor for Flute and Continuo: III. Courante française
15. Concert Royal No. 4 in E Minor for Flute and Continuo: IV. Courante à l'italienne
16. Concert Royal No. 4 in E Minor for Flute and Continuo: V. Sarabande
17. Concert Royal No. 4 in E Minor for Flute and Continuo: VI. Rigaudon
18. Concert Royal No. 4 in E Minor for Flute and Continuo: VII. Forlane en rondeau
19. Flute Concerto in C Major, Op. 7 No. 3: I. Allegro
20. Flute Concerto in C Major, Op. 7 No. 3: II. Adagio
21. Flute Concerto in C Major, Op. 7 No. 3: III. Allegro assai
22. Flute Concerto in D Major: I. Allegro
23. Flute Concerto in D Major: II. Adagio
24. Flute Concerto in D Major: III. Allegro assai

Disc: 13
1. Flute Concerto in B-Flat Major, Wq 167 (H. 435): I. Allegretto
2. Flute Concerto in B-Flat Major, Wq 167 (H. 435): II. Adagio
3. Flute Concerto in B-Flat Major, Wq 167 (H. 435): III. Allegro assai
4. Flute Concerto in D Major, RV 95, 'La Pastorella': I. Allegro
5. Flute Concerto in D Major, RV 95, 'La Pastorella': II. Largo
6. Flute Concerto in D Major, RV 95, 'La Pastorella': III. Allegro
7. Concerto Comique in G Major, Op. 8 No. 6, 'Le Plaisir des dames': I. Allegro
8. Concerto Comique in G Major, Op. 8 No. 6, 'Le Plaisir des dames': II. Adagio
9. Concerto Comique in G Major, Op. 8 No. 6, 'Le Plaisir des dames': III. Allegro
10. Quintet in D Major, Op. 22 No. 1: I. Allegro
11. Quintet in D Major, Op. 22 No. 1: II. Andantino
12. Quintet in D Major, Op. 22 No. 1: III. Allegro assai
13. Trio Sonata in C Minor, QV 2: Anh. 5: I. Andante moderato
14. Trio Sonata in C Minor, QV 2: Anh. 5: II. Allegro
15. Trio Sonata in C Minor, QV 2: Anh. 5: III. Larghetto
16. Trio Sonata in C Minor, QV 2: Anh. 5: IV. Vivace

Disc: 14
1. Schubert: Introduction and Variations, Op. 160 (D. 802) on the theme 'Trockne Blumen' from 'Die Schö
2. 3 Romances, Op. 94: I. Nicht schnell
3. Romances, Op. 94: II. Einfach, innig
4. 3 Romances, Op. 94: III. Nicht schnell
5. Flute Sonata in E Minor, Op. 167, 'Undine': I. Allegro
6. Flute Sonata in E Minor, Op. 167, 'Undine': II. Intermezzo (Allegretto vivace)
7. Flute Sonata in E Minor, Op. 167, 'Undine': III. Andante tranquillo
8. Flute Sonata in E Minor, Op. 167, 'Undine': IV. Finale (Allegro molto agitato ed appassionato, quasi
9. Flute Concerto in D Major, Op. 283: I. Allegro molto moderato
10. Flute Concerto in D Major, Op. 283: II. Lento e mesto
11. Flute Concerto in D Major, Op. 283: III. Moderato

Disc: 15
1. Sonata for Flute and Piano, FP 164: I. Allegro malinconico
2. Sonata for Flute and Piano, FP 164: II. Cantilena
3. Sonata for Flute and Piano, FP 164: III. Presto giocoso
4. Hungarian Peasant Suite for Flute and Piano: I. Chants populaires tristes
5. Hungarian Peasant Suite for Flute and Piano: II. Scherzo
6. Hungarian Peasant Suite for Flute and Piano: III. Vieilles danses
7. Syrinx, L. 129
8. Flute Sonata in D Major, Op. 94: I. Moderato
9. Flute Sonata in D Major, Op. 94: II. Scherzo
10. Flute Sonata in D Major, Op. 94: III. Andante
11. Flute Sonata in D Major, Op. 94: IV. Allegro con brio
12. Flute Concerto: I. Moderato cantabile
13. Flute Concerto: II. Larghetto
14. Flute Concerto: III. Allegro deciso

Disc: 16
1. Grand Trio Concertant for 3 Flutes in G Minor, Op. 13 No. 2: I. Allegro non tanto
2. Grand Trio Concertant for 3 Flutes in G Minor, Op. 13 No. 2: II. Allegro con moto
3. Concerto in B Minor, Op. 15 No. 4 for 5 Flutes without bass: I. Adagio
4. Concerto in B Minor, Op. 15 No. 4 for 5 Flutes without bass: II. Allegro
5. Concerto in B Minor, Op. 15 No. 4 for 5 Flutes without bass: III. Allegro
6. Concerto in E Minor, Op. 15 No. 6 for 5 Flutes without bass: I. Adagio
7. Concerto in E Minor, Op. 15 No. 6 for 5 Flutes without bass: II. Allegro
8. Concerto in E Minor, Op. 15 No. 6 for 5 Flutes without bass: III. Allegro
9. Quartet for 4 Flutes, Op. 12, 'Sinfonico': I. Allegro
10. Quartet for 4 Flutes, Op. 12, 'Sinfonico': II. Andante
11. Quartet for 4 Flutes, Op. 12, 'Sinfonico': III. Menuet
12. Quartet for 4 Flutes, Op. 12, 'Sinfonico': IV. Finale
13. Flute Concerto in A Minor, BWV 1044: I. Allegro
14. Flute Concerto in A Minor, BWV 1044: II. Adagio ma non tanto e dolce
15. Flute Concerto in A Minor, BWV 1044: III. Alla breve

Disc: 17
1. Brandenburg Concerto No. 5 in D Major, BWV 1050: I. Allegro
2. Brandenburg Concerto No. 5 in D Major, BWV 1050: II. Affettuoso
3. Brandenburg Concerto No. 5 in D Major, BWV 1050: III. Allegro
4. Scherzo in E Major, TWV 42: E1: I. Vivace
5. Scherzo in E Major, TWV 42: E1: II. Largo
6. Scherzo in E Major, TWV 42: E1: III. Vivace
7. Trietto in D Major, TWV 42: D2: I. Vivace
8. Trietto in D Major, TWV 42: D2: II. Andante
9. Trietto in D Major, TWV 42: D2: III. Vivace
10. Trio in E Major, Wq 162 (H. 580): I. Allegretto
11. Trio in E Major, Wq 162 (H. 580): II. Adagio di molto
12. Trio in E Major, Wq 162 (H. 580): III. Allegro assai
13. Trio Sonata in A Major, Op. 5 No. 1, HWV 396: I. Andante
14. Trio Sonata in A Major, Op. 5 No. 1, HWV 396: II. Allegro
15. Trio Sonata in A Major, Op. 5 No. 1, HWV 396: III. Larghetto
16. Trio Sonata in A Major, Op. 5 No. 1, HWV 396: IV. Allegro
17. Trio Sonata in A Major, Op. 5 No. 1, HWV 396: V. Gavotte
18. Trio Sonata in D Minor, BWV 1036: I. Adagio
19. Trio Sonata in D Minor, BWV 1036: II. Allegro
20. Trio Sonata in D Minor, BWV 1036: III. Largo
21. Trio Sonata in D Minor, BWV 1036: IV. Vivace

Disc: 18
1. Flute Sonata No. 1 in C Major, RV 54: I. Moderato
2. Flute Sonata No. 1 in C Major, RV 54: II. Allegro (Tempo di Gavotta)
3. Flute Sonata No. 1 in C Major, RV 54: III. Aria (Affettuoso)
4. Flute Sonata No. 1 in C Major, RV 54: IV. Allegro
5. Flute Sonata No. 1 in C Major, RV 54: V. Giga (Allegro)
6. Flute Sonata No. 3 in G Major, RV 57: I. Preludio (Andante)
7. Flute Sonata No. 3 in G Major, RV 57: II. Allegro ma non presto
8. Flute Sonata No. 3 in G Major, RV 57: III. Sarabanda
9. Flute Sonata No. 3 in G Major, RV 57: IV. Corrente
10. Flute Sonata No. 3 in G Major, RV 57: V. Giga (Allegro)
11. Flute Sonata No. 2 in C Major, RV 56: I. Preludio (Adagio)
12. Flute Sonata No. 2 in C Major, RV 56: II. Allegro assai
13. Flute Sonata No. 2 in C Major, RV 56: III. Sarabanda (Adagio)
14. Flute Sonata No. 2 in C Major, RV 56: IV. Allegro
15. Flute Sonata No. 4 in A Major, RV 59: I. Preludio (Largo)
16. Flute Sonata No. 4 in A Major, RV 59: II. Allegro ma non presto
17. Flute Sonata No. 4 in A Major, RV 59: III. Pastorale
18. Flute Sonata No. 4 in A Major, RV 59: IV. Allegro
19. Flute Sonata No. 5 in C Major, RV 55: I. Un poco vivace
20. Flute Sonata No. 5 in C Major, RV 55: II. Allegro ma non presto
21. Flute Sonata No. 5 in C Major, RV 55: III. Un poco vivace
22. Flute Sonata No. 5 in C Major, RV 55: IV. Giga (Allegro)
23. Flute Sonata No. 5 in C Major, RV 55: V. Adagio
24. Flute Sonata No. 5 in C Major, RV 55: VI. Minuetto I & II
25. Flute Sonata No. 6 in G Minor, RV 58: I. Vivace
26. Flute Sonata No. 6 in G Minor, RV 58: II. Fuga da capella (Alla breve)
27. Flute Sonata No. 6 in G Minor, RV 58: III. Largo
28. Flute Sonata No. 6 in G Minor, RV 58: IV. Allegro ma non presto
29. Flute Concerto in C Major, RV 87: I. Adagio - Allegro
30. Flute Concerto in C Major, RV 87: II. Largo
31. Flute Concerto in C Major, RV 87: III. Allegro assai
32. Flute Concerto in F Major, RV 98, 'La Tempesta di Mare': I. Allegro
33. Flute Concerto in F Major, RV 98, 'La Tempesta di Mare': II. Largo
34. Flute Concerto in F Major, RV 98, 'La Tempesta di Mare': III. Allegro
35. Flute Concerto in G Minor, RV 104, 'La Notte': I. Largo
36. Flute Concerto in G Minor, RV 104, 'La Notte': II. Fantasmi
37. Flute Concerto in G Minor, RV 104, 'La Notte': III. Presto
38. Flute Concerto in G Minor, RV 104, 'La Notte': IV. Largo ('Il Sonno')
39. Flute Concerto in G Minor, RV 104, 'La Notte': IV. Allegro

Disc: 19
1. Flute Concerto in G Major: I. Allegro spiritoso
2. Flute Concerto in G Major: II. Adagio
3. Flute Concerto in G Major: III. Allegretto
4. Flute Concerto in F Major: I. Allegro moderato
5. Flute Concerto in F Major: II. Largo assai
6. Flute Concerto in F Major: III. Presto
7. Flute Concerto No. 7 in E Minor: I. Allegro
8. Flute Concerto No. 7 in E Minor: II. Adagio
9. Flute Concerto No. 7 in E Minor: III. Rondo allegretto
10. Flute Concerto No. 5 in G Major: I. Allegro
11. Flute Concerto No. 5 in G Major: II. Gratioso con variationi
12. Flute Concerto No. 8 in G Major: I. Allegro
13. Flute Concerto No. 8 in G Major: II. Adagio
14. Flute Concerto No. 8 in G Major: III. Tempo di Polonaise

Disc: 20
1. Trio for Flute, Oboe and Piano: I. Molto moderato
2. Trio for Flute, Oboe and Piano: II. Allegretto con spirito
3. Trio for Flute, Oboe and Piano: III. Allegro scherzando
4. Trio for Flute, Oboe and Piano: IV. Moderato
5. Damase: Sérénade, Op. 36 for Flute and Orchestra: Très large - Allegro - Scherzando - Allegro - Très
6. Divertimento de concert No. 1, Op. 168: I. Recitando
7. Divertimento de concert No. 1, Op. 168: II. Allegro scherzando
8. Divertimento de concert No. 1, Op. 168: III. Sostenuto parlando
9. Divertimento de concert No. 1, Op. 168: IV. Con allegrezza e ben ritmico
X Lossless Decoder version 20141129 (148.1)

XLD extraction logfile from 2015-04-29 09:58:24 +0800

Jean-Pierre Rampal / 0825646190430 - 01

Used drive : ASUS BW-12D1S-U (revision E401)
Media type : Pressed CD

Ripper mode : XLD Secure Ripper
Disable audio cache : OK for the drive with a cache less than 1375KiB
Make use of C2 pointers : NO
Read offset correction : 667
Max retry count : 5
Gap status : Not analyzed

TOC of the extracted CD
Track | Start | Length | Start sector | End sector
––––––––––––––––––––––––––––-
1 | 00:00:00 | 10:35:08 | 0 | 47632
2 | 10:35:08 | 09:46:01 | 47633 | 91583
3 | 20:21:09 | 09:46:74 | 91584 | 135607
4 | 30:08:08 | 03:41:45 | 135608 | 152227
5 | 33:49:53 | 05:30:69 | 152228 | 177046
6 | 39:20:47 | 03:08:28 | 177047 | 191174
7 | 42:29:00 | 03:50:48 | 191175 | 208472
8 | 46:19:48 | 04:27:74 | 208473 | 228571
9 | 50:47:47 | 03:03:06 | 228572 | 242302
10 | 53:50:53 | 03:10:12 | 242303 | 256564
11 | 57:00:65 | 06:16:63 | 256565 | 284827
12 | 63:17:53 | 06:04:10 | 284828 | 312137
13 | 69:21:63 | 03:02:61 | 312138 | 325848
14 | 72:24:49 | 03:20:35 | 325849 | 340883

AccurateRip Summary
Disc not found in AccurateRip DB.

All Tracks
Filename : /Users/Lakia/To Do/[Erato] Jean-Pierre Rampal - The Complete Erato Recordings/Vol. 2 - 1963-1969/Disc 01/0825646190430 - 01.flac
CRC32 hash : 4156A5AD
CRC32 hash (skip zero) : F4A30EC2
Statistics
Read error : 0
Jitter error (maybe fixed) : 0
Retry sector count : 0
Damaged sector count : 0

Track 01
Pre-gap length : 00:02:00

CRC32 hash : BFF06A28
CRC32 hash (skip zero) : 5D64140D
AccurateRip v1 signature : 88938FAC
AccurateRip v2 signature : 4F754C0C
->Track not present in AccurateRip database.
Statistics
Read error : 0
Jitter error (maybe fixed) : 0
Retry sector count : 0
Damaged sector count : 0

Track 02

CRC32 hash : 1F316AAB
CRC32 hash (skip zero) : EB0874A3
AccurateRip v1 signature : 35C1BBF5
AccurateRip v2 signature : 7EA18B9B
->Track not present in AccurateRip database.
Statistics
Read error : 0
Jitter error (maybe fixed) : 0
Retry sector count : 0
Damaged sector count : 0

Track 03

CRC32 hash : 1EFF4E60
CRC32 hash (skip zero) : E3A44379
AccurateRip v1 signature : D0138F2D
AccurateRip v2 signature : D17E7C95
->Track not present in AccurateRip database.
Statistics
Read error : 0
Jitter error (maybe fixed) : 0
Retry sector count : 0
Damaged sector count : 0

Track 04

CRC32 hash : 9C759D9B
CRC32 hash (skip zero) : 85F8A80E
AccurateRip v1 signature : 204255F5
AccurateRip v2 signature : A00671B4
->Track not present in AccurateRip database.
Statistics
Read error : 0
Jitter error (maybe fixed) : 0
Retry sector count : 0
Damaged sector count : 0

Track 05

CRC32 hash : A87CBFF6
CRC32 hash (skip zero) : 1083CC35
AccurateRip v1 signature : EC07509F
AccurateRip v2 signature : 10F2F7FB
->Track not present in AccurateRip database.
Statistics
Read error : 0
Jitter error (maybe fixed) : 0
Retry sector count : 0
Damaged sector count : 0

Track 06

CRC32 hash : A17FD971
CRC32 hash (skip zero) : B2A3F97A
AccurateRip v1 signature : 432F6631
AccurateRip v2 signature : BD73F7B1
->Track not present in AccurateRip database.
Statistics
Read error : 0
Jitter error (maybe fixed) : 0
Retry sector count : 0
Damaged sector count : 0

Track 07

CRC32 hash : D9B13583
CRC32 hash (skip zero) : 6AD38D9F
AccurateRip v1 signature : 3D504862
AccurateRip v2 signature : 29F196C7
->Track not present in AccurateRip database.
Statistics
Read error : 0
Jitter error (maybe fixed) : 0
Retry sector count : 0
Damaged sector count : 0

Track 08

CRC32 hash : 2F03E646
CRC32 hash (skip zero) : A2F4CE05
AccurateRip v1 signature : 744718FB
AccurateRip v2 signature : B5441090
->Track not present in AccurateRip database.
Statistics
Read error : 0
Jitter error (maybe fixed) : 0
Retry sector count : 0
Damaged sector count : 0

Track 09

CRC32 hash : 9A4F639E
CRC32 hash (skip zero) : 9ED5E7CD
AccurateRip v1 signature : 7F31FC01
AccurateRip v2 signature : A832237B
->Track not present in AccurateRip database.
Statistics
Read error : 0
Jitter error (maybe fixed) : 0
Retry sector count : 0
Damaged sector count : 0

Track 10

CRC32 hash : 721AE82B
CRC32 hash (skip zero) : F31D8484
AccurateRip v1 signature : 2D470D9A
AccurateRip v2 signature : 006F56CB
->Track not present in AccurateRip database.
Statistics
Read error : 0
Jitter error (maybe fixed) : 0
Retry sector count : 0
Damaged sector count : 0

Track 11

CRC32 hash : 6E039511
CRC32 hash (skip zero) : 6CB2A5A8
AccurateRip v1 signature : 155C2F24
AccurateRip v2 signature : 74218F4A
->Track not present in AccurateRip database.
Statistics
Read error : 0
Jitter error (maybe fixed) : 0
Retry sector count : 0
Damaged sector count : 0

Track 12

CRC32 hash : 6BE5D27B
CRC32 hash (skip zero) : 9364E87E
AccurateRip v1 signature : 2EC3C905
AccurateRip v2 signature : 2B538293
->Track not present in AccurateRip database.
Statistics
Read error : 0
Jitter error (maybe fixed) : 0
Retry sector count : 0
Damaged sector count : 0

Track 13

CRC32 hash : 814E6410
CRC32 hash (skip zero) : 1D7DFD3B
AccurateRip v1 signature : 624DEA73
AccurateRip v2 signature : DD3B14F9
->Track not present in AccurateRip database.
Statistics
Read error : 0
Jitter error (maybe fixed) : 0
Retry sector count : 0
Damaged sector count : 0

Track 14

CRC32 hash : EE7F9CD7
CRC32 hash (skip zero) : A8FEAF8F
AccurateRip v1 signature : A68DFD17
AccurateRip v2 signature : 611939BB
->Track not present in AccurateRip database.
Statistics
Read error : 0
Jitter error (maybe fixed) : 0
Retry sector count : 0
Damaged sector count : 0

No errors occurred

End of status report


=======================================================

X Lossless Decoder version 20141129 (148.1)

XLD extraction logfile from 2015-04-29 10:16:42 +0800

Jean-Pierre Rampal / 0825646190430 - 02

Used drive : ASUS BW-12D1S-U (revision E401)
Media type : Pressed CD

Ripper mode : XLD Secure Ripper
Disable audio cache : OK for the drive with a cache less than 1375KiB
Make use of C2 pointers : NO
Read offset correction : 667
Max retry count : 5
Gap status : Not analyzed

TOC of the extracted CD
Track | Start | Length | Start sector | End sector
––––––––––––––––––––––––––––-
1 | 00:00:00 | 04:26:47 | 0 | 19996
2 | 04:26:47 | 06:42:58 | 19997 | 50204
3 | 11:09:30 | 07:51:08 | 50205 | 85537
4 | 19:00:38 | 02:53:52 | 85538 | 98564
5 | 21:54:15 | 03:38:33 | 98565 | 114947
6 | 25:32:48 | 01:45:62 | 114948 | 122884
7 | 27:18:35 | 04:23:58 | 122885 | 142667
8 | 31:42:18 | 04:56:03 | 142668 | 164870
9 | 36:38:21 | 04:57:51 | 164871 | 187196
10 | 41:35:72 | 04:18:53 | 187197 | 206599
11 | 45:54:50 | 02:14:31 | 206600 | 216680
12 | 48:09:06 | 03:35:15 | 216681 | 232820
13 | 51:44:21 | 05:12:03 | 232821 | 256223
14 | 56:56:24 | 07:26:66 | 256224 | 289739
15 | 64:23:15 | 04:51:19 | 289740 | 311583

AccurateRip Summary
Disc not found in AccurateRip DB.

All Tracks
Filename : /Users/Lakia/To Do/[Erato] Jean-Pierre Rampal - The Complete Erato Recordings/Vol. 2 - 1963-1969/Disc 02/0825646190430 - 02.flac
CRC32 hash : BCD985C4
CRC32 hash (skip zero) : 78684982
Statistics
Read error : 0
Jitter error (maybe fixed) : 0
Retry sector count : 0
Damaged sector count : 0

Track 01
Pre-gap length : 00:02:00

CRC32 hash : E2650AB1
CRC32 hash (skip zero) : A3710A08
AccurateRip v1 signature : F4B77CB8
AccurateRip v2 signature : 025259B6
->Track not present in AccurateRip database.
Statistics
Read error : 0
Jitter error (maybe fixed) : 0
Retry sector count : 0
Damaged sector count : 0

Track 02

CRC32 hash : 4D207201
CRC32 hash (skip zero) : A03C5FD4
AccurateRip v1 signature : C986AAFE
AccurateRip v2 signature : EA522CA7
->Track not present in AccurateRip database.
Statistics
Read error : 0
Jitter error (maybe fixed) : 0
Retry sector count : 0
Damaged sector count : 0

Track 03

CRC32 hash : 505BAD66
CRC32 hash (skip zero) : 73ECB8E3
AccurateRip v1 signature : 77C4C389
AccurateRip v2 signature : 422361A1
->Track not present in AccurateRip database.
Statistics
Read error : 0
Jitter error (maybe fixed) : 0
Retry sector count : 0
Damaged sector count : 0

Track 04

CRC32 hash : EDA0FEF3
CRC32 hash (skip zero) : 6DBEE003
AccurateRip v1 signature : D6CF9E18
AccurateRip v2 signature : AEF40398
->Track not present in AccurateRip database.
Statistics
Read error : 0
Jitter error (maybe fixed) : 0
Retry sector count : 0
Damaged sector count : 0

Track 05

CRC32 hash : 56C3B25C
CRC32 hash (skip zero) : 10A29EB4
AccurateRip v1 signature : E86C52E3
AccurateRip v2 signature : 540293EF
->Track not present in AccurateRip database.
Statistics
Read error : 0
Jitter error (maybe fixed) : 0
Retry sector count : 0
Damaged sector count : 0

Track 06

CRC32 hash : D7138FB7
CRC32 hash (skip zero) : 2571CA7C
AccurateRip v1 signature : 7DE2EB80
AccurateRip v2 signature : AB52C06F
->Track not present in AccurateRip database.
Statistics
Read error : 0
Jitter error (maybe fixed) : 0
Retry sector count : 0
Damaged sector count : 0

Track 07

CRC32 hash : 3DD27993
CRC32 hash (skip zero) : DEA3A5D1
AccurateRip v1 signature : 3DF3B31B
AccurateRip v2 signature : 167F05BA
->Track not present in AccurateRip database.
Statistics
Read error : 0
Jitter error (maybe fixed) : 0
Retry sector count : 0
Damaged sector count : 0

Track 08

CRC32 hash : 84B258B9
CRC32 hash (skip zero) : A5FC7227
AccurateRip v1 signature : 82D71A20
AccurateRip v2 signature : 1412EF99
->Track not present in AccurateRip database.
Statistics
Read error : 0
Jitter error (maybe fixed) : 0
Retry sector count : 0
Damaged sector count : 0

Track 09

CRC32 hash : 94C842BD
CRC32 hash (skip zero) : 0D308CC9
AccurateRip v1 signature : 2F6F4CDA
AccurateRip v2 signature : DD9F8A76
->Track not present in AccurateRip database.
Statistics
Read error : 0
Jitter error (maybe fixed) : 0
Retry sector count : 0
Damaged sector count : 0

Track 10

CRC32 hash : B90C5820
CRC32 hash (skip zero) : AB496303
AccurateRip v1 signature : 5FAD7D48
AccurateRip v2 signature : 6B23F650
->Track not present in AccurateRip database.
Statistics
Read error : 0
Jitter error (maybe fixed) : 0
Retry sector count : 0
Damaged sector count : 0

Track 11

CRC32 hash : 382DA3D7
CRC32 hash (skip zero) : C6BA1EF6
AccurateRip v1 signature : 94F34F37
AccurateRip v2 signature : 8CFBC22D
->Track not present in AccurateRip database.
Statistics
Read error : 0
Jitter error (maybe fixed) : 0
Retry sector count : 0
Damaged sector count : 0

Track 12

CRC32 hash : 23446BFD
CRC32 hash (skip zero) : 9801E5F5
AccurateRip v1 signature : 7200F7B9
AccurateRip v2 signature : AED8CA30
->Track not present in AccurateRip database.
Statistics
Read error : 0
Jitter error (maybe fixed) : 0
Retry sector count : 0
Damaged sector count : 0

Track 13

CRC32 hash : E363A73E
CRC32 hash (skip zero) : 95429B29
AccurateRip v1 signature : CA606775
AccurateRip v2 signature : E94E786C
->Track not present in AccurateRip database.
Statistics
Read error : 0
Jitter error (maybe fixed) : 0
Retry sector count : 0
Damaged sector count : 0

Track 14

CRC32 hash : 602C93A3
CRC32 hash (skip zero) : 922693D0
AccurateRip v1 signature : 374518FF
AccurateRip v2 signature : A4FB1C37
->Track not present in AccurateRip database.
Statistics
Read error : 0
Jitter error (maybe fixed) : 0
Retry sector count : 0
Damaged sector count : 0

Track 15

CRC32 hash : 159E35BD
CRC32 hash (skip zero) : EA0544A2
AccurateRip v1 signature : 4388F846
AccurateRip v2 signature : 2682D69B
->Track not present in AccurateRip database.
Statistics
Read error : 0
Jitter error (maybe fixed) : 0
Retry sector count : 0
Damaged sector count : 0

No errors occurred

End of status report


==========================================

X Lossless Decoder version 20141129 (148.1)

XLD extraction logfile from 2015-04-29 10:25:54 +0800

Jean-Pierre Rampal / 0825646190430 - 03

Used drive : ASUS BW-12D1S-U (revision E401)
Media type : Pressed CD

Ripper mode : XLD Secure Ripper
Disable audio cache : OK for the drive with a cache less than 1375KiB
Make use of C2 pointers : NO
Read offset correction : 667
Max retry count : 5
Gap status : Not analyzed

TOC of the extracted CD
Track | Start | Length | Start sector | End sector
––––––––––––––––––––––––––––-
1 | 00:00:00 | 02:38:30 | 0 | 11879
2 | 02:38:30 | 02:05:53 | 11880 | 21307
3 | 04:44:08 | 01:38:02 | 21308 | 28659
4 | 06:22:10 | 01:26:44 | 28660 | 35153
5 | 07:48:54 | 01:41:66 | 35154 | 42794
6 | 09:30:45 | 03:02:03 | 42795 | 56447
7 | 12:32:48 | 01:42:12 | 56448 | 64109
8 | 14:14:60 | 03:13:49 | 64110 | 78633
9 | 17:28:34 | 01:48:43 | 78634 | 86776
10 | 19:17:02 | 02:15:23 | 86777 | 96924
11 | 21:32:25 | 02:16:01 | 96925 | 107125
12 | 23:48:26 | 02:01:39 | 107126 | 116239
13 | 25:49:65 | 01:45:40 | 116240 | 124154
14 | 27:35:30 | 02:42:54 | 124155 | 136358
15 | 30:18:09 | 00:59:41 | 136359 | 140824
16 | 31:17:50 | 01:26:20 | 140825 | 147294
17 | 32:43:70 | 02:21:68 | 147295 | 157937
18 | 35:05:63 | 01:40:30 | 157938 | 165467
19 | 36:46:18 | 01:47:13 | 165468 | 173505
20 | 38:33:31 | 01:31:35 | 173506 | 180365
21 | 40:04:66 | 02:27:63 | 180366 | 191453
22 | 42:32:54 | 01:29:53 | 191454 | 198181
23 | 44:02:32 | 00:59:11 | 198182 | 202617
24 | 45:01:43 | 01:46:37 | 202618 | 210604
25 | 46:48:05 | 02:29:25 | 210605 | 221804
26 | 49:17:30 | 02:05:66 | 221805 | 231245
27 | 51:23:21 | 01:18:61 | 231246 | 237156
28 | 52:42:07 | 02:09:21 | 237157 | 246852
29 | 54:51:28 | 00:37:62 | 246853 | 249689
30 | 55:29:15 | 02:49:67 | 249690 | 262431
31 | 58:19:07 | 01:17:36 | 262432 | 268242
32 | 59:36:43 | 03:24:04 | 268243 | 283546

AccurateRip Summary
Disc not found in AccurateRip DB.

All Tracks
Filename : /Users/Lakia/To Do/[Erato] Jean-Pierre Rampal - The Complete Erato Recordings/Vol. 2 - 1963-1969/Disc 03/0825646190430 - 03.flac
CRC32 hash : 15D04859
CRC32 hash (skip zero) : 58341B18
Statistics
Read error : 0
Jitter error (maybe fixed) : 0
Retry sector count : 0
Damaged sector count : 0

Track 01
Pre-gap length : 00:02:00

CRC32 hash : DD04BF62
CRC32 hash (skip zero) : A97E6926
AccurateRip v1 signature : 9F0FA499
AccurateRip v2 signature : 5774E26C
->Track not present in AccurateRip database.
Statistics
Read error : 0
Jitter error (maybe fixed) : 0
Retry sector count : 0
Damaged sector count : 0

Track 02

CRC32 hash : 0B52F30E
CRC32 hash (skip zero) : B7E1968D
AccurateRip v1 signature : BCEC57F4
AccurateRip v2 signature : 1964D5F6
->Track not present in AccurateRip database.
Statistics
Read error : 0
Jitter error (maybe fixed) : 0
Retry sector count : 0
Damaged sector count : 0

Track 03

CRC32 hash : 9098DDEF
CRC32 hash (skip zero) : 224F27C7
AccurateRip v1 signature : 123AED53
AccurateRip v2 signature : 19E27D51
->Track not present in AccurateRip database.
Statistics
Read error : 0
Jitter error (maybe fixed) : 0
Retry sector count : 0
Damaged sector count : 0

Track 04

CRC32 hash : F96883E6
CRC32 hash (skip zero) : B98BCD77
AccurateRip v1 signature : 7CB6459B
AccurateRip v2 signature : D01E5584
->Track not present in AccurateRip database.
Statistics
Read error : 0
Jitter error (maybe fixed) : 0
Retry sector count : 0
Damaged sector count : 0

Track 05

CRC32 hash : A7A46DC2
CRC32 hash (skip zero) : D641C966
AccurateRip v1 signature : 8B080B65
AccurateRip v2 signature : 2CC839F3
->Track not present in AccurateRip database.
Statistics
Read error : 0
Jitter error (maybe fixed) : 0
Retry sector count : 0
Damaged sector count : 0

Track 06

CRC32 hash : 87BE419A
CRC32 hash (skip zero) : FA8BF7FE
AccurateRip v1 signature : CA680AD3
AccurateRip v2 signature : 694F881A
->Track not present in AccurateRip database.
Statistics
Read error : 0
Jitter error (maybe fixed) : 0
Retry sector count : 0
Damaged sector count : 0

Track 07

CRC32 hash : EB2A518D
CRC32 hash (skip zero) : 2A2844BC
AccurateRip v1 signature : ACE2D819
AccurateRip v2 signature : A91A36F8
->Track not present in AccurateRip database.
Statistics
Read error : 0
Jitter error (maybe fixed) : 0
Retry sector count : 0
Damaged sector count : 0

Track 08

CRC32 hash : D3D93FB4
CRC32 hash (skip zero) : 448BE9C0
AccurateRip v1 signature : 1263BC7F
AccurateRip v2 signature : 4C664BF5
->Track not present in AccurateRip database.
Statistics
Read error : 0
Jitter error (maybe fixed) : 0
Retry sector count : 0
Damaged sector count : 0

Track 09

CRC32 hash : 9CFDA3F4
CRC32 hash (skip zero) : 23278D63
AccurateRip v1 signature : 85F6AAFD
AccurateRip v2 signature : 30D7C848
->Track not present in AccurateRip database.
Statistics
Read error : 0
Jitter error (maybe fixed) : 0
Retry sector count : 0
Damaged sector count : 0

Track 10

CRC32 hash : 857D0771
CRC32 hash (skip zero) : 73257066
AccurateRip v1 signature : 3A743DD7
AccurateRip v2 signature : 77C214CD
->Track not present in AccurateRip database.
Statistics
Read error : 0
Jitter error (maybe fixed) : 0
Retry sector count : 0
Damaged sector count : 0

Track 11

CRC32 hash : B370A36F
CRC32 hash (skip zero) : 4DD21B08
AccurateRip v1 signature : 9031BC06
AccurateRip v2 signature : D19E8234
->Track not present in AccurateRip database.
Statistics
Read error : 0
Jitter error (maybe fixed) : 0
Retry sector count : 0
Damaged sector count : 0

Track 12

CRC32 hash : A29436B3
CRC32 hash (skip zero) : 6C3D4378
AccurateRip v1 signature : 64B1BA83
AccurateRip v2 signature : 47105253
->Track not present in AccurateRip database.
Statistics
Read error : 0
Jitter error (maybe fixed) : 0
Retry sector count : 0
Damaged sector count : 0

Track 13

CRC32 hash : 2803910F
CRC32 hash (skip zero) : 7FBC2336
AccurateRip v1 signature : 96A3BA1A
AccurateRip v2 signature : 469DE8A1
->Track not present in AccurateRip database.
Statistics
Read error : 0
Jitter error (maybe fixed) : 0
Retry sector count : 0
Damaged sector count : 0

Track 14

CRC32 hash : B8D97899
CRC32 hash (skip zero) : C1C97856
AccurateRip v1 signature : BF3D5F02
AccurateRip v2 signature : AA4649D4
->Track not present in AccurateRip database.
Statistics
Read error : 0
Jitter error (maybe fixed) : 0
Retry sector count : 0
Damaged sector count : 0

Track 15

CRC32 hash : 4FBD9DFA
CRC32 hash (skip zero) : E1EC3DB2
AccurateRip v1 signature : EA15AD2B
AccurateRip v2 signature : 26A91E30
->Track not present in AccurateRip database.
Statistics
Read error : 0
Jitter error (maybe fixed) : 0
Retry sector count : 0
Damaged sector count : 0

Track 16

CRC32 hash : AE0F14F2
CRC32 hash (skip zero) : A6FF611B
AccurateRip v1 signature : C68EACC9
AccurateRip v2 signature : 71AE6EF7
->Track not present in AccurateRip database.
Statistics
Read error : 0
Jitter error (maybe fixed) : 0
Retry sector count : 0
Damaged sector count : 0

Track 17

CRC32 hash : D588F092
CRC32 hash (skip zero) : D93892AD
AccurateRip v1 signature : 2915E090
AccurateRip v2 signature : D8BFFCE2
->Track not present in AccurateRip database.
Statistics
Read error : 0
Jitter error (maybe fixed) : 0
Retry sector count : 0
Damaged sector count : 0

Track 18

CRC32 hash : 3630E156
CRC32 hash (skip zero) : B33CDC75
AccurateRip v1 signature : 5BB5BEAF
AccurateRip v2 signature : 69B70D03
->Track not present in AccurateRip database.
Statistics
Read error : 0
Jitter error (maybe fixed) : 0
Retry sector count : 0
Damaged sector count : 0

Track 19

CRC32 hash : F88A949B
CRC32 hash (skip zero) : 4130A6DA
AccurateRip v1 signature : 3B81EB51
AccurateRip v2 signature : 2F7DAEA6
->Track not present in AccurateRip database.
Statistics
Read error : 0
Jitter error (maybe fixed) : 0
Retry sector count : 0
Damaged sector count : 0

Track 20

CRC32 hash : B98F6573
CRC32 hash (skip zero) : E488EE78
AccurateRip v1 signature : 325F7CCE
AccurateRip v2 signature : E7D68BD2
->Track not present in AccurateRip database.
Statistics
Read error : 0
Jitter error (maybe fixed) : 0
Retry sector count : 0
Damaged sector count : 0

Track 21

CRC32 hash : 51D2FDB2
CRC32 hash (skip zero) : 78C0A4AF
AccurateRip v1 signature : F3691639
AccurateRip v2 signature : 225E33DA
->Track not present in AccurateRip database.
Statistics
Read error : 0
Jitter error (maybe fixed) : 0
Retry sector count : 0
Damaged sector count : 0

Track 22

CRC32 hash : C7B56E3C
CRC32 hash (skip zero) : 345ABB99
AccurateRip v1 signature : 0CACC284
AccurateRip v2 signature : 7253315C
->Track not present in AccurateRip database.
Statistics
Read error : 0
Jitter error (maybe fixed) : 0
Retry sector count : 0
Damaged sector count : 0

Track 23

CRC32 hash : 0EF63C04
CRC32 hash (skip zero) : D34F1E63
AccurateRip v1 signature : 07CB953B
AccurateRip v2 signature : DC92E710
->Track not present in AccurateRip database.
Statistics
Read error : 0
Jitter error (maybe fixed) : 0
Retry sector count : 0
Damaged sector count : 0

Track 24

CRC32 hash : DFDA3A5A
CRC32 hash (skip zero) : B55D048D
AccurateRip v1 signature : BC424532
AccurateRip v2 signature : E9079ACD
->Track not present in AccurateRip database.
Statistics
Read error : 0
Jitter error (maybe fixed) : 0
Retry sector count : 0
Damaged sector count : 0

Track 25

CRC32 hash : A6E0ED0F
CRC32 hash (skip zero) : 044670B5
AccurateRip v1 signature : 6123B195
AccurateRip v2 signature : DDB40C96
->Track not present in AccurateRip database.
Statistics
Read error : 0
Jitter error (maybe fixed) : 0
Retry sector count : 0
Damaged sector count : 0

Track 26

CRC32 hash : B8708862
CRC32 hash (skip zero) : D4291285
AccurateRip v1 signature : 23902007
AccurateRip v2 signature : 2642CD48
->Track not present in AccurateRip database.
Statistics
Read error : 0
Jitter error (maybe fixed) : 0
Retry sector count : 0
Damaged sector count : 0

Track 27

CRC32 hash : 68CD726E
CRC32 hash (skip zero) : 01B46003
AccurateRip v1 signature : 3A5D8A7A
AccurateRip v2 signature : C6A6ECD9
->Track not present in AccurateRip database.
Statistics
Read error : 0
Jitter error (maybe fixed) : 0
Retry sector count : 0
Damaged sector count : 0

Track 28

CRC32 hash : 3798E8EC
CRC32 hash (skip zero) : 914E6B15
AccurateRip v1 signature : 9DBD573F
AccurateRip v2 signature : D1DFBEF7
->Track not present in AccurateRip database.
Statistics
Read error : 0
Jitter error (maybe fixed) : 0
Retry sector count : 0
Damaged sector count : 0

Track 29

CRC32 hash : FAD423BF
CRC32 hash (skip zero) : 01A48AB3
AccurateRip v1 signature : C687C371
AccurateRip v2 signature : 80D6AA84
->Track not present in AccurateRip database.
Statistics
Read error : 0
Jitter error (maybe fixed) : 0
Retry sector count : 0
Damaged sector count : 0

Track 30

CRC32 hash : F4257291
CRC32 hash (skip zero) : 9E2982BB
AccurateRip v1 signature : D6CC910B
AccurateRip v2 signature : AF29DFD9
->Track not present in AccurateRip database.
Statistics
Read error : 0
Jitter error (maybe fixed) : 0
Retry sector count : 0
Damaged sector count : 0

Track 31

CRC32 hash : 47312A73
CRC32 hash (skip zero) : D45E622D
AccurateRip v1 signature : CD734733
AccurateRip v2 signature : D81CA640
->Track not present in AccurateRip database.
Statistics
Read error : 0
Jitter error (maybe fixed) : 0
Retry sector count : 0
Damaged sector count : 0

Track 32

CRC32 hash : 15B53DEB
CRC32 hash (skip zero) : B540EEE2
AccurateRip v1 signature : 58B5869A
AccurateRip v2 signature : C9780AFF
->Track not present in AccurateRip database.
Statistics
Read error : 0
Jitter error (maybe fixed) : 0
Retry sector count : 0
Damaged sector count : 0

No errors occurred

End of status report

====================================
All 20 log files included…