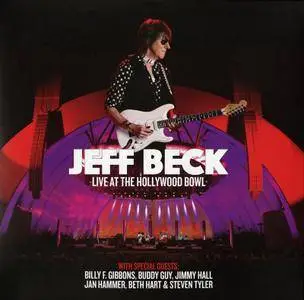 Jeff Beck - Live At The Hollywood Bowl (2017)
Vinyl Rip 16/44 | Flac(Image + Cue) > 601 Mb
MP3 CBR 320Kbps > 222 Mb | Artwork(jpg) > 194 Mb
DVD-5: NTSC 4:3 (720x480) VBR | LPCM, 2 ch, 24 bit, 96 kHz > 3.29 Gb
Eagle Vision, EV308079 | Blues Rock, Jazz-Rock, Pop Rock
In the summer of 2016, guitar virtuoso Jeff Beck celebrated 50 years of his musical career with an extraordinary concert at the famous Hollywood Bowl. Beck set the stage ablaze with incredible live versions of "For Your Love", "Beck's Bolero", "Cause We've Ended As Lovers", "Big Block", "Over Under Sideways Down", "A Day In The Life", "Blue Wind", and more. The night also included a legendary list of special guests including Steven Tyler, Billy F. Gibbons, Jan Hammer, Beth Hart, Jimmy Hall and Buddy Guy and concluded with an group encore of "Purple Rain" in honor of Prince.
Jeff Beck - Live At The Hollywood Bowl (2017):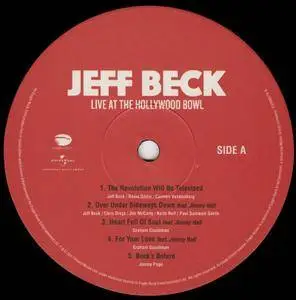 Tracklist:
Side 1
A1 - The Revolution Will Be Televised
Written-By - Carmen Vandenberg, Jeff Beck, Rosie Oddie
A2 - Over Under Sideways Down
Written-By - Chris Dreja, Jeff Beck, Jim McCarty, Keith Relf, Paul Samwell-Smith
A3 - Heart Full Of Soul
Written-By - Graham Gouldman
A4 - For Your Love
Written-By - Graham Gouldman
A5 - Beck's Bolero
Written-By - Jimmy Page
Side 2
B1 - Rice Pudding / Morning Dew
Written-By - Bonnie Dobson, Jeff Beck, Nicky Hopkins, Ronnie Wood, Tim Rose, Tony Newman
B2 - Freeway Jam
Written-By - Max Middleton
B3 - You Never Know
Written-By - Jan Hammer
B4 - Cause We've Ended As Lovers
Written-By - Stevie Wonder
Side 3
C1 - Star Cycle
Written-By - Jan Hammer
C2 - Blue Wind
Written-By - Jan Hammer
C3 - Big Block
Written-By - Jeff Beck, Terry Bozzio, Tony Hymas
Side 4
D1 - I'd Rather Go Blind
Written-By - Billy Foster, Ellington Jordan
D2 - Let Me Love You
Written-By - Jeffrey Rod
D3 - Live In The Dark
Written-By - Carmen Vandenberg, Jeff Beck, Rosie Oddie
Side 5
E1 - Scared For The Children
Written-By - Carmen Vandenberg, Jeff Beck, Rosie Oddie
E2 - Rough Boys
Written-By - Billy F. Gibbons, Dusty Hill, Frank Beard
E3 - Train Kept A-Rollin'
Written-By - Howie Kay, Lois Mann, Myron Bradshaw
Side 6
F1 - Shapes Of Things
Written By - Jim McCarty, Keith Relf, Paul Samwell-Smith
F2 - A Day In The Life
Written-By - John Lennon, Paul McCartney
F3 - Purple Rain
Written-By - Prince
foobar2000 1.2.9 / Dynamic Range Meter 1.1.1
log date: 2018-08-08 18:03:18

––––––––––––––––––––––––––––––––––––––––
Analyzed: Jeff Beck / Live At The Hollywood Bowl
––––––––––––––––––––––––––––––––––––––––

DR Peak RMS Duration Track
––––––––––––––––––––––––––––––––––––––––
DR9 -0.59 dB -11.47 dB 3:30 01-The Revolution Will Be Televised
DR8 -0.98 dB -11.62 dB 2:26 02-Over Under Sideways Down
DR8 -1.40 dB -10.91 dB 1:51 03-Heart Full Of Soul
DR9 -1.23 dB -11.53 dB 2:36 04-For Your Love
DR9 -0.69 dB -11.69 dB 3:27 05-Beck's Bolero
DR9 -1.39 dB -12.97 dB 5:31 06-Rice Pudding / Morning Dew
DR9 -0.64 dB -11.80 dB 5:00 07-Freeway Jam
DR9 -1.53 dB -11.97 dB 2:47 08-You Never Know
DR9 -2.67 dB -15.39 dB 3:55 09-Cause We've Ended As Lovers
DR9 -0.87 dB -11.56 dB 5:59 10-Star Cycle
DR8 -0.97 dB -11.18 dB 4:21 11-Blue Wind
DR9 -1.93 dB -12.80 dB 5:05 12-Big Block
DR9 -0.94 dB -13.43 dB 7:04 13-I'd Rather Go Blind
DR9 -1.35 dB -11.75 dB 4:33 14-Let Me Love You
DR9 -2.10 dB -13.89 dB 4:21 15-Live In The Dark
DR9 -0.87 dB -13.77 dB 6:20 16-Scared For The Children
DR9 -0.41 dB -10.24 dB 5:10 17-Rough Boy
DR8 -1.23 dB -11.22 dB 3:22 18-Train Kept A-Rollin'
DR9 -1.31 dB -11.84 dB 3:08 19-Shapes Of Thingss
DR8 -1.60 dB -12.34 dB 5:22 20-A Day In The Life
DR8 -2.25 dB -12.21 dB 6:41 21-Purple Rain
––––––––––––––––––––––––––––––––––––––––

Number of tracks: 21
Official DR value: DR9

Samplerate: 44100 Hz
Channels: 2
Bits per sample: 16
Bitrate: 865 kbps
Codec: FLAC
================================================================================



Title: Jeff Beck 2017 - Live At The Hollywood Bowl - DVD
Size: 3.07 Gb ( 3 215 276,00 KBytes ) - DVD-5
Enabled regions: 1, 2, 3, 4, 5, 6, 7, 8

VTS_01 :
Play Length: 01:32:23
Video: NTSC 4:3 (720x480) VBR
Audio:
Not specified (LinearPCM, 2 ch)



Original ripper: ?
Original format: 24/192
Vinyl Condition: Mint
Cleaning:
Direct Drive Turntable: VPI Classic 3
Cartridge: Ortofon 2M Black
Amplifier: Lounge LCRMKIII
ADC: Apogee Quartet
Postprocessing:?

Downsampled to 24/96 & 16/44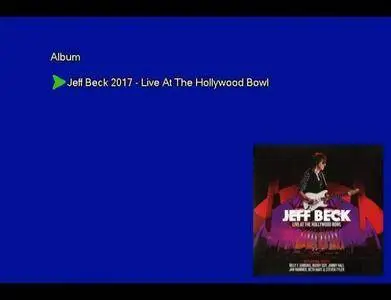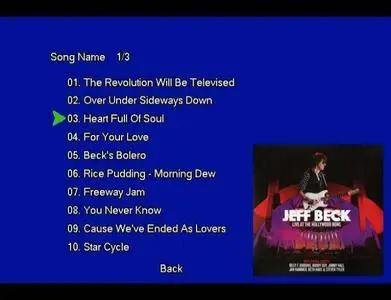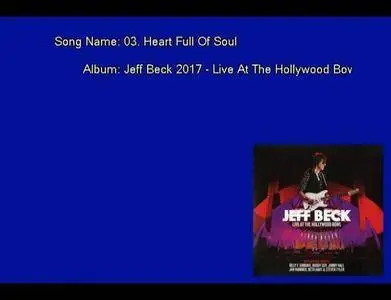 Jeff Beck
in my Blog
Download Jeff Beck - Live At The Hollywood Bowl (2017):