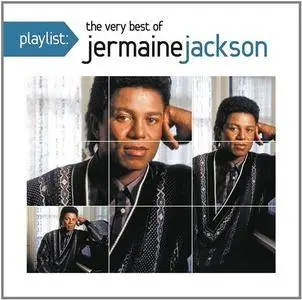 Jermaine Jackson - Playlist: The Very Best Of (2014)
EAC Rip | FLAC (image) +cue, log - 436 MB | 01:03:25
Pop, RnB, Soul, Funk, Disco | Label: RCA Records
Released in 2014, Playlist: The Very Best of Jermaine Jackson leads with "Daddy's Home," the singer's first big solo hit for Motown, which reached number three on the Billboard R&B chart in 1973. Otherwise, this anthology sticks to the singer's '80s and early-'90s releases, from Let's Get Serious (Motown, 1980) through You Said (LaFace, 1991). All the big hits from this phase are here, including "Let's Get Serious," "Tell Me I'm Not Dreamin'," "Dynamite," and "Do What You Do." As with many releases in the Playlist series, there are some deep cuts, such as the Pia Zadora duet "When the Rain Begins to Fall" (from the soundtrack of Voyage of the Rock Aliens); "(Closest Thing To) Perfect" (from the Perfect soundtrack); and "Whatcha Doin'," the bizarre B-side to 1986's "Do You Remember Me?"
TRACKLIST
01. Daddy's Home
02. Let's Get Serious
03. Let Me Tickle Your Fancy
04. Dynamite [7' Version]
05. Do What You Do [7' Version]
06. Tell Me I'm Not Dreaming (Too Good to Be True)
07. When the Rain Begins to Fall
08. Take Good Care of My Heart
09. (Closest Thing To) Perfect
10. I Think It's Love
11. Do You Remember Me [7' Version]
12. Whatcha Doin'
13. Don't Take It Personal
14. You Said, You Said
Exact Audio Copy V1.3 from 2. September 2016

Отчёт EAC об извлечении, выполненном 12. июля 2017, 19:28

Jermaine Jackson / Playlist: The Very Best of Jermaine Jackson

Дисковод: hp DVDRW DU8A6SH Adapter: 1 ID: 0

Режим чтения : Достоверность
Использование точного потока : Да
Отключение кэша аудио : Да
Использование указателей C2 : Нет

Коррекция смещения при чтении : 6
Способность читать области Lead-in и Lead-out : Нет
Заполнение пропущенных сэмплов тишиной : Да
Удаление блоков с тишиной в начале и конце : Нет
При вычислениях CRC использовались нулевые сэмплы : Да
Интерфейс : Встроенный Win32-интерфейс для Win NT/2000

Выходной формат : Пользовательский кодировщик
Выбранный битрейт : 768 kBit/s
Качество : Высокий
Добавление ID3-тега : Нет
Утилита сжатия : C:\Program Files (x86)\Exact Audio Copy\FLAC\FLAC.EXE
Дополнительные параметры : -V -8 -T "Date=%year%" -T "Genre=%genre%" %source%


TOC извлечённого CD

Трек | Старт | Длительность | Начальный сектор | Конечный сектор
––––––––––––––––––––––––––––––––––-
1 | 0:00.00 | 3:07.37 | 0 | 14061
2 | 3:07.37 | 7:59.64 | 14062 | 50050
3 | 11:07.26 | 3:52.19 | 50051 | 67469
4 | 14:59.45 | 4:12.72 | 67470 | 86441
5 | 19:12.42 | 4:03.45 | 86442 | 104711
6 | 23:16.12 | 4:26.23 | 104712 | 124684
7 | 27:42.35 | 4:10.22 | 124685 | 143456
8 | 31:52.57 | 4:18.13 | 143457 | 162819
9 | 36:10.70 | 3:51.27 | 162820 | 180171
10 | 40:02.22 | 3:54.45 | 180172 | 197766
11 | 43:56.67 | 3:50.39 | 197767 | 215055
12 | 47:47.31 | 5:31.43 | 215056 | 239923
13 | 53:18.74 | 4:30.55 | 239924 | 260228
14 | 57:49.54 | 5:35.68 | 260229 | 285421


Характеристики диапазона извлечения и сообщения об ошибках

Выбранный диапазон

Имя файла E:\EAC\Jermaine Jackson - Playlist- The Very Best of Jermaine Jackson.wav

Пиковый уровень 99.6 %
Скорость извлечения 5.0 X
Качество диапазона 100.0 %
CRC теста 67F65D7B
CRC копии 67F65D7B
Копирование… OK

Ошибок не произошло


AccurateRip: сводка

Трек 1 : извлечено точно (доверие 2) [F8BA7D87] (AR v2)
Трек 2 : извлечено точно (доверие 2) [B1D0B2EC] (AR v2)
Трек 3 : извлечено точно (доверие 2) [F7F6AEFF] (AR v2)
Трек 4 : извлечено точно (доверие 2) [8DAB5D8D] (AR v2)
Трек 5 : извлечено точно (доверие 2) [C9230DE6] (AR v2)
Трек 6 : извлечено точно (доверие 2) [DBA620EA] (AR v2)
Трек 7 : извлечено точно (доверие 2) [4C480ED1] (AR v2)
Трек 8 : извлечено точно (доверие 2) [A1C863B5] (AR v2)
Трек 9 : извлечено точно (доверие 2) [AF559861] (AR v2)
Трек 10 : извлечено точно (доверие 2) [68270CA4] (AR v2)
Трек 11 : извлечено точно (доверие 2) [5F115314] (AR v2)
Трек 12 : извлечено точно (доверие 2) [B08D647C] (AR v2)
Трек 13 : извлечено точно (доверие 2) [CA5A9982] (AR v2)
Трек 14 : извлечено точно (доверие 2) [38F354DB] (AR v2)

Все треки извлечены точно

Конец отчёта

==== Контрольная сумма отчёта 3A490037D71492E8BE378F6CB3BF6AEA43772692531E391A815B3EC5C70D554A ====

––––––––––––––––––––––––––––––

Exact Audio Copy V1.3 from 2. September 2016

Отчёт EAC об извлечении, выполненном 12. июля 2017, 19:28

Jermaine Jackson / Playlist: The Very Best of Jermaine Jackson

Дисковод: hp DVDRW DU8A6SH Adapter: 1 ID: 0

Режим чтения : Достоверность
Использование точного потока : Да
Отключение кэша аудио : Да
Использование указателей C2 : Нет

Коррекция смещения при чтении : 6
Способность читать области Lead-in и Lead-out : Нет
Заполнение пропущенных сэмплов тишиной : Да
Удаление блоков с тишиной в начале и конце : Нет
При вычислениях CRC использовались нулевые сэмплы : Да
Интерфейс : Встроенный Win32-интерфейс для Win NT/2000

Выходной формат : Пользовательский кодировщик
Выбранный битрейт : 768 kBit/s
Качество : Высокий
Добавление ID3-тега : Нет
Утилита сжатия : C:\Program Files (x86)\Exact Audio Copy\FLAC\FLAC.EXE
Дополнительные параметры : -V -8 -T "Date=%year%" -T "Genre=%genre%" %source%


TOC извлечённого CD

Трек | Старт | Длительность | Начальный сектор | Конечный сектор
––––––––––––––––––––––––––––––––––-
1 | 0:00.00 | 3:07.37 | 0 | 14061
2 | 3:07.37 | 7:59.64 | 14062 | 50050
3 | 11:07.26 | 3:52.19 | 50051 | 67469
4 | 14:59.45 | 4:12.72 | 67470 | 86441
5 | 19:12.42 | 4:03.45 | 86442 | 104711
6 | 23:16.12 | 4:26.23 | 104712 | 124684
7 | 27:42.35 | 4:10.22 | 124685 | 143456
8 | 31:52.57 | 4:18.13 | 143457 | 162819
9 | 36:10.70 | 3:51.27 | 162820 | 180171
10 | 40:02.22 | 3:54.45 | 180172 | 197766
11 | 43:56.67 | 3:50.39 | 197767 | 215055
12 | 47:47.31 | 5:31.43 | 215056 | 239923
13 | 53:18.74 | 4:30.55 | 239924 | 260228
14 | 57:49.54 | 5:35.68 | 260229 | 285421


Характеристики диапазона извлечения и сообщения об ошибках

Выбранный диапазон

Имя файла E:\EAC\Jermaine Jackson - Playlist- The Very Best of Jermaine Jackson.wav

Пиковый уровень 99.6 %
Скорость извлечения 5.0 X
Качество диапазона 100.0 %
CRC теста 67F65D7B
CRC копии 67F65D7B
Копирование… OK

Ошибок не произошло


AccurateRip: сводка

Трек 1 : извлечено точно (доверие 2) [F8BA7D87] (AR v2)
Трек 2 : извлечено точно (доверие 2) [B1D0B2EC] (AR v2)
Трек 3 : извлечено точно (доверие 2) [F7F6AEFF] (AR v2)
Трек 4 : извлечено точно (доверие 2) [8DAB5D8D] (AR v2)
Трек 5 : извлечено точно (доверие 2) [C9230DE6] (AR v2)
Трек 6 : извлечено точно (доверие 2) [DBA620EA] (AR v2)
Трек 7 : извлечено точно (доверие 2) [4C480ED1] (AR v2)
Трек 8 : извлечено точно (доверие 2) [A1C863B5] (AR v2)
Трек 9 : извлечено точно (доверие 2) [AF559861] (AR v2)
Трек 10 : извлечено точно (доверие 2) [68270CA4] (AR v2)
Трек 11 : извлечено точно (доверие 2) [5F115314] (AR v2)
Трек 12 : извлечено точно (доверие 2) [B08D647C] (AR v2)
Трек 13 : извлечено точно (доверие 2) [CA5A9982] (AR v2)
Трек 14 : извлечено точно (доверие 2) [38F354DB] (AR v2)

Все треки извлечены точно

Конец отчёта

==== Контрольная сумма отчёта 3A490037D71492E8BE378F6CB3BF6AEA43772692531E391A815B3EC5C70D554A ====
All thanks go to the original releaser