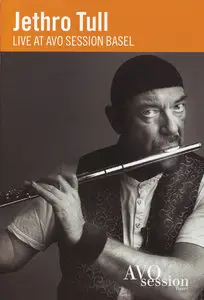 Jethro Tull - Live at AVO Session Basel 2008 (2009)
2009 | Prog Rock/Prog Folk | DVD Video | DVD-9 | ~6.68 Gb
MPEG2 PAL 16:9 (720x576) VBR Auto Letterboxed | Dolby AC3, 2 ch, 224 Kbps
A unique phenomenon in popular music history, Jethro Tull have been and still are one of the most successful live performing acts on the world stage, rivaling Led Zeppelin, Elton John and even the Rolling Stones. After forty years at the bottom, at the top and various points in between, with now some 30-odd albums to their credit and sales totaling more than 50 million, Jethro Tull are still performing typically more than a hundred concerts each year. This concert recorded in 2008 is one of their best.
Tracklist:
1. My Sunday Feeling (Ian Anderson)
2. Living In The Past (Ian Anderson)
3. Serenade To A Cuckoo (Roland Kirk)
4. So Much Trouble (Brownie McGhee)
5. Nursie (Ian Anderson)
6. Rocks On The Road (Ian Anderson)
7. A New Day Yesterday (Ian Anderson)
8. Too Old To Rock & Roll, Too Young To Die (Ian Anderson)
9. Bouree (J.S. Bach, Ian Anderson)
10. Nothing Is Easy (Ian Anderson)
11. Dharma For One (Ian Anderson)
12. Heavy Horses (Ian Anderson)
13. Thick As A Brick (excerpt) (Ian Anderson)
14. Aqualung (Ian Anderson, Jennie Anderson) (Ian Anderson)
15. Locomotive Breath (Ian Anderson)
Bonus:
More about AVO SESSION Basel
Who Played AVO SESSION Basel
Behind The Scenes
Discover Basel
Line-up:
- Ian Anderson / flute, acoustic guitar, harmonica, vocals
- Martin Barre / guitar
- Doane Perry / drums and percussion
- John O'Hara / keyboards, accordion
- David Goodier / bass
Title: Jethro Tull 2009 - Live at AVO Session Basel 2008
Size: 6.67 Gb ( 6 990 400,00 KBytes ) - DVD-9
Enabled regions: 1, 2, 3, 4, 5, 6, 7, 8

VTS_01 :
Play Length: 00:00:43
Video: PAL 16:9 (720x576) VBR, Auto Letterboxed
Audio:
Not specified (Dolby AC3, 2 ch)

VTS_02 :
Play Length: 01:29:30
Video: PAL 16:9 (720x576) VBR, Auto Letterboxed
Audio:
Not specified, AC3, 2/0 (L,R) ch, 224 kbps, Delay 0 mSec


VTS_03 :
Play Length: 00:01:28
Video: PAL 16:9 (720x576) VBR, Auto Pan&Scan, Auto Letterboxed
Audio:
Not specified (Dolby AC3, 2 ch)

VTS_04 :
Play Length: 00:02:45
Video: PAL 16:9 (720x576) VBR, Auto Letterboxed
Audio:
Not specified (Dolby AC3, 2 ch)

VTS_05 :
Play Length: 00:03:53
Video: PAL 16:9 (720x576) VBR, Auto Pan&Scan, Auto Letterboxed
Audio:
Not specified (Dolby AC3, 2 ch)