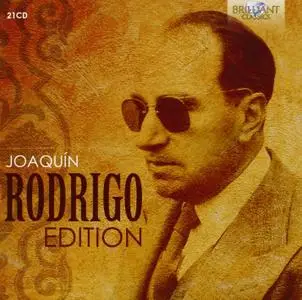 Joaquín Rodrigo Edition [21 CDs] (2013)
EAC | FLAC | Image (Cue & Log) ~ 4,90 Gb | Total time: 23h 02' 01'' | Scans included
Classical | Label: Brilliant Classics | # 9297 | Recorded: 1960, 1980-2007
On this, the largest set ever compiled of one of the last century's most popular composers, we may not only renew our familiarity with the Concierto de Aranjuez, or perhaps with one of the other ever-melodious guitar concertos that sustain his reputation with audiences, but also discover chamber, instrumental, choral and especially vocal works which testify to a creative imagination confident in the formation of its style but never satisfied with repetition, one which responded directly to poetic and lyric inspiration, and transformed its ideas with unfailing skill and respect for the idiom under consideration. The floating melismas that open the Cantico dedicated to St Francis of Assisi share a visionary aspect with the hymns on Qum'ran texts that are as far as can be imagined from the jolly folkloristic character of certain song cycles. There are plenty of homages to music of the past such as the baroqueries of the piano music, much of it written for his wife Cecilia, but one never forgets that Rodrigo was a creature of his age.
The performances gathered here are authoritative, many of them made as they were under the aegis of the Rodrigo Foundation, and many also exclusive to the Rodrigo Edition on Brilliant Classics. For anyone who loves Spanish music, anyone who wants to listen beyond the Concierto de Aranjuez, or anyone who delights in unfailingly tuneful music, this set will have a compelling appeal.
Content:
CDs 01-03: Concertos & Orchestral Works
CDs 04-06: Concertos & Orchestral Works
CDs 07-08: Chamber Music & Violin Music
CDs 09-11: Piano Music
CDs 12-14: Guitar Music
CDs 15-17: Vocal Music
CDs 18-20: Vocal Music
CD 21: Zarzuela: El hijo fingido

CD 01: Concierto serenata · Concierto pastoral · Concierto heroico
01. Concierto serenata: I. Estudiantina: Allegro ma non troppo
02. Concierto serenata: II. Intermezzo con Aria: Adagio
03. Concierto serenata: III. Sarao: Allegro deciso
04. Concierto pastoral: I. Allegro
05. Concierto pastoral: II. Adagio
06. Concierto pastoral: III. Rondo: Allegro
07. Concierto heroico: I. Allegro con brio
08. Concierto heroico: II. Scherzo: Allegro molto ma pesante
09. Concierto heroico: III. Largo
10. Concierto heroico: IV. Finale
Nancy Allen, harp
Lisa Hansen, flute
Jorge Federico Osorio, piano
Royal Philharmonic Orchestra
Enrique Bátiz, conductor

CD 02: Concierto madrigal · Concierto de estío · Concierto de Aranjuez
01. Concierto madrigal: I. Fanfare: Allegro marziale
02. Concierto madrigal: II. Madrigal: Andante nostalgico
03. Concierto madrigal: III. Entrada: Allegro vivace
04. Concierto madrigal: IV. Pastorcito, tu que vienes, pastorcito tu que vas: Allegro vivace
05. Concierto madrigal: V. Girardilla: Presto
06. Concierto madrigal: VI. Pastoral: Allegretto
07. Concierto madrigal: VII. Fandango: Molto rítmico
08. Concierto madrigal: VIII. Arieta: Andante nostalgico
09. Concierto madrigal: IX. Zapateado: Allegro vivace
10. Concierto madrigal: X. Caccia a la española
11. Concierto de estío: I. Prélude: Allegro molto leggiero
12. Concierto de estío: II. Sicilienne: Andantino
13. Concierto de estío: III. Rondino: Allegro ma non troppo
14. Concierto de Aranjuez: I. Allegro con spirito
15. Concierto de Aranjuez: II. Adagio
16. Concierto de Aranjuez: III. Allegro gentile
Deborah Mariotti, piano
Alfonso Moreno, guitar
Agustin Leon Ara, violin
London Symphony Orchestra
Enrique Bátiz, conductor

CD 03: Fantasia para un gentilhombre · Concierto Andaluz · Concierto en modo galante
01. Fantasia para un gentilhombre: I. Villano y Ricercare
02. Fantasia para un gentilhombre: II. Españoleta
03. Fantasia para un gentilhombre: III. Fanfare de la caballería de Nápoles
04. Fantasia para un gentilhombre: IV. Danza de las Hachas
05. Fantasia para un gentilhombre: V. Canario
06. Concierto Andaluz: I. Tiempo de Bolero: Allegro vivace
07. Concierto Andaluz: II. Adagio – Allegro – Adagio
08. Concierto Andaluz: III. Allegretto – Allegro – Allegretto
09. Concierto en modo galante: I. Allegro grazioso
10. Concierto en modo galante: II. Adagietto
11. Concierto en modo galante: III. Rondo giocoso: Allegro deciso
Alfonso Moreno, guitar
Minerva Garibay, guitar
Cecillia Lopez, guitar
Jésus Ruiz, guitar
Robert Cohen, cello
Mexican State Symphony Orchestra
London Symphony Orchestra
Enrique Bátiz, conductor

CD 04: Per la flor del lliri blau · Música para un jardín · A la busca del más allá · Zarabanda lejana y villancico · and more
01. Per la flor del lliri blau ('El lirio azul')
02. Música para un jardín
03. A la busca del más allá
04. Zarabanda lejana y villancico
05. Cinco piezas infantiles: I. Son chicos que pasán
06. Cinco piezas infantiles: II. Después de un cuento
07. Cinco piezas infantiles: III. Mazurka
08. Cinco piezas infantiles: IV. Plegaria
09. Cinco piezas infantiles: V. Finale: Gritería
10. Soleriana: No.4 Pastoral
11. Soleriana: No.5 Passepied
London Symphony Orchestra
Royal Philharmonic Orchestra
Enrique Bátiz, conductor

CD 05: Pavana Real · Palillos y panderetas · Juglares · Dos piezas caballerescas · Sones en la Giralda
01. Pavana real: Act 1: El deseo: I. Ricercare a modo de Diana
02. Pavana real: Act 1: El deseo: II. Danza de damas y caballeros
03. Pavana real: Act 1: El deseo: III. Zarabanda de amor
04. Pavana real: Act 1: El deseo: V. Escena y danza de los bufones
05. Pavana real: Act 1: El deseo: Interlude: Cantiga del pastor
06. Pavana real: Act 2: La cacería: V. Introduccíon y danza de cazadores
07. Pavana real: Act 2: La cacería: VI. Escena de cetrería
08. Pavana real: Act 2: La cacería: VII. Romance de Durandarte
09. Pavana real: Act 3: Fiesta de Mayo: Ricercare
10. Pavana real: Act 3: Fiesta de Mayo: VIII. Entrada del cortejo
11. Pavana real: Act 3: Fiesta de Mayo: IX. Danza del Heraldo y Cupido
12. Pavana real: Act 3: Fiesta de Mayo: X. Danza del buen desear
13. Pavana real: Act 3: Fiesta de Mayo: XI. Pavana de la Reina
14. Pavana real: Act 3: Fiesta de Mayo: XII. Danza final
15. Palillos y panderetas: I. Prado del Manzanares: Allegretto
16. Palillos y panderetas: II. Pastoral: Andante tranquillo
17. Palillos y panderetas: III. Alegre mañana: Allegro vivace
18. Palillos y panderetas: Juglares (Esayo sinfónico)
19. Dos piezas caballerescas: I. Madrigal: Andantino quasi allegretto
20. Dos piezas caballerescas: II. Danza de cortesía: Moderato ma non troppoe maestoso
21. Sones en la Giralda (Fantasía sevillana)
Mexico State Symphony Orchestra
Enrique Bátiz, conductor

CD 06: Soleriana · Homenaje a la Tempranica · Preludio para un poema a la Alhambra
01. Soleriana: I. Entrada
02. Soleriana: II. Fandango
03. Soleriana: III. Tourbillon
04. Soleriana:. Pastoral
05. Soleriana: V. Passepied
06. Soleriana: VI. Fandango a lo alto
07. Soleriana: VII. Contradanza
08. Soleriana: VIII. Boleras
09. Homenaje a la Tempranica
10. Preludio para un poema a la Alhambra
Galicia Real Philharmonic Orchestra
Antoni Ros Marbà, conductor

CD 07: Chamber Orchestra and Chamber Music
01. Sonata a la breve: I. Adagietto
02. Sonata a la breve: II. Scherzino
03. Sonata a la breve: III. Allegro ma non troppo
04. Siciliana
05. Come una fantasía
Mariano García, cello
Albert Guinovart, piano
06. Serenata al alba del día: I. Andante Moderato
07. Serenata al alba del día: II. Allegro
Luis Soto, flute
Carles Trepat, guitar
08. Cançoneta
09. Dos miniaturas andaluzas: Preludio – Danza
10. Aria antigua (flute and orchestra version)
11. Tres viejos aires de danza: I. Pastoral
12. Tres viejos aires de danza: II. Minué
13. Tres viejos aires de danza: III. Giga
Juana Guillem, flute
Agustín León Ara, violin
Joaquin Rodrigo Chamber Orchestra

CD 08: Violin Music
01. Dos esbozos Op. 1: I. La enamorada junto al surtidor
02. Dos esbozos Op. 1: II. Pequeña ronda
03. Rumaniana
04. Capriccio para violín solo
05. Set cançons valencianes: I. Allegretto
06. Set cançons valencianes: II. Andante moderato
07. Set cançons valencianes: III. Allegro
08. Set cançons valencianes: IV. Andante moderato e molto cantabile
09. Set cançons valencianes: V. Andantino
10. Set cançons valencianes: VI Andante religioso
11. Set cançons valencianes: VII. Tempo di bolero
12. Sonata pimpante: I. Allegro
13. Sonata pimpante: II. Adagio – Allegro vivace
14. Sonata pimpante: III. Allegro molto
Agustín León Ara, violin
Eugène de Canck, piano

CD 09: Piano Music I
01. Tres evocaciones: I. Tarde en el parque
02. Tres evocaciones: II. Noche junto al Guadalquivir
03. Tres evocaciones: III. Mañana en Triana
04. Danza de la amapola
05. Sonada de adiós
06. A l'ombre de Torre Bermeja
07. Preludio de añoranza
08. Suite para piano: I. Preludio
09. Suite para piano: II. Siciliana
10. Suite para piano: III. Bourrée
11. Suite para piano: IV. Minué
12. Suite para piano: V. Rigodón
13. Canción y danza
14. Sonatas de Castilla con Toccata a modo de pregón: I. Toccata a modo de pregón
15. Sonatas de Castilla con Toccata a modo de pregón: II. Sonata
16. Sonatas de Castilla con Toccata a modo de pregón: III. Sonata en fa sostenido menor
17. Sonatas de Castilla con Toccata a modo de pregón: IV. Sonata en re
18. Sonatas de Castilla con Toccata a modo de pregón: V. Sonata como un tiento
19. Sonatas de Castilla con Toccata a modo de pregón: VI. Sonata en la
20. El álbum de Cecilia: I. María de los Reyes (sevillanas)
21. El álbum de Cecilia: II. A la jota (jota de las palomas)
22. El álbum de Cecilia: III. Canción del hada rubia
23. El álbum de Cecilia: IV. Canción del hada morena
24. El álbum de Cecilia: V. El negrito Pepo
25. El álbum de Cecilia: VI. Borriquillos a Belén
Albert Guinovart, piano

CD 10: Piano Music II
01. Serenata española
02. Cuatro estampas andaluzas: I. El vendedor de chanquetes
03. Cuatro estampas andaluzas: II. Crepúsculo sobre el Guadalquivir
04. Cuatro estampas andaluzas: III. Seguidillas del diablo
05. Cuatro estampas andaluzas: IV. Barquitos de Cádiz
06. Cinco piezas del Siglo XVI: I. Diferencias sobre el Canto del Caballero (Antonio de Cabezón)
07. Cinco piezas del Siglo XVI: II. Pavana (Luys de Milán)
08. Cinco piezas del Siglo XVI: III. Pavana (Luys de Milán)
09. Cinco piezas del Siglo XVI: IV. Pavana (Enriquez de Valderrábano)
10. Cinco piezas del Siglo XVI: V. Fantasia que contrahaze la harpa a la manera de Ludovico (Alonso Mudarra)
11. Cuatro piezas para piano: I. Caleseras (Homenaje a Chueca)
12. Cuatro piezas para piano: II. Fandango del ventorrillo
13. Cuatro piezas para piano: III. Plegaria de la Infanta de Castilla
14. Cuatro piezas para piano: IV. Danza valenciana
15. Preludio al gallo mañanero
16. Zarabanda lejana
17. Bagatela
18. Air de ballet sur le nom d'une jeune fille
19. Deux berceuses: I. Berceuse de printemps
20. Deux berceuses: II. Berceuse d'automne
21. Tres danzas de España: I. Rústica
22. Tres danzas de España: II. Danza de las tres doncellas
23. Tres danzas de España: III. Serrana
24. Pastoral
Marta Zabaleta, piano

CD 11: Piano Music III
01. Cinco piezas infantiles: I. Son chicos que pasan
02. Cinco piezas infantiles: II. Después de un cuento
03. Cinco piezas infantiles: III. Mazurka
04. Cinco piezas infantiles: IV. Plegaria
05. Cinco piezas infantiles: V. Gritería final
06. Gran marcha de los subsecretarios for piano with 4 hands
07. Atardecer for piano with 4 hands
08. Juglares for piano with 4 hands
09. Sonatina para dos muñecas for piano with 4 hands: I. Empieza el día
10. Sonatina para dos muñecas for piano with 4 hands: II. Alegres peripecias
11. Sonatina para dos muñecas for piano with 4 hands: III. Recogimiento
12. Sonatina para dos muñecas for piano with 4 hands: IV. Vuelta del cole
Albert Guinovart, piano
Marta Zabaleta, piano
13. Cuatro danzas de España: I. Danza valenciana
14. Cuatro danzas de España: II. Plegaria de la Infanta de Castilla
15. Cuatro danzas de España: III. Caleseras (Homenaje a Chueca)
16. Cuatro danzas de España: IV. Fandango del Ventorrillo
17. A l'ombre de Torre Bermeja (Homenaje a Ricardo Viñes)
18. Gran marcha de los subsecretarios
19. El vendedor de chanquetes (Cuatro estampas andaluzas)
20. Pastoral 02:01
21. Preludio al gallo mañanero
22. Sonada de adiós (Homenaje a Paul Dukas)
23. Sonatas de Castilla con Toccata a modo de Pregón: Sonata como un Tiento (IV)
24. Sonatas de Castilla con Toccata a modo de Pregón: Sonata en fa sostenido menor (I)
Joaquín Rodrigo, piano
Victoria Kamhi, piano

CD 12: Guitar Music I
01. Por los campos de España: I. En los trigales
02. Por los campos de España: II. Bajando de la meseta
03. Por los campos de España: III. Entre olivares
04. Sonata a la Española: I. Allegro assai
05. Sonata a la Española: II. Adagio
06. Sonata a la Española: III. Allegro moderato (Tiempo de bolero)
07. Tiento antiguo
08. Tres pequeñas piezas: I. Ya se van los pastores
09. Tres pequeñas piezas: II. Por caminos de Santiago
10. Tres pequeñas piezas: III. Pequeña sevillana
11. Tonadilla for two guitars: I. Allegro ma non troppo
12. Tonadilla for two guitars: II. Minueto pomoso
13. Tonadilla for two guitars: III. Allegro vivace
Ignacio Rodes, guitar
Carles Trepat, guitar

CD 13: Guitar Music II
01. Sonata giocosa: I. Allegro moderato
02. Sonata giocosa: II. Andante moderato
03. Sonata giocosa: III. Allegro
04. Invocación y Danza (Homenaje a Manuel de Falla)
05. Junto al Generalife
06. Tres piezas españolas: I. Fandango
07. Tres piezas españolas: II. Passacaglia
08. Tres piezas españolas: III. Zapateado
09. Elogio de la guitarra: I. Allegro
10. Elogio de la guitarra: II. Andantino
11. Elogio de la guitarra: III. Allegro
Marco Socías, guitar

CD 14: Guitar Music III
01. Dos preludios: I. Adagio
02. Dos preludios: II. Allegro
03. Ecos de Sefarad
04. Pájaros de primavera
05. ¡Qué buen caminito!
06. Un tiempo fue Itálica famosa
07. Tríptico: I. Preludio
08. Tríptico: II. Nocturno
09. Tríptico: III. Scherzino
10. En tierras de Jerez
11. Toccata
12. Zarabanda lejana
Marco Socías, guitar
Carlos Pérez, guitar

CD 15: Songs I
01. Cántico de la esposa (St John of the Cross)
02. Cuatro madrigales amatorios: I. ¿Con qué la lavaré?
03. Cuatro madrigales amatorios: II. Vos me matásteis
04. Cuatro madrigales amatorios: III. ¿De dónde venís, amore?
05. Cuatro madrigales amatorios: IV. De los álamos vengo, madre
06. Coplas del pastor enamorado (Felix Lope de Vega)
07. Villancicos (Retablo de Navidad): I. Pastorcito santo (Lope de Vega)
08. Villancicos (Retablo de Navidad): II. Coplillas de Belén (Victoria Kamhi)
09. Villancicos (Retablo de Navidad): III. Aire y donaire
10. La espera (Kamhi)
11. Doce Canciones españolas (Anon. adpt. Kamhi): I. Viva la novia y el novio
12. Doce Canciones españolas (Anon. adpt. Kamhi): II. De ronda
13. Doce Canciones españolas (Anon. adpt. Kamhi): III. Una palomita blanca
14. Doce Canciones españolas (Anon. adpt. Kamhi): IV. Canción de baile con pandero
15. Doce Canciones españolas (Anon. adpt. Kamhi): V. Porque toco el pandero
16. Doce Canciones españolas (Anon. adpt. Kamhi): VI. Tararán
17. Doce Canciones españolas (Anon. adpt. Kamhi): VII. En las montañas de Asturias
18. Doce Canciones españolas (Anon. adpt. Kamhi): VIII. Estando yo en mi majada
19. Doce Canciones españolas (Anon. adpt. Kamhi): IX. Adela
20. Doce Canciones españolas (Anon. adpt. Kamhi): X. En Jerez de la Frontera
21. Doce Canciones españolas (Anon. adpt. Kamhi): XI. San José y María
22. Doce Canciones españolas (Anon. adpt. Kamhi): XII. Cancíon de cuna
23. Cuatro canciones sefardíes (Anon. adpt. Kamhi): I. Respóndemos
24. Cuatro canciones sefardíes (Anon. adpt. Kamhi): II. Una pastora yo ami
25. Cuatro canciones sefardíes (Anon. adpt. Kamhi): III. Nani, nani
26. Cuatro canciones sefardíes (Anon. adpt. Kamhi): IV. Morena me Ilaman
27. En Aranjuez, con tu amor (Alfredo García Segura)
Ana María Martínez, soprano
Albert Guinovart, piano

CD 16: Songs II
01. Romancillo
02. Canción del cucú (Victoria Kamhi)
03. Fino cristal (Carlos Rodríguez Pinto)
04. Sobre el cupey (Luis Hernández Aquino)
05. Esta niña se lleva la flor (Francisco de Figueroa)
06. Estribillo (Salvador Jacinto Polo de Medina)
07. Canción del grumete
08. Soneto (Juan Bautista de Mesa)
09. Canticel (Josep Carner)
10. Cançò del Teuladì (Teodoro Llorente)
11. ¡Un home, San Antonio! (Rosalía de Castro)
12. Barcarola (Kamhi) 02:16
13. La grotte (Homenaje a Debussy) (Louis Emiè): I.
14. La grotte (Homenaje a Debussy) (Louis Emiè): II.
15. La grotte (Homenaje a Debussy) (Louis Emiè): III.
16. Líricas castellanas (Anon. adpt. Kamhi): I. San Juan y Pascua
17. Líricas castellanas (Anon. adpt. Kamhi): II. Despedida y soledad
18. Líricas castellanas (Anon. adpt. Kamhi): III. Espera del amado
19. Romance de Durandarte (Anon. adpt. Kamhi)
20. Folías canarias
21. Aranjuez, ma pensée (Kamhi)
Ana María Martínez, soprano
Albert Guinovart, piano

CD 17: Songs III
01. Despedida de Azucena (from La Azucena de Quito by José Ma Valverde)
02. Canciones de dos épocas: I. Cantiga, Muy graciosa es la doncella (Gil Vicente)
03. Canciones de dos épocas: II. Romance de La Infantina de Francia
04. Canciones de dos épocas: III. Serranilla (Marqués de Santillana)
05. Canciones de dos épocas: IV. Árbol (Fina de Calderón)
06. Canciones de dos épocas: V. ¿Por qué te llamaré? (de Calderón)
07. Dos poemas de Juan Ramón Jiménez: I. Verde verderol
08. Dos poemas de Juan Ramón Jiménez: II. Pájaro del agua
09. Dos canciones para cantar a los niños (Anon. adpt. Victoria Kamhi): I. Corderito blanco
10. Dos canciones para cantar a los niños (Anon. adpt. Victoria Kamhi): II. Quedito
11. Primavera (Guillermo Fernández Shaw, adpt. Miguel Zanetti)
12. Con Antonio Machado (Antonio Machado): I. Preludio
13. Con Antonio Machado (Antonio Machado): II. Mi corazón te aguarda
14. Con Antonio Machado (Antonio Machado): III. Tu voz y tu mano
15. Con Antonio Machado (Antonio Machado): IV. Mañana de abril
16. Con Antonio Machado (Antonio Machado): V. Los sueños
17. Con Antonio Machado (Antonio Machado): VI. Cantaban los niños
18. Con Antonio Machado (Antonio Machado): VII. ¿Recuerdas?
19. Con Antonio Machado (Antonio Machado): VIII. Fiesta en el prado
20. Con Antonio Machado (Antonio Machado): IX. Abril galán
21. Con Antonio Machado (Antonio Machado): X. Cancíon del Duero
Fabiola Masino, soprano
Albert Guinovart, piano
Scott Mcleod, english horn
Casey Hill, oboe
Albert Guinovart, celesta
Luis Soto, flute

CD 18: Songs and Choral Music I
01. Cántico de la esposa (St John of the Cross)
02. Tríptico de Mossèn Cinto (Jacinto Verdaguer): I. L'harpa sagrada
03. Tríptico de Mossèn Cinto (Jacinto Verdaguer): II. Lo violí de Sant Francesc
04. Tríptico de Mossèn Cinto (Jacinto Verdaguer): III. Sant Francesc i la cigala
05. Romance del Comendador de Ocaña (Félix Lope de Vega adapt. Joaquín de Entrambasaguas)
06. Serranilla (Marqués de Santillana)
07. Retablo de Navidad Villancicos: I. Pastorcito santo (Lope de Vega)
08. Retablo de Navidad Villancicos: II. Aire y donaire
09. Retablo de Navidad Villancicos: III. Coplillas de Belén (Victoria Kamhi)
10. Canciones de Navidad: I. Cantan por Belén pastores (Kamhi)
11. Canciones de Navidad: II. A la clavelina (Lope de Vega)
12. Canciones de Navidad: III. Duérmete, niño (Kamhi)
13. Canciones de Navidad: IV. A la chiribirivuela (Anon. adpt. Kamhi)
14. Canciones de Navidad: V. La espera (Kamhi)
15. Cantos de amor y de guerra: I. Paseábase el rey moro
16. Cantos de amor y de guerra: II. ¡A las armas, moriscotes!
17. Cantos de amor y de guerra: III. ¡Ay, luna que reluces!
18. Cantos de amor y de guerra: IV. Sobre Baza estaba el Rey
19. Cantos de amor y de guerra: V. Pastorico, tú que has vuelto
20. Cuatro madrigales amatorios: I. ¿Con qué la lavaré?
21. Cuatro madrigales amatorios: II Vos me matásteis
22. Cuatro madrigales amatorios: III. ¿De dónde venís, amore?
23. Cuatro madrigales amatorios: IV. De los álamos vengo, madre
Ana María Martínez, soprano
José Antonio López, baritone
Orfeon Terra a Nosa
Galicia Real Philharmonic Orchestra
Antoni Ros Marbà, conductor

CD 19: Songs and Choral Music II
01. Rosaliana (Rosalía de Castro): I. Cantart'ei, Galicia
02. Rosaliana (Rosalía de Castro): II. ¿Por qué?
03. Rosaliana (Rosalía de Castro): III. Adiós ríos, adiós fontes
04. Rosaliana (Rosalía de Castro): IV. ¡Vamos bebendo!
05. Quatro Cançons en Ilengua catalana: I. Cançò del teuladì (Teodoro Llorente)
06. Quatro Cançons en Ilengua catalana: II. Canticel (Josep Carner)
07. Quatro Cançons en Ilengua catalana: III. L'inquietut primaveral de la donzella (Josep Massò I Ventòs)
08. Quatro Cançons en Ilengua catalana: IV. Brollador gentíl (Joan Guasch)
Nuria Rial, soprano
Galicia Real Philharmonic Orchestra
Antoni Ros Marbà, conductor
09. Cánticos nupciales (Bible; Tobias, Psalms 31 & 128; Gospel of St. John): I. Entrada
10. Cánticos nupciales (Bible; Tobias, Psalms 31 & 128; Gospel of St. John): II. Deus Israel
11. Cánticos nupciales (Bible; Tobias, Psalms 31 & 128; Gospel of St. John): III. Ofertorio
12. Cánticos nupciales (Bible; Tobias, Psalms 31 & 128; Gospel of St. John): IV. Fughetta
13. Cánticos nupciales (Bible; Tobias, Psalms 31 & 128; Gospel of St. John): V. Comunión
14. Cánticos nupciales (Bible; Tobias, Psalms 31 & 128; Gospel of St. John): VI. Evangelio
Ana María Martínez, soprano
Fabiola Masino, soprano
Nuria Rial, soprano
Roberto Fresco, organ
15. Tres canciones sefardíes: I. Malato está el hijo del rey (Anon. adpt. Victoria Kamhi)
16. Tres canciones sefardíes: II. El rey que muncho madruga (Anon. adpt. Kamhi)
17. Tres canciones sefardíes: III. Triste estaba el Rey David
18. Jo tinc un burro
19. Ave Mariá
Patricia Llorens, soprano
Coro de la Generalitat de Valencia
Francesc Perales, conductor
20. Tres canciones ligeras: I. Chimères (Kamhi)
21. Tres canciones ligeras: II. La Chanson de ma vie (Joan Camp)
22. Tres canciones ligeras: III. El tren de las penas mías (Alfredo García Segura)
Laura Simó, singer
Albert Guinovart, piano

CD 20: Songs and Choral Music III
01. Ausencias de Dulcinea (Miguel de Cervantes)
02. Música para un códice salmantino (Miguel de Unamuno)
03. Himnos de los neófitos de Qumrán (Dead Sea Scrolls, adapt. Victoria Kamhi): I. Lento
04. Himnos de los neófitos de Qumrán (Dead Sea Scrolls, adapt. Victoria Kamhi): II. Lento
05. Himnos de los neófitos de Qumrán (Dead Sea Scrolls, adapt. Victoria Kamhi): III. Lento – Allegro moderato – Lento
06. Cántico de San Franciso de Asís (St Francis of Assisi)
Natalie Clifton-Griffith, soprano
Gerard Quinn, baritone
Nicki Kennedy, sprano
Sinead Pratschke, soprano
Alison Smart, soprano
Royal Philharmonic Orchestra
Raymond Calcraft, conductor

CD 21: El hijo fingido
01. Prologue: No.1 Obertura
02. Prologue: No.2 Canario
03. Prologue: No.3 Copillas del Alférez y Coro: 'Salen de Sanlucar'
04. Prologue: No.4 Dúo de Rosita y Leonardo: 'Esta es, Rosita…'
05. Prologue: No.5 Dúo de Rosita y Leonardo y Coro interno: 'Taquitán, mitanacuni'
06. Prologue: No.6 Rosita y, dentro, Leonardo: 'A la Torre del Oro…'
07. Act 1: No.7a Introducción
08. Act 1: No.7b Coro en las gradas, baile y escena: 'Vida bona, vida bona'
09. Act 1: No.8 Terceto de Beltrán, Octavio y Leonardo: '¡Ah, gradas de San Felipe!'
10. Act 1: No.9 Terceto y canción de Bárbara: 'Alférez… Señora…'
11. Act 1: No.10a Escena: '¿Qué tienes, Ángela bella?'
12. Act 1: No.10b Terceto: 'Aldeana cortesana…'
13. Act 1: No.11 Rigodón del ''Ay, ay, ay': 'A bailar el ay, ay, ay..'
14. Act 1: No.12 Cavaletta de Leonardo: 'Mis arreos son las armas'
15. Act 2: No.13 Preludio
16. Act 2: No.14 Dúo de Ángela y Leonardo: '¡Mis celos echais a risa!'
17. Act 2: No.15 Dúo de Ángela y Bárbara: '¿Por qué no quieres…?'
18. Act 2: No.16 Romanza de Ángela: 'Mal empleados sentimientos míos…'
19. Act 2: No.17 Cuarteto cómico: 'Soy Don Octavio Mendoza…'
20. Act 2: No.18 Ballet – No.19 Intermedio
21. Act 2: No.20 Coro interno: '¿Dónde vas, buen Caballero?'
22. Act 2: No.21 Romanza de Leonardo: '¿Dónde me encontrarás, alba?'
23. Act 2: No.22 Canción de Ángela: 'Yo pagaré la posada'
24. Act 2: No.23 Romanza de Ángela: 'Madre, un caballero…'
25. Act 2: No.24 Concertante: 'Yo os ruego..'
Luis Alvarez, bass
Lola Casariego, mezzo-soprano
Miquel Ramón, baritone
Maria Rey-Joly, soprano
Enrique R. Del Portal, tenor
Emilio Sanchez, tenor
Carlos Lopez, bass
Maria Rodriguez, soprano
Maria José Suárez, alto
Florence Dumont, harp
John Stoke, cello
Carmen Haro, voice
Madrid Community Chorus
Madrid City Orchestra
Miguel Roa, conductor


Exact Audio Copy V1.3 from 2. September 2016

EAC extraction logfile from 25. July 2019, 12:14

Nancy Allen, Lisa Hansen, Jorge Federico Osorio; Enrique Bátiz / Joaquin Rodrigo Edition (CD 01) Concertos & Orchestral (1)

Used drive : ATAPI iHAS124 F Adapter: 1 ID: 0

Read mode : Secure
Utilize accurate stream : Yes
Defeat audio cache : Yes
Make use of C2 pointers : No

Read offset correction : 6
Overread into Lead-In and Lead-Out : No
Fill up missing offset samples with silence : Yes
Delete leading and trailing silent blocks : No
Null samples used in CRC calculations : Yes
Used interface : Native Win32 interface for Win NT & 2000

Used output format : User Defined Encoder
Selected bitrate : 1024 kBit/s
Quality : High
Add ID3 tag : No
Command line compressor : C:\Program Files (x86)\Exact Audio Copy\FLAC\FLAC.EXE
Additional command line options : -6 -V -T "ARTIST=%artist%" -T "TITLE=%title%" -T "ALBUM=%albumtitle%" -T "DATE=%year%" -T "TRACKNUMBER=%tracknr%" -T "GENRE=%genre%" -T "COMMENT=%comment%" -T "BAND=%albuminterpret%" -T "ALBUMARTIST=%albuminterpret%" -T "COMPOSER=%composer%" %haslyrics%–tag-from-file=LYRICS="%lyricsfile%"%haslyrics% -T "DISCNUMBER=%cdnumber%" -T "TOTALDISCS=%totalcds%" -T "TOTALTRACKS=%numtracks%" %hascover%–picture="%coverfile%"%hascover% %source% -o %dest%


TOC of the extracted CD

Track | Start | Length | Start sector | End sector
––––––––––––––––––––––––––––-
1 | 0:00.33 | 8:34.37 | 33 | 38619
2 | 8:34.70 | 8:25.65 | 38620 | 76559
3 | 17:00.60 | 6:04.03 | 76560 | 103862
4 | 23:04.63 | 7:28.30 | 103863 | 137492
5 | 30:33.18 | 11:00.05 | 137493 | 186997
6 | 41:33.23 | 6:51.17 | 186998 | 217839
7 | 48:24.40 | 8:24.18 | 217840 | 255657
8 | 56:48.58 | 5:25.32 | 255658 | 280064
9 | 62:14.15 | 11:29.58 | 280065 | 331797
10 | 73:43.73 | 5:17.62 | 331798 | 355634


Range status and errors

Selected range

Filename C:\EACRip\JOAQUIN RODRIGO EDITION (Brilliant Classics, 21CDs) (2013)\CD 01 - Concertos & Orchestral (1)\Joaquin Rodrigo Edition (CD 01) Concertos & Orchestral (1) - Enrique Batiz.wav

Peak level 97.7 %
Extraction speed 9.7 X
Range quality 100.0 %
Test CRC A50BF6BE
Copy CRC A50BF6BE
Copy OK

No errors occurred


AccurateRip summary

Track 1 accurately ripped (confidence 5) [622F5AA5] (AR v2)
Track 2 accurately ripped (confidence 5) [630C5BE7] (AR v2)
Track 3 accurately ripped (confidence 5) [6DC58C33] (AR v2)
Track 4 accurately ripped (confidence 5) [914D57ED] (AR v2)
Track 5 accurately ripped (confidence 5) [35D71315] (AR v2)
Track 6 accurately ripped (confidence 5) [FB3C8CB6] (AR v2)
Track 7 accurately ripped (confidence 5) [4E5A63A3] (AR v2)
Track 8 accurately ripped (confidence 5) [757CCE62] (AR v2)
Track 9 accurately ripped (confidence 5) [44283AA5] (AR v2)
Track 10 accurately ripped (confidence 5) [A51402EE] (AR v2)

All tracks accurately ripped

End of status report

–– CUETools DB Plugin V2.1.6

[CTDB TOCID: XUelBku757X.jcWpFf1HgwOLx_4-] found
Submit result: XUelBku757X.jcWpFf1HgwOLx_4- has been confirmed
Track | CTDB Status
1 | (39/39) Accurately ripped
2 | (39/39) Accurately ripped
3 | (39/39) Accurately ripped
4 | (39/39) Accurately ripped
5 | (38/39) Accurately ripped
6 | (38/39) Accurately ripped
7 | (38/39) Accurately ripped
8 | (39/39) Accurately ripped
9 | (39/39) Accurately ripped
10 | (39/39) Accurately ripped


==== Log checksum 7BD66AD130AF02F71D2CADA76D5BFF11937C0886EBEB9A191E5307CF4782E165 ====


Exact Audio Copy V1.3 from 2. September 2016

EAC extraction logfile from 25. July 2019, 13:31

Alfonso Moreno, Deborah Mariotti, Augustin Leon Ara, Alfonso Moreno; Enrique Bátiz / Joaquin Rodrigo Edition (CD 02) Concertos & Orchestral (2)

Used drive : ATAPI iHAS124 F Adapter: 1 ID: 0

Read mode : Secure
Utilize accurate stream : Yes
Defeat audio cache : Yes
Make use of C2 pointers : No

Read offset correction : 6
Overread into Lead-In and Lead-Out : No
Fill up missing offset samples with silence : Yes
Delete leading and trailing silent blocks : No
Null samples used in CRC calculations : Yes
Used interface : Native Win32 interface for Win NT & 2000

Used output format : User Defined Encoder
Selected bitrate : 1024 kBit/s
Quality : High
Add ID3 tag : No
Command line compressor : C:\Program Files (x86)\Exact Audio Copy\FLAC\FLAC.EXE
Additional command line options : -6 -V -T "ARTIST=%artist%" -T "TITLE=%title%" -T "ALBUM=%albumtitle%" -T "DATE=%year%" -T "TRACKNUMBER=%tracknr%" -T "GENRE=%genre%" -T "COMMENT=%comment%" -T "BAND=%albuminterpret%" -T "ALBUMARTIST=%albuminterpret%" -T "COMPOSER=%composer%" %haslyrics%–tag-from-file=LYRICS="%lyricsfile%"%haslyrics% -T "DISCNUMBER=%cdnumber%" -T "TOTALDISCS=%totalcds%" -T "TOTALTRACKS=%numtracks%" %hascover%–picture="%coverfile%"%hascover% %source% -o %dest%


TOC of the extracted CD

Track | Start | Length | Start sector | End sector
––––––––––––––––––––––––––––-
1 | 0:00.33 | 2:00.72 | 33 | 9104
2 | 2:01.30 | 2:35.35 | 9105 | 20764
3 | 4:36.65 | 1:58.43 | 20765 | 29657
4 | 6:35.33 | 1:36.27 | 29658 | 36884
5 | 8:11.60 | 1:49.53 | 36885 | 45112
6 | 10:01.38 | 3:40.50 | 45113 | 61662
7 | 13:42.13 | 2:21.70 | 61663 | 72307
8 | 16:04.08 | 6:01.55 | 72308 | 99437
9 | 22:05.63 | 6:31.32 | 99438 | 128794
10 | 28:37.20 | 5:12.13 | 128795 | 152207
11 | 33:49.33 | 7:46.07 | 152208 | 187164
12 | 41:35.40 | 7:55.23 | 187165 | 222812
13 | 49:30.63 | 5:03.45 | 222813 | 245582
14 | 54:34.33 | 5:51.67 | 245583 | 271974
15 | 60:26.25 | 10:30.58 | 271975 | 319282
16 | 70:57.08 | 4:51.47 | 319283 | 341154


Range status and errors

Selected range

Filename C:\EACRip\JOAQUIN RODRIGO EDITION (Brilliant Classics, 21CDs) (2013)\CD 02 - Concertos & Orchestral (2)\Joaquin Rodrigo Edition (CD 02) Concertos & Orchestral (2) - Enrique Batiz.wav

Peak level 81.5 %
Extraction speed 5.1 X
Range quality 99.8 %
Test CRC E6C63F48
Copy CRC E6C63F48
Copy OK

No errors occurred


AccurateRip summary

Track 1 accurately ripped (confidence 4) [00B4396F] (AR v2)
Track 2 accurately ripped (confidence 4) [F9C90D1D] (AR v2)
Track 3 accurately ripped (confidence 4) [D5ACA9F1] (AR v2)
Track 4 accurately ripped (confidence 4) [BA8D5B36] (AR v2)
Track 5 accurately ripped (confidence 4) [40A7AF92] (AR v2)
Track 6 accurately ripped (confidence 4) [CC84A68F] (AR v2)
Track 7 accurately ripped (confidence 4) [9822D04D] (AR v2)
Track 8 accurately ripped (confidence 4) [698F7806] (AR v2)
Track 9 accurately ripped (confidence 4) [4F8CF8E5] (AR v2)
Track 10 accurately ripped (confidence 4) [373A7430] (AR v2)
Track 11 accurately ripped (confidence 4) [604BCF26] (AR v2)
Track 12 accurately ripped (confidence 4) [6EFC9F3F] (AR v2)
Track 13 accurately ripped (confidence 4) [AE36AE6A] (AR v2)
Track 14 accurately ripped (confidence 4) [4634238D] (AR v2)
Track 15 accurately ripped (confidence 4) [101E3D35] (AR v2)
Track 16 accurately ripped (confidence 5) [B9385905] (AR v2)

All tracks accurately ripped

End of status report

–– CUETools DB Plugin V2.1.6

[CTDB TOCID: oZPjeJsSEjUyiLReFjj6oaC2b7Q-] found
Submit result: already submitted
Track | CTDB Status
1 | (40/40) Accurately ripped
2 | (38/40) Accurately ripped
3 | (39/40) Accurately ripped
4 | (39/40) Accurately ripped
5 | (39/40) Accurately ripped
6 | (39/40) Accurately ripped
7 | (39/40) Accurately ripped
8 | (39/40) Accurately ripped
9 | (39/40) Accurately ripped
10 | (21/40) Accurately ripped, or (8/40) differs in 1 samples @05:04:34, or (3/40) differs in 1 samples @05:04:35
11 | (37/40) Accurately ripped
12 | (37/40) Accurately ripped
13 | (39/40) Accurately ripped
14 | (38/40) Accurately ripped
15 | (23/40) Accurately ripped, or (8/40) differs in 20 samples @09:14:35, or (3/40) differs in 20 samples @09:14:35
16 | (23/40) Accurately ripped, or (8/40) differs in 4 samples @04:44:52, or (3/40) differs in 4 samples @04:44:52


==== Log checksum C499717CAFAC16F48A539CE22B2CB0FE99ECD42FC42CEFBF7DCB02C07A725ECC ====


Exact Audio Copy V1.3 from 2. September 2016

EAC extraction logfile from 25. July 2019, 14:44

Alfonso Moreno, Minerva Garibay, Cecilia Lopez, Jesus Ruiz, Robert Cohen; Enrique Bátiz / Joaquin Rodrigo Edition (CD 03) Concertos & Orchestral (3)

Used drive : ATAPI iHAS124 F Adapter: 1 ID: 0

Read mode : Secure
Utilize accurate stream : Yes
Defeat audio cache : Yes
Make use of C2 pointers : No

Read offset correction : 6
Overread into Lead-In and Lead-Out : No
Fill up missing offset samples with silence : Yes
Delete leading and trailing silent blocks : No
Null samples used in CRC calculations : Yes
Used interface : Native Win32 interface for Win NT & 2000

Used output format : User Defined Encoder
Selected bitrate : 1024 kBit/s
Quality : High
Add ID3 tag : No
Command line compressor : C:\Program Files (x86)\Exact Audio Copy\FLAC\FLAC.EXE
Additional command line options : -6 -V -T "ARTIST=%artist%" -T "TITLE=%title%" -T "ALBUM=%albumtitle%" -T "DATE=%year%" -T "TRACKNUMBER=%tracknr%" -T "GENRE=%genre%" -T "COMMENT=%comment%" -T "BAND=%albuminterpret%" -T "ALBUMARTIST=%albuminterpret%" -T "COMPOSER=%composer%" %haslyrics%–tag-from-file=LYRICS="%lyricsfile%"%haslyrics% -T "DISCNUMBER=%cdnumber%" -T "TOTALDISCS=%totalcds%" -T "TOTALTRACKS=%numtracks%" %hascover%–picture="%coverfile%"%hascover% %source% -o %dest%


TOC of the extracted CD

Track | Start | Length | Start sector | End sector
––––––––––––––––––––––––––––-
1 | 0:00.33 | 4:31.72 | 33 | 20429
2 | 4:32.30 | 4:02.40 | 20430 | 38619
3 | 8:34.70 | 4:44.33 | 38620 | 59952
4 | 13:19.28 | 2:03.35 | 59953 | 69212
5 | 15:22.63 | 5:03.42 | 69213 | 91979
6 | 20:26.30 | 8:42.30 | 91980 | 131159
7 | 29:08.60 | 10:59.00 | 131160 | 180584
8 | 40:07.60 | 6:29.45 | 180585 | 209804
9 | 46:37.30 | 10:21.43 | 209805 | 256422
10 | 56:58.73 | 9:01.70 | 256423 | 297067
11 | 66:00.68 | 6:23.32 | 297068 | 325824


Range status and errors

Selected range

Filename C:\EACRip\JOAQUIN RODRIGO EDITION (Brilliant Classics, 21CDs) (2013)\CD 03 - Concertos & Orchestral (3)\Joaquin Rodrigo Edition (CD 03) Concertos & Orchestral (3) - Enrique Batiz.wav

Peak level 99.6 %
Extraction speed 5.1 X
Range quality 100.0 %
Test CRC 7D32DBE0
Copy CRC 7D32DBE0
Copy OK

No errors occurred


AccurateRip summary

Track 1 accurately ripped (confidence 5) [2FADE734] (AR v2)
Track 2 accurately ripped (confidence 5) [4C0E2B2D] (AR v2)
Track 3 accurately ripped (confidence 5) [E5E31BFC] (AR v2)
Track 4 accurately ripped (confidence 5) [7DBD7BFC] (AR v2)
Track 5 accurately ripped (confidence 5) [0D76132A] (AR v2)
Track 6 accurately ripped (confidence 5) [27A3A6A6] (AR v2)
Track 7 accurately ripped (confidence 5) [465D08FD] (AR v2)
Track 8 accurately ripped (confidence 5) [CB27A45B] (AR v2)
Track 9 accurately ripped (confidence 5) [BB5E279D] (AR v2)
Track 10 accurately ripped (confidence 5) [C492B909] (AR v2)
Track 11 accurately ripped (confidence 5) [27590575] (AR v2)

All tracks accurately ripped

End of status report

–– CUETools DB Plugin V2.1.6

[CTDB TOCID: JVpoXP96oMEFgCMV0nc_ufdhJDg-] found
Submit result: JVpoXP96oMEFgCMV0nc_ufdhJDg- has been confirmed
Track | CTDB Status
1 | (39/39) Accurately ripped
2 | (38/39) Accurately ripped
3 | (37/39) Accurately ripped
4 | (38/39) Accurately ripped
5 | (38/39) Accurately ripped
6 | (39/39) Accurately ripped
7 | (38/39) Accurately ripped
8 | (38/39) Accurately ripped
9 | (39/39) Accurately ripped
10 | (39/39) Accurately ripped
11 | (22/39) Accurately ripped, or (15/39) differs in 20 samples @00:15:16


==== Log checksum 249C3CCC29F6A50743DCA9B78B628839B81F591AA3DAA2E3D41218D744970065 ====


Exact Audio Copy V1.3 from 2. September 2016

EAC extraction logfile from 25. July 2019, 15:18

Enrique Bátiz / Joaquin Rodrigo Edition (CD 04) Concertos & Orchestral (4)

Used drive : ATAPI iHAS124 F Adapter: 1 ID: 0

Read mode : Secure
Utilize accurate stream : Yes
Defeat audio cache : Yes
Make use of C2 pointers : No

Read offset correction : 6
Overread into Lead-In and Lead-Out : No
Fill up missing offset samples with silence : Yes
Delete leading and trailing silent blocks : No
Null samples used in CRC calculations : Yes
Used interface : Native Win32 interface for Win NT & 2000

Used output format : User Defined Encoder
Selected bitrate : 1024 kBit/s
Quality : High
Add ID3 tag : No
Command line compressor : C:\Program Files (x86)\Exact Audio Copy\FLAC\FLAC.EXE
Additional command line options : -6 -V -T "ARTIST=%artist%" -T "TITLE=%title%" -T "ALBUM=%albumtitle%" -T "DATE=%year%" -T "TRACKNUMBER=%tracknr%" -T "GENRE=%genre%" -T "COMMENT=%comment%" -T "BAND=%albuminterpret%" -T "ALBUMARTIST=%albuminterpret%" -T "COMPOSER=%composer%" %haslyrics%–tag-from-file=LYRICS="%lyricsfile%"%haslyrics% -T "DISCNUMBER=%cdnumber%" -T "TOTALDISCS=%totalcds%" -T "TOTALTRACKS=%numtracks%" %hascover%–picture="%coverfile%"%hascover% %source% -o %dest%


TOC of the extracted CD

Track | Start | Length | Start sector | End sector
––––––––––––––––––––––––––––-
1 | 0:00.33 | 20:04.55 | 33 | 90387
2 | 20:05.13 | 11:26.67 | 90388 | 141904
3 | 31:32.05 | 13:59.40 | 141905 | 204869
4 | 45:31.45 | 9:29.43 | 204870 | 247587
5 | 55:01.13 | 1:34.72 | 247588 | 254709
6 | 56:36.10 | 3:27.00 | 254710 | 270234
7 | 60:03.10 | 1:54.58 | 270235 | 278842
8 | 61:57.68 | 2:55.15 | 278843 | 291982
9 | 64:53.08 | 2:52.40 | 291983 | 304922
10 | 67:45.48 | 6:33.12 | 304923 | 334409
11 | 74:18.60 | 3:02.65 | 334410 | 348124


Range status and errors

Selected range

Filename C:\EACRip\JOAQUIN RODRIGO EDITION (Brilliant Classics, 21CDs) (2013)\CD 04 - Concertos & Orchestral (4)\Joaquin Rodrigo Edition (CD 04) Concertos & Orchestral (4) - Enrique Batiz.wav

Peak level 97.7 %
Extraction speed 6.9 X
Range quality 100.0 %
Test CRC CEF32D98
Copy CRC CEF32D98
Copy OK

No errors occurred


AccurateRip summary

Track 1 accurately ripped (confidence 4) [E1D8E8F8] (AR v2)
Track 2 accurately ripped (confidence 4) [59BA2FA0] (AR v2)
Track 3 accurately ripped (confidence 4) [4B22A5E2] (AR v2)
Track 4 accurately ripped (confidence 4) [E80FAE90] (AR v2)
Track 5 accurately ripped (confidence 4) [FD3CA5D3] (AR v2)
Track 6 accurately ripped (confidence 4) [BF62B926] (AR v2)
Track 7 accurately ripped (confidence 4) [A1452489] (AR v2)
Track 8 accurately ripped (confidence 4) [468AB61B] (AR v2)
Track 9 accurately ripped (confidence 4) [A1961E47] (AR v2)
Track 10 accurately ripped (confidence 4) [3159D61F] (AR v2)
Track 11 accurately ripped (confidence 4) [725314C9] (AR v2)

All tracks accurately ripped

End of status report

–– CUETools DB Plugin V2.1.6

[CTDB TOCID: SQch1Y1YPzWfqQwVWrq6HM43mWw-] found
Submit result: SQch1Y1YPzWfqQwVWrq6HM43mWw- has been confirmed
Track | CTDB Status
1 | (34/34) Accurately ripped
2 | (34/34) Accurately ripped
3 | (33/34) Accurately ripped
4 | (34/34) Accurately ripped
5 | (34/34) Accurately ripped
6 | (34/34) Accurately ripped
7 | (33/34) Accurately ripped
8 | (34/34) Accurately ripped
9 | (33/34) Accurately ripped
10 | (32/34) Accurately ripped
11 | (34/34) Accurately ripped


==== Log checksum 1CCFD537849F7C040E8F80A0A63124B5C8A86F16378968A53178EC0022BC608A ====


Exact Audio Copy V1.3 from 2. September 2016

EAC extraction logfile from 25. July 2019, 16:11

Rafael Jimenez, Luis A. Cansino, Ieuan Jones; Enrique Bátiz / Joaquin Rodrigo Edition (CD 05) Concertos & Orchestral (5)

Used drive : ATAPI iHAS124 F Adapter: 1 ID: 0

Read mode : Secure
Utilize accurate stream : Yes
Defeat audio cache : Yes
Make use of C2 pointers : No

Read offset correction : 6
Overread into Lead-In and Lead-Out : No
Fill up missing offset samples with silence : Yes
Delete leading and trailing silent blocks : No
Null samples used in CRC calculations : Yes
Used interface : Native Win32 interface for Win NT & 2000

Used output format : User Defined Encoder
Selected bitrate : 1024 kBit/s
Quality : High
Add ID3 tag : No
Command line compressor : C:\Program Files (x86)\Exact Audio Copy\FLAC\FLAC.EXE
Additional command line options : -6 -V -T "ARTIST=%artist%" -T "TITLE=%title%" -T "ALBUM=%albumtitle%" -T "DATE=%year%" -T "TRACKNUMBER=%tracknr%" -T "GENRE=%genre%" -T "COMMENT=%comment%" -T "BAND=%albuminterpret%" -T "ALBUMARTIST=%albuminterpret%" -T "COMPOSER=%composer%" %haslyrics%–tag-from-file=LYRICS="%lyricsfile%"%haslyrics% -T "DISCNUMBER=%cdnumber%" -T "TOTALDISCS=%totalcds%" -T "TOTALTRACKS=%numtracks%" %hascover%–picture="%coverfile%"%hascover% %source% -o %dest%


TOC of the extracted CD

Track | Start | Length | Start sector | End sector
––––––––––––––––––––––––––––-
1 | 0:00.00 | 1:33.20 | 0 | 6994
2 | 1:33.20 | 5:05.30 | 6995 | 29899
3 | 6:38.50 | 3:36.22 | 29900 | 46121
4 | 10:14.72 | 3:21.10 | 46122 | 61206
5 | 13:36.07 | 2:49.50 | 61207 | 73931
6 | 16:25.57 | 3:51.20 | 73932 | 91276
7 | 20:17.02 | 2:39.45 | 91277 | 103246
8 | 22:56.47 | 3:25.60 | 103247 | 118681
9 | 26:22.32 | 0:55.30 | 118682 | 122836
10 | 27:17.62 | 2:24.45 | 122837 | 133681
11 | 29:42.32 | 2:00.08 | 133682 | 142689
12 | 31:42.40 | 5:21.22 | 142690 | 166786
13 | 37:03.62 | 3:29.00 | 166787 | 182461
14 | 40:32.62 | 1:46.65 | 182462 | 190476
15 | 42:19.52 | 5:05.62 | 190477 | 213413
16 | 47:25.39 | 4:00.00 | 213414 | 231413
17 | 51:25.39 | 3:50.64 | 231414 | 248727
18 | 55:16.28 | 5:06.35 | 248728 | 271712
19 | 60:22.63 | 2:22.52 | 271713 | 282414
20 | 62:45.40 | 2:20.51 | 282415 | 292965
21 | 65:06.16 | 8:23.16 | 292966 | 330706


Range status and errors

Selected range

Filename C:\EACRip\JOAQUIN RODRIGO EDITION (Brilliant Classics, 21CDs) (2013)\CD 05 - Concertos & Orchestral (5)\Joaquin Rodrigo Edition (CD 05) Concertos & Orchestral (5) - Enrique Batiz.wav

Peak level 100.0 %
Extraction speed 8.2 X
Range quality 100.0 %
Test CRC 899B638A
Copy CRC 899B638A
Copy OK

No errors occurred


AccurateRip summary

Track 1 accurately ripped (confidence 4) [EA3F613B] (AR v2)
Track 2 accurately ripped (confidence 4) [0A28BC56] (AR v2)
Track 3 accurately ripped (confidence 4) [F3DBCB8F] (AR v2)
Track 4 accurately ripped (confidence 4) [F3C46872] (AR v2)
Track 5 accurately ripped (confidence 4) [CD272F2F] (AR v2)
Track 6 accurately ripped (confidence 4) [FA97EEF4] (AR v2)
Track 7 accurately ripped (confidence 4) [5D31BAF8] (AR v2)
Track 8 accurately ripped (confidence 4) [01C1BED5] (AR v2)
Track 9 accurately ripped (confidence 4) [2F45BB9D] (AR v2)
Track 10 accurately ripped (confidence 4) [7FEE0B81] (AR v2)
Track 11 accurately ripped (confidence 4) [4C0DFA18] (AR v2)
Track 12 accurately ripped (confidence 4) [76D1F136] (AR v2)
Track 13 accurately ripped (confidence 4) [272BED0C] (AR v2)
Track 14 accurately ripped (confidence 4) [3442A1C9] (AR v2)
Track 15 accurately ripped (confidence 4) [8DFEBD79] (AR v2)
Track 16 accurately ripped (confidence 4) [1B6B8003] (AR v2)
Track 17 accurately ripped (confidence 4) [9349DE9C] (AR v2)
Track 18 accurately ripped (confidence 4) [89AA8778] (AR v2)
Track 19 accurately ripped (confidence 4) [5AE29064] (AR v2)
Track 20 accurately ripped (confidence 4) [184181B4] (AR v2)
Track 21 accurately ripped (confidence 4) [844BA039] (AR v2)

All tracks accurately ripped

End of status report

–– CUETools DB Plugin V2.1.6

[CTDB TOCID: ZiiXVoBHkOQQPoAA3X3c.hGzN5g-] found
Submit result: ZiiXVoBHkOQQPoAA3X3c.hGzN5g- has been confirmed
Track | CTDB Status
1 | (8/8) Accurately ripped
2 | (8/8) Accurately ripped
3 | (8/8) Accurately ripped
4 | (8/8) Accurately ripped
5 | (8/8) Accurately ripped
6 | (8/8) Accurately ripped
7 | (8/8) Accurately ripped
8 | (8/8) Accurately ripped
9 | (8/8) Accurately ripped
10 | (8/8) Accurately ripped
11 | (8/8) Accurately ripped
12 | (8/8) Accurately ripped
13 | (8/8) Accurately ripped
14 | (8/8) Accurately ripped
15 | (8/8) Accurately ripped
16 | (8/8) Accurately ripped
17 | (8/8) Accurately ripped
18 | (8/8) Accurately ripped
19 | (8/8) Accurately ripped
20 | (8/8) Accurately ripped
21 | (8/8) Accurately ripped


==== Log checksum 21F28C305EE9469A35E57068D235ED1BAD322B37F92F630E3A9F3D75363726AD ====


Exact Audio Copy V1.3 from 2. September 2016

EAC extraction logfile from 25. July 2019, 17:36

Antoni Ros Marba / Joaquin Rodrigo Edition (CD 06) Concertos & Orchestral (6)

Used drive : ATAPI iHAS124 F Adapter: 1 ID: 0

Read mode : Secure
Utilize accurate stream : Yes
Defeat audio cache : Yes
Make use of C2 pointers : No

Read offset correction : 6
Overread into Lead-In and Lead-Out : No
Fill up missing offset samples with silence : Yes
Delete leading and trailing silent blocks : No
Null samples used in CRC calculations : Yes
Used interface : Native Win32 interface for Win NT & 2000

Used output format : User Defined Encoder
Selected bitrate : 1024 kBit/s
Quality : High
Add ID3 tag : No
Command line compressor : C:\Program Files (x86)\Exact Audio Copy\FLAC\FLAC.EXE
Additional command line options : -6 -V -T "ARTIST=%artist%" -T "TITLE=%title%" -T "ALBUM=%albumtitle%" -T "DATE=%year%" -T "TRACKNUMBER=%tracknr%" -T "GENRE=%genre%" -T "COMMENT=%comment%" -T "BAND=%albuminterpret%" -T "ALBUMARTIST=%albuminterpret%" -T "COMPOSER=%composer%" %haslyrics%–tag-from-file=LYRICS="%lyricsfile%"%haslyrics% -T "DISCNUMBER=%cdnumber%" -T "TOTALDISCS=%totalcds%" -T "TOTALTRACKS=%numtracks%" %hascover%–picture="%coverfile%"%hascover% %source% -o %dest%


TOC of the extracted CD

Track | Start | Length | Start sector | End sector
––––––––––––––––––––––––––––-
1 | 0:00.00 | 5:41.58 | 0 | 25632
2 | 5:41.58 | 4:58.70 | 25633 | 48052
3 | 10:40.53 | 4:11.12 | 48053 | 66889
4 | 14:51.65 | 5:44.56 | 66890 | 92745
5 | 20:36.46 | 3:35.22 | 92746 | 108892
6 | 24:11.68 | 4:06.57 | 108893 | 127399
7 | 28:18.50 | 5:27.62 | 127400 | 151986
8 | 33:46.37 | 5:02.26 | 151987 | 174662
9 | 38:48.63 | 5:15.67 | 174663 | 198354
10 | 44:04.55 | 6:59.00 | 198355 | 229779


Range status and errors

Selected range

Filename C:\EACRip\JOAQUIN RODRIGO EDITION (Brilliant Classics, 21CDs) (2013)\CD 06 - Concertos & Orchestral (6)\Joaquin Rodrigo Edition (CD 06) Concertos & Orchestral (6) - Antoni Ros Marba.wav

Peak level 89.9 %
Extraction speed 8.5 X
Range quality 100.0 %
Test CRC 798B6BBB
Copy CRC 798B6BBB
Copy OK

No errors occurred


AccurateRip summary

Track 1 accurately ripped (confidence 5) [828D73CA] (AR v2)
Track 2 accurately ripped (confidence 5) [0F5414AA] (AR v2)
Track 3 accurately ripped (confidence 5) [3C649F71] (AR v2)
Track 4 accurately ripped (confidence 5) [30D8BC83] (AR v2)
Track 5 accurately ripped (confidence 5) [37073CFF] (AR v2)
Track 6 accurately ripped (confidence 5) [925E3CD2] (AR v2)
Track 7 accurately ripped (confidence 5) [48914886] (AR v2)
Track 8 accurately ripped (confidence 5) [071EF6A4] (AR v2)
Track 9 accurately ripped (confidence 5) [48F9B4BA] (AR v2)
Track 10 accurately ripped (confidence 5) [CB12D265] (AR v2)

All tracks accurately ripped

End of status report

–– CUETools DB Plugin V2.1.6

[CTDB TOCID: KjAplWnLiPtI38gPyCgOlmC8GXE-] found
Submit result: KjAplWnLiPtI38gPyCgOlmC8GXE- has been confirmed
Track | CTDB Status
1 | (7/7) Accurately ripped
2 | (7/7) Accurately ripped
3 | (7/7) Accurately ripped
4 | (7/7) Accurately ripped
5 | (7/7) Accurately ripped
6 | (7/7) Accurately ripped
7 | (7/7) Accurately ripped
8 | (7/7) Accurately ripped
9 | (7/7) Accurately ripped
10 | (7/7) Accurately ripped


==== Log checksum 0AD7F54938E3DF318EED7319071DCA6B74F7A633E6E193C71AF90E60E2A88516 ====


Exact Audio Copy V1.3 from 2. September 2016

EAC extraction logfile from 25. July 2019, 18:14

Various Artists / Joaquin Rodrigo Edition (CD 07) Chamber

Used drive : ATAPI iHAS124 F Adapter: 1 ID: 0

Read mode : Secure
Utilize accurate stream : Yes
Defeat audio cache : Yes
Make use of C2 pointers : No

Read offset correction : 6
Overread into Lead-In and Lead-Out : No
Fill up missing offset samples with silence : Yes
Delete leading and trailing silent blocks : No
Null samples used in CRC calculations : Yes
Used interface : Native Win32 interface for Win NT & 2000

Used output format : User Defined Encoder
Selected bitrate : 1024 kBit/s
Quality : High
Add ID3 tag : No
Command line compressor : C:\Program Files (x86)\Exact Audio Copy\FLAC\FLAC.EXE
Additional command line options : -6 -V -T "ARTIST=%artist%" -T "TITLE=%title%" -T "ALBUM=%albumtitle%" -T "DATE=%year%" -T "TRACKNUMBER=%tracknr%" -T "GENRE=%genre%" -T "COMMENT=%comment%" -T "BAND=%albuminterpret%" -T "ALBUMARTIST=%albuminterpret%" -T "COMPOSER=%composer%" %haslyrics%–tag-from-file=LYRICS="%lyricsfile%"%haslyrics% -T "DISCNUMBER=%cdnumber%" -T "TOTALDISCS=%totalcds%" -T "TOTALTRACKS=%numtracks%" %hascover%–picture="%coverfile%"%hascover% %source% -o %dest%


TOC of the extracted CD

Track | Start | Length | Start sector | End sector
––––––––––––––––––––––––––––-
1 | 0:00.00 | 4:32.47 | 0 | 20446
2 | 4:32.47 | 2:17.13 | 20447 | 30734
3 | 6:49.60 | 2:28.57 | 30735 | 41891
4 | 9:18.42 | 8:38.22 | 41892 | 80763
5 | 17:56.64 | 10:28.72 | 80764 | 127935
6 | 28:25.61 | 3:23.24 | 127936 | 143184
7 | 31:49.10 | 1:51.52 | 143185 | 151561
8 | 33:40.62 | 3:15.71 | 151562 | 166257
9 | 36:56.58 | 5:00.23 | 166258 | 188780
10 | 41:57.06 | 3:16.49 | 188781 | 203529
11 | 45:13.55 | 2:25.65 | 203530 | 214469
12 | 47:39.45 | 3:49.31 | 214470 | 231675
13 | 51:29.01 | 4:47.51 | 231676 | 253251


Range status and errors

Selected range

Filename C:\EACRip\JOAQUIN RODRIGO EDITION (Brilliant Classics, 21CDs) (2013)\CD 07 - Chamber\Joaquin Rodrigo Edition (CD 07) Chamber.wav

Peak level 95.5 %
Extraction speed 5.9 X
Range quality 99.8 %
Test CRC 61B21C4B
Copy CRC 61B21C4B
Copy OK

No errors occurred


AccurateRip summary

Track 1 accurately ripped (confidence 5) [5ECFBDD0] (AR v2)
Track 2 accurately ripped (confidence 5) [C12ABD15] (AR v2)
Track 3 accurately ripped (confidence 5) [69E55D07] (AR v2)
Track 4 accurately ripped (confidence 5) [852740BF] (AR v2)
Track 5 accurately ripped (confidence 5) [FB7698D9] (AR v2)
Track 6 accurately ripped (confidence 5) [AE358E72] (AR v2)
Track 7 accurately ripped (confidence 5) [92733282] (AR v2)
Track 8 accurately ripped (confidence 5) [556F71E3] (AR v2)
Track 9 accurately ripped (confidence 5) [AE5E4D6C] (AR v2)
Track 10 accurately ripped (confidence 5) [6DC3444D] (AR v2)
Track 11 accurately ripped (confidence 5) [3805DD39] (AR v2)
Track 12 accurately ripped (confidence 5) [AE60BF4C] (AR v2)
Track 13 accurately ripped (confidence 5) [B7E482C2] (AR v2)

All tracks accurately ripped

End of status report

–– CUETools DB Plugin V2.1.6

[CTDB TOCID: 3kp1EaNp9MiRX.5HENy.iBwLUpk-] found
Submit result: 3kp1EaNp9MiRX.5HENy.iBwLUpk- has been confirmed
Track | CTDB Status
1 | (8/8) Accurately ripped
2 | (8/8) Accurately ripped
3 | (8/8) Accurately ripped
4 | (8/8) Accurately ripped
5 | (8/8) Accurately ripped
6 | (8/8) Accurately ripped
7 | (8/8) Accurately ripped
8 | (8/8) Accurately ripped
9 | (8/8) Accurately ripped
10 | (8/8) Accurately ripped
11 | (8/8) Accurately ripped
12 | (8/8) Accurately ripped
13 | (7/8) Accurately ripped


==== Log checksum D9DBAD1E114F61C381CE6301D727CC6D70F74BB35DB743FF4DD4C46664F5D676 ====


Exact Audio Copy V1.3 from 2. September 2016

EAC extraction logfile from 25. July 2019, 18:48

Augustin Leon Ara, Eugene de Canck / Joaquin Rodrigo Edition (CD 08) Violin Music

Used drive : ATAPI iHAS124 F Adapter: 1 ID: 0

Read mode : Secure
Utilize accurate stream : Yes
Defeat audio cache : Yes
Make use of C2 pointers : No

Read offset correction : 6
Overread into Lead-In and Lead-Out : No
Fill up missing offset samples with silence : Yes
Delete leading and trailing silent blocks : No
Null samples used in CRC calculations : Yes
Used interface : Native Win32 interface for Win NT & 2000

Used output format : User Defined Encoder
Selected bitrate : 1024 kBit/s
Quality : High
Add ID3 tag : No
Command line compressor : C:\Program Files (x86)\Exact Audio Copy\FLAC\FLAC.EXE
Additional command line options : -6 -V -T "ARTIST=%artist%" -T "TITLE=%title%" -T "ALBUM=%albumtitle%" -T "DATE=%year%" -T "TRACKNUMBER=%tracknr%" -T "GENRE=%genre%" -T "COMMENT=%comment%" -T "BAND=%albuminterpret%" -T "ALBUMARTIST=%albuminterpret%" -T "COMPOSER=%composer%" %haslyrics%–tag-from-file=LYRICS="%lyricsfile%"%haslyrics% -T "DISCNUMBER=%cdnumber%" -T "TOTALDISCS=%totalcds%" -T "TOTALTRACKS=%numtracks%" %hascover%–picture="%coverfile%"%hascover% %source% -o %dest%


TOC of the extracted CD

Track | Start | Length | Start sector | End sector
––––––––––––––––––––––––––––-
1 | 0:00.00 | 4:15.07 | 0 | 19131
2 | 4:15.07 | 1:16.37 | 19132 | 24868
3 | 5:31.44 | 6:10.37 | 24869 | 52655
4 | 11:42.06 | 7:38.27 | 52656 | 87032
5 | 19:20.33 | 2:58.34 | 87033 | 100416
6 | 22:18.67 | 2:13.37 | 100417 | 110428
7 | 24:32.29 | 1:35.70 | 110429 | 117623
8 | 26:08.24 | 4:46.42 | 117624 | 139115
9 | 30:54.66 | 1:49.44 | 139116 | 147334
10 | 32:44.35 | 3:12.65 | 147335 | 161799
11 | 35:57.25 | 2:04.47 | 161800 | 171146
12 | 38:01.72 | 6:00.34 | 171147 | 198180
13 | 44:02.31 | 7:22.32 | 198181 | 231362
14 | 51:24.63 | 3:49.55 | 231363 | 248592


Range status and errors

Selected range

Filename C:\EACRip\JOAQUIN RODRIGO EDITION (Brilliant Classics, 21CDs) (2013)\CD 08 - Violin\Joaquin Rodrigo Edition (CD 08) Violin Music.wav

Peak level 87.6 %
Extraction speed 8.7 X
Range quality 100.0 %
Test CRC BF68F66A
Copy CRC BF68F66A
Copy OK

No errors occurred


AccurateRip summary

Track 1 accurately ripped (confidence 5) [40A7713B] (AR v2)
Track 2 accurately ripped (confidence 5) [D1981E5E] (AR v2)
Track 3 accurately ripped (confidence 5) [2E08D352] (AR v2)
Track 4 accurately ripped (confidence 5) [2FA55AF7] (AR v2)
Track 5 accurately ripped (confidence 5) [87C13D40] (AR v2)
Track 6 accurately ripped (confidence 5) [554D21A1] (AR v2)
Track 7 accurately ripped (confidence 5) [F99CABCF] (AR v2)
Track 8 accurately ripped (confidence 5) [BC203687] (AR v2)
Track 9 accurately ripped (confidence 5) [86905BF9] (AR v2)
Track 10 accurately ripped (confidence 5) [2632D72D] (AR v2)
Track 11 accurately ripped (confidence 5) [F9E44EF1] (AR v2)
Track 12 accurately ripped (confidence 5) [A637636C] (AR v2)
Track 13 accurately ripped (confidence 5) [E4AED1F4] (AR v2)
Track 14 accurately ripped (confidence 5) [028516AC] (AR v2)

All tracks accurately ripped

End of status report

–– CUETools DB Plugin V2.1.6

[CTDB TOCID: q.nyWAkbS7vf0EtwpJZT2IhPcAM-] found
Submit result: q.nyWAkbS7vf0EtwpJZT2IhPcAM- has been confirmed
Track | CTDB Status
1 | ( 9/10) Accurately ripped
2 | ( 9/10) Accurately ripped
3 | ( 9/10) Accurately ripped
4 | ( 9/10) Accurately ripped
5 | ( 9/10) Accurately ripped
6 | ( 9/10) Accurately ripped
7 | ( 9/10) Accurately ripped
8 | ( 9/10) Accurately ripped
9 | ( 9/10) Accurately ripped
10 | ( 9/10) Accurately ripped
11 | ( 9/10) Accurately ripped
12 | ( 9/10) Accurately ripped
13 | ( 9/10) Accurately ripped
14 | ( 9/10) Accurately ripped


==== Log checksum 100EF3F1472B3A6BC19EAB87FE8B4BDE2CE96B230ECCF1468058C5EB3F62513F ====


Exact Audio Copy V1.3 from 2. September 2016

EAC extraction logfile from 25. July 2019, 21:42

Albert Guinovart / Joaquin Rodrigo Edition (CD 09) Piano Music (1)

Used drive : ATAPI iHAS124 F Adapter: 1 ID: 0

Read mode : Secure
Utilize accurate stream : Yes
Defeat audio cache : Yes
Make use of C2 pointers : No

Read offset correction : 6
Overread into Lead-In and Lead-Out : No
Fill up missing offset samples with silence : Yes
Delete leading and trailing silent blocks : No
Null samples used in CRC calculations : Yes
Used interface : Native Win32 interface for Win NT & 2000

Used output format : User Defined Encoder
Selected bitrate : 1024 kBit/s
Quality : High
Add ID3 tag : No
Command line compressor : C:\Program Files (x86)\Exact Audio Copy\FLAC\FLAC.EXE
Additional command line options : -6 -V -T "ARTIST=%artist%" -T "TITLE=%title%" -T "ALBUM=%albumtitle%" -T "DATE=%year%" -T "TRACKNUMBER=%tracknr%" -T "GENRE=%genre%" -T "COMMENT=%comment%" -T "BAND=%albuminterpret%" -T "ALBUMARTIST=%albuminterpret%" -T "COMPOSER=%composer%" %haslyrics%–tag-from-file=LYRICS="%lyricsfile%"%haslyrics% -T "DISCNUMBER=%cdnumber%" -T "TOTALDISCS=%totalcds%" -T "TOTALTRACKS=%numtracks%" %hascover%–picture="%coverfile%"%hascover% %source% -o %dest%


TOC of the extracted CD

Track | Start | Length | Start sector | End sector
––––––––––––––––––––––––––––-
1 | 0:00.00 | 4:22.32 | 0 | 19681
2 | 4:22.32 | 4:11.57 | 19682 | 38563
3 | 8:34.14 | 3:04.30 | 38564 | 52393
4 | 11:38.44 | 1:45.68 | 52394 | 60336
5 | 13:24.37 | 4:07.18 | 60337 | 78879
6 | 17:31.55 | 4:38.16 | 78880 | 99745
7 | 22:09.71 | 3:50.12 | 99746 | 117007
8 | 26:00.08 | 1:23.71 | 117008 | 123303
9 | 27:24.04 | 2:38.28 | 123304 | 135181
10 | 30:02.32 | 0:52.28 | 135182 | 139109
11 | 30:54.60 | 1:51.43 | 139110 | 147477
12 | 32:46.28 | 2:12.72 | 147478 | 157449
13 | 34:59.25 | 5:11.01 | 157450 | 180775
14 | 40:10.26 | 2:25.01 | 180776 | 191651
15 | 42:35.27 | 4:12.12 | 191652 | 210563
16 | 46:47.39 | 5:22.37 | 210564 | 234750
17 | 52:10.01 | 3:32.04 | 234751 | 250654
18 | 55:42.05 | 4:36.36 | 250655 | 271390
19 | 60:18.41 | 3:37.63 | 271391 | 287728
20 | 63:56.29 | 0:37.01 | 287729 | 290504
21 | 64:33.30 | 1:06.50 | 290505 | 295504
22 | 65:40.05 | 1:11.10 | 295505 | 300839
23 | 66:51.15 | 0:43.61 | 300840 | 304125
24 | 67:35.01 | 1:45.59 | 304126 | 312059
25 | 69:20.60 | 1:16.02 | 312060 | 317761


Range status and errors

Selected range

Filename C:\EACRip\JOAQUIN RODRIGO EDITION (Brilliant Classics, 21CDs) (2013)\CD 09 - Piano (1)\Joaquin Rodrigo Edition (CD 09) Piano Music (1) - Albert Guinovart.wav

Peak level 95.3 %
Extraction speed 9.6 X
Range quality 100.0 %
Test CRC CF7F9EFF
Copy CRC CF7F9EFF
Copy OK

No errors occurred


AccurateRip summary

Track 1 accurately ripped (confidence 5) [3CC1A562] (AR v2)
Track 2 accurately ripped (confidence 5) [93F1AE4C] (AR v2)
Track 3 accurately ripped (confidence 5) [91EC9E5A] (AR v2)
Track 4 accurately ripped (confidence 5) [F0196E0F] (AR v2)
Track 5 accurately ripped (confidence 5) [1BE81213] (AR v2)
Track 6 accurately ripped (confidence 5) [F32DA8DB] (AR v2)
Track 7 accurately ripped (confidence 5) [177977AA] (AR v2)
Track 8 accurately ripped (confidence 5) [3048D268] (AR v2)
Track 9 accurately ripped (confidence 5) [C1734C69] (AR v2)
Track 10 accurately ripped (confidence 5) [41CEC99D] (AR v2)
Track 11 accurately ripped (confidence 5) [D4EE5C4A] (AR v2)
Track 12 accurately ripped (confidence 5) [AE708798] (AR v2)
Track 13 accurately ripped (confidence 5) [52D5D3FA] (AR v2)
Track 14 accurately ripped (confidence 5) [8B8A0B58] (AR v2)
Track 15 accurately ripped (confidence 5) [D8B4EEA3] (AR v2)
Track 16 accurately ripped (confidence 5) [B4B95CAB] (AR v2)
Track 17 accurately ripped (confidence 5) [7B22CE6F] (AR v2)
Track 18 accurately ripped (confidence 5) [5B744D4F] (AR v2)
Track 19 accurately ripped (confidence 5) [81934FAB] (AR v2)
Track 20 accurately ripped (confidence 5) [4E90A0DC] (AR v2)
Track 21 accurately ripped (confidence 5) [31477127] (AR v2)
Track 22 accurately ripped (confidence 5) [2CD71F28] (AR v2)
Track 23 accurately ripped (confidence 5) [EF35ECE2] (AR v2)
Track 24 accurately ripped (confidence 5) [CDADAC7F] (AR v2)
Track 25 accurately ripped (confidence 5) [D1518BB0] (AR v2)

All tracks accurately ripped

End of status report

–– CUETools DB Plugin V2.1.6

[CTDB TOCID: ML7lIadSWvGYMeTiMhJM4YyTzm8-] found
Submit result: ML7lIadSWvGYMeTiMhJM4YyTzm8- has been confirmed
Track | CTDB Status
1 | (15/15) Accurately ripped
2 | (15/15) Accurately ripped
3 | (15/15) Accurately ripped
4 | (15/15) Accurately ripped
5 | (15/15) Accurately ripped
6 | (15/15) Accurately ripped
7 | (15/15) Accurately ripped
8 | (15/15) Accurately ripped
9 | (15/15) Accurately ripped
10 | (15/15) Accurately ripped
11 | (15/15) Accurately ripped
12 | (15/15) Accurately ripped
13 | (15/15) Accurately ripped
14 | (15/15) Accurately ripped
15 | (15/15) Accurately ripped
16 | (15/15) Accurately ripped
17 | (15/15) Accurately ripped
18 | (15/15) Accurately ripped
19 | (15/15) Accurately ripped
20 | (15/15) Accurately ripped
21 | (15/15) Accurately ripped
22 | (15/15) Accurately ripped
23 | (15/15) Accurately ripped
24 | (15/15) Accurately ripped
25 | (15/15) Accurately ripped


==== Log checksum EDCC2290533804BFB9F5C2F28057A2345FEE5C5F8AAD96E90A85B06FAFE8F073 ====


Exact Audio Copy V1.3 from 2. September 2016

EAC extraction logfile from 25. July 2019, 22:51

Marta Zabaleta / Joaquin Rodrigo Edition (CD 10) Piano Music (2)

Used drive : ATAPI iHAS124 F Adapter: 1 ID: 0

Read mode : Secure
Utilize accurate stream : Yes
Defeat audio cache : Yes
Make use of C2 pointers : No

Read offset correction : 6
Overread into Lead-In and Lead-Out : No
Fill up missing offset samples with silence : Yes
Delete leading and trailing silent blocks : No
Null samples used in CRC calculations : Yes
Used interface : Native Win32 interface for Win NT & 2000

Used output format : User Defined Encoder
Selected bitrate : 1024 kBit/s
Quality : High
Add ID3 tag : No
Command line compressor : C:\Program Files (x86)\Exact Audio Copy\FLAC\FLAC.EXE
Additional command line options : -6 -V -T "ARTIST=%artist%" -T "TITLE=%title%" -T "ALBUM=%albumtitle%" -T "DATE=%year%" -T "TRACKNUMBER=%tracknr%" -T "GENRE=%genre%" -T "COMMENT=%comment%" -T "BAND=%albuminterpret%" -T "ALBUMARTIST=%albuminterpret%" -T "COMPOSER=%composer%" %haslyrics%–tag-from-file=LYRICS="%lyricsfile%"%haslyrics% -T "DISCNUMBER=%cdnumber%" -T "TOTALDISCS=%totalcds%" -T "TOTALTRACKS=%numtracks%" %hascover%–picture="%coverfile%"%hascover% %source% -o %dest%


TOC of the extracted CD

Track | Start | Length | Start sector | End sector
––––––––––––––––––––––––––––-
1 | 0:00.00 | 5:24.68 | 0 | 24367
2 | 5:24.68 | 1:59.18 | 24368 | 33310
3 | 7:24.11 | 3:49.64 | 33311 | 50549
4 | 11:14.00 | 3:56.31 | 50550 | 68280
5 | 15:10.31 | 5:22.38 | 68281 | 92468
6 | 20:32.69 | 3:33.39 | 92469 | 108482
7 | 24:06.33 | 2:06.68 | 108483 | 118000
8 | 26:13.26 | 1:22.74 | 118001 | 124224
9 | 27:36.25 | 3:10.01 | 124225 | 138475
10 | 30:46.26 | 2:11.39 | 138476 | 148339
11 | 32:57.65 | 1:45.11 | 148340 | 156225
12 | 34:43.01 | 1:26.11 | 156226 | 162686
13 | 36:09.12 | 5:03.65 | 162687 | 185476
14 | 41:13.02 | 3:06.49 | 185477 | 199475
15 | 44:19.51 | 3:36.43 | 199476 | 215718
16 | 47:56.19 | 4:52.67 | 215719 | 237685
17 | 52:49.11 | 3:01.42 | 237686 | 251302
18 | 55:50.53 | 3:34.22 | 251303 | 267374
19 | 59:25.00 | 2:27.01 | 267375 | 278400
20 | 61:52.01 | 3:13.03 | 278401 | 292878
21 | 65:05.04 | 1:20.61 | 292879 | 298939
22 | 66:25.65 | 1:46.15 | 298940 | 306904
23 | 68:12.05 | 1:29.35 | 306905 | 313614
24 | 69:41.40 | 2:35.48 | 313615 | 325287


Range status and errors

Selected range

Filename C:\EACRip\JOAQUIN RODRIGO EDITION (Brilliant Classics, 21CDs) (2013)\CD 10 - Piano (2)\Joaquin Rodrigo Edition (CD 10) Piano Music (2) - Marta Zabaleta.wav

Peak level 98.8 %
Extraction speed 9.4 X
Range quality 99.9 %
Test CRC 71AA1EC6
Copy CRC 71AA1EC6
Copy OK

No errors occurred


AccurateRip summary

Track 1 accurately ripped (confidence 4) [BFB0148B] (AR v2)
Track 2 accurately ripped (confidence 4) [1FF83398] (AR v2)
Track 3 accurately ripped (confidence 4) [DBCC864F] (AR v2)
Track 4 accurately ripped (confidence 4) [9DC891F7] (AR v2)
Track 5 accurately ripped (confidence 4) [B0F5A5CB] (AR v2)
Track 6 accurately ripped (confidence 4) [F4E29B06] (AR v2)
Track 7 accurately ripped (confidence 4) [F3592B02] (AR v2)
Track 8 accurately ripped (confidence 4) [052E9A9F] (AR v2)
Track 9 accurately ripped (confidence 4) [25F7A02B] (AR v2)
Track 10 accurately ripped (confidence 4) [6852AA1E] (AR v2)
Track 11 accurately ripped (confidence 4) [AD65C6DC] (AR v2)
Track 12 accurately ripped (confidence 4) [C0B0BE9D] (AR v2)
Track 13 accurately ripped (confidence 4) [999887A3] (AR v2)
Track 14 accurately ripped (confidence 4) [3BBB74DE] (AR v2)
Track 15 accurately ripped (confidence 4) [346C322E] (AR v2)
Track 16 accurately ripped (confidence 4) [70790A85] (AR v2)
Track 17 accurately ripped (confidence 4) [815E39D1] (AR v2)
Track 18 accurately ripped (confidence 4) [D961136B] (AR v2)
Track 19 accurately ripped (confidence 4) [5FB6823D] (AR v2)
Track 20 accurately ripped (confidence 4) [0C7F0522] (AR v2)
Track 21 accurately ripped (confidence 4) [43C77634] (AR v2)
Track 22 accurately ripped (confidence 4) [C412FE99] (AR v2)
Track 23 accurately ripped (confidence 4) [D68DFD0C] (AR v2)
Track 24 accurately ripped (confidence 4) [656CD149] (AR v2)

All tracks accurately ripped

End of status report

–– CUETools DB Plugin V2.1.6

[CTDB TOCID: OH8jEF6GrcpfrT4T4jXGWKT4BGc-] found
Submit result: OH8jEF6GrcpfrT4T4jXGWKT4BGc- has been confirmed
Track | CTDB Status
1 | (13/13) Accurately ripped
2 | (13/13) Accurately ripped
3 | (13/13) Accurately ripped
4 | (13/13) Accurately ripped
5 | (13/13) Accurately ripped
6 | (13/13) Accurately ripped
7 | (13/13) Accurately ripped
8 | (13/13) Accurately ripped
9 | (13/13) Accurately ripped
10 | (13/13) Accurately ripped
11 | (13/13) Accurately ripped
12 | (13/13) Accurately ripped
13 | (13/13) Accurately ripped
14 | (13/13) Accurately ripped
15 | (13/13) Accurately ripped
16 | (13/13) Accurately ripped
17 | (13/13) Accurately ripped
18 | (13/13) Accurately ripped
19 | (13/13) Accurately ripped
20 | (13/13) Accurately ripped
21 | (13/13) Accurately ripped
22 | (13/13) Accurately ripped
23 | (13/13) Accurately ripped
24 | (13/13) Accurately ripped


==== Log checksum C2CF17397220DA7AB143A9B217C1557B707654EB03C00986EECE0A5835FA0DE1 ====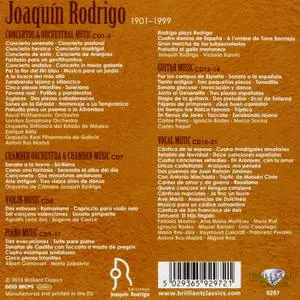 Thanks to the original releaser