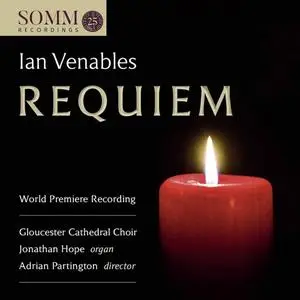 Jonathan Hope, Gloucester Cathedral Choir & Adrian Partington - Ian Venables: Requiem, Op. 48 (2020)
FLAC tracks +booklet | 00:58:55 | 209 Mb
Genre: Classical / Label: SOMM Recordings
Widely acclaimed for his songs and chamber music, the Requiem is Ian Venables' most substantial choral work to date and is a compelling piece full of fine melodies and gorgeous harmonies.Adrian Partington describes the Requiem as "a significant addition to the choral repertoire. The music is eloquent, resourceful and exerts a strong emotional appeal".Ian Venables comments: "Composing a Requiem is a daunting creative challenge because so many great settings have been written in the past. However, as a composer of songs, words are always crucially important to me and I found that the words of the Mass for the Dead came to appeal to me strongly. I felt an overwhelming desire to set them to music. I am delighted that Adrian Partington, his excellent choir and Jonathan Hope have brought my music so vividly to life."The disc also includes first recordings of Ivor Gurney's God mastering me (arranged by Venables), John Joubert's O eternal God and Venables' O Sing Aloud to God alongside John Sander's Dedication.
Track List:
01. Requiem, Op. 48 I. Introit
02. Requiem, Op. 48 II. Kyrie
03. Requiem, Op. 48 III. Offertorium
04. Requiem, Op. 48 IV. Pie Jesu
05. Requiem, Op. 48 V. Sanctus
06. Requiem, Op. 48 VI. Agnus Dei
07. Requiem, Op. 48 VII. Libera me
08. Requiem, Op. 48 VIII. Lux aeterna
09. Dedication
10. O Eternal God, Op. 183
11. God Mastering Me
12. O Sing Aloud to God, Op. 19
ANALYZER: auCDtect: CD records authenticity detector, version 0.8.2
Copyright © 2004 Oleg Berngardt. All rights reserved.
Copyright © 2004 Alexander Djourik. All rights reserved.


FILE: 01. Requiem, Op. 48 I. Introit.flac
Size: 19277810 Hash: FB3C4796587F670D4647EF8B6564F32E Accuracy: -m40
Conclusion: CDDA 100%
Signature: 409E9F692377537B06144A53B90AC93D60659B30
FILE: 02. Requiem, Op. 48 II. Kyrie.flac
Size: 11397967 Hash: 4F486EE8A9D54E769571BA5C5D7A8CF6 Accuracy: -m40
Conclusion: CDDA 100%
Signature: 7DEE14F2B658F02B8E0CF1AAF8E45057AB9F157B
FILE: 03. Requiem, Op. 48 III. Offertorium.flac
Size: 24896990 Hash: 855142976F7566BCBE3304F3B22E9807 Accuracy: -m40
Conclusion: CDDA 99%
Signature: 3BB8B655ADB6CDE59D1B57AE1F74F4BA8018532C
FILE: 04. Requiem, Op. 48 IV. Pie Jesu.flac
Size: 9639744 Hash: 7B09DDDE4A0B0EEDCF86D24BA15B4945 Accuracy: -m40
Conclusion: ???
Signature: 35AD206333D97FE6D4F4BC7B1AD284F2ED824885
FILE: 05. Requiem, Op. 48 V. Sanctus.flac
Size: 17792103 Hash: 47F2D7C2124ADD0E730118EE247F0ACB Accuracy: -m40
Conclusion: CDDA 42%
Signature: 2C54D0765A437B25AE32AEB1EC39E54A16C58B87
FILE: 06. Requiem, Op. 48 VI. Agnus Dei.flac
Size: 12961622 Hash: 66FA67490511347FA7DD13AEE3575C22 Accuracy: -m40
Conclusion: CDDA 100%
Signature: A95D28A982412F8103618DB454FEE61CEFC0E019
FILE: 07. Requiem, Op. 48 VII. Libera me.flac
Size: 31597677 Hash: CFCDE1CFDF61B7D9AB392981F73A3D6D Accuracy: -m40
Conclusion: CDDA 54%
Signature: 3666F0C87B597783620CCC8E1D32F5AB941E0D5A
FILE: 08. Requiem, Op. 48 VIII. Lux aeterna.flac
Size: 19107979 Hash: 2678A207003B2471EB671BB568A9B201 Accuracy: -m40
Conclusion: CDDA 100%
Signature: 027560261FA2A6F712CE03F52B05FD5ECEB0033F
FILE: 09. Dedication.flac
Size: 11252899 Hash: 24272EBDC6983C155E3BD902D5593BAE Accuracy: -m40
Conclusion: CDDA 100%
Signature: 1BD0AAB4794F2130CEB0D23017B8C0E3B523B0D7
FILE: 10. O Eternal God, Op. 183.flac
Size: 18897171 Hash: E0AC6EFD47257F0CE34B8935D8558960 Accuracy: -m40
Conclusion: CDDA 100%
Signature: 2DF36132D119FF118E60ADCE8601DB72B2B1AC53
FILE: 11. God Mastering Me.flac
Size: 11423052 Hash: 02F2C03411268497118D78200DA6B779 Accuracy: -m40
Conclusion: CDDA 100%
Signature: AABFF6C043EA939653369FA55A2F1756DC28E50B
FILE: 12. O Sing Aloud to God, Op. 19.flac
Size: 30661289 Hash: 9B9BB50A2C093448C4A899BB75152FA2 Accuracy: -m40
Conclusion: CDDA 42%
Signature: 6AD34B09E905130B6B860FA843F036BD8888B03C