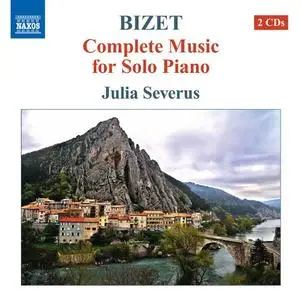 Julia Severus - Georges Bizet: Complete Music for Solo Piano (2011)
EAC | FLAC (image+.cue, log) | Covers Included | 02:12:27 | 428 MB
Genre: Classical | Label: Naxos | Catalog: 8.570831-32
A collection of Bizet's piano music is a bit more desirable as a purchase than instrumental music by other composers known primarily for opera; Bizet was a fine pianist and made money through his keyboard skills while he was struggling as an opera composer. He wasn't happy about it, however, and his complete compositions as a group reveal his ambivalent attitude. Some of the pieces on this two-disc set are student works, dating as far back as Bizet's early teens in the case of the Romance sans paroles (CD 2, track 11). Much of this early music reveals debts to Chopin or, in the case of the Variations chromatiques de concert, Beethoven. Other works seem to have been written for Bizet's own use, and they're not fundamentally different from the piano productions of lesser composers. The two suites from L'Arlésiennes, arranged by Bizet, do not survive the transition to the keyboard terribly well; they're purely commercial productions. The Grande valse de concert in E flat major would be hard to pick out as Bizet's. All this said, there are a few pieces, from later in the composer's career, where Bizet applied himself to the task of transferring his distinctive voice to the piano, and these, above all: the Chants du Rhin, Venise, and the Chasse fantastique, all on disc 2. These contain the color and passion that made Carmen such a perennial favorite, and lovers of that opera will find some pearls here. Pianist Julia Severus handles the variety of idioms with ease. She contributes her own informative booklet notes, which are given in English, French, and German. No translator is credited; Severus was born and trained in Germany and now teaches in France, so perhaps she is responsible for all three versions.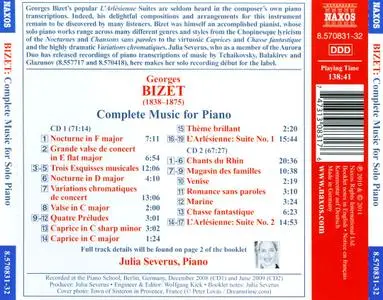 Track List:CD 1:
01. Nocturne in F major 7:11
02. Grande Valse de concert in E-flat major 6:54
Trois Esquisses musicales
03. Ronde turque 4:25
04. Serenade 3:43
05. Caprice 3:54
06. Nocturne in D major 4:10
07. Variations chromatiques de concert 13:06
08. Valse in C major 2:00
Quatre Preludes:
09. Prelude No. 1 in C major 0:51
10. Prelude No. 2 in A minor 0:58
11. Prelude No. 3 in G major 0:34
12. Prelude No. 4 in E minor 0:36
13. Caprice in C sharp minor 3:02
14. Caprice in C major 1:24
15. Theme brillant 2:20
L'Arlesienne: Suite No. 1
16. I. Prelude 6:36
17. II. Minuetto 2:51
18. III. Adagietto 2:19
19. IV. Carillon 3:55
Exact Audio Copy V1.3 from 2. September 2016

Отчёт EAC об извлечении, выполненном 3. февраля 2019, 14:41

Georges Bizet; Julia Severus / Complete Music for Solo Piano (CD1)

Дисковод: PIONEER DVD-RW DVR-219L Adapter: 1 ID: 0

Режим чтения : Достоверность
Использование точного потока : Да
Отключение кэша аудио : Да
Использование указателей C2 : Нет

Коррекция смещения при чтении : 6
Способность читать области Lead-in и Lead-out : Нет
Заполнение пропущенных сэмплов тишиной : Да
Удаление блоков с тишиной в начале и конце : Нет
При вычислениях CRC использовались нулевые сэмплы : Да
Интерфейс : Встроенный Win32-интерфейс для Win NT/2000

Выходной формат : Пользовательский кодировщик
Выбранный битрейт : 320 kBit/s
Качество : Высокий
Добавление ID3-тега : Нет
Утилита сжатия : C:\Program Files (x86)\foobar2000\encoders\flac.exe
Дополнительные параметры : -V -8 -T "Date=%year%" -T "Genre=%genre%" %source%


TOC извлечённого CD

Трек | Старт | Длительность | Начальный сектор | Конечный сектор
––––––––––––––––––––––––––––––––––-
1 | 0:00.00 | 7:15.02 | 0 | 32626
2 | 7:15.02 | 6:55.27 | 32627 | 63778
3 | 14:10.29 | 4:26.28 | 63779 | 83756
4 | 18:36.57 | 3:45.24 | 83757 | 100655
5 | 22:22.06 | 3:56.40 | 100656 | 118395
6 | 26:18.46 | 4:12.41 | 118396 | 137336
7 | 30:31.12 | 13:07.34 | 137337 | 196395
8 | 43:38.46 | 2:00.71 | 196396 | 205466
9 | 45:39.42 | 0:51.01 | 205467 | 209292
10 | 46:30.43 | 0:59.50 | 209293 | 213767
11 | 47:30.18 | 0:34.22 | 213768 | 216339
12 | 48:04.40 | 0:37.57 | 216340 | 219171
13 | 48:42.22 | 3:02.37 | 219172 | 232858
14 | 51:44.59 | 1:25.20 | 232859 | 239253
15 | 53:10.04 | 2:22.41 | 239254 | 249944
16 | 55:32.45 | 6:37.10 | 249945 | 279729
17 | 62:09.55 | 2:50.58 | 279730 | 292537
18 | 65:00.38 | 2:20.39 | 292538 | 303076
19 | 67:21.02 | 3:54.73 | 303077 | 320699


Характеристики диапазона извлечения и сообщения об ошибках

Выбранный диапазон

Имя файла M:\CD_Burn\Georges Bizet - Complete Music for Piano (CD1)\Georges Bizet - Complete Music for Solo Piano (CD1).wav

Пиковый уровень 96.7 %
Скорость извлечения 3.5 X
Качество диапазона 100.0 %
CRC копии 895371DD
Копирование… OK

Ошибок не произошло

Конец отчёта

–– CUETools DB Plugin V2.1.6

[CTDB TOCID: aRearATWLmV1u4TYzmkt8KfrB4I-] found
Submit result: already submitted
Track | CTDB Status
1 | (13/13) Accurately ripped
2 | (13/13) Accurately ripped
3 | (13/13) Accurately ripped
4 | (13/13) Accurately ripped
5 | (13/13) Accurately ripped
6 | (13/13) Accurately ripped
7 | (13/13) Accurately ripped
8 | (13/13) Accurately ripped
9 | (13/13) Accurately ripped
10 | (13/13) Accurately ripped
11 | (13/13) Accurately ripped
12 | (13/13) Accurately ripped
13 | (13/13) Accurately ripped
14 | (13/13) Accurately ripped
15 | (13/13) Accurately ripped
16 | (13/13) Accurately ripped
17 | (13/13) Accurately ripped
18 | (13/13) Accurately ripped
19 | (13/13) Accurately ripped


==== Контрольная сумма отчёта 82E8E678393A02EDBD75567E09AD0760BE8A6E232C8AA8E64466ED52278CEE1D ====
CD 2:
Chants du Rhin:
01. I. L'Aurore 3:17
02. II. Le Depart 2:11
03. III. Les Reves 3:41
04. IV. La Bohemienne 3:28
05. V. Les Confidences 5:04
06. VI. Le Retour 2:48
Magasin des familles:
07. I. Meditation religieuse 4:41
08. II. Romance sans paroles 3:33
09. III. Casilda 2:22
10. Venise 2:19
11. Romance sans paroles 3:10
12. Marine 3:24
13. Chasse fantastique 6:23
L'Arlesienne: Suite No. 2
14. I. Pastorale 4:56
15. II. Intermezzo 3:49
16. III. Menuet 2:54
17. IV. Farandole 3:13
Exact Audio Copy V1.3 from 2. September 2016

Отчёт EAC об извлечении, выполненном 3. февраля 2019, 16:09

Georges Bizet; Julia Severus / Complete Music for Solo Piano (CD2)

Дисковод: PIONEER DVD-RW DVR-219L Adapter: 1 ID: 0

Режим чтения : Достоверность
Использование точного потока : Да
Отключение кэша аудио : Да
Использование указателей C2 : Нет

Коррекция смещения при чтении : 6
Способность читать области Lead-in и Lead-out : Нет
Заполнение пропущенных сэмплов тишиной : Да
Удаление блоков с тишиной в начале и конце : Нет
При вычислениях CRC использовались нулевые сэмплы : Да
Интерфейс : Встроенный Win32-интерфейс для Win NT/2000

Выходной формат : Пользовательский кодировщик
Выбранный битрейт : 320 kBit/s
Качество : Высокий
Добавление ID3-тега : Нет
Утилита сжатия : C:\Program Files (x86)\foobar2000\encoders\flac.exe
Дополнительные параметры : -V -8 -T "Date=%year%" -T "Genre=%genre%" %source%


TOC извлечённого CD

Трек | Старт | Длительность | Начальный сектор | Конечный сектор
––––––––––––––––––––––––––––––––––-
1 | 0:00.00 | 3:18.07 | 0 | 14856
2 | 3:18.07 | 2:11.37 | 14857 | 24718
3 | 5:29.44 | 3:42.67 | 24719 | 41435
4 | 9:12.36 | 3:31.01 | 41436 | 57261
5 | 12:43.37 | 5:04.15 | 57262 | 80076
6 | 17:47.52 | 2:49.58 | 80077 | 92809
7 | 20:37.35 | 4:42.58 | 92810 | 114017
8 | 25:20.18 | 3:32.47 | 114018 | 129964
9 | 28:52.65 | 2:22.28 | 129965 | 140642
10 | 31:15.18 | 2:20.29 | 140643 | 151171
11 | 33:35.47 | 3:10.50 | 151172 | 165471
12 | 36:46.22 | 3:26.42 | 165472 | 180963
13 | 40:12.64 | 6:23.16 | 180964 | 209704
14 | 46:36.05 | 4:55.55 | 209705 | 231884
15 | 51:31.60 | 3:48.47 | 231885 | 249031
16 | 55:20.32 | 2:55.65 | 249032 | 262221
17 | 58:16.22 | 3:12.53 | 262222 | 276674


Характеристики диапазона извлечения и сообщения об ошибках

Выбранный диапазон

Имя файла M:\CD_Burn\Georges Bizet - Complete Music for Piano (CD2)\Georges Bizet - Complete Music for Solo Piano (CD2).wav

Пиковый уровень 97.7 %
Скорость извлечения 1.7 X
Качество диапазона 100.0 %
CRC теста D853DE97
CRC копии D853DE97
Копирование… OK

Ошибок не произошло

Конец отчёта

–– CUETools DB Plugin V2.1.6

[CTDB TOCID: foQS9O40uhFWmPQLqBvvFfiK49c-] found
Submit result: already submitted
Track | CTDB Status
1 | (13/13) Accurately ripped
2 | (13/13) Accurately ripped
3 | (13/13) Accurately ripped
4 | (13/13) Accurately ripped
5 | (13/13) Accurately ripped
6 | (13/13) Accurately ripped
7 | (13/13) Accurately ripped
8 | (13/13) Accurately ripped
9 | (13/13) Accurately ripped
10 | (13/13) Accurately ripped
11 | (13/13) Accurately ripped
12 | (13/13) Accurately ripped
13 | (13/13) Accurately ripped
14 | (13/13) Accurately ripped
15 | (13/13) Accurately ripped
16 | (13/13) Accurately ripped
17 | (13/13) Accurately ripped


==== Контрольная сумма отчёта D4E43D239659EDD2D01316EBFD658DBDA6D12FFF085C8B4919ABA1DFB33BE846 ====
Performers:
Julia Severus - Piano
Thanks to the Original ripper (seedsOflove)!

Download: