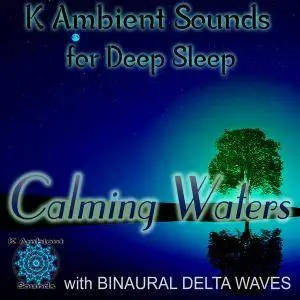 K Ambient Sounds - Calming Waters - Sounds for Deep Sleep with Delta Waves Binaural Beats (2015)
WEB FLAC (tracks) - 1,32 GB | MP3 CBR 320 kbps (LAME 3.93) - 427 MB | Digital booklet
Genre: Ambient, Meditative, Relaxation | RAR 3% Rec. | Label: Self-released
Natural and relaxing water sounds with soothing background music and Delta Waves Binaural Beats for Deep Sleep. The ambient music is created using the 432 Hz tuning. Each track on the "Calming Waters" album is 1 hour long and has a different frequency of Binaural Beats. Deep Relaxation and Sleep well!
Tracklist:
01. Calming Waters 1 Binaural Beats 3.5 Hz
02. Calming Waters 2 Binaural Beats 3 Hz
03. Calming Waters 3 Binaural Beats 2.5 Hz
Total time:
02:59:12

PERFORMER: auCDtect Task Manager, ver. 1.6.0 RC1 build 1.6.0.1
Copyright © 2008-2010 y-soft. All rights reserved

ANALYZER: auCDtect: CD records authenticity detector, version 0.8.2
Copyright © 2004 Oleg Berngardt. All rights reserved.
Copyright © 2004 Alexander Djourik. All rights reserved.


FILE: 03 Calming Waters 3 Binaural Beats 2.5 Hz.flac
Size: 475817305 Hash: 6F452DA055CAB35DFF23DEC3CED068CE Accuracy: -m0
Conclusion: CDDA 100%
Signature: 93DABE2F98D907CEE3CD399B24F1DCF3A2CE44E4
FILE: 02 Calming Waters 2 Binaural Beats 3 Hz.flac
Size: 426918695 Hash: 3D009D16D57D372D950C0DC2FBBB8023 Accuracy: -m0
Conclusion: CDDA 100%
Signature: CED4798413F1833303A566CB22BF23228229B51A
FILE: 01 Calming Waters 1 Binaural Beats 3.5 Hz.flac
Size: 467442481 Hash: 7B2573FAF338C82E381EEC3F0B452EF1 Accuracy: -m0
Conclusion: CDDA 100%
Signature: D9236C6BAB3B65EB49A3A8977658EBCB379C823A