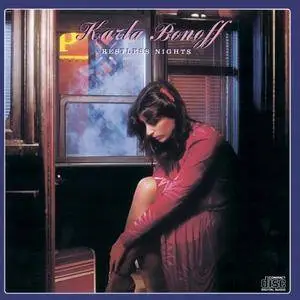 Karla Bonoff - Restless Nights (1979 Reissue) (1989)
MP3 (CBR 320 kbps) | 00:37:18 | 107 MB
Genre: Pop Rock, Soft Rock | Label: Columbia
This second album from Karla Bonoff, 1979's "Restless Nights", has her incredible knack for deeply affecting, reflective songs on full display. She does once again go heavy on the love lyrics, but they're terrific love lyrics that are winningly intimate, & dig deep–it doesn't come across as mindless, annoying musings from some teenage girl's diary (even though they do seem extremely personal). They're a lot deeper than that & they are eloquently written. Karla's vocals are simply excellent: expressive, & lending themselves perfectly to the material (imagine a mix of the timbre of Linda Ronstadt with the delivery/ mannerisms of Jackson Browne). Speaking of the material, not only is it excellent lyrically–with rich melodies, masterful use of dynamics, & crisp performances, the songs come together gracefully & organically. A perfect example is the confessional title track, which finds Karla vividly looking back on "those restless nights" with a mix of fondness & regret. There's plenty more intimate gems as well, like "The Letter", which features Karla backed just by electric piano, as well as "Only A Fool", which is super-slow, ultra laid-back, runs over 6 minutes, but is aboslutely arresting anyway–kind of like talking to a great friend on the phone for hours & just losing yourself in the conversation & losing all track of time. The persistance tale "Never Stop Her Heart" is yet another gem. Plus, it's not just great ballads that the album features–"Baby Don't Go" (co-written by Kenny Edwards, who also produced the album) is a deathlessly catchy mid-tempo rocker, & the rocking cover of Jackie DeShannon's "When You Walk In The Room" fits in perfectly; the feel-good tune "Loving You" (which does inescapably recall Carly Simon's "The Right Thing To Do") is a gem as well. Apart from the title track & "The Letter" which are tracks 2 & 3 respectively, the record alternates back & forth between a rocker & a ballad with each track, & it does so naturally & seamlessly, which is not as easy to pull off as you may think. It never feels forced like, "Oh, we need a rocker here," or "Hmm, better slip in a ballad." Unfortunately though, there are a couple of tracks that do mar the album a bit. The first is the opening track "Trouble Again" (also co-written by Edwards)–with its lyrics/ chorus accusing a guy she's obsessed with for getting her "in trouble again" even though she "never really was a bad girl" as if it's entirely his fault & she can't control herself whatsoever, & the fact that it's so in-your-face about it, is a little annoying, & furthermore, the song is considerably below the catchiness standard set by the other rockers on the album although it's still respectably tuneful. The other one is the closer, the traditional "The Water Is Wide", which features James Taylor; it's certainly respectable but it feels like filler–it just kind of goes along without capturing the same arresting magic of "Only A Fool" despite the similar acoustic guitar-based style, although it does have some neat accordian on it. So, these two lesser tracks aren't disasters, and in the end, they don't mar the overall experience very much. With all of the album's positives, which far outweight the negatives, the 5 stars are well-deserved. Plus, this record strikes me as pointing the way straight to so many of the Lilith Fair-type confessional singer-songwriters of the '90s who wallow in mediocrity (if that) & couldn't in their wildest dreams hope to even come close to matching the brilliance of "Restless Nights" by Karla Bonoff.
Track List:
01. Trouble Again
02. Restless Nights
03. The Letter
04. When You Walk In The Room
05. Only A Fool
06. Baby Don't Go
07. Never Stop Her Heart
08. Loving You
09. The Water Is Wide
Download: