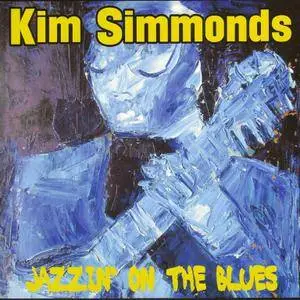 Kim Simmonds - Jazzin' On The Blues (2015)
EAC Rip | FLAC (Img) + Cue + Log ~ 336 Mb | MP3 CBR320 ~ 128 Mb
Full Scans | 00:47:14 | RAR 5% Recovery
Blues | Panache Records #CD 1270
Jazzin' On The Blues is guitarist Kim Simmonds' fifth solo album release. Known as the founder and continuing leader of the legendary blues/ rock band Savoy Brown and with a star on the Rock Walk of Fame, Kim Simmonds is recognized globally as one of the world's finest guitar players. He is also known as one of the very first musicians from the UK to re-invent the blues in the mid-sixties (post-The Rolling Stones) with music that continues to be an influence today. Many of his original songs are still played on radio, on TV and in movies. CSI, HBO's Vinyl, and a recent Jimi Hendix movie biopic, giving life once again to his many songs. Simmonds' solo efforts have all been acoustic in nature with material ranging between country blues songs and Americana roots music. On Jazzin' On The Blues, however, Simmonds shows off his acoustic playing with a beautiful mix of jazz, blues and a new age style….twelve instrumentals played with the assurance and mastery of a virtuoso guitar player. Never has the audience heard Kim in this context and Jazzin' On The Blues promises to be a release that will open the eyes of many people, in a different way, to the guitarist's magical playing and writing. Kim still tours throughout each year, worldwide, both with Savoy Brown and as a solo act…promoting his over five decades on the road and close to fifty band and solo album releases.

There's a new solo CD from Kim Simmonds and it's called "Jazzin' On The Blues". It's an acoustic offering but, this time, it's all instrumental. As the title suggests, it's a nod towards Kim's jazzier side. The album includes original material as well as cover songs. In addition to soloing on guitar, Kim also shines on harmonica and plays bass. The whole sound is rounded out by Ron Keck's percussion. Says Kim, "On this album I've found a new way to express myself on the acoustic guitar. It's very exciting to find a new approach to playing the guitar after spending so many years trying to master the instrument". Jazzin' On The Blues was officially released January 1, 2015, but is currently available at all Kim Simmonds and Savoy Brown live shows.
***************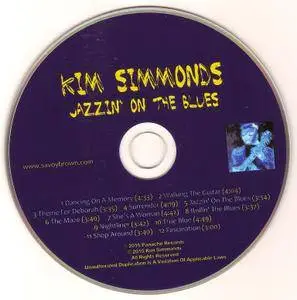 Track List:
01. Dancing On A Memory [4:31]
02. Walking The Guitar [4:02]
03. Theme For Deborah [3:33]
04. Surrender [4:17]
05. Jazzin' On The Blues [3:52]
06. The Maze [3:38]
07. She's A Women [4:40]
08. Rollin'The Blues [3:35]
09. Nightliner [3:40]
10. True Blue [4:47]
11. Shop Around [3:37]
12. Fascination [3:00]
Exact Audio Copy V1.0 beta 3 from 29. August 2011

Отчёт EAC об извлечении, выполненном 6. августа 2017, 4:06

Kim Simmonds / Jazzin' On The Blues

Дисковод: ATAPI iHAS424 A Adapter: 0 ID: 0

Режим чтения : Достоверность
Использование точного потока : Да
Отключение кэша аудио : Да
Использование указателей C2 : Нет

Коррекция смещения при чтении : 6
Способность читать области Lead-in и Lead-out : Нет
Заполнение пропущенных сэмплов тишиной : Да
Удаление блоков с тишиной в начале и конце : Нет
При вычислениях CRC использовались нулевые сэмплы : Да
Интерфейс : Установленный внешний ASPI-интерфейс

Выходной формат : Пользовательский кодировщик
Выбранный битрейт : 1024 kBit/s
Качество : Высокий
Добавление ID3-тега : Нет
Утилита сжатия : C:\Program Files\Exact Audio Copy\FLAC\FLAC.EXE
Дополнительные параметры : -8 -V -T "ARTIST=%artist%" -T "ALBUM=%albumtitle%" -T "DATE=%year%" -T "GENRE=%genre%" -T "COMMENT=ripped by izia1956" %source%


TOC извлечённого CD

Трек | Старт | Длительность | Начальный сектор | Конечный сектор
––––––––––––––––––––––––––––––––––-
1 | 0:00.00 | 4:31.29 | 0 | 20353
2 | 4:31.29 | 4:02.07 | 20354 | 38510
3 | 8:33.36 | 3:33.00 | 38511 | 54485
4 | 12:06.36 | 4:16.64 | 54486 | 73749
5 | 16:23.25 | 3:52.08 | 73750 | 91157
6 | 20:15.33 | 3:38.21 | 91158 | 107528
7 | 23:53.54 | 4:40.16 | 107529 | 128544
8 | 28:33.70 | 3:35.18 | 128545 | 144687
9 | 32:09.13 | 3:40.08 | 144688 | 161195
10 | 35:49.21 | 4:47.05 | 161196 | 182725
11 | 40:36.26 | 3:37.32 | 182726 | 199032
12 | 44:13.58 | 2:59.67 | 199033 | 212524


Характеристики диапазона извлечения и сообщения об ошибках

Выбранный диапазон

Имя файла D:\BitComet\Kim Simmonds And Savoy Brown\2017 - Jazzin' On The Blues\Kim Simmonds - Jazzin' On The Blues.wav

Пиковый уровень 100.0 %
Скорость извлечения 3.1 X
Качество диапазона 100.0 %
CRC теста BA4A39E1
CRC копии BA4A39E1
Копирование… OK

Ошибок не произошло


AccurateRip: сводка

Трек 1 точность не определена (достоверность 1) [F89C1CE8], AccurateRip вернул [37B909B6] (AR v2)
Трек 2 точность не определена (достоверность 1) [55D70CA0], AccurateRip вернул [D0CDE185] (AR v2)
Трек 3 точность не определена (достоверность 1) [913A4993], AccurateRip вернул [4F438125] (AR v2)
Трек 4 точность не определена (достоверность 1) [16A9EC5B], AccurateRip вернул [3A8164F6] (AR v2)
Трек 5 точность не определена (достоверность 1) [ADA3CFC1], AccurateRip вернул [48169E84] (AR v2)
Трек 6 точность не определена (достоверность 1) [F7D750D6], AccurateRip вернул [749ADB42] (AR v2)
Трек 7 точность не определена (достоверность 1) [F430AD98], AccurateRip вернул [6A19FA92] (AR v2)
Трек 8 точность не определена (достоверность 1) [0DDA873B], AccurateRip вернул [34D65F39] (AR v2)
Трек 9 точность не определена (достоверность 1) [16E4297A], AccurateRip вернул [B6947E72] (AR v2)
Трек 10 точность не определена (достоверность 1) [466C8C66], AccurateRip вернул [9D286E55] (AR v2)
Трек 11 точность не определена (достоверность 1) [6A224146], AccurateRip вернул [C52C42A4] (AR v2)
Трек 12 точность не определена (достоверность 1) [8148C5C4], AccurateRip вернул [B1B8FB15] (AR v2)

Ни один трек не прошёл проверки на точность
В вашей базе может быть иной вариант штамповки диска

Конец отчёта

==== Контрольная сумма отчёта EE53D213E183C171D048090CA54596F2CA7AC4D24CD92CE0CFDBD5D3B46D4E45 ====
[CUETools log; Date: 07.08.2017 14:34:02; Version: 2.1.5]
[CTDB TOCID: T5V8gtS87.5AqnOY2jnjSVIMcYQ-] found.
Track | CTDB Status
1 | (1/1) Accurately ripped
2 | (1/1) Accurately ripped
3 | (1/1) Accurately ripped
4 | (1/1) Accurately ripped
5 | (1/1) Accurately ripped
6 | (1/1) Accurately ripped
7 | (1/1) Accurately ripped
8 | (1/1) Accurately ripped
9 | (1/1) Accurately ripped
10 | (1/1) Accurately ripped
11 | (1/1) Accurately ripped
12 | (1/1) Accurately ripped
[AccurateRip ID: 00159565-00c898c2-a00b110c] found.
Track [ CRC | V2 ] Status
01 [aad12969|f89c1ce8] (0+0/1) No match
02 [987bd8ba|55d70ca0] (0+0/1) No match
03 [e37e64aa|913a4993] (0+0/1) No match
04 [12ad8ee4|16a9ec5b] (0+0/1) No match
05 [0811dcf5|ada3cfc1] (0+0/1) No match
06 [3d73e168|f7d750d6] (0+0/1) No match
07 [b33b46da|f430ad98] (0+0/1) No match
08 [08a9a414|0dda873b] (0+0/1) No match
09 [837682cd|16e4297a] (0+0/1) No match
10 [c3dfb871|466c8c66] (0+0/1) No match
11 [aa537fd9|6a224146] (0+0/1) No match
12 [7415a88c|8148c5c4] (0+0/1) No match
Offsetted by -6:
01 [eaa4ea2f] (0/1) No match (V2 was not tested)
02 [12cd77d9] (0/1) No match (V2 was not tested)
03 [a18911ef] (0/1) No match (V2 was not tested)
04 [35d37482] (0/1) No match (V2 was not tested)
05 [a283a1a7] (0/1) No match (V2 was not tested)
06 [ba33cecb] (0/1) No match (V2 was not tested)
07 [2925b26a] (0/1) No match (V2 was not tested)
08 [2fa2fe27] (0/1) No match (V2 was not tested)
09 [23260f92] (0/1) No match (V2 was not tested)
10 [1a991ccd] (0/1) No match (V2 was not tested)
11 [05597b61] (0/1) No match (V2 was not tested)
12 [a47f8534] (0/1) No match (V2 was not tested)

Track Peak [ CRC32 ] [W/O NULL] [ LOG ]
– 100,0 [BA4A39E1] [25508613] CRC32
01 100,0 [FFD443D0] [9519E41F]
02 100,0 [F750508F] [9ECA3BAC]
03 99,7 [080CE0BE] [E61F19BC]
04 100,0 [B65AD415] [D9F28B25]
05 100,0 [ABBE1949] [6CA44BBA]
06 100,0 [5D4B5331] [8C9B8412]
07 100,0 [4732E185] [D151142C]
08 100,0 [111D56C7] [D5659FFD]
09 100,0 [67DAE288] [6701EB3E]
10 100,0 [132E114B] [89427626]
11 100,0 [77573B2C] [9664A19D]
12 100,0 [CE3460B6] [98E2EA9C]