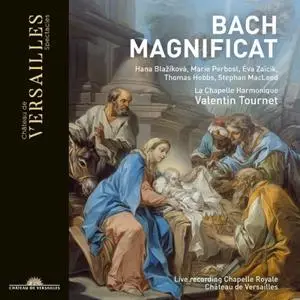 La Chapelle Harmonique, Valentin Tournet - Bach: Magnificat (Live at Chapelle Royale, Château de Versailles) (2019)
FLAC tracks +booklet | 00:59:13 | 314 Mb
Genre: Classical / Label: Château de Versailles Spectacles
The Magnificat, written to celebrate Mary's joy after the Annunciation, and the oldest Christmas Cantata by Bach (Weimar, 1713), overwhelming fresco of a Nativity, foundation of the world. With these masterful works, Johann Sebastian Bach opens up for us the gates of what is sacred as well as to our own relationship with spirituality. These pieces, amongst the most beautiful ever composed, are no doubt the best way possible to open the Christmas period. Led here by the very young but nonetheless inspired Valentin Tournet who conducts his ensemble La Chapelle Harmonique.
Track List:
01. Cantate, BWV 63 Christen, atzet diesen Tag I. Christen, atzet diesen Tag (Live at Chapelle Royale, Chateau de Versailles)
02. Cantate, BWV 63 Christen, atzet diesen Tag II. O selger tag o ungemeines heute (Live at Chapelle Royale, Chateau de Versailles)
03. Cantate, BWV 63 Christen, atzet diesen Tag III. Gott du hast es wohl gefuget (Live at Chapelle Royale, Chateau de Versailles)
04. Cantate, BWV 63 Christen, atzet diesen Tag IV. So kehret sich nun heut das bange leid (Live at Chapelle Royale, Chateau de Versailles)
05. Cantate, BWV 63 Christen, atzet diesen Tag V. Ruft und fleht den himmel an (Live at Chapelle Royale, Chateau de Versailles)
06. Cantate, BWV 63 Christen, atzet diesen Tag VI. Verdoppelt euch demnach, ihr heissen andachtsflammen (Live at Chapelle Royale, Chateau de Versailles)
07. Cantate, BWV 63 Christen, atzet diesen Tag VII. Hochster schau in gnaden an (Live at Chapelle Royale, Chateau de Versailles)
08. Magnificat in E-Flat Major, BWV 243a I. Magnificat (Live at Chapelle Royale, Chateau de Versailles)
09. Magnificat in E-Flat Major, BWV 243a II. Et exultavit spiritus meus (Live at Chapelle Royale, Chateau de Versailles)
10. Magnificat in E-Flat Major, BWV 243a III. Vom himmel hoch (Live at Chapelle Royale, Chateau de Versailles)
11. Magnificat in E-Flat Major, BWV 243a IV. Quia respexit (Live at Chapelle Royale, Chateau de Versailles)
12. Magnificat in E-Flat Major, BWV 243a V. Omnes generationes (Live at Chapelle Royale, Chateau de Versailles)
13. Magnificat in E-Flat Major, BWV 243a VI. Quia fecit mihi magna (Live at Chapelle Royale, Chateau de Versailles)
14. Magnificat in E-Flat Major, BWV 243a VII. Freut euch und jubiliert (Live at Chapelle Royale, Chateau de Versailles)
15. Magnificat in E-Flat Major, BWV 243a VIII. Et misericordia (Live at Chapelle Royale, Chateau de Versailles)
16. Magnificat in E-Flat Major, BWV 243a IX. Fecit potentiam in bracchio suo (Live at Chapelle Royale, Chateau de Versailles)
17. Magnificat in E-Flat Major, BWV 243a X. Gloria (Live at Chapelle Royale, Chateau de Versailles)
18. Magnificat in E-Flat Major, BWV 243a XI. Deposuit potentes (Live at Chapelle Royale, Chateau de Versailles)
19. Magnificat in E-Flat Major, BWV 243a XII. Esurientes implevit bonis (Live at Chapelle Royale, Chateau de Versailles)
20. Magnificat in E-Flat Major, BWV 243a XIII. Virga jesse floruit (Live at Chapelle Royale, Chateau de Versailles)
21. Magnificat in E-Flat Major, BWV 243a XIV. Suscepit Israel (Live at Chapelle Royale, Chateau de Versailles)
22. Magnificat in E-Flat Major, BWV 243a XV. Sicut locutus (Live at Chapelle Royale, Chateau de Versailles)
23. Magnificat in E-Flat Major, BWV 243a XVI. Gloria patri (Live at Chapelle Royale, Chateau de Versailles)
ANALYZER: auCDtect: CD records authenticity detector, version 0.8.2
Copyright © 2004 Oleg Berngardt. All rights reserved.
Copyright © 2004 Alexander Djourik. All rights reserved.


FILE: 01. Cantate, BWV 63 Christen, ätzet diesen Tag- I. Christen, ätzet diesen Tag (Live at Chapelle Royale, Château de Versailles).flac
Size: 28615907 Hash: 2CE99D19DAF8F113BFE00E917C313778 Accuracy: -m40
Conclusion: CDDA 99%
Signature: E3315E1B6C50A5637A9D2AB7B669919F977F0D7D
FILE: 08. Magnificat in E-Flat Major, BWV 243a- I. Magnificat (Live at Chapelle Royale, Château de Versailles).flac
Size: 16464445 Hash: 245F0F5AA5DD539F8B6AADB945EA8A25 Accuracy: -m40
Conclusion: CDDA 100%
Signature: 6D8B30982A1FE3595824C801D6BC88D67B998F54
FILE: 09. Magnificat in E-Flat Major, BWV 243a- II. Et exultavit spiritus meus (Live at Chapelle Royale, Château de Versailles).flac
Size: 11074390 Hash: 73F38281BD2A35431361138D419E6C42 Accuracy: -m40
Conclusion: CDDA 100%
Signature: 5096C0AC34D4D6B22379837EDCFBAAEC62881AAE
FILE: 10. Magnificat in E-Flat Major, BWV 243a- III. Vom himmel hoch (Live at Chapelle Royale, Château de Versailles).flac
Size: 9623455 Hash: FE0A13D8591BB9FB28084705F514BA8E Accuracy: -m40
Conclusion: CDDA 100%
Signature: 43E4A44E66CCC3AEF0025F5458BAB2CFC1606685
FILE: 11. Magnificat in E-Flat Major, BWV 243a- IV. Quia respexit (Live at Chapelle Royale, Château de Versailles).flac
Size: 11328038 Hash: 07FF9DF6ABAAACD2397F9D14CEA403C0 Accuracy: -m40
Conclusion: CDDA 100%
Signature: 13572835342B3BCD277856AC374EC23C4E7DF274
FILE: 12. Magnificat in E-Flat Major, BWV 243a- V. Omnes generationes (Live at Chapelle Royale, Château de Versailles).flac
Size: 7579266 Hash: 79AB93523F4F856785985AD0C7078CFA Accuracy: -m40
Conclusion: CDDA 100%
Signature: 8A44D39DD5AD0621796766776ED0C5FB67C7BC58
FILE: 13. Magnificat in E-Flat Major, BWV 243a- VI. Quia fecit mihi magna (Live at Chapelle Royale, Château de Versailles).flac
Size: 11396700 Hash: 9B1D14A5EB74B67F22983DD6553E4EE5 Accuracy: -m40
Conclusion: CDDA 100%
Signature: D3E5CE9880EAC55BB038902E3F422E8728204F55
FILE: 14. Magnificat in E-Flat Major, BWV 243a- VII. Freut euch und jubiliert (Live at Chapelle Royale, Château de Versailles).flac
Size: 6984643 Hash: 2DFD0C352B2F630F621FCAD45877A810 Accuracy: -m40
Conclusion: CDDA 100%
Signature: 2F45F240799D22C9F3864AA9077745A7DD2ECE41
FILE: 15. Magnificat in E-Flat Major, BWV 243a- VIII. Et misericordia (Live at Chapelle Royale, Château de Versailles).flac
Size: 17251318 Hash: F5D1F555FF2BAAD5B960F2C309A01097 Accuracy: -m40
Conclusion: CDDA 100%
Signature: 295A6973F186F0C26BA44BD864850F6AABC61E47
FILE: 16. Magnificat in E-Flat Major, BWV 243a- IX. Fecit potentiam in bracchio suo (Live at Chapelle Royale, Château de Versailles).flac
Size: 10652643 Hash: DB158B714918596BBAD81FDD4D1B8E9F Accuracy: -m40
Conclusion: CDDA 100%
Signature: 34846E90270DFFC00E33F8CC3AA28D1DA2025687
FILE: 17. Magnificat in E-Flat Major, BWV 243a- X. Gloria (Live at Chapelle Royale, Château de Versailles).flac
Size: 5862923 Hash: D1B550FAB6ED57A9D9E77BF84AD6D75C Accuracy: -m40
Conclusion: CDDA 100%
Signature: 683EE50DA97F36B9001145239F3CE90B05ECC788
FILE: 18. Magnificat in E-Flat Major, BWV 243a- XI. Deposuit potentes (Live at Chapelle Royale, Château de Versailles).flac
Size: 10039637 Hash: E9AB7C5D0F25B15452204653E9FFC237 Accuracy: -m40
Conclusion: CDDA 100%
Signature: 07EA9111BA8632B7F2A594EAC4E1001150E21529
FILE: 19. Magnificat in E-Flat Major, BWV 243a- XII. Esurientes implevit bonis (Live at Chapelle Royale, Château de Versailles).flac
Size: 13295229 Hash: 05EE662B6022E43BF4C0B54F982918DB Accuracy: -m40
Conclusion: CDDA 100%
Signature: 0D64EE269E0F0CD269CB91E0EAD9AE5643F446F7
FILE: 20. Magnificat in E-Flat Major, BWV 243a- XIII. Virga jesse floruit (Live at Chapelle Royale, Château de Versailles).flac
Size: 17303169 Hash: EC0BFC46E53774A81EB803D4C5DAF622 Accuracy: -m40
Conclusion: CDDA 100%
Signature: CD4D92A8618FCB5C4EB490E382A30045F1B25721
FILE: 21. Magnificat in E-Flat Major, BWV 243a- XIV. Suscepit Israel (Live at Chapelle Royale, Château de Versailles).flac
Size: 9344890 Hash: 98451665BF7D7A932ADCB58BE7968DE6 Accuracy: -m40
Conclusion: CDDA 100%
Signature: C758C9BE75A832A0F250641A1F693E2E848845CC
FILE: 22. Magnificat in E-Flat Major, BWV 243a- XV. Sicut locutus (Live at Chapelle Royale, Château de Versailles).flac
Size: 8897614 Hash: 335C5DE03F3D984A1E517CFB46B900F3 Accuracy: -m40
Conclusion: CDDA 100%
Signature: 2C722EA37A2C53FF964F573E3061BC0BA5AE2E70
FILE: 23. Magnificat in E-Flat Major, BWV 243a- XVI. Gloria patri (Live at Chapelle Royale, Château de Versailles).flac
Size: 11876181 Hash: 181A0A3DB22F354753C76E6E3C85CA55 Accuracy: -m40
Conclusion: CDDA 100%
Signature: B4D259954E28F9A84DF5EF59FC0D1B8F6BF9D874