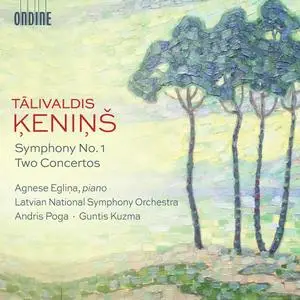 Latvian National Symphony Orchestra, Andris Poga, Guntis Kuzma - Ķeniņš: Symphony No. 1 & 2 Concertos (2020)
FLAC tracks | 58:39 | 207 Mb
Genre: Classical / Label: Ondine
Talivaldis Keninš (1919-2008) is a name that is not known to most classical listeners despite of his long international career as a composer. This album presents three orchestral works by one of Latvia's greatest 20th century composers performed by the Latvian National Symphony Orchestra under the baton of Andris Poga and Guntis Kuzma.Although born in Latvia, Keninš lived most of his life as an exile. He was educated in Paris, where he studied under Tony Aubin and Olivier Messiaen, and won several awards. Keninš emigrated to Canada in 1951 and became a respected pedagogue and a very influential figure in Canada's music life. Alongside his pedagogic work he wrote a sizeable catalogue of works, including several symphonies and concertos.
Track List:
01. Concerto da camera No. 1: I. Moderato con moto
02. Concerto da camera No. 1: II. Lento cantábile
03. Concerto da camera No. 1: III. Vivo e marcato
04. Concerto for Piano, Percussion & String Orchestra: I. Molto vivace
05. Concerto for Piano, Percussion & String Orchestra: II. Largo quasi una passacaglia
06. Concerto for Piano, Percussion & String Orchestra: III. Presto - Prestissimo
07. Symphony No. 1: I. Moderato ma non troppo
08. Symphony No. 1: II. Largo e sostenuto
09. Symphony No. 1: III. Allegro molto
ANALYZER: auCDtect: CD records authenticity detector, version 0.8.2
Copyright © 2004 Oleg Berngardt. All rights reserved.
Copyright © 2004 Alexander Djourik. All rights reserved.


FILE: 01 - Concerto da camera No. 1 (Version for Piano, Flute, Clarinet & String Orchestra)_ I. Moderato con moto.flac
Size: 23229565 Hash: AC931F3683F3C6E6FC6D47D02B7CCAEC Accuracy: -m40
Conclusion: CDDA 100%
Signature: 4BE2B6FF10CC96FDAAD121DB15898BD88AB1F86A
FILE: 02 - Concerto da camera No. 1 (Version for Piano, Flute, Clarinet & String Orchestra)_ II. Lento cantábile.flac
Size: 22354015 Hash: 81090EB07C0E625A16A7CF9AB3E1DE55 Accuracy: -m40
Conclusion: CDDA 100%
Signature: 7BAA4055B1A8FF2233BE61F5CEDD5F37C57B2C19
FILE: 03 - Concerto da camera No. 1 (Version for Piano, Flute, Clarinet & String Orchestra)_ III. Vivo e marcato.flac
Size: 14535054 Hash: 6A16D9EA90BF3911096A4719446C4DCC Accuracy: -m40
Conclusion: CDDA 100%
Signature: 1C1CC72F3435FFD24F1B1ED27254CF596D6A6831
FILE: 04 - Concerto for Piano, Percussion & String Orchestra_ I. Molto vivace.flac
Size: 32248487 Hash: EC1DA42F54D80868D2B4F275C8A51E1F Accuracy: -m40
Conclusion: CDDA 100%
Signature: FAA045AFF10530A8D593DE21BCC8898F60A16F5E
FILE: 05 - Concerto for Piano, Percussion & String Orchestra_ II. Largo quasi una passacaglia.flac
Size: 28621043 Hash: 47D39AAAF61DED6C67518B3ED0EFECAD Accuracy: -m40
Conclusion: CDDA 100%
Signature: 555484509C3A00055F68AA79A4F3F8C8B9C366FE
FILE: 06 - Concerto for Piano, Percussion & String Orchestra_ III. Presto - Prestissimo.flac
Size: 16624940 Hash: 27A04FEDE8DF7DBCCF2753B5917C507B Accuracy: -m40
Conclusion: CDDA 100%
Signature: 44F42F7FFD0E2033BA51B24E0AA7D8C2EB51AE5A
FILE: 07 - Symphony No. 1_ I. Moderato ma non troppo.flac
Size: 27181923 Hash: ECA9C733CD7F147A19DFBB7D008FEE11 Accuracy: -m40
Conclusion: CDDA 100%
Signature: FEFA944DF1684033B7657760EC9C5152B9A3AADD
FILE: 08 - Symphony No. 1_ II. Largo e sostenuto.flac
Size: 26495971 Hash: 5486D3A7C33F896534ABF3289996247F Accuracy: -m40
Conclusion: CDDA 100%
Signature: 57C898849228394671770D56ACB4F8EDD32C46A8
FILE: 09 - Symphony No. 1_ III. Allegro molto.flac
Size: 26451397 Hash: 5FC6B1C38BCF1FA7D467B02BC9BD96CE Accuracy: -m40
Conclusion: CDDA 100%
Signature: 325CE5962CB24B94C91211A892DB344576A0E808