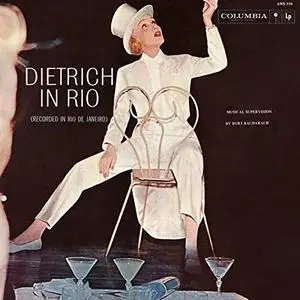 Marlene Dietrich - Dietrich In Rio (1960/2018)
WEB FLAC (Tracks) - 210 MB | Cover | MP3 CBR 320 kbps - 91 MB | 00:37:44
Pop | Label: Columbia/Legacy
Recorded in 1959 in Rio de Janeiro, Brazil, Dietrich In Rio is an atypically bouncy live recording. Rather than the world-weary chanteuse persona that made Marlene Dietrich's career, this cabaret set finds Dietrich in a sly, almost silly mood, singing with lusty humor and coy flirtatiousness. The material is all in English, and largely consists of American pop standards like "Makin' Whoopee," "All Right, Okay, You Win," and a rendition of "One For My baby" minus the mopey self-pity of Frank Sinatra's better-known arrangement. Dietrich's voice is huskier than it was in her heyday, but this suits the material, which has been rearranged to fit her new lower register, very well. The version of her signature song, "Falling In Love Again," is superb.
TRACKLIST
01. Look Me Over Closely
02. You're the Cream In My Coffee
03. My Blue Heaven
04. The Boys In the Backroom
05. Das Lied Ist Aus
06. Je Tire La Reverence
07. Alright, Okay, You Win
08. Makin' Whoopee (Live)
09. I've Grown Accustomed to Her Face
10. One for My Baby
11. Maybe I'll Come Back
12. Luar Do Serato
–––––––––––-
DON'T MODIFY THIS FILE
–––––––––––-
PERFORMER: auCDtect Task Manager, ver. 1.6.0 RC1 build 1.6.0.1
Copyright © 2008-2010 y-soft. All rights reserved
http://y-soft.org
ANALYZER: auCDtect: CD records authenticity detector, version 0.8.2
Copyright © 2004 Oleg Berngardt. All rights reserved.
Copyright © 2004 Alexander Djourik. All rights reserved.
FILE: 12. Marlene Dietrich - Luar Do Serato.flac
Size: 11570993 Hash: 5FC8D321387D7068C92D8F1CE87995F8 Accuracy: -m0
Conclusion: CDDA 99%
Signature: 2703E5A45F7F89E5A4B03C28857921D385768B83
FILE: 11. Marlene Dietrich - Maybe I'll Come Back.flac
Size: 16686653 Hash: 46B10370C170466B1F6974C2D3FA4E2D Accuracy: -m0
Conclusion: CDDA 100%
Signature: 50384A30B64CF57F8022177081B1D84C49C95828
FILE: 10. Marlene Dietrich - One for My Baby.flac
Size: 22190990 Hash: 8B8B68E7908F7F6C211C5E0E2B0A3A69 Accuracy: -m0
Conclusion: CDDA 100%
Signature: 087A6CFC8687F394357719765D69AA21CF0266C1
FILE: 09. Marlene Dietrich - I've Grown Accustomed to Her Face.flac
Size: 24876685 Hash: 415DBA03499AD68380C9B599F7E6AEF8 Accuracy: -m0
Conclusion: CDDA 100%
Signature: 57BB18B5527D6431A00AD10D4C8641D862DD2C9B
FILE: 08. Marlene Dietrich - Makin' Whoopee (Live).flac
Size: 25820681 Hash: 42FDE98289238A52C54E53EF9006C052 Accuracy: -m0
Conclusion: CDDA 100%
Signature: F65024F56F882FC3224170B3F358CB4C31A4CB03
FILE: 07. Marlene Dietrich - Alright, Okay, You Win.flac
Size: 15720460 Hash: 869D2B37616C8CB5D25E0EAE14ADA76E Accuracy: -m0
Conclusion: CDDA 100%
Signature: B2DF58E6CFEE083EED8AB9D78B69F2154BFFE196
FILE: 06. Marlene Dietrich - Je Tire La Reverence.flac
Size: 19418598 Hash: 1A53BBA3BA5FA73FC5139578887DE623 Accuracy: -m0
Conclusion: CDDA 100%
Signature: F5F26DF3A378E7A80828DD3E0A39A42F3E5DCDF9
FILE: 05. Marlene Dietrich - Das Lied Ist Aus.flac
Size: 22555640 Hash: 30B72BE9AA8AA7E2B240B1EE5870CCC5 Accuracy: -m0
Conclusion: CDDA 100%
Signature: 9E2000BC133B9E904CF5FAD4C4C8B3135A9C2519
FILE: 04. Marlene Dietrich - The Boys In the Backroom.flac
Size: 14523906 Hash: 99B4C067EB622CE9349550F23419AE59 Accuracy: -m0
Conclusion: CDDA 100%
Signature: 0CB212ADB72BF5A565FC949C5E75644DF845364D
FILE: 03. Marlene Dietrich - My Blue Heaven.flac
Size: 15145930 Hash: 0283D259B1D423603823C800A49BEA22 Accuracy: -m0
Conclusion: CDDA 100%
Signature: 16CB97EE93D22995FFFC3C40E36B8F29E8FA2CA5
FILE: 01. Marlene Dietrich - Look Me Over Closely.flac
Size: 18945616 Hash: 07C920D4A1EC7A624AD7633354B6AB0C Accuracy: -m0
Conclusion: CDDA 100%
Signature: 56F8B6B84449F13DE1162807462658DF355A03AC
All thanks go to the original releaser