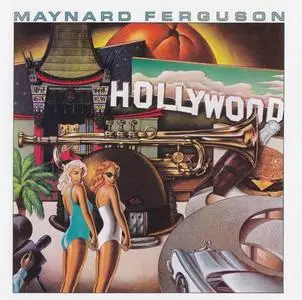 Maynard Ferguson - Hollywood (1982) [Reissue 2004]
XLD Rip | FLAC (image+.cue+log) - 232 MB | MP3 CBR 320 kbps (LAME 3.93) - 87 MB | Covers - 25 MB
Genre: Jazz-Funk, Smooth Jazz, Disco | RAR 3% Rec. | Label: Wounded Bird Records (WOU 7713)
By the early '80s, trumpeter Maynard Ferguson's disco-heavy "jazz" albums, so commercially viable through the previous decade, had already begun losing their hip cachet. Disco itself was on the wane and Ferguson, with his jumpsuits, smoky sunglasses, and obscenely high trumpet playing, was quickly becoming a parody of himself. Thusly, jazz fans in 1982 were generously bequeathed Hollywood, easily one of the ex-Kenton-ite's worst career efforts. Produced by bassist extraordinaire Stanley Clarke (who also supplied the title track), the result is an airbrushed and extroverted pop pastiche of dancefloor-ready songs that have absolutely nothing to do with jazz. Basically, by this point the MF Band was churning out well-produced, if predictable, instrumental versions of pop tunes with little if any improvisation. To these ends, Michael Jackson's "Don't Stop 'Til You Get Enough" does little to improve on the original, and the tacky mix of banjo and synthesizer on Ferguson's then-latest attempt to squeeze blood from the proverbial soundtrack orange on "Nine to Five'" is simply nauseating. By the time you get to the bloated and over the top version of "For Your Eyes Only," it's clear things have come to some kind of Waterloo. Not surprisingly, this was the last of Ferguson's bids for crossover success and he disbanded his large ensemble soon after, choosing to spend the better part of the '80s playing slightly more straight-ahead jazz.
Tracklist:
01. Don't Stop 'Til You Get Enough
02. Deja Vu
03. Hollywood
04. Nine To Five
05. For Your Eyes Only
06. Here Today
07. Portuguese Love
08. Touch And Go
Total time:
37:04
X Lossless Decoder version 20210101 (153.1)

XLD extraction logfile from 2021-03-05 10:15:45 +0500

Maynard Ferguson / Hollywood

Used drive : HL-DT-ST DVDRAM GP60NS60 (revision PE00)
Media type : Pressed CD

Ripper mode : XLD Secure Ripper
Disable audio cache : OK for the drive with a cache less than 1375KiB
Make use of C2 pointers : NO
Read offset correction : 6
Max retry count : 20
Gap status : Analyzed, Appended

TOC of the extracted CD
Track | Start | Length | Start sector | End sector
––––––––––––––––––––––––––––-
1 | 00:00:00 | 04:26:19 | 0 | 19968
2 | 04:26:19 | 04:58:16 | 19969 | 42334
3 | 09:24:35 | 05:24:42 | 42335 | 66676
4 | 14:49:02 | 03:40:72 | 66677 | 83248
5 | 18:29:74 | 03:41:01 | 83249 | 99824
6 | 22:11:00 | 04:28:69 | 99825 | 119993
7 | 26:39:69 | 05:17:70 | 119994 | 143838
8 | 31:57:64 | 05:06:04 | 143839 | 166792

AccurateRip Summary (DiscID: 000b5519-004b636e-5f08af08)
Track 01 : OK (v2, confidence 2/2)
Track 02 : OK (v2, confidence 2/2)
Track 03 : OK (v2, confidence 2/2)
Track 04 : OK (v2, confidence 2/2)
Track 05 : OK (v2, confidence 2/2)
Track 06 : OK (v2, confidence 2/2)
Track 07 : OK (v2, confidence 2/2)
Track 08 : OK (v2, confidence 2/2)
->All tracks accurately ripped.

All Tracks
Filename : /Users/mihail/Music/CDs/Maynard Ferguson - Hollywood.flac
Album gain : -0.33 dB
Peak : 0.999969
CRC32 hash (test run) : 8D417A29
CRC32 hash : 8D417A29
CRC32 hash (skip zero) : 6A559ABE
Statistics
Read error : 0
Jitter error (maybe fixed) : 0
Retry sector count : 0
Damaged sector count : 0

Track 01
Pre-gap length : 00:02:00

Track gain : -0.47 dB
Peak : 0.928467
CRC32 hash (test run) : 370B95B8
CRC32 hash : 370B95B8
CRC32 hash (skip zero) : 2C7B8955
AccurateRip v1 signature : B582913C
AccurateRip v2 signature : 333A5D74
->Accurately ripped (v2, confidence 2/2)
Statistics
Read error : 0
Jitter error (maybe fixed) : 0
Retry sector count : 0
Damaged sector count : 0

Track 02

Track gain : -0.22 dB
Peak : 0.931152
CRC32 hash (test run) : 88DC8427
CRC32 hash : 88DC8427
CRC32 hash (skip zero) : 9928AFEA
AccurateRip v1 signature : 10FFAD99
AccurateRip v2 signature : 95B9FD8B
->Accurately ripped (v2, confidence 2/2)
Statistics
Read error : 0
Jitter error (maybe fixed) : 0
Retry sector count : 0
Damaged sector count : 0

Track 03

Track gain : -1.71 dB
Peak : 0.985443
CRC32 hash (test run) : 775B48D2
CRC32 hash : 775B48D2
CRC32 hash (skip zero) : 7A062332
AccurateRip v1 signature : B8C0A309
AccurateRip v2 signature : 45E5F230
->Accurately ripped (v2, confidence 2/2)
Statistics
Read error : 0
Jitter error (maybe fixed) : 0
Retry sector count : 0
Damaged sector count : 0

Track 04

Track gain : -0.65 dB
Peak : 0.998474
CRC32 hash (test run) : 74C3949A
CRC32 hash : 74C3949A
CRC32 hash (skip zero) : 4729F37C
AccurateRip v1 signature : F35E3B15
AccurateRip v2 signature : 758AE1C0
->Accurately ripped (v2, confidence 2/2)
Statistics
Read error : 0
Jitter error (maybe fixed) : 0
Retry sector count : 0
Damaged sector count : 0

Track 05

Track gain : -0.86 dB
Peak : 0.964600
CRC32 hash (test run) : 2F888CAD
CRC32 hash : 2F888CAD
CRC32 hash (skip zero) : B7C64915
AccurateRip v1 signature : 7821862F
AccurateRip v2 signature : CE681CC7
->Accurately ripped (v2, confidence 2/2)
Statistics
Read error : 0
Jitter error (maybe fixed) : 0
Retry sector count : 0
Damaged sector count : 0

Track 06

Track gain : 0.64 dB
Peak : 0.999969
CRC32 hash (test run) : 8D73EEB9
CRC32 hash : 8D73EEB9
CRC32 hash (skip zero) : 09F4C921
AccurateRip v1 signature : 36BE93B3
AccurateRip v2 signature : 560C2DE4
->Accurately ripped (v2, confidence 2/2)
Statistics
Read error : 0
Jitter error (maybe fixed) : 0
Retry sector count : 0
Damaged sector count : 0

Track 07

Track gain : 1.15 dB
Peak : 0.934357
CRC32 hash (test run) : 28F06EE4
CRC32 hash : 28F06EE4
CRC32 hash (skip zero) : BC9E6DBA
AccurateRip v1 signature : B2BC5BFF
AccurateRip v2 signature : 7BF46EDF
->Accurately ripped (v2, confidence 2/2)
Statistics
Read error : 0
Jitter error (maybe fixed) : 0
Retry sector count : 0
Damaged sector count : 0

Track 08

Track gain : 0.16 dB
Peak : 0.941681
CRC32 hash (test run) : 347FA963
CRC32 hash : 347FA963
CRC32 hash (skip zero) : 6157642D
AccurateRip v1 signature : 28BEB02D
AccurateRip v2 signature : A213D1E5
->Accurately ripped (v2, confidence 2/2)
Statistics
Read error : 0
Jitter error (maybe fixed) : 0
Retry sector count : 0
Damaged sector count : 0

No errors occurred

End of status report

––-BEGIN XLD SIGNATURE––-
V0x.NWvwlODoWrVOZKGCjoAWN8rhzftTQEFeotlXI3Y7o1HAKVak6R.Ip35lK9EMnEENTjUeNfmlM_HB4PXuiFbDD7eZFPh5N_laOi4
––-END XLD SIGNATURE––-

[CUETools log; Date: 08.03.2021 15:58:05; Version: 2.1.4]
[CTDB TOCID: vHBokdJnoXRbD8Ny.qX0tKwwONE-] found.
Track | CTDB Status
1 | (13/14) Accurately ripped
2 | (14/14) Accurately ripped
3 | (14/14) Accurately ripped
4 | (14/14) Accurately ripped
5 | (14/14) Accurately ripped
6 | (14/14) Accurately ripped
7 | (14/14) Accurately ripped
8 | (14/14) Accurately ripped
[AccurateRip ID: 000b5519-004b636e-5f08af08] found.
Track [ CRC | V2 ] Status
01 [b582913c|333a5d74] (0+2/2) Accurately ripped
02 [10ffad99|95b9fd8b] (0+2/2) Accurately ripped
03 [b8c0a309|45e5f230] (0+2/2) Accurately ripped
04 [f35e3b15|758ae1c0] (0+2/2) Accurately ripped
05 [7821862f|ce681cc7] (0+2/2) Accurately ripped
06 [36be93b3|560c2de4] (0+2/2) Accurately ripped
07 [b2bc5bff|7bf46edf] (0+2/2) Accurately ripped
08 [28beb02d|a213d1e5] (0+2/2) Accurately ripped

Track Peak [ CRC32 ] [W/O NULL]
– 100,0 [8D417A29] [6A559ABE]
01 92,8 [370B95B8] [2C7B8955]
02 93,1 [88DC8427] [9928AFEA]
03 98,5 [775B48D2] [7A062332]
04 100,0 [74C3949A] [4729F37C]
05 96,4 [2F888CAD] [B7C64915]
06 100,0 [8D73EEB9] [09F4C921]
07 93,4 [28F06EE4] [BC9E6DBA]
08 94,1 [347FA963] [6157642D]
Thanks to
squirrSee also:
Maynard Ferguson - Maynard Ferguson Octet (1955) [Reissue 2008]
Maynard Ferguson Orchestra - 1967 (1995)
Maynard Ferguson - Memories of...t of the Columbia Years (2018)