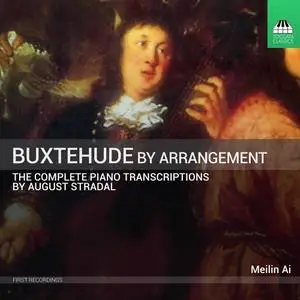 Meilin Ai - Buxtehude by Arrangement (2020)
FLAC tracks | 01:23:17 | 261 Mb
Genre: Classical / Label: Toccata Classics
Busoni's transcriptions of Bach have long been one of the mainstays of the piano repertoire. Bach himself worshipped the music of the Danish- (or Swedish-) born Dieterich Buxtehude (16371707), famously walking 250 miles to Lübeck to hear him play. The Liszt student August Stradal (18601930) obviously shared that admiration, transcribing ten of Buxtehudes most imposing organ works for piano, thus creating alongside Bach-Busoni a corpus of grandiose and virtuoso Baroque music for the modern concert grand that has somehow remained almost entirely unknown. Meilin Ai studied for her Doctor of Musical Arts degree in piano performance with Joseph Banowetz at the University of North Texas and is now a full-time faculty member of the Conservatory of Music of the Sichuan Normal University in China.
Track List:
1. Prelude & Fugue in A Minor, BuxVW 153 (Transcr. A. Stradal for Piano): I. Prelude (1:55)
2. Prelude & Fugue in A Minor, BuxVW 153 (Transcr. A. Stradal for Piano): II. Fugue No. 1 (3:42)
3. Prelude & Fugue in A Minor, BuxVW 153 (Transcr. A. Stradal for Piano): III. Fugue No. 2 (2:00)
4. Prelude & Fugue in A Minor, BuxVW 153 (Transcr. A. Stradal for Piano): IV. Toccata (1:21)
5. Chaconne in E Minor, BuxVW 160 (Transcr. A. Stradal for Piano) (6:55)
6. Prelude & Fugue in E Minor, BuxVW 143 (Transcr. A. Stradal for Piano): I. Prelude (1:56)
7. Prelude & Fugue in E Minor, BuxVW 143 (Transcr. A. Stradal for Piano): II. Fugue No. 1 (3:00)
8. Prelude & Fugue in E Minor, BuxVW 143 (Transcr. A. Stradal for Piano): III. Fugue No. 2 - IV. Adagio (1:24)
9. Prelude & Fugue in E Minor, BuxVW 142 (Transcr. A. Stradal for Piano): I. Prelude (1:12)
10. Prelude & Fugue in E Minor, BuxVW 142 (Transcr. A. Stradal for Piano): II. Fugue No. 1 (1:51)
11. Prelude & Fugue in E Minor, BuxVW 142 (Transcr. A. Stradal for Piano): III. Fugue No. 2 (3:14)
12. Prelude & Fugue in E Minor, BuxVW 142 (Transcr. A. Stradal for Piano): IV. Fugue No. 3 (3:31)
13. Passacaglia in D Minor, BuxVW 161 (Transcr. A. Stradal for Piano) (9:01)
14. Prelude & Fugue in D Minor, BuxVW 140 (Transcr. A. Stradal for Piano): I. Prelude (1:41)
15. Prelude & Fugue in D Minor, BuxVW 140 (Transcr. A. Stradal for Piano): II. Fugue No. 1 (2:40)
16. Prelude & Fugue in D Minor, BuxVW 140 (Transcr. A. Stradal for Piano): III. Fugue No. 2 (3:15)
17. Prelude & Fugue in G Minor, BuxVW 150 (Transcr. A. Stradal for Piano): I. Prelude (1:13)
18. Prelude & Fugue in G Minor, BuxVW 150 (Transcr. A. Stradal for Piano): II. Fugue No. 1 (3:39)
19. Prelude & Fugue in G Minor, BuxVW 150 (Transcr. A. Stradal for Piano): III. Fugue No. 2 (1:21)
20. Prelude & Fugue in G Minor, BuxVW 150 (Transcr. A. Stradal for Piano): IV. Fugue No. 3 (2:46)
21. Chaconne in C Minor, BuxVW 159 (Transcr. A. Stradal for Piano) (8:01)
22. Prelude & Fugue in F Major, BuxVW 145 (Transcr. A. Stradal for Piano): I. Prelude (2:42)
23. Prelude & Fugue in F Major, BuxVW 145 (Transcr. A. Stradal for Piano): II. Fugue (4:59)
24. Prelude & Fugue in F-Sharp Minor, BuxVW 146 (Transcr. A. Stradal for Piano): I. Prelude (2:50)
25. Prelude & Fugue in F-Sharp Minor, BuxVW 146 (Transcr. A. Stradal for Piano): II. Fugue (4:27)
26. Prelude & Fugue in F-Sharp Minor, BuxVW 146 (Transcr. A. Stradal for Piano): III. Toccata (2:54)
ANALYZER: auCDtect: CD records authenticity detector, version 0.8.2
Copyright © 2004 Oleg Berngardt. All rights reserved.
Copyright © 2004 Alexander Djourik. All rights reserved.


FILE: 01. Meilin Ai - Prelude & Fugue in A Minor, BuxVW 153 (Transcr. A. Stradal for Piano)_ I. Prelude.flac
Size: 6606250 Hash: F8AFE2761DA09033FC03D20B0D27DA5F Accuracy: -m40
Conclusion: CDDA 100%
Signature: B668F254607AAB857F3F6F3C4B16E1CA819EF6E4
FILE: 02. Meilin Ai - Prelude & Fugue in A Minor, BuxVW 153 (Transcr. A. Stradal for Piano)_ II. Fugue No. 1.flac
Size: 12440387 Hash: 575827315F1BDD6D821C8F4D678375D2 Accuracy: -m40
Conclusion: CDDA 100%
Signature: 02EB6DECE9AE6785EC79DB23278F01EAAD4DEDED
FILE: 03. Meilin Ai - Prelude & Fugue in A Minor, BuxVW 153 (Transcr. A. Stradal for Piano)_ III. Fugue No. 2.flac
Size: 6568531 Hash: B81E7F0903151B3F050CC4148828E8D3 Accuracy: -m40
Conclusion: CDDA 100%
Signature: 8E924C582DC43D74ED51445C66BB659EDA003324
FILE: 04. Meilin Ai - Prelude & Fugue in A Minor, BuxVW 153 (Transcr. A. Stradal for Piano)_ IV. Toccata.flac
Size: 4842040 Hash: AA0596E8477EFE64A335074500760B7F Accuracy: -m40
Conclusion: CDDA 100%
Signature: C25F1A7438D8F32C19905AA8B2CEDA5354732E9A
FILE: 05. Meilin Ai - Chaconne in E Minor, BuxVW 160 (Transcr. A. Stradal for Piano).flac
Size: 21856482 Hash: 72B54FE2EE0ECED454B073E2F3507081 Accuracy: -m40
Conclusion: CDDA 49%
Signature: CC8C644C8056798C31303620426FB9F491952D12
FILE: 06. Meilin Ai - Prelude & Fugue in E Minor, BuxVW 143 (Transcr. A. Stradal for Piano)_ I. Prelude.flac
Size: 6421985 Hash: 3AA39BBC274007D7B1A98DC9FD8DF5E9 Accuracy: -m40
Conclusion: CDDA 58%
Signature: 31CFACDFE92EADD45757F14D9AA989C4FC7E9AF8
FILE: 07. Meilin Ai - Prelude & Fugue in E Minor, BuxVW 143 (Transcr. A. Stradal for Piano)_ II. Fugue No. 1.flac
Size: 10098856 Hash: 6176A19BB29824318218D8276EE772AF Accuracy: -m40
Conclusion: CDDA 43%
Signature: 657BE1B63F8A5F5ECDD1EF7792E711D0CC51B595
FILE: 08. Meilin Ai - Prelude & Fugue in E Minor, BuxVW 143 (Transcr. A. Stradal for Piano)_ III. Fugue No. 2 - IV. Adagio.flac
Size: 4565328 Hash: D63A0F643E848CA9895166F1D8F6965C Accuracy: -m40
Conclusion: CDDA 100%
Signature: DF52056EBAA24F90A46D2291302DED0978A13CC7
FILE: 09. Meilin Ai - Prelude & Fugue in E Minor, BuxVW 142 (Transcr. A. Stradal for Piano)_ I. Prelude.flac
Size: 3958962 Hash: 0EAB9DAECD0DDA876F20A042A6E20C83 Accuracy: -m40
Conclusion: CDDA 100%
Signature: 362B824DA3291CA4C6717E8B390BE4E70481FD70
FILE: 10. Meilin Ai - Prelude & Fugue in E Minor, BuxVW 142 (Transcr. A. Stradal for Piano)_ II. Fugue No. 1.flac
Size: 6456618 Hash: D6D0BE320CE217BCC361DF8D224649C8 Accuracy: -m40
Conclusion: CDDA 100%
Signature: DA8ADBB3F5C0970E4E6014CB3A334C82EBC78000
FILE: 11. Meilin Ai - Prelude & Fugue in E Minor, BuxVW 142 (Transcr. A. Stradal for Piano)_ III. Fugue No. 2.flac
Size: 10316449 Hash: 283E1042BDA98B55B794C07A33AE69BA Accuracy: -m40
Conclusion: CDDA 100%
Signature: 2F1474311756C72AB5190CBF5ECE18DC68AF2C44
FILE: 12. Meilin Ai - Prelude & Fugue in E Minor, BuxVW 142 (Transcr. A. Stradal for Piano)_ IV. Fugue No. 3.flac
Size: 11566117 Hash: 40B6A6ACD0E3947A77A4778E7BD1EC18 Accuracy: -m40
Conclusion: MPEG 92%
Signature: 43AC53881DF0C4AF0107C2784DB1FD7568BFE71C
FILE: 13. Meilin Ai - Passacaglia in D Minor, BuxVW 161 (Transcr. A. Stradal for Piano).flac
Size: 29218681 Hash: A71F8664357EF710F9F01F5527D30C0B Accuracy: -m40
Conclusion: CDDA 42%
Signature: BD5F6F9E27AFE41133E62BE3FC920BB713C3D609
FILE: 14. Meilin Ai - Prelude & Fugue in D Minor, BuxVW 140 (Transcr. A. Stradal for Piano)_ I. Prelude.flac
Size: 5433530 Hash: D356611803441FB128056B2DEBC9EB74 Accuracy: -m40
Conclusion: CDDA 99%
Signature: 41C71F78B50E392A7579C2BBA4397A7C06544A18
FILE: 15. Meilin Ai - Prelude & Fugue in D Minor, BuxVW 140 (Transcr. A. Stradal for Piano)_ II. Fugue No. 1.flac
Size: 8377371 Hash: 1258ABD0EBD5A7200FF2471516338C4D Accuracy: -m40
Conclusion: CDDA 100%
Signature: E75F254A18A960B41FBBA65A317358A1479FD5A7
FILE: 16. Meilin Ai - Prelude & Fugue in D Minor, BuxVW 140 (Transcr. A. Stradal for Piano)_ III. Fugue No. 2.flac
Size: 10638577 Hash: 178C61E2F7938AA26ED0BEE8E5D616F0 Accuracy: -m40
Conclusion: CDDA 92%
Signature: 22872AD3CFAD4F306C6093DFDF1AEBFBD75834C9
FILE: 17. Meilin Ai - Prelude & Fugue in G Minor, BuxVW 150 (Transcr. A. Stradal for Piano)_ I. Prelude.flac
Size: 3835620 Hash: 6A5882BABC63E3E69C32FF0EE00EFCBB Accuracy: -m40
Conclusion: CDDA 100%
Signature: 7DACA039473D0FC195560945C4821C7F634D3A28
FILE: 18. Meilin Ai - Prelude & Fugue in G Minor, BuxVW 150 (Transcr. A. Stradal for Piano)_ II. Fugue No. 1.flac
Size: 11689532 Hash: 89CCB3A4C66C0766377B58653924746B Accuracy: -m40
Conclusion: CDDA 100%
Signature: A73CCC8797A46451DF6FF874BA131F81516B0B4C
FILE: 19. Meilin Ai - Prelude & Fugue in G Minor, BuxVW 150 (Transcr. A. Stradal for Piano)_ III. Fugue No. 2.flac
Size: 4514279 Hash: 7D9A7A37080BDF27A90069FAE9015F5C Accuracy: -m40
Conclusion: CDDA 100%
Signature: A9CA06CED582AD68883CEBF42F0FA0E45C49C735
FILE: 20. Meilin Ai - Prelude & Fugue in G Minor, BuxVW 150 (Transcr. A. Stradal for Piano)_ IV. Fugue No. 3.flac
Size: 8880963 Hash: DADF2CDA40A4F71669AE6A1D8CDB2AAE Accuracy: -m40
Conclusion: CDDA 100%
Signature: 18A9FCE636D08E7C035307E364F45A4E06C334BB
FILE: 21. Meilin Ai - Chaconne in C Minor, BuxVW 159 (Transcr. A. Stradal for Piano).flac
Size: 27332099 Hash: 6401824E7CFDB7BBE995AA01A534FD74 Accuracy: -m40
Conclusion: CDDA 85%
Signature: 71F5177DE4AF31ED9CC03BA9C19155AF2A36F038
FILE: 22. Meilin Ai - Prelude & Fugue in F Major, BuxVW 145 (Transcr. A. Stradal for Piano)_ I. Prelude.flac
Size: 8632814 Hash: 0946B0BB9AF778309E08E1C7DFCEC077 Accuracy: -m40
Conclusion: CDDA 43%
Signature: 10C685950B88DCB51FF58CC10934CA94D5595296
FILE: 23. Meilin Ai - Prelude & Fugue in F Major, BuxVW 145 (Transcr. A. Stradal for Piano)_ II. Fugue.flac
Size: 16192921 Hash: 309B83FD893713E919BFC4AC167BD7E2 Accuracy: -m40
Conclusion: CDDA 43%
Signature: CC39B7D2065EDD7410583C1D2FB8AEF5A4A76C7B
FILE: 24. Meilin Ai - Prelude & Fugue in F-Sharp Minor, BuxVW 146 (Transcr. A. Stradal for Piano)_ I. Prelude.flac
Size: 8984236 Hash: 3B9E3411C2C36C7494C020BF6BCC18D2 Accuracy: -m40
Conclusion: CDDA 100%
Signature: C5E80959F528DA0C87EE08C23C08C3DAE51A1EA6
FILE: 25. Meilin Ai - Prelude & Fugue in F-Sharp Minor, BuxVW 146 (Transcr. A. Stradal for Piano)_ II. Fugue.flac
Size: 14122461 Hash: CA66BCF374C0BEFC2153B824EBF6AEBE Accuracy: -m40
Conclusion: CDDA 100%
Signature: 71AF8D6A27A2E225FB927A73B86C1CC277A22B3B
FILE: 26. Meilin Ai - Prelude & Fugue in F-Sharp Minor, BuxVW 146 (Transcr. A. Stradal for Piano)_ III. Toccata.flac
Size: 11038042 Hash: CC2A1B72E360E4B27519C8E1E7BC74EA Accuracy: -m40
Conclusion: ???
Signature: C2F2C4D1FEC54B5D93671650147CE69A06794237