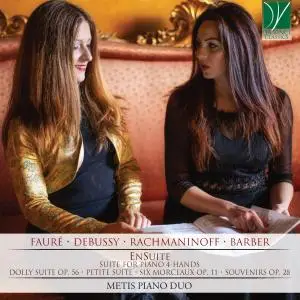 Metis Piano Duo - Fauré, Debussy, Rachmaninoff, Barber: EnSuite (Suite for Piano 4-Hands) (2020)
WEB FLAC (tracks) - 235 MB | Tracks: 22 | 72:03 min
Style: Classical | Label: Da Vinci Classics
The Metis Piano Duo was born around 2014, from the meeting between the two pianists Loretta Proietti and Alessandra Felice, both coming from a wide experience in chamber music. Their common passion for chamber repertoire and in particular for piano duo, gave birth to a natural exchange and fusion of opinions, creating a particular artistic and musical understanding. The idea of Metis Piano Duo name, must be sought first of all in the common interest in ancient Greek literature. In particular Metis has implicit meaning of "cunning of intelligence", because Metis, a very mighty goddess in Greek mythology, personified wisdom, reason and intelligence, able to identify the best way for the successful solution to the traps of life. The Duo repertoire ranges from the classic period to the contemporary one, touching the most important composition of this formation. They have performed in numerous concert halls, receiving wide public and critical acclaim. The piano Duo has improved with M° Konstatin Bogino, Laura Pietrocini, Orazio Maione, Vladimir Ogarkov, Daniel Rivera. In parallel to the concert activity, they both carry out didactic activity in the soloist and chamber field, collaborating with various academies.
Tracklist:
01. Dolly Suite, Op. 56: I. Berceuse
02. Dolly Suite, Op. 56: II. Messieu Aoul
03. Dolly Suite, Op. 56: III. Le jardin de Dolly
04. Dolly Suite, Op. 56: IV. Kitty-Valse
05. Dolly Suite, Op. 56: V. Tendresse
06. Dolly Suite, Op. 56: VI. Le pas espagnol
07. Petite Suite, L. 65: I. En bateau
08. Petite Suite, L. 65: II. Cortège
09. Petite Suite, L. 65: III. Menuet
10. Petite Suite, L. 65: IV. Ballet
11. Six Morceaux, Op. 11: No. 1 in G Minor, Barcarolle
12. Six Morceaux, Op. 11: No. 2 in D Major, Scherzo
13. Six Morceaux, Op. 11: No. 3 in B Minor, Thème russe
14. Six Morceaux, Op. 11: No. 4 in A Major, Valse
15. Six Morceaux, Op. 11: No. 5 in C Minor, Romance
16. Six Morceaux, Op. 11: No. 6 in C Major, Glory
17. Souvenirs, Ballet Suite, Op. 28: I. Waltz
18. Souvenirs, Ballet Suite, Op. 28: II. Schottische
19. Souvenirs, Ballet Suite, Op. 28: III. Pas de deux
20. Souvenirs, Ballet Suite, Op. 28: IV. Two-Step
21. Souvenirs, Ballet Suite, Op. 28: V. Hesitation Tango
22. Souvenirs, Ballet Suite, Op. 28: VI. Galop


FILE: 01. Dolly Suite, Op. 56_ I. Berceuse.flac
Size: 8350081 Hash: E1825E842A2AB8343CB2F63AB42921DA Accuracy: -m0
Conclusion: CDDA 100%
Signature: 24F27D0BDC36B84B00C9FA1A9CE43C7EA82E1039
FILE: 02. Dolly Suite, Op. 56_ II. Messieu Aoul.flac
Size: 7080702 Hash: 21FE5DBA065A5A32BA94BA19D10CCED7 Accuracy: -m0
Conclusion: CDDA 100%
Signature: 34EE51BF44F9188D2BF88B889AB33C88FA251283
FILE: 03. Dolly Suite, Op. 56_ III. Le jardin de Dolly.flac
Size: 8203500 Hash: 29561DDC2238A6F3D1EEC217173D6DF0 Accuracy: -m0
Conclusion: CDDA 100%
Signature: 2680E454A4CAFC3E3B0C4D423D1E051C24AE1E19
FILE: 04. Dolly Suite, Op. 56_ IV. Kitty-Valse.flac
Size: 8541386 Hash: 42B5847E9D98D9F0EC987B1ED688E2E0 Accuracy: -m0
Conclusion: CDDA 100%
Signature: B06B9E9BC6BFF7DA05DB4717DFE3188F650A92C2
FILE: 05. Dolly Suite, Op. 56_ V. Tendresse.flac
Size: 10547800 Hash: 780B4D1A79ABEA34E345EDC0507895C7 Accuracy: -m0
Conclusion: CDDA 100%
Signature: 9056337D11F5EAC9E7EA662C249CBC0C31F56343
FILE: 06. Dolly Suite, Op. 56_ VI. Le pas espagnol.flac
Size: 8516997 Hash: 55548518F0D623693F277EA6AFFDA958 Accuracy: -m0
Conclusion: CDDA 62%
Signature: 42E57E6BF464BEDAA0976A72A36F036993B84274
FILE: 07. Petite Suite, L. 65_ I. En bateau.flac
Size: 10753001 Hash: AE569FBB2AE970C6A49254072D7D1E8B Accuracy: -m0
Conclusion: CDDA 100%
Signature: 7A37D5636FB532D01BD13E79E3A6CB08E6D8CE25
FILE: 08. Petite Suite, L. 65_ II. Cortège.flac
Size: 11540332 Hash: 5F4A6743841204A5097F20A59D12367C Accuracy: -m0
Conclusion: CDDA 100%
Signature: 70F85B417354FEEEC882B4F4B3B1F7D2DD5F4262
FILE: 09. Petite Suite, L. 65_ III. Menuet.flac
Size: 9672601 Hash: 40ED725B202E194D3715A0F30CABDC0D Accuracy: -m0
Conclusion: CDDA 100%
Signature: 6B0DF3D46612F6B44CACDCCFE753599E46361998
FILE: 10. Petite Suite, L. 65_ IV. Ballet.flac
Size: 11142780 Hash: 0553FB5A1659C619E81D72D3C80E0400 Accuracy: -m0
Conclusion: CDDA 100%
Signature: BB5E8C393AB859939ACDAFE81439CED348F050CE
FILE: 11. Six Morceaux, Op. 11_ No. 1 in G Minor, Barcarolle.flac
Size: 20141344 Hash: A0521A9981A50B58AFF9A0C7685C33DD Accuracy: -m0
Conclusion: CDDA 100%
Signature: 3650F1D6DBF3C16DE8E073F84C4318FC13FD96CE
FILE: 12. Six Morceaux, Op. 11_ No. 2 in D Major, Scherzo.flac
Size: 11247459 Hash: 6785986CAC3E9ABECD2FF9070EB8398B Accuracy: -m0
Conclusion: CDDA 85%
Signature: BFCB2A85744E87D38E8D1C485DB99BA07BB1E908
FILE: 13. Six Morceaux, Op. 11_ No. 3 in B Minor, Thème russe.flac
Size: 14880509 Hash: 8D0D4BA098A777168377BEC542192A37 Accuracy: -m0
Conclusion: CDDA 100%
Signature: 0110D82A388B32841DFC142772B99072D1595D47
FILE: 14. Six Morceaux, Op. 11_ No. 4 in A Major, Valse.flac
Size: 14020801 Hash: 46EA534F1C4040BF7EFB4A2F9DA9403D Accuracy: -m0
Conclusion: CDDA 100%
Signature: 1ACC7FB063DE13D03D50325ACCC752D4E57E2B0B
FILE: 15. Six Morceaux, Op. 11_ No. 5 in C Minor, Romance.flac
Size: 10059722 Hash: 00E9FF9B2B4FBB90B7264D6B86894C09 Accuracy: -m0
Conclusion: MPEG 100%
Signature: 041F04254A1E150C746FE30866199638CA058661
FILE: 16. Six Morceaux, Op. 11_ No. 6 in C Major, Glory.flac
Size: 18895564 Hash: E004D72DD9144690E51739C3151BC7E2 Accuracy: -m0
Conclusion: CDDA 100%
Signature: 703748A6C9D99C1CF754DAC97EBCF6D42FC04F24
FILE: 17. Souvenirs, Ballet Suite, Op. 28_ I. Waltz.flac
Size: 12977675 Hash: BA9D61A82B1BDF3A768FA0C63B437655 Accuracy: -m0
Conclusion: CDDA 99%
Signature: 7D559436BA75F9997A61694FCF3FF7C7AFB81B2B
FILE: 18. Souvenirs, Ballet Suite, Op. 28_ II. Schottische.flac
Size: 8490825 Hash: 9CC4CFE99965946E1C15D571F4E1D477 Accuracy: -m0
Conclusion: CDDA 100%
Signature: 2FEE5EDC11BFF4E60AE0867126298E8EB23E8BFD
FILE: 19. Souvenirs, Ballet Suite, Op. 28_ III. Pas de deux.flac
Size: 11717686 Hash: F56AF150AF76A648DE60DF6EBE7A4BDC Accuracy: -m0
Conclusion: CDDA 100%
Signature: D1F3F6A349DD8E2DDF10C7B28E6079C48826722C
FILE: 20. Souvenirs, Ballet Suite, Op. 28_ IV. Two-Step.flac
Size: 6250586 Hash: D80EFEB72A270AC9688B18426BA67CEC Accuracy: -m0
Conclusion: CDDA 100%
Signature: 07EB06A2198ABAD87685C7454446D0D118B984E2
FILE: 21. Souvenirs, Ballet Suite, Op. 28_ V. Hesitation Tango.flac
Size: 14009055 Hash: 1AA53696BB90C76B600546ECBFBE60AD Accuracy: -m0
Conclusion: CDDA 87%
Signature: 708143078B9874D536D7C1CCAAF163C15DABB6C2
FILE: 22. Souvenirs, Ballet Suite, Op. 28_ VI. Galop.flac
Size: 10025310 Hash: CB85685C62AB8C0B5BF65481EE86532B Accuracy: -m0
Conclusion: CDDA 49%
Signature: 1C0417AB27AD3D472F78AF06ABD59A9F56B0EC7B