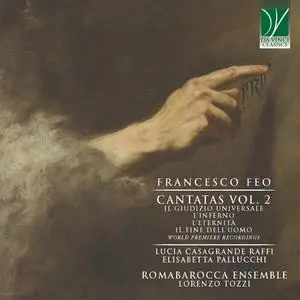 Lucia Casagrande Raffi, Elisabetta Pallucchi, Lorenzo Tozzi, Ensemble Romabarocca - Francesco Feo: Cantatas Vol. 2 (2023)
FLAC (tracks), Lossless / MP3 320 kbps | 1:01:11 | 140 / 263 Mb
Genre: Classical / Label: Da Vinci Classics
Lucia Casagrande Raffi in Italy, Lucia at the age of three and a half already shows a certain predisposition for music and in particular singing.At the Conservatorio "F. Morlacchi" in Perugia Lucia at a young age completes the main part of her musical studies first with a diploma in singing and then, awarded with full marks, in Music Didactics. Dedicating herself to teaching for the next few years she meets within the Conservatorio many important musical figures such as the pedagogue A. M. Freschi, the musicologist R. Meucci and the composer F. De Rossi Re, personalities that culturally and musically greatly influence her. Alongside teaching Lucia continues to develop her creative-interpretive side of music discovering contemporary idioms and subsequently the possibility to tackle through the voice various expressive genres.