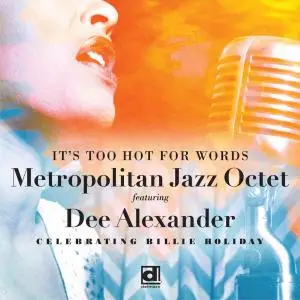 Metropolitan Jazz Octet - It's Too Hot for Words (2019)
WEB FLAC (tracks) - 275 MB | Tracks: 10 | 50:02 min
Style: Jazz, Vocal Jazz | Label: Delmark
'Too Hot For Words' blends the tight-knit swing of the Metropolitan Jazz Octet with the unerring musicianship of Dee Alexander to mark the 60th anniversary of Billie Holiday's departure from the planet, mixing Holiday classics with some of Lady Day's lesser- known repertoire. The arrangements sparkle, and Alexander shines as bright as ever. But at no point does she attempt to mimic Holiday. (What would be the point of that)? And the arrangements don't try to imitate the little 'orchestras' that accompanied Holiday's greatest recordings. (No point in that either.) These new settings respect the songs, but reframe them for our era. The album becomes a sort of telescoping time capsule: sterling musicians of the 21st century, building upon an octet sound crafted 50 years earlier, revitalizing songs that Holiday began recording in the 1930s.
Tracklist:
1. Ain't Nobody's Business
2. Things are Looking Up
3. You're So Desirable
4. The Blues Are a Brewin'
5. Somebody's On My Mind
6. Strange Fruit
7. I Wished On The Moon
8. It's Too Hot For Words
9. I'm a Fool to Want You
10. Twenty Four Hours a Day

FILE: 01. Ain't Nobody's Business If I Do.flac
Size: 31140419 Hash: 633056ADE8DB32F408150E34322EAD8A Accuracy: -m0
Conclusion: CDDA 100%
Signature: 52B73425CB4388ABBAEEB9846E23956284BFAE23
FILE: 02. Things Are Looking Up.flac
Size: 33274161 Hash: EB0171AE4B0D14ABBDC019C5021551C7 Accuracy: -m0
Conclusion: CDDA 100%
Signature: 4565F402A704FC901C2EABB061BD38FEA5946565
FILE: 03. You're so Desirable.flac
Size: 33396350 Hash: 83E46259B3D84ED6658685013147DF09 Accuracy: -m0
Conclusion: CDDA 99%
Signature: 5ACA3B9DDFD9ECD5BFCAA5FED95C1C58E87694C4
FILE: 05. Somebody's on My Mind.flac
Size: 30353811 Hash: EC98ED2577E9773B7AC27F742043C782 Accuracy: -m0
Conclusion: CDDA 100%
Signature: EAEDBF96A9C9C0C7846983E72854FEF0CE41B521
FILE: 06. Strange Fruit.flac
Size: 28159302 Hash: C5AA94440386DD685CEB739DAEE34E33 Accuracy: -m0
Conclusion: CDDA 100%
Signature: 0269E5C4C5D0759D62A7A7BFA5FBD6946F475342
FILE: 07. I Wished on the Moon.flac
Size: 25910969 Hash: 3D220448B63F63E95C0165F99F630A17 Accuracy: -m0
Conclusion: CDDA 100%
Signature: 61405C5E053D3B8EC922CA58627107F78F14CDCC
FILE: 08. It's Too Hot for Words.flac
Size: 25289613 Hash: EDE366FDF5E71F0D5FACA6B5AD34AB78 Accuracy: -m0
Conclusion: CDDA 100%
Signature: 049CB7E8BED781B6D67967825570737162EB8254
FILE: 09. I'm a Fool to Want You.flac
Size: 34065331 Hash: C885518CCA04A79C189CA9A823A1A959 Accuracy: -m0
Conclusion: CDDA 100%
Signature: 87FFD05389AD56F4969DC740E55E9A495345F704
FILE: 10. Twenty Four Hours a Day.flac
Size: 15634676 Hash: F96A0A8137B6D89DC981917143D92CA6 Accuracy: -m0
Conclusion: CDDA 100%
Signature: EFD8CB1809CD393472814D0B2EB3AF2A0A2F70E8/hide]