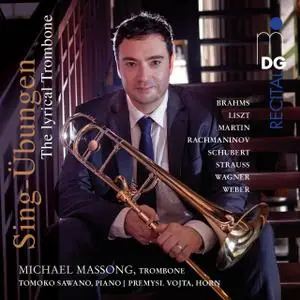 Michael Massong - Sing-Übung: The Lyrical Trombone (2015)
WEB | FLAC (tracks) - 155 MB | 55:33
Genre: Classical | Label: MDG Recital
Sing-Übung is the name given by Michael Massong to his debut recital on MDG, and the title contains a program: lyrical pieces, in large part especially arranged for this CD, display a vocal quality of trombone playing that is without its equal.

The selection of works also holds some surprises in store: Rachmaninov's famous "Vocalise," the fine emotion of Carl Maria von Weber's "Romanze," and Franz Liszt's Romance oubliée," in which Michael Massong teases previously unheard-of vocal expressive depth out of his instrument.

The prizewinning horn player Premysl Vojta performs the duo part in "Singübung," the title work by Franz Schubert, and in the four duets by Johannes Brahms.

Michael Massong is a genuine globetrotter. Born in Germany, he studied with all the greats of his instrument in Frankfurt, London, and New York and travels around the globe for master classes and solo performances. In order to meet his high demands, he has developed his own series of alto and tenor trombones in cooperation with the Thein brothers. The result makes for fascinating listening: a multifaceted instrumental portrait guaranteed to please brass fans everywhere!
Track List:
1. Nocturno für Posaune und Klavier in D-Flat Major: Andante quasi adagio 06:03
2. Vocalise for Trombone and Piano, Op. 34: No. 14, Lentamente. Molto cantabile 05:31
3. Romance für Posaune und Klavier: Andante sostenuto (Arr. by Wolfgang Wagenhäuser) 07:46
4. Die Walküre: Wotans Abschied. Sehr bewegt (Arr. by Thomas Böttger) 08:32
5. Romance oubliée: Andante malinconico (Arr. by Thomas Böttger 04:37
6. Sing-Übung für Posaune, Klavier und Horn, D. 619 04:37
7. Lieder für Posaune und Horn, Op. 28: No. 3, Es rauschet das Wasser. In Sanfter Bewegung 03:02
8. Lieder für Posaune und Horn, Op. 28: No. 4, Der Jäger und sein Liebchen. Allegro 01:17
9. Lieder für Posaune und Horn, Op. 20: No. 2, Weg der Liebe. Poco adagio molto espressivo 03:16
10. Lieder für Posaune und Horn, Op. 75: No. 3, So lass uns wandern. Anmutig bewegt und sehr innig 02:57
11. Ballade für Posaune und Klavier: Largamente 07:55
Performers:
Michael Massong (trombone)
Tomoko Sawano (piano)
Premysl Vojta (horn)
–––––––––––-
DON'T MODIFY THIS FILE
–––––––––––-
PERFORMER: auCDtect Task Manager, ver. 1.6.0 RC1 build 1.6.0.1
Copyright © 2008-2010 y-soft. All rights reserved
http://y-soft.org
ANALYZER: auCDtect: CD records authenticity detector, version 0.8.2
Copyright © 2004 Oleg Berngardt. All rights reserved.
Copyright © 2004 Alexander Djourik. All rights reserved.
FILE: 01 - Michael Massong - Nocturno für Posaune und Klavier in D-Flat Major-.flac
Size: 16306649 Hash: A234048668B3C60ED0BF01A1DBEBB51D Accuracy: -m0
Conclusion: CDDA 58%
Signature: 61C941D90813A3DD1B25A4B86AE71C0D3DAD32E4
FILE: 02 - Michael Massong - Vocalise for Trombone and Piano, Op. 34- No. 14, L.flac
Size: 14073590 Hash: B305DCE6CFE1EF82EA255EF02B2C1D21 Accuracy: -m0
Conclusion: CDDA 86%
Signature: 10EF77D3F804014AF9F4D98EB649C8D56E5D08D7
FILE: 03 - Michael Massong - Romance für Posaune und Klavier- Andante sostenuto.flac
Size: 19905319 Hash: 78C7924FB3E611D2430CD8185E13A561 Accuracy: -m0
Conclusion: CDDA 85%
Signature: CCFE33EF3FFE3108E187BCBCE3C98B281A7E3DEF
FILE: 04 - Michael Massong - Die Walküre- Wotans Abschied. Sehr bewegt (Arr. by.flac
Size: 21885961 Hash: FA53AB3FBF7453A571A08FE9DCA9ED67 Accuracy: -m0
Conclusion: CDDA 100%
Signature: 61EF9EA57688356CF67802A003EC4171DBF4F81E
FILE: 05 - Michael Massong - Romance oubliée- Andante malinconico (Arr. by Thom.flac
Size: 10516845 Hash: DE74E8266FB0BC84AFB111D294E0559E Accuracy: -m0
Conclusion: CDDA 100%
Signature: D90B3E780FF3E7F3C167171CEB4F09E6E4E39B84
FILE: 06 - Michael Massong - Sing-Übung für Posaune, Klavier und Horn, D. 619.flac
Size: 12700696 Hash: FBAF1E5B308189FF16CD279C8F3AA290 Accuracy: -m0
Conclusion: CDDA 62%
Signature: 62AF33AC89D6C11E236795F9522F6B2F5DC8C6F9
FILE: 07 - Michael Massong - Lieder für Posaune und Horn, Op. 28- No. 3, Es rau.flac
Size: 7855972 Hash: 3AFE04BF9376722D75835D064867457E Accuracy: -m0
Conclusion: CDDA 100%
Signature: E200A61B0AB5F8AACA13D2ABC7D87CBA1D3A0421
FILE: 08 - Michael Massong - Lieder für Posaune und Horn, Op. 28- No. 4, Der Jä.flac
Size: 4121797 Hash: 5223FB384D0E268A674DD4F2657018AF Accuracy: -m0
Conclusion: CDDA 100%
Signature: 1BE7BD98580CC5052AC9654BEBBEE5B82AA02BC6
FILE: 09 - Michael Massong - Lieder für Posaune und Horn, Op. 20- No. 2, Weg de.flac
Size: 8456652 Hash: DB33028A215A2D609A699A98CF2003C1 Accuracy: -m0
Conclusion: CDDA 100%
Signature: 62C4D30ACD4ED01484D4D555345DC34FDC76A764
FILE: 10 - Michael Massong - Lieder für Posaune und Horn, Op. 75- No. 3, So las.flac
Size: 7724042 Hash: EF6A715620AA27494E2094D91C531E42 Accuracy: -m0
Conclusion: CDDA 86%
Signature: 0DDB614E6BC0DE1C3F126D717353BF7837E7ADE7
FILE: 11 - Michael Massong - Ballade für Posaune und Klavier- Largamente.flac
Size: 24192251 Hash: BF33D4DB5B127195C6F821A2662D75BE Accuracy: -m0
Conclusion: CDDA 76%
Signature: 0E4F01B9293CE6C18E02F28C21C6ED49E636C9BD