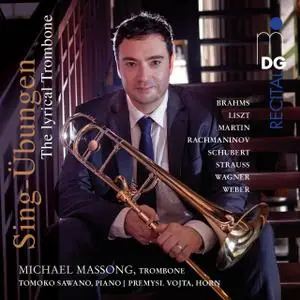 Michael Massong - Sing-Übung: The Lyrical Trombone (2015)
WEB | FLAC (tracks) - 155 MB | 55:33
Genre: Classical | Label: MDG Recital
Sing-Übung is the name given by Michael Massong to his debut recital on MDG, and the title contains a program: lyrical pieces, in large part especially arranged for this CD, display a vocal quality of trombone playing that is without its equal. The selection of works also holds some surprises in store: Rachmaninov's famous "Vocalise," the fine emotion of Carl Maria von Weber's "Romanze," and Franz Liszt's Romance oubliée," in which Michael Massong teases previously unheard-of vocal expressive depth out of his instrument. The prizewinning horn player Premysl Vojta performs the duo part in "Singübung," the title work by Franz Schubert, and in the four duets by Johannes Brahms.