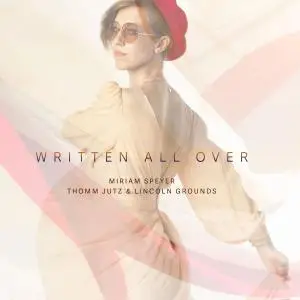 Miriam Speyer - Written All Over (2019)
WEB FLAC (tracks) - 239 MB | Tracks: 10 | 35:45 min
Style: Country, Pop | Label: Audio Network
When Lincoln Grounds, Miriam Speyer and Thomm Jutz formed a partnership to create a new record, the outcome was already set to be outstanding.
All three musicians are champions in their respective fields and complement each other sonically. As a professional guitarist playing for The Royal Albert Hall, Lincoln infuses his personal work with various influences ranging from jazz to funk and soul, blues, rock and acoustic music. When the opportunity came across to partner up with Thomm Jutz and Miriam Speyer for Written All Over, the producer and composer felt that the chemistry was undeniable.
To celebrate the release of Written All Over, Audio Network met the group to get an insight into their writing process.
By using his own sensibility and Thomm's network of connections, the album was due to become a success. Adding Miriam Speyer was a natural choice, as her eclectic background in visceral soundtrack added the rhythm that they were looking for. "For a player, there's nothing in the world more fun than playing." Thomm confesses.
The project felt like "the holy grail" for the group due to the level of professionalism, creativity and enthusiasm that they've encountered along the path – from producers to fellow musicians to Audio Network. "Going that extra mile and putting the investment in this [Written All Over] has proven that this collaboration was what all musicians and composers aim to be a part of", Lincoln states.
With talent, chemistry and endless passion, the trio has brought to life a piece of music that will withstand the test of time.
Tracklist:
01. Dixie Highway
02. Here And Heaven And Hell
03. Fall Apart
04. Sail On Through
05. Written All Over
06. Get All Out
07. So Scared of Loving You
08. It's Home
09. Quickly
10. Mystery

FILE: 01. Dixie Highway.flac
Size: 25472489 Hash: A21541FB6C3C2139B0984614C6C7584A Accuracy: -m0
Conclusion: CDDA 100%
Signature: B6CBCCD60FAC66E819E11A2E0FC8E0E70E7F0953
FILE: 02. Here And Heaven And Hell.flac
Size: 22303659 Hash: A26E2FEA4D9FB1824A596EEFA00F41C3 Accuracy: -m0
Conclusion: CDDA 100%
Signature: 81331666E35F61C11E42BA6EDF93C8792B48F45A
FILE: 03. Fall Apart.flac
Size: 23243000 Hash: 4EFBFE0952086BD8C819FDA330277BA2 Accuracy: -m0
Conclusion: CDDA 100%
Signature: 77B4CF27EEAC0CEF2BEB4D79A4A480C37BF4D712
FILE: 04. Sail On Through.flac
Size: 26902352 Hash: B36ABBC3C2E56DE8C066706C896A33F7 Accuracy: -m0
Conclusion: CDDA 100%
Signature: BD2B8E87CAB46D52126A368C71961D3BA0CE1480
FILE: 05. Written All Over.flac
Size: 23956434 Hash: 590671054B2787338676110B9C8B866C Accuracy: -m0
Conclusion: CDDA 100%
Signature: CAFF7B44BF82A7B62647EAC5A6D7299E4AC30ED5
FILE: 06. Get All Out.flac
Size: 28439997 Hash: 5BD38B68C750647D8EB7DEAD1C6F563A Accuracy: -m0
Conclusion: CDDA 100%
Signature: 317DAB9FEE6CBA663576B678AE924FBD8E40D95E
FILE: 07. So Scared of Loving You.flac
Size: 25522834 Hash: 4F6228B88BDFFE1D9D50E9DF1D344182 Accuracy: -m0
Conclusion: CDDA 100%
Signature: 8FDDC947FC9DC88E5D5192AD95C74DC306E63354
FILE: 08. It's Home.flac
Size: 26630015 Hash: 7F0BB7908E61A133642B72AC7AF4F2C7 Accuracy: -m0
Conclusion: CDDA 100%
Signature: C3730232D5B683870AA3E1FF3AE6E20DBB02C642
FILE: 09. Quickly.flac
Size: 27334890 Hash: 7E5A25FF08500B1FAE8B49CD6D1109AF Accuracy: -m0
Conclusion: CDDA 100%
Signature: 34A522AFE4251F4EDEE839546AC324F797D1FF98
FILE: 10. Mystery.flac
Size: 21409011 Hash: 4E6F2FB079DD8C4ABD7F298857AC0B8A Accuracy: -m0
Conclusion: CDDA 100%
Signature: 1AD3E49C12582FC06F6753E91C2DE09AE6D3AF20