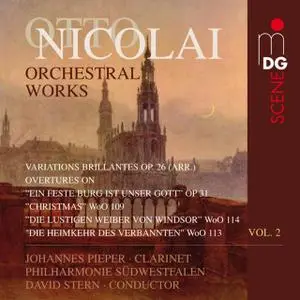 Johannes Pieper, Philharmonie Südwestfalen, David Stern - Nicolai: Orchestral Works Vol. 2 (2009)
WEB | FLAC (tracks) - 210 MB | 48:11
Genre: Classical | Label: MDG Scene
Otto Nicolai is known to most listeners, at least outside Germany, for his opera Die lustigen Weiber von Windsor (The Merry Wives of Windsor), and among most of those specifically for the opera's sparkling overture. Nicolai, who died at age 39, wrote four other operas and various pieces of orchestral music as well; the latter has been collected in two volumes by the German audiophile label MDG, performed by the little-known and exquisitely confusingly named Southern Westphalian Philharmonic – Orchestra of the Land of North Rhine–Westphalia (entirely capable, for all that). The program doesn't make perfect sense. The Variations brillantes, Op. 26, heard here are an operatic potpourri originally written for voice with horn, cello, or clarinet, with piano accompaniment; the voiceless clarinet-and-orchestra version heard here is not by Nicolai, but by an unknown arranger. It's pretty thin stuff, and the entire album clocks in at just over 48 minutes. With the variations left out, there would have been room for relevant music by other composers. This said, there are some finds here. The overture from Die Heimkehr des Verbannten (The Homecoming of the Exiles) is an attractive partner for the more famous Merry Wives of Windsor overture and ought to find a place more often on symphonic programs. Most interesting are two chorale-based pieces that must have exerted an influence on all the composers from Mendelssohn on down who tried to incorporate chorales into a Romantic symphonic language. Each includes a choral part (ably handled by the Evangelische Kantorei Siegen, one of Germany's consistently good regional choirs), but they're quite different from each other; the Kirchliche-Fest-Ouvertüre, Op. 31 (Church Festival Overture), is sort of a giant orchestral chorale prelude, with the chorale used throughout, while the Weinachts-Ouvertüre, WoO 109 (Christmas Overture), treats the chorale in a manner closer to Mendelssohn's Symphony No. 5, as a climactic device. This may be of most interest to those fascinated by the religious element in Romantic music, but, with the fine sound, most lovers of German orchestral music will find something to enjoy here.
Track List:
1. Kirchliche Fest-Ouvertüre über den Chroral "Ein feste Burg ist unser Gott", Op. 31 06:38
2. Variations brillantes, Op. 26, su motivi favoriti dell'opera (arr. for Clarinet Solo and Orchestra): La Sonnambula di Bellini 15:10
3. Die lustigen Weiber von Windsor, Woo 114: Overture 08:24
4. Die Heimkehr des Verbannten, Woo 113: Ouverture 07:57
5. Weihnachts-Ouvertüre, Woo 109 10:02
Performers:
Johannes Pieper
Philharmonie Südwestfalen
David Stern
–––––––––––-
DON'T MODIFY THIS FILE
–––––––––––-
PERFORMER: auCDtect Task Manager, ver. 1.6.0 RC1 build 1.6.0.1
Copyright © 2008-2010 y-soft. All rights reserved
http://y-soft.org
ANALYZER: auCDtect: CD records authenticity detector, version 0.8.2
Copyright © 2004 Oleg Berngardt. All rights reserved.
Copyright © 2004 Alexander Djourik. All rights reserved.
FILE: 01 - Philharmonie Südwestfalen - Kirchliche Fest-Ouvertüre über den Chroral -Ein fe.flac
Size: 30598854 Hash: D5DE271C4DB362B009FA00B9ED731AB8 Accuracy: -m0
Conclusion: CDDA 100%
Signature: 270EEFD02940C71307930F7BEB9469CC3599DC6F
FILE: 02 - Johannes Pieper - Variations brillantes, Op. 26, su motivi favoriti.flac
Size: 54601198 Hash: EA0B18E768106FFF66BCBB2785248B85 Accuracy: -m0
Conclusion: CDDA 100%
Signature: 44BC05009F58ED4FEF04DB2EC1DDDEB5581E983E
FILE: 03 - Philharmonie Südwestfalen - Die lustigen Weiber von Windsor, Woo 114- Overture.flac
Size: 33471656 Hash: 1613D195F18CAC506BCB3A4D16C0A8F9 Accuracy: -m0
Conclusion: CDDA 100%
Signature: BC274DA6543455886D3FB0949EE7E9EF1EDB47AB
FILE: 04 - Philharmonie Südwestfalen - Die Heimkehr des Verbannten, Woo 113- Ouverture.flac
Size: 35373043 Hash: CFDC3E362051AA0427532DEA9A8D2A25 Accuracy: -m0
Conclusion: CDDA 100%
Signature: 21BE99C825A2AFED86CC2C9043B40B8FE2267BBF
FILE: 05 - Philharmonie Südwestfalen - Weihnachts-Ouvertüre, Woo 109.flac
Size: 45745064 Hash: 45D1A2AB5BACDC516BE559AC9A1129B0 Accuracy: -m0
Conclusion: CDDA 100%
Signature: 6D0C02E09F2D28BAECB188A83EB6F96174363182