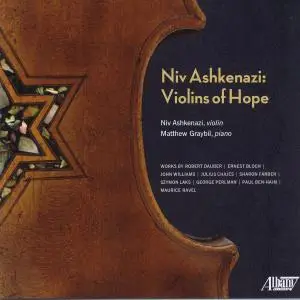 Niv Ashkenazi - Niv Ashkenazi: Violins of Hope (2020)
WEB FLAC (tracks) - 217 MB | Tracks: 14 | 58:27 min
Style: Classical | Label: Albany Records
Violins of Hope is an artistic and educational project composed of instruments that were owned by Jewish musicians before and during the Holocaust. Violins in the collection were played in the concentration camps and ghettos, providing a source of comfort for some and a means of survival for others. Above all, the instruments represented strength and optimism for the future during mankind's darkest hour. The project was founded by Amnon and Avshalom Weinstein, Israeli luthiers who collect and refurbish the instruments and bring them to communities around the world. Violinist Niv Ashkenazi was invited to join other musicians performing on instruments from this collection and now holds one of the instruments on a long-term loan. This violin, made between 1900-1929 in eastern Europe or Germany, was used by Ashkenazi for this recording. Ashkenazi has chosen Jewish repertoire from throughout the lifetime of the violin. Like the instruments in the Violins of Hope collection, most of these composers were affected by the Holocaust. Virtuoso violinist Niv Ashkenazi has captivated audiences with his heartfelt musicianship and emotional performances. An accomplished soloist, recitalist, and chamber musician, he has performed throughout the United States, Europe, and the Middle East. He is a graduate of The Juilliard School. Pianist Matthew Graybil has performed throughout the United States and Canada since making his orchestral debut at age 14. The recipient of numerous awards and prizes, he is a graduate of The Juilliard School.
Tracklist:
01. Serenade
02. Baal Shem, B. 47: II. Nigun
03. Theme from Schindler's List (Arr. for Violin and Piano)
04. The Chassid
05. Bestemming : IV. Triumph (Arr. for Violin and Piano)
06. Trois pièces de concert: I. Prelude varié - Allegretto ma deciso
07. Trois pièces de concert: II. Romance - Andante con moto
08. Trois pièces de concert: III. Mouvement perpétuel - Allegro vivace
09. Dance of the Rebbitzen
10. Berceuse Sfaradite
11. Deux mélodies hébraîques: I. Kaddisch
12. Three Songs Without Words: I. Arioso (Arr. for Violin and Piano)
13. Three Songs Without Words: II. Ballad (Arr. for Violin and Piano)
14. Three Songs Without Words: III. Sephardic Melody (Arr. for Violin and Piano)


FILE: 01. Serenade.flac
Size: 17821032 Hash: 84A5EEFE79E4CE032A2BE8CFF7B56315 Accuracy: -m0
Conclusion: CDDA 100%
Signature: 12BFBDE07FABD95B965D66776079165330021339
FILE: 02. Baal Shem, B. 47_ II. Nigun.flac
Size: 39084404 Hash: 1CDF20B931558798EDE418E46739156E Accuracy: -m0
Conclusion: CDDA 100%
Signature: 07FE8A14C7CF8AA1DAB19EA707BC569A32B332BB
FILE: 03. Theme from Schindler's List (Arr. for Violin and Piano).flac
Size: 19868073 Hash: 5C18102FF65DC8D2C4206824B01BEBD9 Accuracy: -m0
Conclusion: CDDA 99%
Signature: 891CDFC286F1ECB5BDCF048489D64C12EAAEEA1B
FILE: 04. The Chassid.flac
Size: 20647153 Hash: 70B34BD2916A3DA36C97551066AEB5C6 Accuracy: -m0
Conclusion: CDDA 100%
Signature: 9D1F6D639925E93BC7D861C91A2FC93A5211EA01
FILE: 05. Bestemming _ IV. Triumph (Arr. for Violin and Piano).flac
Size: 31230360 Hash: 9E8EB02F14ABFBE7C1FCE8AE4819E60D Accuracy: -m0
Conclusion: CDDA 100%
Signature: 213F1A53C5D076E18184538F54590A1556293E8F
FILE: 06. Trois pièces de concert_ I. Prelude varié - Allegretto ma deciso.flac
Size: 20606989 Hash: B4A80EA1D5D0229446E7D031145288C6 Accuracy: -m0
Conclusion: CDDA 100%
Signature: 649FEA6E33308D43F3ED90E89C77540933F4186F
FILE: 07. Trois pièces de concert_ II. Romance - Andante con moto.flac
Size: 30939849 Hash: 5F94DD6F7D7187375F69711C7253887B Accuracy: -m0
Conclusion: CDDA 100%
Signature: 77A812A5AF42D3B11D51EFB65053D59E8E4D7B99
FILE: 08. Trois pièces de concert_ III. Mouvement perpétuel - Allegro vivace.flac
Size: 14800668 Hash: 1D6F3B4BBFAE9EDBC9173D9AAEB0E731 Accuracy: -m0
Conclusion: CDDA 100%
Signature: 75C852C71AA4BBE2812EA9C3EAFAB8E7F779D941
FILE: 09. Dance of the Rebbitzen.flac
Size: 13123500 Hash: 21D0205596AC07B619725B7DD0E4B548 Accuracy: -m0
Conclusion: CDDA 100%
Signature: 54859E1935C8D9DA726ECC9D5F399DE42E19B28A
FILE: 10. Berceuse Sfaradite.flac
Size: 16859748 Hash: DA829EC7AE2008D60CB8CA25432BE132 Accuracy: -m0
Conclusion: CDDA 100%
Signature: B6BBDE488C3E43E4BD87D009165640C0EDA60DCE
FILE: 11. Deux mélodies hébraîques_ I. Kaddisch.flac
Size: 22222609 Hash: B8AAD9CC94248DE85156F487CEB3CED4 Accuracy: -m0
Conclusion: CDDA 100%
Signature: DAB35E045523BF65740DA13400D86DF9F1134C8D
FILE: 12. Three Songs Without Words_ I. Arioso (Arr. for Violin and Piano).flac
Size: 16040148 Hash: 569D7482026B1CBDC3B4D88AA428D72A Accuracy: -m0
Conclusion: CDDA 100%
Signature: 1DF97D28E7173A4AC98EED0495A8AF21AC18AEAA
FILE: 13. Three Songs Without Words_ II. Ballad (Arr. for Violin and Piano).flac
Size: 12717267 Hash: F75220995829EBFD88F6729DC3831E88 Accuracy: -m0
Conclusion: CDDA 100%
Signature: 4967EA292888301FAB9E62177A3CA8444D671D8A
FILE: 14. Three Songs Without Words_ III. Sephardic Melody (Arr. for Violin and Piano).flac
Size: 17678981 Hash: 51A53E7DFA0E7A58679DE3FF2443540B Accuracy: -m0
Conclusion: CDDA 100%
Signature: C2035910383D15DE48C3E5300B412DC4B3A8CD37