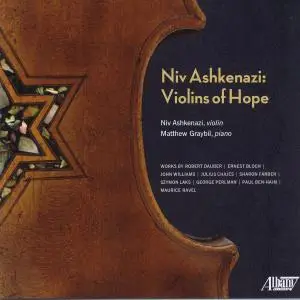 Niv Ashkenazi - Niv Ashkenazi: Violins of Hope (2020)
WEB FLAC (tracks) - 217 MB | Tracks: 14 | 58:27 min
Style: Classical | Label: Albany Records
Violins of Hope is an artistic and educational project composed of instruments that were owned by Jewish musicians before and during the Holocaust. Violins in the collection were played in the concentration camps and ghettos, providing a source of comfort for some and a means of survival for others. Above all, the instruments represented strength and optimism for the future during mankind's darkest hour. The project was founded by Amnon and Avshalom Weinstein, Israeli luthiers who collect and refurbish the instruments and bring them to communities around the world. Violinist Niv Ashkenazi was invited to join other musicians performing on instruments from this collection and now holds one of the instruments on a long-term loan.