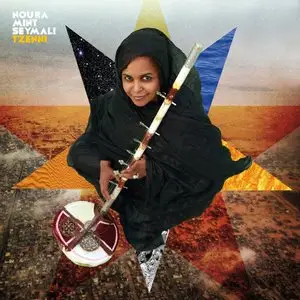 Noura Mint Seymali - Tzenni
World | MP3 CBR 320 kbps | 75:08 min | 102 MB + 5% Recovery
Label: Glitterbeat | Tracks: 10 | Rls.date: 23-06-2014
Noura Mint Seymali is one of Mauritania's young celebrities, a griot from a celebrated musical family, who started out as a backing vocalist for her celebrated stepmother, Dimi Mint Abba, and has now developed an exuberant, full-tilt style of her own. She accompanies herself on the ardine, the nine-stringed harp traditionally played only by women, but the songs are dominated by the furious, stuttering electric guitar work of her husband Jeiche Ould Chighaly, who is also an exponent of the traditional, guitar-like tidinet. This is an album of gutsy, declamatory playing and singing, from the slow and then exuberant traditional love song El Barm to the powerful, chanting Tikifite, a Dimi Mint Abba favourite. Impressive – but a little more variety in the arrangements would have been welcome.
TRACKLIST
1. Eguetmar (03:22)
2. Tzenni (05:15)
3. El Barm (06:04)
4. El Madi (03:11)
5. El Mougelmen (03:59)
6. Hebebeb (Zrag) (03:10)
7. Soub Hanallah (05:12)
8. Tikifite (03:35)
9. Char'aa (02:28)
10. Emin Emineina Chouweyne (05:09)